If you're anything like me, there's just something great about kicking back and enjoying a glass of wine. Whether it's on the front porch or by a fire, people across the world have enjoyed this delightful drink for centuries, so it's no surprise that at-home wine tasting companies have sprouted in growth over the years.
According to the Wine Institute, nearly 966 million gallons of wine were consumed in 2018 alone, and this year, Fortune Business Insights projected the wine industry to have steady growth through 2027.
With growth projections and a clear market for wine drinking growing, now is the time to get into this niche!
You don't have to be a sommelier to start your own wine tasting business in the direct sales industry. In fact, there aren't any prerequisites besides enjoying wine.
Below, you'll discover just how simple it is to start a wine tasting business from home and reap all the benefits while you're at it!
The Perks of a Wine Tasting Business
If you love wine and follow the "do what you love, love what you do" motto, then diving into one of these home-based wine tasting companies is the perfect way for you to start making money from home.
Besides getting the chance to make money doing what you love, there are so many other perks to these at-home wine tasting companies! Here are a few:
Flexible schedule
Opportunities to scale
Low startup costs to start your own business
Work with brands that make a difference
Below are five awesome wine tasting business opportunities where you can get your start and build a successful work from home business.
Combine your love for wine and earn yourself an additional paycheck in the process with Traveling Vineyard. This company is simply amazing! Traveling Vineyard is an established at-home wine tasting business opportunity offering wine lovers everywhere the opportunity to drink and sell wine from your couch.
With three different startup options to choose from, you get to decide which level you'd like to start and build from there.
Here are some more reasons why this business might be the perfect fit for you:
Reputable: As a member of the Direct Selling Association, you know they're committed to best practices
Great commission opportunities: 15-35% commission on wine sales paid out three times a month
Community give back: Traveling Vineyard raises funds for a variety of charities
Incentive trips and cruises
Other than these perks, there are multiple opportunities to make money with Traveling Vineyard:
Home tasting events
Virtual wine tastings
Website and social media sales
Subscription sales
Building a team
Becoming a wine guide with Traveling Vineyard is easy. It provides you with everything you need to be successful in your wine tasting business, including a phenomenal network of individuals for support, training, and growth!
If mixing award-winning wines with making money and giving back to the community sounds like your type of environment, check out One Hope Wine. With 25% commission rates and fantastic bonuses, there are many reasons why One Hope Wine might be the perfect home-based wine tasting business opportunity for you!
One Hope Wine has several perks that include:
Easy, low cost start up for just $39
Up to 50% off wine purchases
What makes this company unique is its Cause Entrepreneur Program. One Hope Wine allows its wine consultants to donate money to the charities that matter most to them.
Earn money while enjoying a flexible work environment and helping causes that are important to you? Sounds like a plan.
You can easily become an online wine influencer from the comfort of home. Wine Shop at Home provides a super simple way for wine lovers across the globe to enjoy the perks of wine tasting with their virtual pop-up wine kit.
WineShop at Home makes it easy for wine consultants to start earning right away by having you connect with friends online at Facebook wine tastings and shopping events which makes this wine gig even easier!
Some of the benefits of joining this work from home wine tasting job opportunity include:
Tasting and sharing four new wines a month
No inventory to carry or keep
Earn SUPER high commissions: 20-44%
Marketing tools to promote your business
Help veterans and their families with their Raise Your Glass Program
To get started, you'll have three different boxes to choose from: A Virtual Vino Kit, Social Sip Kit, or a Premium Pour Kit. Each kit includes different materials and perks.
WineShop at Home makes the process of starting your side gig super affordable and straightforward; you organize the wine tasting, and WineShop will deliver straight to customers. Their lowest kit starts at $25.
If you're looking to combine your love for all things vino with making money while doing some social good, Wines for Humanity is the perfect work at home wine tasting job for you! This company's name defines its mission: helping to end homelessness.
I love this company's focus on giving back to a specific cause while combining that with wine and helping their consultants make money from home.
Other than helping to end homelessness (which is pretty amazing all by itself), you'll enjoy other perks like:
Compensation rates that increase with position ranging from 17-24%
Monthly wine discounts
Professional allowances and car allowances at certain levels
Flexible schedule
Determine your own income
At Wines for Humanity, you can earn an income plus scale your business in two ways. You can:
Earn money on your own promotion of wine
Through the promotion of wine and recruiting to create a team of Wine Advisors
As of today, Wines for Humanity is hiring advisors in 14 states, so you'll want to check out their listing to see if you're located in one of those areas. They are consistently expanding, so if your state isn't listed, bookmark their site so you can go back and check.
Become a wine ambassador with this work at home opportunity and join the #wineunitesus movement! The Boisset Collection was started by Jean-Charles Boisset, whose family now has vineyards from the south of France to California's Napa Valley and beyond.
As a Boisset Wine Ambassador, you earn commission while sharing wine in a flexible work from home environment. As an ambassador, you will:
Get access to their Cellar Suite technology providing you with a personalized e-commerce website
On-demand training
Leadership and wine knowledge
Digital marketing tools
Earn 15-35% commission for facilitating wine sales
Additional bonuses when you grow a team
Complimentary tastings at all Boisset wineries
As if that wasn't amazing enough, you'll also get the opportunity to earn an all-expense-paid luxury trip to France.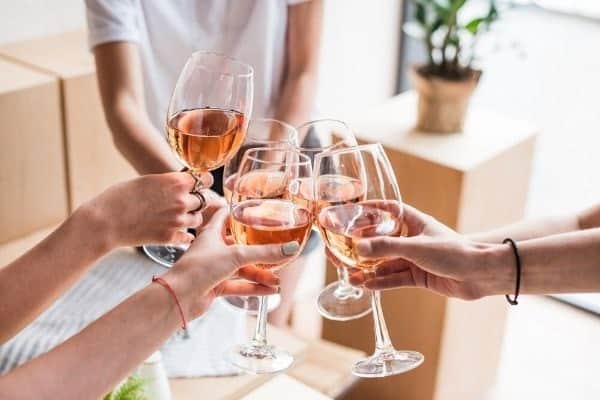 Conclusion
Work from home wine tasting business opportunities come with many perks. While each of these companies offers something a bit different from one another, the benefits of earning some serious cash while enjoying wine and helping the greater good are all at their core.
As always, we've investigated these wine tasting business companies, but be sure to do your diligence in diving in further to ensure that these opportunities are ones you'll want to get involved in.
If you love wine, making money, and philanthropy, these business opportunities are the perfect way to dive right into the world of entrepreneurship!
Have you tried one or more of these companies? Share with us below! Have more questions about these awesome wine tasting businesses? Drop us a question, and we'll get back to you!