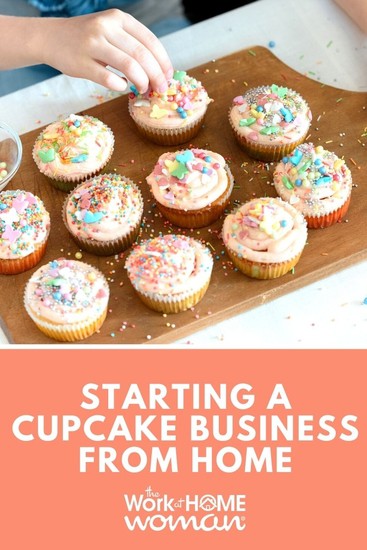 Starting a cupcake business from home can be very easy with this how-to guide!
One of the most exciting and creative businesses to start from home is a cupcake business. Everyone loves cupcakes! This is a fantastic small business that you can run right out of your kitchen, and it's perfect for someone who has a passion for baking.
If you love baking and cake decorating, keep reading, and learn everything there is to know about starting a cupcake business from home.
Advantages of Starting a Business from Home
When you start a cupcake business from home, it can have many advantages over the other option – working for another baker or trying to start a brick and mortar business. There is an incredible amount of creative and cost-saving benefits as well.
Here are some of the biggest benefits that you'll find when you start your own cupcake business from home.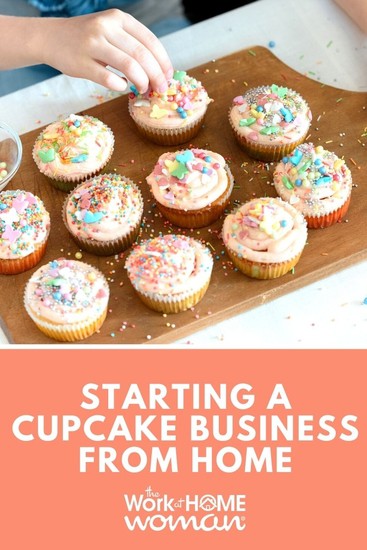 1. You Can Stay Home with Your Kids
If you have a family or younger kiddos, you don't have to find childcare when you are baking and decorating the cupcakes from home. It also cuts down on your commute (which also means less wear and tear on your car).
As your business grows, you can think about expanding into a storefront with a professional-grade kitchen. When you are first starting out, it's nice to do it right from home.
2. Set Your Own Hours
Another benefit of working from home is that you can set your hours. You can bake cupcakes early in the morning and then decorate them at night or vice versa. Do what works best with your schedule and lifestyle.
If your weekdays are filled up with other activities or responsibilities, you can work on the weekends to make up for the time, which is something you can't do when you work for someone else.
3. Grow at Your Own Pace
When you work from your home, you can set your own schedule and grow your business at your own pace. If you don't have time to make cupcakes for a wedding, don't take the job. Then, when you are ready to grow, you can control that trajectory.
You can't beat the sense of control you have when you start your own business.
4. More Room for Creativity
Of course, when you are your own boss, you have full creative control. Starting a business out of your house means you get to choose everything from the logo to decorating techniques. This is one of the best benefits of starting your own business, especially if you are a creative person.
5. Less Overhead Cost
This benefit is pretty obvious, but it's also one of the biggest. When you operate out of your home, you will automatically have lower overhead costs. You don't have to pay office rent, electricity in a second location, or insurance on another building. You can use these savings to invest more money into your business.
6. Enjoy More Tax Breaks
Finally, running a business from home means you get to take more tax breaks too. You can claim a home office deduction that other business owners can't!
Vital Legal Steps for Starting a Business at Home
Are you ready to start your cupcake business? If dreams of frosting and sprinkles are dancing in your head, these are the steps you need to follow, as they are vitally important and will set your business up for success.
1. Set Your Business Structure
First, you need to decide what your business structure is going to be!
Do you want to set it up as an:
Sole Proprietorship
LLC
Partnership
Corporation?
These decisions can be complicated and confusing for anyone, so make sure to discuss all of your options with a tax professional or lawyer who is familiar with business structures. This decision can also affect how you pay yourself, whether you have contractors or employees, as well as how you file your taxes.
2. Obtain Tax Numbers
After you decide what kind of business structure you are going to follow, you need to get a federal Employer Identification Number (EIN). You'll use this when you file your taxes and report your business information.
If you are a sole proprietor (and most cupcake businesses are), you can use either an EIN or your social security number.
3. Get All Your Licenses
The next order of business is to make sure you have all the proper licenses so you can legally sell baked goods out of your home. The best place to find this information is by talking to your city's business development division. They will tell you all of the licensing requirements for your area.
A few different types of licenses you might need include:
Bakery license
Registered business certificate
Vending license (if you sell products you don't make)
4. Follow Local Zoning Laws
There are also local zoning laws you'll have to follow when you start a bakery in your home. Ask your local zoning office how many people you can have in your home before it needs to be zoned as a business. The rules for single-family homes are different than for small businesses.
If you are just going to be baking and decorating cupcakes at home and won't have customers shopping or buying them there, discuss this with the zoning office.
5. Insure Your Business
Finally, you will also have to find some insurance for your business. Talk to your local insurance agent and talk to them about the best types and amounts. You can choose between general liability insurance and business owner's policy.
This step is not optional. Things happen, and insurance will protect you from experiencing a severe financial loss!
Building a Business at Home: Understand Business Taxes
Business taxes can be pretty complicated. When you set up your new business, find an accountant you trust who can help you through these steps.
Here are some of my best tips for at-home business taxes!
Home Office Deduction
You'll be able to deduct a portion of your home's electric bill and other things that you use for your business. Keep track of the mileage you use when you shop for cupcake supplies or deliver an order.
All of these things are business deductions on your yearly taxes!
Establish Good Recordkeeping from the Start
Speaking of deductions, it's best to keep track of all potential deductions and receipts from day one. Try to also keep track of all of your business expenses in a separate folder for filing your taxes later on.
Use a reliable invoicing and recordkeeping software like Quickbooks or Freshbooks. These will help you keep track of your expenses and income.
Then, at tax time, you can print out reports easily for your accountant.
Manage Virtual Assistants and Employees
When it comes to small business taxes, you'll have to find a way to keep track of how much you are paying your virtual assistants and any employees you have. You'll also need to make sure you have all of the required paperwork for them, such as W-9s.
Talk to your accountant about the forms you'll need.
Important Things to Do Before Starting a Cupcake Business From Home
So now you have your business structure and have an idea on what are the next legal steps you need to take. Are you ready to move forward with your business?
Start a cupcake business from home the right way! Let's look at each of the steps you'll need to follow to get this dream off the ground.
1. Prove Your Decorating Skills
First, remember that age-old saying: Practice makes perfect! Practice your cupcake decorating skills until you have them near-perfect. You want them to sell, and word-of-mouth will always be the most effective method of marketing. When people are impressed with your cupcakes, they will tell their friends.
Do not settle for "just good enough." Make your cupcakes stand out from the competition!
If you can, create a decorating technique or a recipe that no one can find anywhere else. This will make your cupcakes easier to sell.
2. Choose a Cupcake Business Name
Next, you need to pick a name. This is the tough part because the name of your cupcake business needs to be easy enough for people to remember and yet unique enough that it isn't already being used.
The Small Business Administration has tons of tips that will help you pick a name. After you think you have a name figured out, search the Trademark Office and see if another business already has that name.
3. Work on Your Branding
After you decide a name, you are ready to solidify your marketing, design a logo, and choose your business's colors. Do you want your business to resemble a French bakery or have a farmhouse chic?
All of these small design decisions will influence how you design the website, social media channels, and business cards. Everything about your marketing strategy should be cohesive.
4. Decide on Cupcake Designs and Names
Now it's time for the fun part! After you have your company's name and branding decided, you can begin creating cupcake designs and names. You can be creative or choose names that clearly describe the flavors. The choice is up to you.
Record all of your flavor combination ideas in a spreadsheet. That way, you can offer a few different kinds at one time and cycle through the different flavors as the seasons change.
This is also the perfect time to decide whether you want to offer gluten-free and vegan options since that will take more work.
5. Establish How You Will Advertise
When you are ready to tell the world – or at least your local town – about your cupcakes, decide how you are going to advertise. Social media marketing is a fantastic and low-cost option. Read our guide to paid vs. organic social media marketing so you can tell the difference and make smart decisions.
You can also set up booths and advertise your business at local events like bridal shows and craft fairs.
Set a budget for advertising and stick to it!
6. Calculate and Set Cupcake Prices
Finally, decide how much you will charge for your cupcakes. This is all part of setting your business budget. There are lots of things that go into this decision.
What is the cost of your supplies?
How much are people willing to pay?
You want to earn enough money to make a profit, but you also want to be competitive. Bluprint has an entire article all about how to price your cupcakes. I highly recommend it!
Starting a Business From Home: Final Thoughts
Taking the leap to start a cupcake business from home has so many advantages and is an all-around sweet idea.
It's one you can set up and run with your kids. A when you set up a business from home, you are cutting down on overhead costs, which is money right in your pocket. I hope this guide helps you be a bit more prepared when you start your new business.