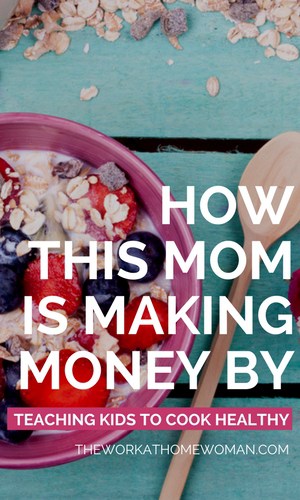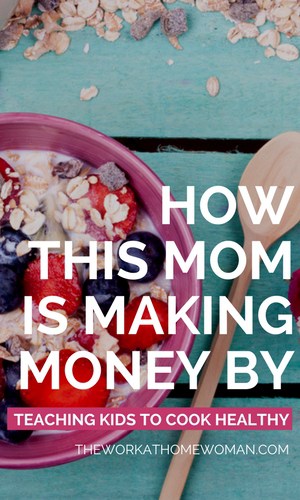 Update 2021, Kathy Trill closed her business due to COVID. You can still become a Healthy Hands cooking instructor, please see this post for more details.
Kathy Trill is passionate about plant-based nutrition, preventing illness, and helping others find wellness and work-life balance. She's also a wife, mother, grandmother, and work-at-home woman.
See how this mom has been able to take her passion for health and wellness and create a full-time, at-home income around teaching kids how to cook healthy meals and snacks.
Tell us a little bit about yourself and your entrepreneurial journey.
In my mid-40s, I sat at my desk wondering how I let life pass by me, and how I ended up in a dead-end, life-sucking job.
For many years, I was a single mom with three small girls. During that time, I took college courses that I thought would give me marketable skills to get decent employment as I raised my young daughters. My income increased with my responsibilities, but then there were layoffs, downsizing, and businesses closing all around us.
There were many temporary positions that I worked during lean times. Then, an administrative assistant job became available at a local University just about the time my unemployment benefits were going to end. Full-time was an answer to my prayers. The pay was more than unemployment, and I was grateful to have a permanent, full-time job with benefits. My monthly income from that full-time job covered little more than my mortgage, and for a while, I was okay with that. I think I was just shell-shocked by the economy, and I felt a sense of security in my employment with the University.
The shifting point came when I read an article that described a bleak future if something wasn't done to stop the epidemic of childhood obesity. According to the studies, this is the first generation of children who likely will not live as long as their parents, because of the health complications associated with obesity. The article made me think about things I had not considered, like how that problem might affect our security – how will an obese and sick emergency workforce protect us? That article shook me to my core, but what could I do to make the next generation healthy as I sat at my desk feeling sorry for myself?
I was working on my bachelor's degree at the time and realized that although my education was free (because it was a benefit of employment), it was still my valuable time and energy that was being spent on the wrong thing. I had seen a video series by Marcus Buckingham called, Trombone Player Wanted. What he says is, it's true that the happiest people are the ones who identify their passion and create a life around that God-given gift. I had it all backward. I was taking classes that I thought the world would ask of me instead of honing the skills and talents that I already had to give to the world. The video series helped me identify my passion and find the courage to pursue what I thought was impossible.
In June of 2015, I became Healthy Hands Cooking Certified Instructor and got my Town of Summerville business license. I knew I had been given a life-changing opportunity with Healthy Hands Cooking. Not only did it feed my soul, but I saw the earning potential.
How did you hear about Healthy Hands Cooking (HHC)?
My husband and I have a favorite coffee shop in town where we like to sit, quietly drinking coffee and talking about our dreams. We were talking about what I was going to do with my health coaching certificate, and how I would love to teach kids to cook and appreciate real food and what it can do for their growing bodies.
I turned the page of the magazine on my lap, and there was an article written about this woman who lives in my state who wants to teach me how to create a business from what I already love doing. It was as if she was speaking right to me. I immediately took action and contacted Janice Pinnington, owner of Healthy Hands Cooking.
She told me that she saw the need to teach kids to cook when she realized her 11-year-old daughter had never cracked an egg. Classes began in her home, and before she knew it, she had a business on her hands. Her goal is to have more Healthy Hands Cooking Instructors in the nation than McDonald's. I believe we could see childhood obesity as a thing of the past if there were more than 15,000 passionate HHC Certified Instructors around the world.
What is the cost to join, and what do you learn in the Healthy Hands Cooking Training?
The training covers absolutely everything one needs to start their own cooking business. If there is a topic that is not covered in training, Janice and her team will find the answer. Each module of the training includes choosing the form of business structure that is best suited for business plans, registering a business name, getting the appropriate licenses and permits, etc.
I saved so much time and energy taking this training rather than trying to go it alone and figure it out myself. The market research has been done for you, and the training offers the best practices for reaching the target market. The classroom tools for different age groups and age-appropriate recipes take the guesswork out of conducting a class. The most valuable part of my relationship with Healthy Hands Cooking has been the support from Janice Pinnington and the group of HHC Instructors who are building their future.
There has never been a time when I felt alone in this journey, and it is great to see new instructors join. We support each other in a Facebook group. The sharing is an opportunity for others to learn and to realize that we are all on the same mission. We share our struggles and celebrate our successes. It is because of the unbelievable customer service and unparalleled support I have received from HHC that I have a viable income now.
Give us an example of how you landed one of your first clients.
My very first class was Christmas-themed. Two brothers were my first students. Their mom found me online, which could have only been through the Healthy Hands Cooking website at that time. The following day, two sisters came to my second Christmas-themed class. These two students were the daughters of a professor from the university, so that was word-of-mouth marketing.
What are some of the benefits of working as a Healthy Hands Cooking Instructor?
1. I feel like there is more of me to go around.
I can schedule time in my day to hang out with my grandchildren or be available to my children and husband as their needs arise. I have classes three days a week and sometimes birthday parties on Saturdays. I fill my time with things I want to do like volunteering for Cooking Matters, and working in the nursery at my church, spending time with friends on a whim, and building business relationships.
2. I know I am making a difference in the lives of not just the children I teach but their whole family.
The conversations about meals have changed for many local families because of what the children learn in our classes.
3. I can make a sustainable income without:
A ceiling or answering to someone who holds my livelihood in their hand.
Reaching someone else's goal. My success comes from my personal goals. I am so glad I don't have to add legs or have a minimum amount of sales each month to qualify. I compete with myself; That's it. HHC is not a direct sales opportunity, multi-level marketing, or a franchise.
4. I can be as creative with my classes as I want.
I follow the HHC curriculum for HHC classes, but I can also add specialty classes, teach adults, offer things such as yoga, all while registering those clients through my HHC website. I LOVE the flexibility.
5. The use of the back office is great, and HHC is continuously making improvements based on the input of the HHC instructors.
Being a part of this community has been a life-changing opportunity, and I am happy that I made the leap.
Realistically, how much can you earn running a Healthy Hands Cooking Instructor business?
When I decided to treat this endeavor as a business and not a hobby, I replaced the income that I was earning as an administrative assistant. That was in the first year of my business. I plan to double that this year by making changes to things I tried last year, such as camps and birthday parties while still keeping my regular weekly schedule.
What advice would you give to a new HHC Instructor?
1. Start out as part-time until your community gets to know, like, and trust you.
2. Ask for help and guidance from people who have reached the level of success you want to achieve.
3. Strive to prove that this is your business and not a hobby. Only give price breaks during special offer promotions. What you offer is valuable, but people will try to take advantage of you. Take the emotion out of it if you want to make a living while helping others.
As a busy mom of six, how do you balance your personal life with your business?
I schedule time chunks throughout my week and set the timer throughout the day. I find that I accomplish more in each area of my life when I do that. I only have one child still at home; my grandchildren take priority now. I am very grateful to have a husband who knows when to step in and vacuum, do dishes, make dinner, and rub my back when I was working several part-time jobs and trying to get the cooking business started. He saw from the beginning that he would ultimately benefit in the long run.
Thanks to Kathy for sharing your story!