Do you dream of starting a business from home but have no idea what type of business to start? Oh, believe me, I've been there! If you're interested in being the boss and calling the shots, here is a list of the best small business ideas you can easily run from home!
1. App Creator
If you have an idea for a smartphone app that makes life simpler or more enjoyable, becoming an app creator or developer may be the perfect small business idea for you! One mom that has found success as an app creator is Patti Rogers. She created the Rallyhood app to help organize community outreach and simplify communication between individuals in a group.
To start this business, you'll likely have to secure funding for your app development. As an app creator, you can earn money through ads, in-app purchases, or affiliate marketing once it's live.
2. Bake and Sell Dogs
It's estimated that pet owners spent $123.6 billion on their pets last year, with pet food and treats making up approximately $38.4 billion! If you want to cash in on this lucrative industry, consider starting your own gourmet dog treat business. My friend, Kristin Larsen, did this as a side gig for many years and easily earned $500-$1,000+ per month!
Today she teaches others how to start their own dog treat businesses. If this sounds appealing, you can check out her free training series here. Once you're on the page, click on the pink free training workshop button. You can also enroll in her course, which you can complete in as little as a weekend!
3. Baker
Are you known for your baked goods? Do you enjoy decorating cupcakes and cookies? Then maybe starting an at-home bakery business is your calling. With this sort of business, you'll need to secure the proper permits and licenses and figure out kitchen space, storage, and delivery logistics.
One woman that's found success as a baker is self-taught cake designer Jennifer Jacobs of the Wandering Whisk. Jennifer ran her cake-baking business for four years out of her home, but in 2019 she opened a brick-and-mortar location. If you think this is the ideal business for you, check out this post for more details.
4. Blogger
There are so many reasons why I love blogging, such as you can write about any topic; there are multiple ways to monetize and market your business, you don't need a college degree, and it doesn't cost a lot of money to start.
If you're interested in starting a blog, I have a free step-by-step tutorial that walks you through the process. Once you have your blog up and you've written a few blog posts, you can make money with affiliate programs, direct ad sales, brand sponsorships, selling e-books, digital courses, printables, and so much more! According to Financial Samurai, bloggers who have 100,000 page views per month can easily earn $1,000-$10,000 per month.
Of course, with blogging, there is a learning curve. You'll need to educate yourself on best blogging practices, like learning SEO (search engine optimization), how to diversify your income streams, and FTC rules for affiliate marketing and sponsorships. Even though there is a lot to learn with blogging, I'd argue it's one of the best online business ideas who people who enjoy writing and being creative.
5. Bookkeeper
If you're detail-oriented and love working with numbers, launching a virtual bookkeeping business may be your calling. Not only is bookkeeping lucrative ($60-$80 per hour), but it's also an in-demand service, as most business owners dread bookkeeping tasks, myself included. While bookkeeping itself is pretty straightforward, you will need to be familiar with bookkeeping software, how to get clients, and stand out from the crowd; this is where a bookkeeping course can come in handy.
The course I'm most familiar with and recommend is Bookkeeper Launch. More than 15,000 students have gone through this program, including Callie Sitek of the Radical Profits Club; you can read more about her entrepreneurial journey here.
6. Consulting Business
Not a new business idea by far, but it is an easy one to start. Take the expertise, knowledge, and skills that you already have to consult others in that area. For instance, if you worked as a social media manager before becoming a stay-at-home parent, take this expertise and pitch businesses that don't yet have an online social media presence.
With consulting, you're helping businesses and individuals incorporate processes, strategies, and a plan for achieving their goals. Other consulting business ideas might be baby-proofing consults for new parents or organic lawn care consulting for the environmentally conscious. Take what you know, and start pitching your ideal clients. For a full blueprint on how to begin a consulting business from home, check out this article.
7. Copywriter
When I first heard of copywriters, I thought they were legal professionals that dealt with filling copyrights for books. That is not what they do!
Copywriters are skilled persuasive writers that write marketing promotions and advertising campaigns. While you can get a degree in business and marketing to become a copywriter, many copywriters that I know have taken online training courses and have become proficient at writing persuasive copy.
One such individual is Mindy McHorse, who left her project management job and pursued copywriting by taking a course through American Writers & Artists Institute. According to Salary.com, an agency copywriter can expect to earn $49,651-$69,901 annually, but a freelance copywriter, especially one that writes copy that converts leads to sales, can make much more!
Both Mindy McHorse and Danny Margulies earn six figures a year running freelance copywriting businesses from home – be sure to check out their stories!
8. Course Creator
If you've succeeded in a particular area and people always ask you how you achieved your success, you may be the perfect candidate to create an online course. I know people who have created courses on how to choose a paint color, how to decorate your house, and how to stay on budget — the topics are endless!
You can use video, audio, written, or a combination of the three formats to present your materials to students. There are lots of platforms that you can use to deliver your course content, from free sites like Skillshare and Udemy or paid platforms like Teachable, Kajabi, or Uscreen.
Now, let's talk about money. Some course creators earn an average of $0-$1,000 per month. Yet others, like Nick Stephenson, have made $130,208 with his first-course launch! According to data, 17.9% of creators using the Teachable platform for 15 months sold under $25,000, so you can make excellent money selling courses online!
9. Craft Seller
If you love creating handmade items, you can make a full-time income selling crafts on Etsy, Amazon Handmade, or Shopify. One such crafter that's found success in the crafting arena is Melanie from Simple Made Pretty. In 2014, Melanie started selling custom-made cards on Etsy, and because of her unique greeting card niche (she created anniversary cards for homeowners), she ended up doing exceptionally well. Today she earns a full-time income from selling crafts like printables, decals, SVG files, and party supplies on her Shopify store and crafting blog.
10. Customer Service Agency
If you would like to start your micro-call center business, Arise can help you achieve your goals. For a small startup fee, Arise will guide you through the steps of starting and running a call center business from home. With this opportunity, you can remain a solopreneur or expand and manage a team of call center agents. With Arise, you can choose to focus on retail, e-commerce, travel and hospitality, insurance, roadside assistance, healthcare, telecommunications, and more. The average costs for getting started with Arise are $280-$595.
11. Direct Seller
The direct sales industry has come a long way in the past ten years! Selling updated and premium products and expanding into a variety of niches, if you have the right personality for direct selling, this may be the perfect business idea for you!
For a nominal startup fee, you'll get everything you need to start selling products online and in person. One thing I love about direct sales is that you have other team members helping and cheering you on. With this sort of business model, you'll earn a commission (averaging 20-40%) on personal sales, and if you decide to build a team, you'll make even more.
Here are a few opportunities worth checking out:
12. Dog Walking and Pet Sitting Business
One of the easiest home businesses to start is that of a dog walker or pet sitter. People are always needing qualified pet lovers to care for their pets while they are on vacation or working long days at the office. With this business idea, you don't even need a website to get started. Post a notification on your local neighborhood or Facebook group letting others know about your pet-watching services.
The types of pets you can watch and the services you can offer are diverse, and all depend on your preferences, availability, and skills. If you'd like to reach a further audience, you could post a cheap ad on Craigslist or use a third-party app like Rover or Wag! to connect with potential clients.
13. Event Planner
If you love planning, organizing, and executing events, becoming a home-based event planner may be your calling. While most companies will want you to have training or experience in the hospitality industry, you can start your own event planning business without a degree or previous job experience.
First, read up on the industry. Then see if you can plan a party for someone you know, either for free or at a discounted rate, to get some experience and a positive testimonial that you can use to promote your business. Start with smaller gigs like birthday parties and then work your way up to bigger events like weddings or corporate events. You can even specialize in an area, like decorating, and pitch other event planners with your service offerings.
14. Flea Market Flipper
Do you enjoy watching TV shows like Storage Wars, Auction Kings, and American Pickers? Think you'd be good at finding that diamond in the rough? If so, becoming a flea market or garage sale flipper or reseller may be your calling.
One couple that has found success in this industry is Melissa and Rob Stephenson. In 2016, they earned $130K, reselling used stuff on eBay. They search for items on OfferUp, flea markets, and even dumpsters for things that are cheaply priced (or free), and they clean them up and sell them for a profit. If reselling items sounds like a fun business idea, be sure to check out their course on how to get started.
15. Franchise Owner
You're already familiar with franchises like Starbucks and McDonald's, but did you know there are smaller, more affordable franchise opportunities that you can do from home? The great thing about franchises is that you get detailed training and instructions, making it easier to replicate the same successful business model. The downside of franchise opportunities is that they often have steep startup costs and recurring fees. If you're curious about this business model, here are some home-based franchise opportunities to check out.
16. Freelance Writer
If you've got a way with words, there are many ways in which you can make a good living as a freelance writer. From copywriting and grant writing to ghostwriting, resume writing, and writing articles online, there are a ton of opportunities for people who can eloquently string words together.
Here are some places where you can apply, pitch, and bid on freelance gigs:
17. Graphic Designer
You don't have to go to design school to be a graphic designer; in fact, I know many self-taught designers who run successful businesses from home. Even if you don't know how to use Photoshop, you can create simple graphics using Canva or Pic Monkey. Depending on your skill level and the types of projects you work on, graphic designers can earn anywhere from $31,300-$98,260 per year.
18. Influencer
If you love creating content for TikTok, Instagram, or YouTube, becoming an influencer may be your calling. The great thing about this small business idea is all you really need is a smartphone with a good camera and the time to create eye-catching content.
As your audience grows, you can make money through paid sponsorships, ad revenue, and affiliate marketing. Once you have some money coming in, set up a blog to expand your web presence and earnings. One person who has found major success in making millions as an influencer is Judy Travis, who creates parenting content and beauty reviews.
19. Inventor
If you can create a product or service that solves a problem, you can make excellent money as an inventor!
One of the most well-known female inventors of our time is Sara Blakely, the creator, and founder of Spanx. If you're not familiar with Sara's story — she needed a smoothing undergarment to go under some white pants she was wearing to a party but didn't have anything that fit the bill. So, she cut up some control-top pantyhose to solve her problem. This one moment started the whole Spanx revolution. Today Spanx makes slimming undergarments, leggings, and clothing for women and men and generates an estimated $400 million a year!
20. Lip Gloss Maker and Seller
OK, I'll admit it, I have a small lip gloss addiction. Right now, in my purse, I have eight tubes of lip gloss. It turns out I'm not the only one who enjoys a good tinted or plumping gloss; according to Grand View Research, Americans spent 1.98 billion dollars on lip care products in 2020. If you love makeup, becoming a lip gloss maker and seller is a fun way to start your own business.
Honestly, I had never thought about this business idea until I came across an entrepreneur (Kiki Quesada) on TikTok who films her lip gloss business-making activities. With over 1.5 million followers on TikTok, she's constantly running out of products to sell. I'd say she's doing pretty well with her lip gloss business! For more info on starting this kind of business, check out this post.
21. Membership Business
This is a good business idea for people with expertise in a specific area; start a membership business! With platforms like Patreon and Podia, it has never been simpler to generate recurring income with a membership business.
First, decide what you're going to provide for monthly members; it could be meal plans, a newsletter, templates, job leads, training in a subject like freelance writing, music, and on and on. Once you decided on what you'll deliver each month, choose a platform to deliver your content and set up your payment options. Then get the word out about your business on sites like Facebook, Twitter, LinkedIn, Instagram, and more.
Carol Tice, the brains behind the Freelance Writers Den, offers a monthly membership to freelance writers. With this $40-a-month membership, members get 300+ hours of training, a forum, live Q&A sessions, and more. Talk about a lucrative business; the last time I spoke to Carol, she was making $300K a year just from her membership income.
Go to this post, for more tips, on starting a membership business.
22. Online Tutoring Business
If you have expertise in a subject like math or you're bilingual, you can make good money as an online tutor. With this small business idea, you can reach out to neighbors, friends, and family letting them know about your online tutoring services. You can also get the word out on sites like Facebook, LinkedIn, and Nextdoor. Having a website is a good option for showcasing your credentials and listing your hours, prices, and policies.
Adrianne Meldrum left her full-time job as a teacher to become a stay-at-home mom. But after a year of full-time mom duty, she felt the need to exercise her brain. With a suggestion from her sister, she launched a small home tutoring business. Today, she runs a tutoring agency from home called Made for Math. If you'd like to learn more about starting a tutoring business from home, check out her interview, it has lots of great tips.
23. Personal Concierge
Would you enjoy managing a client's personal affairs? As a personal concierge, sometimes called a personal assistant, you'll help people tackle their personal to-do lists. Some common tasks may include running errands, making appointments, paying bills, booking travel, and picking out gifts.
According to Forbes, a personal concierge can expect to make $40,000-$60,000 annually, depending on the number of clients and the types of services you offer. The great thing about this small business idea is that it doesn't require any special knowledge or skills to get started.
24. Personal Trainer
Becoming a fitness instructor is an easy way to share your love of fitness with others while making an income from home. If you don't have a college degree in kinesiology or exercise science, you can train online to become a personal trainer in almost any discipline.
I recently did a 200-hour yoga teacher training online, and it only took four months to complete. Once you have the proper skills, start getting more comfortable as an instructor by offering free classes to your friends and family. Once you've built up your confidence, you can teach group classes online via Zoom; you can sub for other instructors and even teach private lessons.
25. Photographer
Do you have an eye for lighting and composition? Do you enjoy snapping photos of the world around you? If so, you can start a photography business from home! Depending on your interests, you can specialize in various niches such as drone photos, pets, nature, flat lays, feet, family, newborns, fashion bloggers, and stock photos; the opportunities are endless!
One photographer I know purchased a $5 ad on Craigslist and landed $2,700 in business in just one month! You can read the exact steps she took here to achieve this success level using Craigslist.
26. Professional Organizer
If you get a sense of accomplishment from organizing, decluttering, and tidying, becoming a professional organizer may be your calling. You may already possess natural organizing skills, but if you need some help in turning this passion into a business, some professional training from the National Association of Productivity and Organizing Professionals (NAPO) or Marie Kondo can quickly get you up to speed. According to this Forbes article, professional organizers can earn around $30-$130 per hour!
27. Proofreader
Do spelling and grammar errors drive you bonkers? Then perhaps starting a proofreading business from home is your calling. As a proofreader, you can help authors, bloggers, writers, and small business owners proof their documents and articles for critical errors. Having an English or journalism degree can help establish you as an expert, or you can take a proofreading course like Proofread Anywhere, which will teach you proofreading and business-building skills.
28. Publishing Business
If starting a blog from scratch sounds daunting, consider joining one of the many local publishing companies that offer a blog-in-a-box business opportunity. With these companies, you'll purchase the rights to a specific geographical area, and you'll get a website and training on how to run your publishing business. Some companies split advertising commission 50/50, and with others, you get 100% of the advertising commission, but you have recurring fees.
If this sounds appealing, here are some companies to check out:
29. Purchase an Existing Business
Not sure which type of business to start, but you like the idea of a turn-key-ready operation? Perhaps purchasing an established business is your path to entrepreneurship. Take a look at online business marketplaces like Flippa, Niche Investor, and Digital Exits. On these sites, you can view the cost of the business, how much revenue it generates, and other pertinent factors. For some great tips on buying an established business, check out this interview with Lisa Stein.
30. Resume Writer
Have you worked in HR or been a recruiter? Do you know what makes a resume stand out from the crowd? And, of course, do you enjoy writing? If so, use your passion and inside knowledge and spin it into a home-based resume-writing business! According to this post, resume writers can earn an average of $62,170 per year. You can also offer career and interview coaching, cover, and thank you letter services to expand your offerings and increase your earnings.
31. Sell Printables
Are you a pen-and-paper fanatic? Do you love to create invitations, daily schedules, or custom gift tags? If so, turn your passion into a profit by creating and selling printables from home! Two people who've found success in this arena are Julie Berninger and Cody Berman of Gold City Ventures. Julie has made thousands of dollars selling bachelorette party printables on Etsy, and Cody has created a successful side hustle selling kitchen jar labels, coloring pages, and cleaning binders!
Together, they've combined their knowledge into the E-Printables Side Hustle Course, which will teach you everything you need to know on how to start a successful printable business from home.
32. Social Media Manager
Do you know how to create social media posts that generate a lot of views and likes? If so, starting a social media business from home could be your calling. The types of services you offer and the platforms you manage will depend on your expertise. Whether it's setting up new accounts, creating videos for TikTok or YouTube, or managing advertising campaigns on Facebook or Pinterest. While you can work as a generalist, I highly suggest choosing a niche. One course that can help you launch a Pinterest social media business is Become a Pinterest VA Today. In this course, you'll learn both Pinterest skills and business-building skills so that you can help clients manage their Pinterest accounts.
33. T-Shirt Seller
Another great business idea is designing and selling T-shirts, coffee mugs, tote bags, sweatshirts, and hoodies online. With the print-on-demand (POD) economy, it's never been easier or more affordable to start this kind of online business.
To begin, choose which POD platform you'd like to use (Teespring, Spreadshirt, and Redbubble are good for beginners), and start adding your designs, logos, or catchy phrases to items. Next, you'll price your items and then promote the listings online.
A few nice things about POD companies are most are free to get started, and you don't have to worry about inventory or fulfillment, as they print the item on demand and ship it directly to your customer. The company will then take its cut of the profit and cost of supplies, and what's left is yours to keep.
34. Travel Agent
Do you love searching the web for the best travel deals and unique places to visit? If this is your idea of fun, starting a home-based travel business may be your calling. According to this post, travel agents can earn $50K-$100K per year on the low end, and on the high end, $250K-$500K per year!
Pick a traveling niche that you're passionate about, such as Disney, cruises, family, adventure, or luxury travel, and either start an agency from scratch or find a hosting company or franchise to join.
35. UGC Creator
If you enjoy creating videos and filming unboxings, reviews, and other forms of user-generated content, you can make good money with this new type of business venture.
The nice thing about being a UGC creator is that you don't need a large following on your social media accounts. This is because the companies you work with will take your content and license it for their social media platforms. Essentially, you are creating content and ads for companies and not trying to influence your audience to take an action or make a purchase.
To get started as a UGC creator, launch your social media accounts (TikTok, Instagram, Pinterest, YouTube, and Facebook) and start creating content. Your content should reflect your video and editing abilities, the types of products and brands you'd like to work with, and the style of your work. Once you have some content on your platforms to showcase your skills, you can either begin pitching brands or sign up with companies that match brands and UGC creators. This post has a list of companies you can sign up with and more details on launching this small business idea from home.
36. Vending Machine Business
This next business idea is going to take a little capital upfront, but it can be an excellent way to earn passive income. Starting a vending machine business will require you to purchase the machine and snacks or drinks, but once it's all set up, you'll watch the money roll in without doing much work. According to this article, one machine can generate $75-$650 a month. To make this a truly profitable business idea, most vending machine owners purchase multiple machines increasing their monthly earnings.
While a new vending machine will likely cost you $3,000 or more, you can find used machines for $200 on up. Of course, this business idea will require you to leave the house to fill your machines and shop for bulk supplies. But if that doesn't bother you, this might be an excellent home-based business to start.
37. Virtual Assistant
If you're detail-oriented and organized and enjoy working on a variety of professional tasks, this next small business idea might be your calling. Many small business owners, including real estate agents, bloggers, influencers, legal firms, and authors, need extra hands to help them with administrative tasks.
The jobs you'll perform will be based on your experience, skills, and expertise but could include editing, writing, research, design, data entry, or managing calendars and email. The more complex the tasks, the more money you can charge. Be sure to check out this post, where nine virtual assistants share their highest-earning services.
38. Voice Actor
Do people tell you that you have a great voice? If so, you can make good money as a voice actor! One woman that has found success in narrating audiobooks from home is Julie Eickhoff. She started in 2011, and since then, she's recorded over 100 audiobooks, and she's an Audible-approved producer.
Today Julie helps other aspiring voice actors break into the business with her course, Work From Home Doing Voice Overs. In it, you'll learn voice acting skills, the equipment needed, and how to run your business. If you're not sure voice acting is the right path for you, check out her free mini-course here.
Launch Your Small Business Idea
Out of this list of home-based business ideas, did you find one that suits your personality? Great, here are some common next steps to starting your small business.
1. Get the Proper Training
If you don't already possess the skills needed to perform the task at hand, you'll need to educate yourself on both skill-building and business-building skills. If you're taking a course, ensure that it covers both of these aspects so that once you master the skill, you can get your business up and running quickly.
2. Write a Business Plan
Every business, no matter how big or how small, should start by writing a business plan. Writing a business plan will help ensure that you have all of your bases covered, and it will help you think through all the next logical steps to take. Not sure how to get started? No problem! Grab our free business plan template here.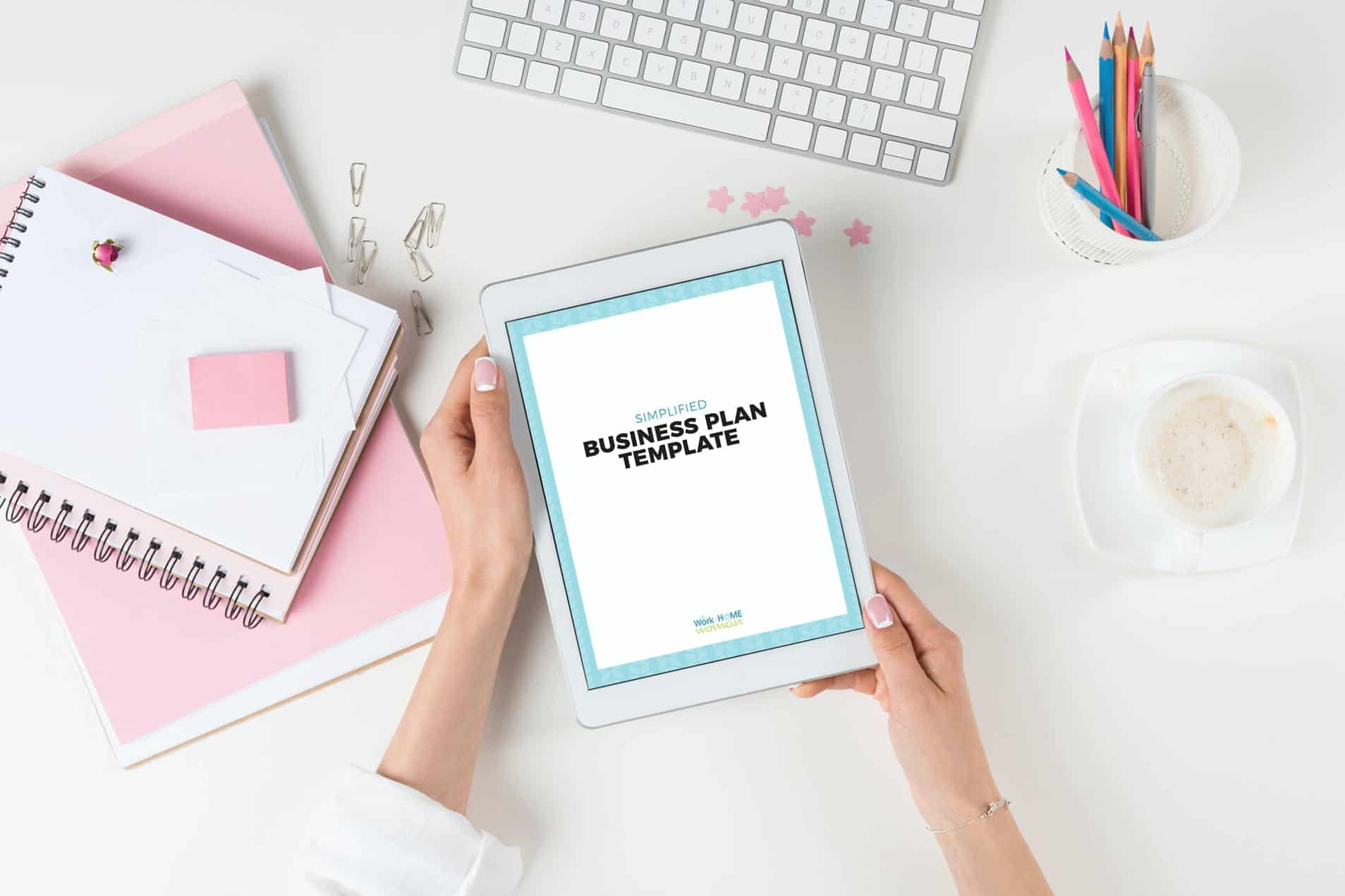 Free Business Plan Template
Would you like to start a home-based business, but you're not sure where to start?
Grab our FREE Simplified Business Plan Template, which will walk you through the questions and steps you need to take to get your business off the ground!
3. Get the Right Tools
As a new business owner, you'll need to invest in the right tools to get the job done. At a bare minimum. you'll need a computer, a high-speed internet connection, a way to accept payments, and, more than likely, a website.
A website allows you to showcase your expertise, your service offerings, rates, testimonials, and more.
Here are some pages you'll need to include:
Contact information
Rates
Samples
Services or products
Testimonials
Terms
There are so many easy-to-use and affordable options for building your website, and this post can help you determine which platform or online marketplace s right for you.
4. Market Your Small Business
I don't know who said, build it, and they'll come, but I doubt that they ever started a business.
Once your business is up and running, you'll need to get the word about it, meaning you'll need to choose 2-3 marketing methods and block out time in your schedule each day for promoting your business. You can choose to get the word out by:
Attend networking events
Bid on freelance gigs
Pitching clients via email
Social media
Use Facebook groups
Conclusion
Sometimes, the most challenging part about starting a business is figuring out which type of business to start. But with some exploration of your skills, passions, personality type, and familial obligations, this list of best business ideas should spark some ideas that will be perfect for your situation.
Looking for more small business ideas? Here is a list of service-based ideas and creative business ideas!
Originally published April 12, 2021. Content updated March 2023.