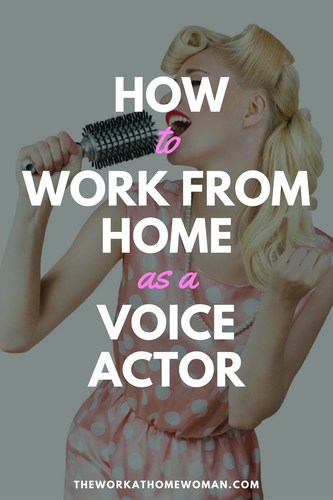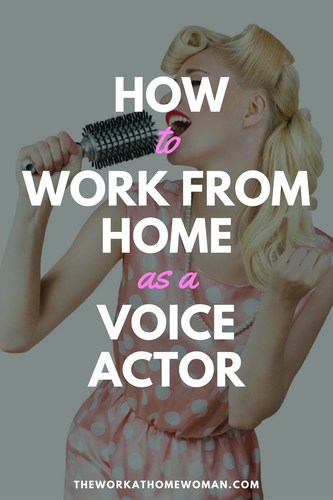 Voice acting is the art of reading a script and using your voice to bring that script to life by acting or creating a character, which is then referred to as a voice-over. Voice actors are also often called voice over talents and voice artists.
You probably hear voice acting every day, but may not realize it. Voice actors can be heard on commercials, audiobooks, telephone greetings, store announcements, and more!
Anytime you hear a voice, but don't see a face – that is a voice-over which was recorded by a voice actor.
Working as a Voice Actor
Most voice actors work right from the comfort of their own homes using the internet and some basic recording gear.
The thought of working from home, acting, and creating characters for a living seems like a dream to many, but it can also make some people feel uncomfortable. Maybe you're thinking you're a bad actor or you feel because you haven't had any acting experience you're incapable of becoming a voice actor.
It's true some roles may be too much of a stretch for you in the beginning stages of acting. Maybe you feel silly or embarrassed acting like someone you're not. That's understandable.
But if you think you don't have any characters inside you, think again!
One easy way to get around this fear of being silly when you're just getting started as a voice actor is to audition for roles that are similar to your own personality. By voicing a character that is similar to you, it'll be much easier for you to relate with the character and in turn, you'll be a better fit for that role. This way you aren't acting like the character, you are the character.
If you do have some acting experience, that's great – you'll be able to use your skills to land a broader range of jobs.
But the truth is … you don't need an Academy Award to get started as a voice actor.
The ability to act is like many skills. You start small working with what you have, and with ongoing practice, you get better and better. As you improve you can try new styles and increase your range.
The Shift in the Voice Acting Industry
Years ago every voice over you heard would be the same big, deep, booming male announcer voice type. It didn't matter if it was a movie trailer or a soap commercial, that booming voice was heard everywhere.
Luckily all that has changed! Advertisers realized people are more willing to purchase from those they can relate to and feel a connection with. The big thundering voice wasn't connecting with the market anymore. Moms and dads relate to other moms and dads — not to some big powerful voice telling them to buy.
This led to the normal, neighbor next door, conversational style voice overs. Nowadays, you hear this voice style everywhere.
Related content: 5 Ways to Make Money with Your Voice
Types of Voice Acting
This conversational style of voice over is now in high demand in multiple areas of the voice-over industry. Here are some of the largest voice acting niches that are perfect for when you're just getting started:
1. Radio and TV Commercials
Radio and TV commercials provide a huge amount of work for voice actors. Each spot is usually:15, :30, or :60 seconds in length so they don't take a lot of time to record. Commercials tend to require the ability to interpret the copy, understand the point of the commercial, and create a character to match. The wide variety of commercial work available is excellent to practice with and improve your character range.
2. Educational E-learning
Do you find joy when teaching others? E-learning is great because you are training others on subjects that are important to them. Teaching a subject you aren't familiar with yourself can be a challenge. The more you do it the more comfortable you'll become with e-learning. Character acting is usually less called for on e-learning projects, instead of delivering the material in a manner that keeps the listener engaged over an extended period of time is key.
3. Audiobooks
Love reading books to your children? Since audiobooks usually take weeks to create, they are a great source of long-form work and income. The style of voice-over will depend on the subject matter. Common audiobooks are self-help, romance, and fiction. One common theme with audiobooks is the voice actor needs to be a great storyteller.
Related Content: Make Money Narrating Audiobooks From Home
4. Phone Prompts
Businesses large and small use phone prompts to assist callers in finding the right person to speak with. Phone prompts also keep customers from being bored when they are put on hold. These on-hold announcements often promote services provided by the company. Phone prompts can be heard when calling medium and large-sized businesses (like a credit card company) and the vocal style is usually a friendly conversational voice.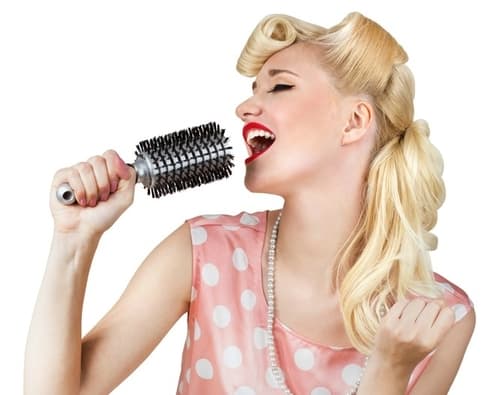 Required Skills
Here are four important skills voice actors use every day:
1. Ability to Act
No matter what type of project you are voicing you first must relate to the script. It's important to determine who is speaking, who is your character speaking to, and any emotion your character is experiencing. Being able to interpret the script is essential.
2. Computer Skills
Since voice talents work from home, scripts are received and voice-overs are sent via email. You also need a simple audio recording software. So knowing how to use a computer is a must.
3. Communication
Like any successful business, communication with clients is important. You must keep communication with the client open in order to be considered a reliable voice actor. Make responding to emails and phone calls a top priority in order to keep work coming in. If you're spending time with the kids, have your email on your phone, so you can keep clients in the loop on expected turnaround times.
4. Business
The business side of voice acting is just as important as the talent side. As an independent contractor, you'll be responsible for setting rates, quoting projects, auditioning for jobs, invoicing, and following up with clients.
Required Equipment
There are a few things you need in order to start working from home as a voice actor. These include:
A quiet space where you can record.
A good quality microphone in order to record to your computer.
A well-performing computer with a fast internet connection.
Audio software (like Audacity) to record, edit, and save your audio.
How Much are Voice Actors Paid?
Rates can vary based on your experience and where the voice-over will be used. Generally, for shorter projects, a voice actor will make from $100 to $300 per minute of audio. As a freelancer, you're able to set your own rates.
Where to Audition for Voice Acting Jobs?
The fastest way to get a paid voice over job is by auditioning through one of the many online voice casting websites, like Voices, VoiceBunny, or Voice123. You can also find gigs on sites like FlexJobs and Upwork.
Here's a guide that walks you through how to audition and how to figure out which jobs to audition for.
These voice casting sites have job postings every day. You'll receive an email and then you'll audition for the job. If the client likes your audition, they'll hire you for the project.
Conclusion
Becoming a voice actor has many benefits: you work from home, you have a flexible schedule, you can work full-time or part-time, and it pays really well. The downsides to working in voice-over are that some projects have tight deadlines, you'll experience rejection, and it's a competitive field.
Keep in mind, though, the more you audition, the more you'll improve and the more jobs you will land.
If you're interested in voice acting, check out Julie Eickhoff's free voice-over training class here. In this introductory class, you'll get an inside peek into the industry to see if voice acting is your career calling.
Jason McCoy is a voice-over actor who works from home. When he isn't in the studio recording narrations, he's wrestling and building forts with his 2 sons (+1 baby girl on the way). Jason recently launched Voice acting 101 as an educational resource to help others interested in becoming a voice actor. You can hear Jason's voice over demos here.