Has anyone ever told you that you have a great voice? Are you an extrovert with excellent communication skills? Then you can make money at home pursuing voice acting jobs.
Voice acting can be an exciting and flexible at-home career. Typically, your voice is used for commercials, cartoons, movies, video games, podcasts, and more. Voice actors also provide narration for audiobooks, do dubbed voiceovers to translate another language, or even work on radio promotions.
If this sounds like a field you'd love to get into, there are plenty of places to find work-from-home voiceover jobs once you start growing and marketing your skills.
How to Start Voice Acting – What You Need
Whether you feel you have a natural talent or not, getting voiceover training is still a great idea. You may want to hire a voiceover coach or take a course so you can learn how to take good care of your voice, audition for roles, and perform well for samples you record.
Training and practicing will help you build your portfolio and prepare for paying work opportunities.
Equipment
To start, you'll need some basic equipment like:
Pop filter (block out background noise in your home studio)
Recording software
Business Plan
If you want to be successful with voice acting, consider developing a basic business plan to help you determine who your ideal client is, what specific services you'll offer, and how much you'll charge.
Consider checking out the Work From Home Doing Voiceovers online program to help you get the training and business guidance needed to thrive in the industry. This course contains 26 videos and 14 PDFs, teaching you everything from the best voiceover recording tips to the skills you need, where to find your first gig, and how to organize and grow your business.
If you're an aspiring audiobook narrator, you can also check out this Free Mini-Course to help you learn more about becoming a voice actor and how much you can make.
How Much Can You Make as a Voice Actor?
Speaking of compensation, how much you earn as a voice actor depends on your skillset, the type of work you do, and who you work for.
On average, voiceover actors earn $31,400 annually. Some jobs will pay hourly for recording work, while others will pay a flat fee. This means you can make anywhere from $20 to hundreds per project you take on. If you get an ongoing client, you can even use a monthly retainer fee if you'll be completing similar tasks each week.
Where to Find Paying Voice Acting Jobs
1. ACX
On ACX, you can find voice acting jobs for audiobooks sold on Audible, Amazon, and iTunes. For these gigs, you can choose payment by the finished hour rate or sharing in royalties. To get started on ACX, create an account, upload your samples, select a payment option, audition for gigs, and accept or decline offers as they come in.
2. Backstage
Backstage is a popular talent database for actors and performers that has been around since the 1960s. Casting calls and job leads are also posted here for voiceover actors. Each listing specifies the type of work, how much experience is required, and where the job is located.
You can become a Backstage member for an annual fee to get instant job alerts and to set up a talent profile on the site so prospects can reach out to you.
3. Bodalgo
Bodalgo is another platform that connects you with paying voiceover clients. You can become a member and audition for jobs posted on the site by sending a script sample to the client. From there, you can negotiate a rate with the client based on the work and their budget.
4. Fiverr
Fiverr is a great place to start finding voice acting jobs. You can build a profile and then set your rates and packages. Be sure to record some demos of you doing voiceover work so prospects can get a feel for how you sound.
Fiverr is all about getting positive reviews and high ratings. You may want to offer a reasonable discount when you first start to help you land work and get good ratings. Then, you can always bump up your rates as your Fiverr business grows.
5. Upwork
Upwork is a freelance platform where businesses can connect with freelance talent, including voice actors. To start on Upwork, create a free profile that shows your skills and pay rates. Clients can contact you for projects they have, or you can search for freelance job opportunities on the site. Payments come through direct deposit, PayPal, Payoneer, or wire transfer, and Upwork takes a 5%-20% fee based on your earnings. For more tips on using Upwork, check out this informative interview with Danny Margulies.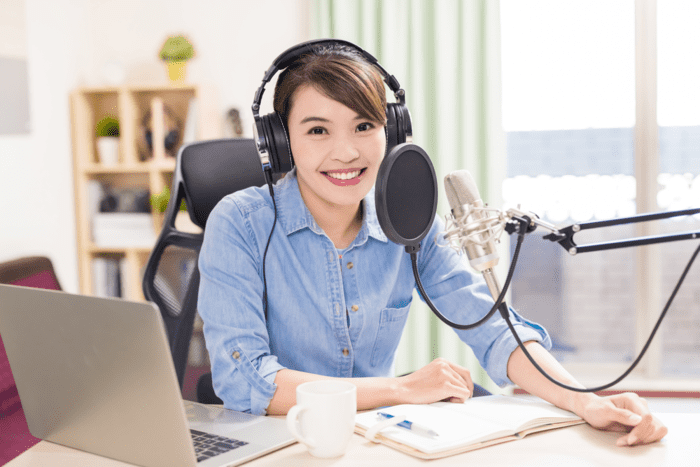 6. Voice123
Voice123 helps voice actors build their potential clients by connecting them with voice acting projects in cartoons, commercials, movies, narration, radio, and video games. They have many different membership tiers to choose from, including free up to $4,950 per year. The paid levels are geared for professional voice actors that have experience.
7. VoiceBunny
Like Voices.com, VoiceBunny helps you connect with paying clients who need voiceover work. This site works with thousands of clients all over the world. You can sign up for free and set your own rates. Voice Bunny will add their fee on top of your rates and provide you with all the support and feedback you need.
You do need to pass an initial test to join, which will be reviewed by the in-house quality control team. This is where voiceover training and practice will come in handy.
You'll receive invitations via email to apply for opportunities that fit the skillset you outlined in your profile. Jobs go fast, so it's advised that you are proactive and meet deadlines to see the best results. VoiceBunny will process your payment once you submit the voiceover files for the project and the quality control team approves them.
8. VoiceJockeys
VoiceJockeys is always looking for talented voice actors to join their team. They help clients find you and book you for work. They do take a 50% commission on all work that you receive and complete from their platform.
However, this is still a great place to start getting some paid portfolio work completed. When applying for a talent position, you need to submit two demos. Once your application is submitted, a representative will contact you within 24 hours. The timeframe may be longer if you apply on the weekend, but be sure to follow up regardless if you don't hear anything at first.
9. Voices.com
Voices is an online marketplace for voice acting work. Clients who have voiceover acting opportunities post a job on the site, select a voice actor on the platform to do the work, and then download the completed files at the end of the process.
To find jobs on this site, become a member, and create a portfolio for free. The free membership is great for beginners and is where you'll want to start to see how you like the platform and which jobs you can get. However, there's also a paid option called Voices Talent Membership for $499 (annually) that allows you to audition for roles and appear in more client searches.
10. Local Businesses
Don't forget – you can always contact businesses in your area to see if they're looking to hire a voiceover actor. Research businesses that may need your service or, if any, have worked with voiceover talent in the past.
Drop by or send a pitch detailing which services you specialize in, how you can help them, and a few samples of your work. You can offer to do voiceover work for their YouTube videos, TV commercials, or even written content and guides into audio files. It never hurts to ask and build relationships. Even if they're working with a talent agency, you may be easier to partner with and provide better rates.
Plus, when you land one client (even if it's for a one-off project), you'll gain a testimonial and the opportunity for a referral.
Conclusion
If you enjoy speaking and want to utilize some new skills, voice acting can be a great career field to get into. You can land paying work without using a talent agency and even set your own pay for some projects.
It's best to invest in training or courses initially so you can get in practice and record some demo reels. From there, look into the many different sites shared above to connect with paying clients.
If you want to know more about voice acting, sign up for this free voiceover mini-course with Julie Eickhoff.
Originally published February 17, 2020. Content updated December 2021.