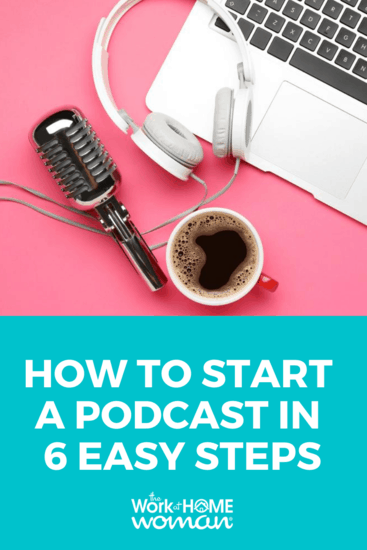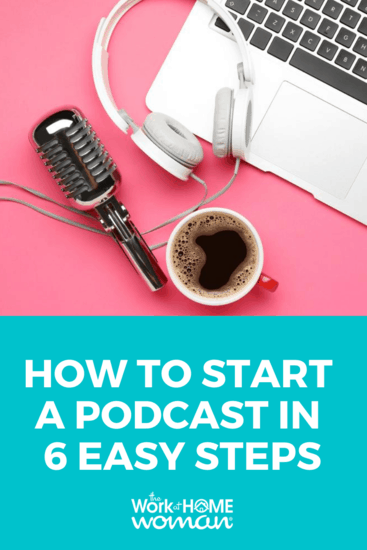 Are you thinking of starting a podcast? You're in good company.
In 2019, podcasting platform Libsyn hosted more than 69,000 shows and delivered 6.2 billion unique podcast downloads to audiences worldwide.
With minimal startup costs and many monetization options, it's no wonder podcasting is becoming one of the most popular content marketing strategies for all kinds of online entrepreneurs. And while setting up a podcast can be done quickly and within even the smallest of budgets, it still takes some proper planning to lay the groundwork for success.
If this sounds like fun to you, here's how to start a podcast in six simple steps.
Step 1: Create a Podcast Plan
In its purest form, a podcast is a digital series that is (usually) produced on a weekly basis. Once created, subscribers can download a podcast and listen to it whenever, wherever they want. Although this sounds relatively easy, it still requires a good deal of forethought and planning to get started the right way. That's why the first important step to becoming a podcaster is to create a plan.
What Will You Talk About?
As a form of content marketing, you'll want to choose a general category or niche that each of your episodes will discuss. Ideally, your chosen category will demonstrate your expertise and allow your personal knowledge to take center stage. This gives your listeners tons of value, and in turn, they likely become loyal subscribers. If a topic isn't jumping out at you or you're having a hard time narrowing it down, check out the most popular podcasts on iTunes for inspiration.
Outline Your Podcast
Now that you know what you'll discuss, it's time to start framing your podcast. The average podcast runs 43 minutes. If this sounds like a lot of talk time right out the gate, you can shoot for something shorter to start. Marketing experts, Neil Patel and Eric Siu, run a podcast called, Marketing School and their episodes run an average of 5-10 minutes each.
To help you make the most of each of those minutes, create an outline. A basic outline for a 10-minute podcast looks something like this:
Spoken Introduction: 30 seconds
Music/Sound Clip: 15 seconds
First Topic: 2 minutes
Second Topic: 2 minutes
Brief Music Break/Interlude: 30 seconds
Third Topic: 2 minutes
Fourth Topic: 2 minutes
Spoken Conclusion: 30 seconds
Send-Out Music: 15 seconds
Think of an outline as a broad timeline, a basic roadmap to follow from introduction to conclusion. In the next step, you'll fill that timeline with the content that will become a recorded podcast.
Step 2: Get Scripted
Your script will follow the same basic structure as your outline. The introduction is the perfect place to explain who you are and provide a brief overview of what the podcast will cover and what benefits the listener will gain from tuning in.
As you move into topics, remember to keep your timeline in mind. As a general rule of thumb, one paragraph of writing equals one minute of talk time. If you allow two minutes for each topic, you'll want to write two paragraphs for each.
To wrap up your podcast, always end with a brief conclusion. This is the perfect time to reiterate the purpose of the episode and remind listeners what they've just learned. You can also thank them for tuning in and ask them to subscribe to your podcast if they're not already.
Don't forget to include a musical intro and interlude, and send out in each of your episodes. This can be the same song or sound clip that you use each time. Doing so gives consistency to your episodes and helps naturally break up your podcast into segments.
Remember, as with any media you use, make sure you have the right to use it. This means you can't just borrow a brief snippet of your favorite song or a piece of audio you find on Google. Instead, take the time to create something yourself or purchase royalty-free stock music. You can also hire the talents of a freelancer on Fiverr who will create a custom song for you, starting at just $5.
Podcasting with Purpose
Although you want your podcast to sound as conversational as possible, you'll also want to have a script in hand. Your script will help you stay on topic and will give your podcast purpose. Without a script, you may find yourself going off on too many tangents or going over the same subject multiple times. This can quickly lead to listeners abandoning the episode, never to return again.
Remember, you want to create a loyal subscriber base that eagerly awaits the release of your podcast each week. A well-written script that educates and entertains listeners will go a long way in boosting your podcast's performance week after week.
Step 3: Gather Your Gear
One of the great things about podcasting is the budget-friendly startup cost. As a first-timer, you don't need a professional recording studio or fancy equipment. In fact, you probably already have several of the items required to create a podcast, like a computer, internet connection, and a pair of headphones.
Additional equipment you may not have but that are important to the production of your podcast are the microphone and software you'll use to capture and edit your voice. These tools will ultimately determine the sound quality of your show.
Microphone
Microphones can be expensive, costing hundreds and even thousands of dollars. You don't need to go out and purchase a top-of-the-line microphone, but you will want a mic that produces excellent sound quality. After all, your voice is the star of your podcast, and you don't want the audio quality to be subpar. Skip your computer's built-in microphone in favor of one that will help you sound professional. Blue Yeti is an affordable favorite of many podcasters that you can purchase on Amazon.
Software
You'll likely develop a preference for software over time-based on your podcasting needs. But when just starting, you should consider beginner-friendly options like:
Audacity is open-source software available for free. It's capable of recording and editing audio, and it comes with various sound effects. If you're a PC user, this is great starter software.
Garage Band is available to Mac users. It is feature-rich and perfect for both recording and editing your podcast.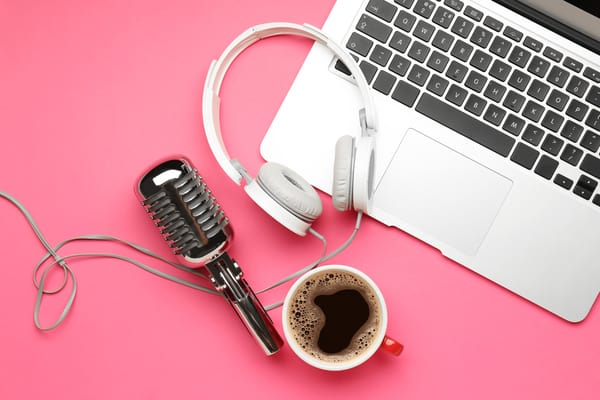 Step 4: Recording Time
Now that you've done all the prep work, it's time to get to the fun part: Making your first podcast! Before you hop on the mic and start talking, give your script one last read—now's the time to make any last-minute changes. After the script is finalized and you're convinced you've got enough written to fill your first episode with plenty of valuable content, it's time to hit record.
Voice Recording
Although you've created a structured outline and a script to go with it, you'll want to sound as natural and conversational as possible while recording. This takes practice. Your show's sound will likely evolve over time, but as you work to find your voice in the beginning, take some pointers from your fellow podcaster on what makes an episode great.
Once you get a few podcasts under your belt, it will become much easier to relax and find your unique voice that will leave listeners wanting more week after week.
After you've finished recording, be sure to save your file as an MP3. Give the recording a listen from start to finish. If you're not thrilled with the outcome, rerecord it. But remember, it doesn't have to be perfect. In the next step, you'll put the finishing touches on your podcast.
Step 5: Editing
You may be eager to share your first podcast with the world, but before you do, you'll need to make some edits. As a general rule, less is more when it comes to editing. You don't want to sound overly manufactured or robotic, but there are some instances where editing software comes in handy like:
Long pauses and awkward silences
Misspoken words
Excessive ums, uhs, and ahhs
Interruptions
These are the things you'll want to edit out of your podcast to make it appear as crisp as possible. Even a minimal amount of editing can go a long way in making your podcast professional sounding.
Step 6: Making Your Podcast Public
If you're a blogger, you'll want to host your podcast directly on your blog. This can easily be achieved with a simple plugin. But if you're not a blogger (and even if you are), you'll also want to submit your podcast to popular channels. This is where you will see the most potential for growth.
Hands down, the largest platform is, iTunes with more than 1 billion podcast subscribers. The process of getting your podcast submitted and live on iTunes can take as long as ten days, but Apple offers tons of advice and support to make it as easy as possible.
Keep in mind, iTunes isn't the only platform to consider. There are many different options to host and distribute your podcast to the masses, such as:
Making Money From Your Podcast
Once your podcast is live and gaining traction, you may want to look into monetization. Two common ways to make money through podcasting include sponsorships and advertising networks, but these aren't the only opportunities to earn as a podcaster.
If you already sell digital products online, like eBooks and courses, you could use your podcast to help drive sales. For freelancers, podcasts can be used to display expertise, advertise services, and land clients. Really, there is no right or wrong way to monetize your podcast. It ultimately depends on your personal preferences as a podcaster.
Like any form of content marketing, podcasting is ever-changing. Fortunately, the podcast community is an active one, filled with plenty of ideas for growing your audience as well as practical tips for monetization.
Here are a couple of resources you may want to check out:
BC Stack – Contains blogging, marketing, and podcasting courses
Conclusion
Whether you're a blogger attempting to reach a new audience, an information marketer wanting to demonstrate your knowledge, or you're looking for a creative outlet to monetize and share your story, podcasting offers the opportunity to do all those things and more.
Originally published October 4, 2016. Content updated July 31, 2020.