Selling feet pictures online might sound like a strange idea initially, but it can be quite a profitable side hustle. Ever since the concept started trending on TikTok, people have been wondering how they can get a slice of the pie. So while you may have heard that you can make money selling feet pictures, your next question may be—how?
It's simple to snap pictures of your feet. The key is learning where to upload them, how to take desirable photos, and finding the customers to sell your photos to. This guide will cover all you need to know—and then some!
Choose a Platform to Use
There are many platforms you may want to use to sell foot pics. It all depends on your comfort level, time commitment, and the type of photos you would like to sell. Here are a few you can look into.
1. Stock Photo Sites
Many people need to use foot photos for marketing—the business is not just for customers with a foot fetish. Instead, think of businesses like jewelers, nail salons, massage therapists, shoe companies, health practitioners, and more.
Essentially, you can work as a foot model! You can find some great stock photo websites to sign up for in this article on how to make money selling photos.
2. FeetFinder
One of the most popular websites for selling feet photos, FeetFinder has a very high reputation in the industry. This is because it's a website dedicated entirely to foot photography.
FeetFinder will automatically blur the photo you upload and provide a preview to those interested in purchasing it. To be a seller on FeetFinder, you must pay a $3.99 monthly fee, and they will also take a 30% commission on all your sales.
While this can take a chunk of your earnings, listing on the site makes selling the simplest. They automatically protect your safety, take care of payment, are reputable, and can drive customers to your pictures.
FYI, the popular foot stock photo website, Instafeet, recently merged with FeetFinder.
3. OnlyFans
OnlyFans has recently exploded in popularity for subscription-based services. It's well-known for supporting sexy models, fitness influencers, and scantily clad celebrities, but you can use the site in any way you want. Many popular content creators use OnlyFans to offer followers additional content.
Once again, it's free to join and will take a 20% fee on all the transactions on the site.
4. Make Your Own Website
You can even make your own website just for selling feet pictures! Setting up your own website using Wix, WordPress, or Shopify is quite simple. You can use the website's features to set up an online shop where customers can make purchases, and you can receive payments securely and privately.
You can even set up a blog on your website and make posts that might get picked up by Google.
5. Snapchat
You can use Snapchat as a way to set up your own subscription service. After finding a customer (more on that below), you can add them to your friend list on Snapchat. You can then directly send them photos or allow them to view pictures you post on your story.
While Snapchat is free to use, it's a little more hands-on. For example, you'll have to actively add and remove people from your friend list and accept payment all on your own via a secure method.
6. Etsy
When you think of Etsy, you probably think of arts and crafts, but there are many people selling foot photos on the platform. The nice thing about selling on Etsy is it only costs $0.20 per listing, plus a small transaction fee when your photo sells. Remember to incorporate the right keywords to drive more customers to your Etsy shop. This post has great tips for getting started on Etsy.
How to Find Customers
To sell your feet pictures, you'll need to drive traffic to your website or the desired platform. Here's where you can find potential buyers to sell pictures of feet.
Social Media Platforms
One way to find customers is by setting up a social media account. Twitter is very popular when you're first starting. You can make a tweet stating that you're selling feet pictures and include some hashtags for people to find you. Then you can sell directly through DMs or send interested people to your website.
You can also use Instagram and TikTok to advertise. Videos are especially powerful ways to get people's attention. For example, show a video of your feet walking in the sand at the beach.
Facebook groups are also another way to sell feet pics. Be sure to read the group rules and use a separate profile from your personal one when interacting with people. Avoid Facebook Marketplace, as it can be hard to conceal your location.
Sometimes certain social media sites will have specific rules about what you can and cannot post. Try your best to follow the rules and keep your posts PG.
Whisper App
Another website some people use is the Whisper App. Technically a form of social media; it's completely anonymous. The anonymity makes the app popular for people trying to keep their personal identities separate from their business selling feet pictures.
The app doesn't allow you to search for users or even ask for email addresses. The only way to communicate with someone is by responding to their Whisper, an anonymous post in the main feed.
You can sell feet pics on Whisper by using the posts to drive people to your website or online store. Install it from the app store and take a look at the app first to get a gist of how it works.
Tinder
Traditionally used as a dating app, some people use Tinder to help find customers. Avoid using words like sell or sale on the platform, as this can get you banned from the app.
Instead, upload photos of your feet, and people should get the idea of what you're on the app for.
Tinder is free to use, but you may want to use the paid version to change your location and use features like Super Like and Super Boost.
Past Customers
Don't forget about your previous sales! Check-in on previous customers by creating a newsletter sign-up and ask if they want any more photos. It's much easier to sell to an existing fan base rather than create a new one.
How to Stand Out
With foot sellers on the rise, you want to ensure your content stands out. Here are some tips:
Get ideas. Browse stock websites and other platforms for inspiration when you're first getting started.
Take high-quality photos. Most phones are acceptable, but pay attention to the lighting and the background.
Take care of your feet. They're your most important asset, so you want to treat them well by wearing lotion, getting professional pedicures, keeping your nails tidy, and more.
Use props. Change up the look of your feet by using props such as different nail polish, high heels, toe rings, temporary tattoos, anklets, flowers, and even candles in the background.
Try different poses. Always try to take different poses and shots like angling from the top and bottom of feet, showcasing the arch, toes scrunches, toes spread apart, with legs, and more.
Try different categories. Most websites will have specific niches that you can tailor to.
Use editing apps. Lightroom is great for touching up your photos. Then be sure to use photos at the highest resolution.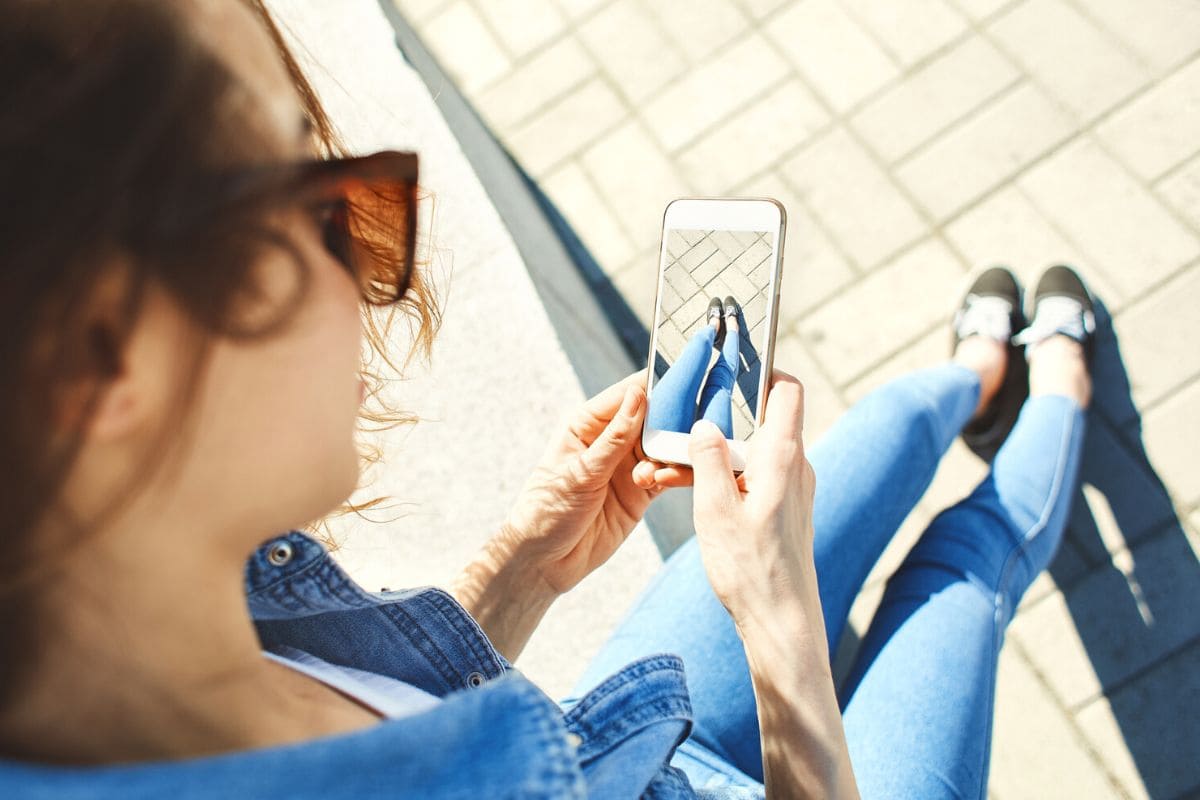 Protect Your Identity
When you sell feet pics online, you want to take every precaution necessary to protect your identity and privacy. Keep this list in mind before you get started.
Use a pseudonym. Create a separate email account that uses that name to sign up for all your social media accounts, payment platforms, and selling websites.
Use a VPN whenever you're online and interacting with these platforms.
Don't accept physical gifts or anything that reveals your address.
Turn off location services on your phone or camera before taking photos. Customers could find this info in the photo's metadata after sending it.
Don't take overpayments. This is a common scam where the customer "accidentally" send you more than you asked for and then asks you to issue a refund. When you pay back, you may notice that their initial payment bounces or comes from a stolen credit card.
Never divulge personal information like your name, hobbies, location, etc. Keep your business identity completely separate from your personal identity.
Establish boundaries. Only do what you're comfortable with. For instance, someone may ask you to send socks and photos. You may want to decline if you're not comfortable sending those items.
Bonus Tips for Success
Here are a few more things to consider before you set up your feet photo business!
Ask for money upfront. You don't want people to get free pictures from you, and most people are happy to provide payment first if they seriously intend on paying you.
People pay more for videos. Consider including this in your offerings.
Many people will have specific requests. Charge more to include these requests as one of your offerings.
Watermark or blur the photos you want to sell when listing them.
Only use secure payment methods such as Venmo, PayPal, and Wise.
Try a few different selling platforms when you first start. See which one is the best money maker before focusing on just one.
Selling feet pictures is a business like any other, which means you will have to pay taxes on the money you make from selling the pictures. And depending on your state's requirements, you may also be responsible for collecting sales tax. Research these things before jumping in.
Final Thoughts on Selling Feet Pictures
That covers all the basics for learning how to sell feet pictures online. Remember to listen to your gut and only do what you're comfortable with. Always put your safety first, and then this can become a very lucrative side business for you to do in the comfort of your own home. After all, we're always looking for simple ways to make some extra money!
For more unusual ways and creative ways to make money, check out this list of ideas!