Do you want to start a business that pads your wallet and fuels your creative personality? Keep reading; we have a mega list of creative business ideas!
Before I began my blog, my quest to earn a good living and do something I loved felt futile. I had always enjoyed helping people, traveling, and writing, but I could never figure out how to practically apply my passions to a career that would pay me a decent wage.
Many times I thought I had it figured out. But once I began the work, I slowly lost interest and started searching for my next gig. I couldn't figure out what to do professionally.
Through the process of leaving the work world to become a stay-at-home mom, I eventually realized what I wanted. Aside from my desire to be at home with my daughter, I also longed for a career that would offer me flexibility, good pay, and a creative outlet.
Fast forward to today. I'm able to spend lots of time with my family, I earn more than I ever made as a nurse, and I get to call the shots and nurture my creativity.
The good news is nowadays; it's a lot easier for individuals with creative personalities to start a business that they are passionate about.
If you're ready to be in charge of your career direction and work on passion projects, here are some creative business ideas to inspire your entrepreneurial journey.
1. Design and Sell Printables
If you love to create worksheets, planners, coloring sheets, gift card holders, or any other digital products, you can make good money with a printable business! For this business, you don't even need any graphic design skills! You can use a free platform like Canva to create printables to sell on sites like Etsy or Teachers Pay Teachers.
One business owner that earns over $1,000 a month selling printables on Etsy is Julie Berninger. On her Etsy shop, The Swag Elephant, she sells bachelorette party games, real estate templates, digital planners, gift card holders, and more. Julie has been so successful at this side hustle that she started teaching others how to start their printable business from home!
If designing printables sounds like a fun business idea, be sure to check out Julie's free e-book on seasonal products you can sell on Etsy to make money from home!
2. T-Shirt Designer
Graphic tees have made a comeback. Whether you love to share and promote great designs from others or you're a design guru yourself, there are many companies to help make your t-shirt design dreams come true.
Companies like Teespring and Spreadshirt can help you get your designs onto shirts and on the bodies of your customers, earning you a commission on every shirt sold. Most companies also offer the opportunity to print your designs on other items, like mugs, stickers, posters, and more. If you have an idea for a catchy saying, cool graphic designs, or funny drawings, designing t-shirts might be the home business you're looking for.
3. Photography Business
If you're a skilled photographer, stock photography is in high demand, and there are many buyers and platforms who will pay you a commission, give you assignments, or buy photographs you've already taken. Sites like Bigstock and Getty are a couple that pay for stock photos.
Don't have a fancy camera? No problem. Smartphone apps like Foap will allow you to upload photos from your smartphone to their site. Each time one of your photos sells, you earn money.
Check out this article for more ways to make money selling photos.
4. Photo Book Designer
If you're more into scrapbooking than photography, you can use your creative skills to earn money by creating photo books. Using scrapbook design software, you can get creative by helping others organize their photos so they can archive them in a keepsake book rather than being lost in the digital abyss.
With smartphones and digital cameras, people snap hundreds, even thousands, of vacation photos, pictures of their kids, and holiday moments … but those images just sit there. Scrapbooking takes time and talent, so if you've got the eye for it, you can create beautiful masterpieces, earning you money while having fun.
Here's an interview with three photo book designers so you can see how they got started. In fact, Rachel Jenkins of ScrapMyPix says she receives a large portion of her business through referrals and networking. She started scrapbooking while working on a baby book for her son. She says, "It was a perfect creative outlet for me. As I was putting those pictures to pages, I thought, 'I wish people would pay me to do this.'" If you've got a talent for organizing photos and digital scrapbooking, photo book design might be perfect for you!
5. Web Design Business
If you have experience in website development, you know it can be a very creative process. Some people cringe at the idea of learning HTML, navigating through the land of platforms, and web hosting. But if technology doesn't frighten you, this can be a lucrative and creative way to earn money from home.
If you enjoy website building, your services can be extremely valuable to bloggers, sellers, and other online business owners. Even if you have to outsource some aspects of the process (such as logo design to a resource like Fiverr or Upwork), you can do much of the page designing and layout yourself with your creative skills.
6. Graphic Designer
While graphic design is competitive and working for an agency often requires a degree or extensive experience, there are still plenty of ways for you to make money from home in graphic design.
Self-taught designer Karen X. Cheng says, "I got my job as a designer without going to design school. I had hacked together my own design education in 6 months while working a full-time job … To be clear, I'm nowhere near as good as those design prodigies that come out of a 4-year education at an elite school like RISD. But I'm definitely good enough to do my job well. I'm the only designer at Exec [the startup firm where she works], so I do a pretty wide range of things – visual and interaction design, print, web, and mobile app design."
If you have design experience and think you're ready to take it to the next level, look at online design job options from sites like Dribbble, FlexJobs, and Legiit to see if you can find the right opportunity. Alternatively, you can advertise your services and showcase your portfolio through your own website and by working your network.
7. Freelance Writer
Writing from home is an excellent way to express your creative side and hone in on your talents. There are tons of platforms out there to help freelance writers connect with job opportunities. Try looking at Freelancer or FlexJobs to get started.
Alternatively, you can write blog posts for a variety of paid outlets. Head to BloggingPro or ProBlogger for job listings and writing opportunities. Need advice on how to build your work-at-home writing career? Make a Living Writing has your answers. You can also check out our comprehensive list of paid writing opportunities.
And don't feel you're limited to writing articles and blog posts. There are many opportunities for you to express your creative side with writing — such as writing greeting cards, poems, recipes, resumes, ghostwriting, copywriting, e-books, and more.
8. Event Planning
I love the idea of being an event planner—and in fact, I considered it as a career option at one point. It's so much fun to plan parties, set up for guests, and think up different themes, foods, and decoration ideas. As a work-at-home event planner, you can help with major events like weddings, fundraisers, and large-scale gatherings or small events like children's birthday parties and showers. Find your area of expertise and build from there. Think of a niche before you begin, then start networking!
Word-of-mouth can be great advertising for any event planner, particularly if you want to work within a small area (like within your neighborhood, school, or church). Once you get your foot in the door with one event, reach out to others, pass out your business cards, and see where it takes you.
9. Blogger
When it comes to making money from home, blogging has grown by leaps and bounds. If you enjoy writing and sharing your thoughts and ideas online, blogging is an excellent way to earn money. You can choose a topic you're passionate about, work on your own schedule, and make money with advertising, sponsored campaigns, affiliate marketing, course sales, freelance services, and more!
If you aren't sure how to get started, download my free e-book, Blogging Success. Consider what you would like to blog about and look for your particular niche and style. Once you have a plan, check out this post on to how to build your blog with WordPress. Don't worry; you don't need a tech background to get started. From there, you'll need to develop a regular posting schedule, build your network, and promote your posts using social media and email marketing.
10. Crafter
DIY and craft mavens can use their talents to sell their wares from home. You can sell your handmade items on sites like Etsy. These sites are simple to use, increase your exposure, and help connect you with potential customers.
However, if you want to grow your brand, you'll eventually need to create your own online shop. Use an e-commerce website builder like Shopify. With these platforms, you can sell directly from your site and promote your products via social media, blogging, and email marketing.
It's important for those running a craft business from home to remember to connect with local vendors and market spaces as well. If you live in a town with a farmer's market, local festivals, and craft fairs, these events are great opportunities to get your products in front of potential customers and increase your exposure.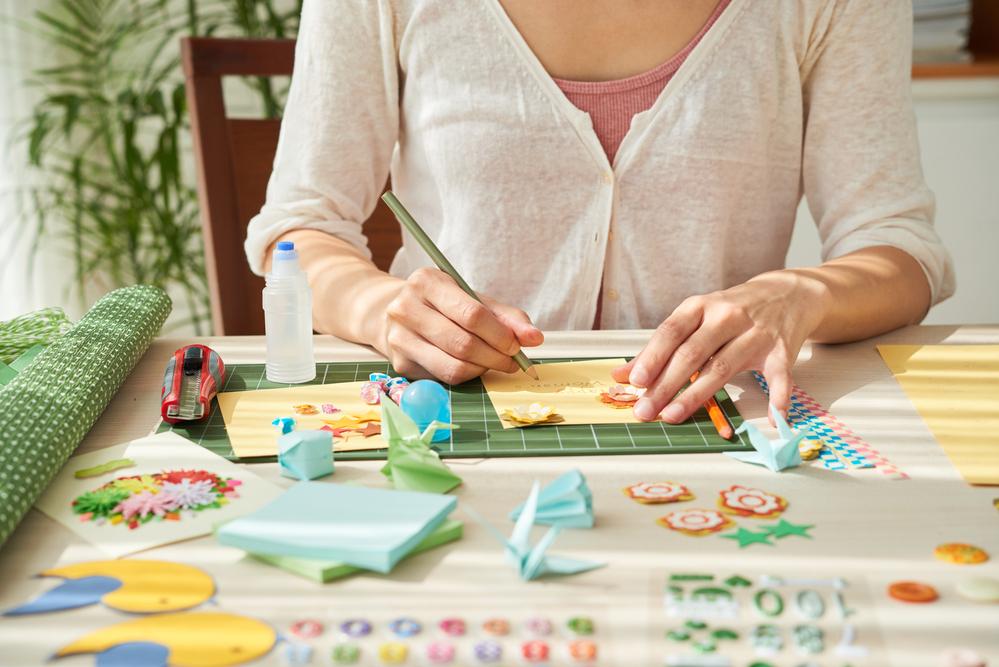 12. Start a YouTube Channel
Do you enjoy creating videos, slideshows, and tutorials? YouTube is one of the most popular social media platforms, and there's big money for those who can turn out entertaining and helpful videos.
Most YouTube creators make money from affiliate marketing, sponsored campaigns, and Google Adsense. To earn money through Google's ad monetization, you'll need at least 1,000 followers and 4,000 public watch hours, so it's important to post content that's engaging, well-put-together, honest, and helpful.
Wondering how much you can make as a YouTube Star? Check out Judy Travis' story! She's earning over a million dollars a year creating YouTube videos, amazing!
12. Fashion Designer
If you're a seamstress, a fashionista, or have an excellent eye for sewing and detail, becoming an online fashion designer might be a great business idea. You can create and sell your items on your own website or set up shop via a third-party platform like Etsy.
Need help launching your fashion line? Lisa Springsteel Dupré has some excellent tips and advice in this post.
12. Illustrator
Are you great at making ideas come to life through drawing? Book publishers, web designers, and authors are looking for your talents! If you have a passion for drawing, you can find illustration work through companies like Avatar Press and Cricket Media.
You can also submit your designs to Rubber Stamp Madness and Teacher Created Resources or join a site like 99 Designs.
Check out listings on Upwork for comic artists and illustrators as well. Tattoo artists can sell their designs on Create My Tattoo.
Another option is to watermark your illustrations and sell them on Etsy for download. As your creative talents and connections grow, you may want to explore joining a professional illustrators organization such as the AOI.
14. Artist
Similar to selling crafts, sewing, or photography, your business as an artist will vary by your area of expertise. If you enjoy painting portraits or pictures of animals, you can try your hand as a portrait artist for hire. Advertise online, and talk to other local artists.
Many cities have artist networks and feature open galleries. Talk to local coffee shops, bookstores, and other small businesses about displaying your work for sale. Fairs and street festivals can also be excellent opportunities to display and sell your creations.
Remember, when selling your art, you may want to offer smaller, more affordable options (postcards, prints) rather than only large paintings, especially if you're interested in getting your work in front of people and finding new buyers.
You can also sell your artwork online using platforms like Artfinder and Aftcra. For more online platforms where you can sell your artwork for money, check out this list.
15. Podcaster
If you have the gift of gab, producing a podcast might be your calling. Find your niche and start to brainstorm topics you'd like to discuss. You will need a microphone and some basic audio editing software like Audacity or Garage Band. Once you've recorded and edited your podcast, you're ready to publish. Just find some platforms to host your podcast and then promote it. iTunes is a popular platform, but there are many others to choose from. To make money from your podcast, you can include sponsorships or advertisements.
16. Lip Gloss Maker
Don't think you can make big money selling lip gloss from home? Kylie Jenner has made billions selling her lip gloss and cosmetics. While this is an extreme example, Kiki Quesada has made quite the name for herself on TikTok selling lip gloss through her online shop Kikiz Cosmeticz. Not only does she have fun shades and colors, but she adds glitters and yummy flavors. I'm not sure how much Kiki is earning, but with over a million TikTok followers, I'd say she's doing pretty well. If making lip gloss sounds like a fun small business idea to express your creativity, here is a list of supplies you'll need to get started.
17. Content Creator
If you enjoy creating content, whether it's writing, taking photos, or filming videos, there are many ways to make money as a content creator! To get started, choose a niche market like crafting, cooking, dancing, woodworking, or something completely different, and start creating content and posting it to social media sites like Facebook, TikTok, Instagram, Pinterest, YouTube, or even LinkedIn. Competition is fierce between these platforms, and they all have creator funds that will pay you to create content. But creator funds are not the only way to make money; you can work with brands on sponsored content, create UGC for companies, sell your own merchandise and courses, or use affiliate marketing or ads to generate revenue.
The great thing about content creation is its low startup costs; you only need your smartphone, an internet connection, a ring light, and some creative ideas. For more information on becoming a content creator, check out this post.
18. Calligrapher
When I was younger, I had a calligraphy set. And even though I spent hours trying to master my craft, I never was able to produce the gorgeous handwritten script that was shown in my book. If you have beautiful handwriting, you can make good money with a calligraphy business. You can sell your services addressing wedding invitations, selling SVGs on a marketplace like Etsy, or even creating fonts to sell online.
According to Career Explorer, a calligrapher earns an average of $61,580 per year, with some making as much as $115,020 annually.
19. Slime Seller
When my daughter was in elementary school, she loved making slime! She spent hours each day making slime and filming videos. Little did I know that she was selling the slime at school and making quite a fortune! The slime that is being sold today looks nothing like what my daughter was selling. Some companies make slime baking kits where you combine slime ingredients that look like real food products, such as eggs and butter. Then you combine all these slime ingredients into a finished pie or cake. It's wild how far slime has come!
One company that makes these ingenious slime kits is Slime Community. They release new slime kits on TikTok, and they are always sold out. They recently had a Thanksgiving slime kit that sold for $39.99. If you're looking for a fun side hustle that you can do with your kids, being a slime maker might be your calling. Here are some supplies you'll need to start your slime business.
20. 3D Printing Business
If you have a little money to invest, starting a 3D printing business is a great way for creative entrepreneurs to express themselves. With a 3D printing business, you can create prototypes for other entrepreneurs, 3D printed parts for digital nomads who are building out their vans or can design your own products to sell, like planters, toys, puzzles, coasters, organizational products, and tools. Once you have some products, you can set up a shop on Etsy, which will only cost you $0.20 per listing. You can cross-promote your Etsy listings on your social media accounts to reach more potential clients.
Austen Hartley is one entrepreneur who makes money using a 3D printer. In 2021, he earned over $100K from his 3D printing business! He has a helpful YouTube video if you're interested in pursuing this profitable business idea.
21. Cricut Entrepreneur
Another unique business idea is becoming a Cricut entrepreneur. If you're unfamiliar with Cricut, it is an intelligent cutting device that can cut materials like vinyl, paper, leather, wood, iron-on fabric, and more. These materials can be used to create custom coffee mugs, labels, sweatshirts, cards, decor, and so much more!
Melanie from Simple Made Pretty is one entrepreneur who used a Cricut machine to launch her own business. She started creating one-of-a-kind greeting cards and selling them on Etsy. Today, she also runs her blog, showcasing DIY and craft projects.
If you're wondering what crafts you can make with a Cricut, check out this list of ideas.
You can also purchase your own Cricut starter kit, which gives you everything you need to start your creative business.
22. Become a Voice Actor
If you have a great voice and enjoy acting, voice acting is a great way to make money and use your creative talents. As a voiceover artist, you can narrate TV and radio commercials, audiobooks, educational films, phone prompts, and more.
For this career, you'll need to invest in some equipment, such as a high-quality microphone, audio interface, pop filter, and recording and editing software like Audacity or Garage Band. And most importantly, you'll need a quiet space to record your clips. You can use acoustic sound panels, purchase a portable recording booth, or even use a closet to accomplish this.
A lot goes into voice acting, so if this business idea sounds appealing, check out Julie Eickhoff's free voiceover mini-course.
To find voice-acting jobs, you can check out Voices.com, BunnyStudio, and Voice123.
Conclusion
There are so many great ways for creative personalities to earn money from home. As you think about ways to make money, consider what you really love and what truly speaks to you. What talents do you have? What makes you feel the most fulfilled? After all, one of the secrets to success is to love what you do!
Are you making money from home by doing something creative? We'd love to hear what you're up to and how you've found success!
Ready to start your business? Grab our FREE Simplified Business Plan Template, which will walk you through the questions and steps you need to take to get your creative business off the ground!
Originally published November 9, 2016. Content updated November 2022.