The role of handwriting in our society has changed. Once upon a time, it was necessary to have beautiful cursive handwriting for professional correspondence, but today, most communication is done through emails and text messages. However, there are still many remote jobs available for people with beautiful handwriting.
According to CareerExplorer, calligraphers can earn anywhere between $13.44-$71.54 per hour, depending on their level of expertise. Making a full-time salary as a calligrapher is not easy, but it is possible. It can also be a fun way to earn extra money on the side if you enjoy it.
So if you love nothing more than using your collection of fancy pens to create beautiful letters, here are eight remote handwriting jobs to put those exquisite calligraphy skills to work!
1. Sell Personalized Gifts on Etsy
Etsy is a massive marketplace for handmade items with over 46 million customers, making it the ideal platform to make money with your handwriting skills.
One way to make money on Etsy is to sell personalized gift items. For example, customers will pay well for you to write names or customized messages on gift items like mugs, t-shirts, or planners.
It's also easy to get set up on Etsy, and the startup cost is low; each listing only costs $0.20. Plus, the platform offers sellers a variety of tools and resources to help you grow your businesses, including marketing and advertising opportunities.
2. Create and Sell Fonts
A font is a typeface, which is a collection of letters and symbols used to create written text. As it turns out, if you have beautiful handwriting, you might be able to use this skill to create your own fonts!
You can design a font from scratch by digitizing your handwriting. There are many websites you can use to create your fonts, like Calligraphr, Fontself, and FontStruct. Remember to create special characters, like small capitals, accents, and numerals!
Once you've created your font, you can sell it on a font foundry like FontShop, Linotype, or FontSpring. If you sell your font to these sites, they get exclusive rights to your fonts, but you stand to gain up to 50% royalties.
Alternatively, you can sell your fonts on media marketplaces like Envato, Etsy, or Creative Market.
Either option will facilitate a flexible schedule with passive income!
3. Sell Handmade Greeting Cards
Some occasions call for something a little more special than the cookie-cutter greeting cards you find at the drugstore. That's why many people are willing to pay extra for beautifully handwritten greeting cards.
These cards can be made by hand or combined with simple design software. Etsy is another great place to showcase your personalized greeting cards, but you can also sell them at local markets like the farmer's market, craft fairs, or holiday-themed events.
Related content: Get Paid To Write Greeting Cards From Home
4. Design and Sell Business Logos
Many businesses are looking for a unique, hand-drawn logo that will set them apart from the competition.
Logo design is a very lucrative field, and a well-designed logo can increase brand recognition and help to promote a company's image.
As a calligrapher, you have the skills necessary to create beautiful, hand-drawn logos that capture the essence of a business. You can find clients by advertising your services on websites like Upwork, Fiverr, Craigslist, or networking with other business owners.
5. Start a Wedding Stationery Business
The wedding industry is worth billions of dollars, and the demand for handmade, personalized wedding invitations is on the rise.
Wedding stationery requires a creative touch and handwritten text, which is why many couples will hire calligraphers for the job. However, keep in mind that this work is not limited to wedding invitations and envelopes! If a couple chooses you to design their invitations, they may also hire you to create save-the-date cards, custom wedding menus, and other signage.
Market your stationery business by networking and attending local markets and bridal shows. Social media platforms like Pinterest, TikTok, Twitter, Facebook, or your YouTube channel are also great places to network and advertise your services!
6. Freelance Calligraphy and Handwriting Jobs on UpWork
UpWork isn't just for freelance writing jobs! If you like the idea of working on a variety of projects, you can look into doing freelance calligraphy on UpWork.
You'll find a variety of jobs for calligraphers, from designing book titles to crafting text vectors. Entry-level jobs pay $10-$20 while larger projects pay hundreds or even thousands of dollars.
To get started, create a profile on UpWork and upload a portfolio of your best work. Secure gigs by submitting a proposal to the client for their acceptance.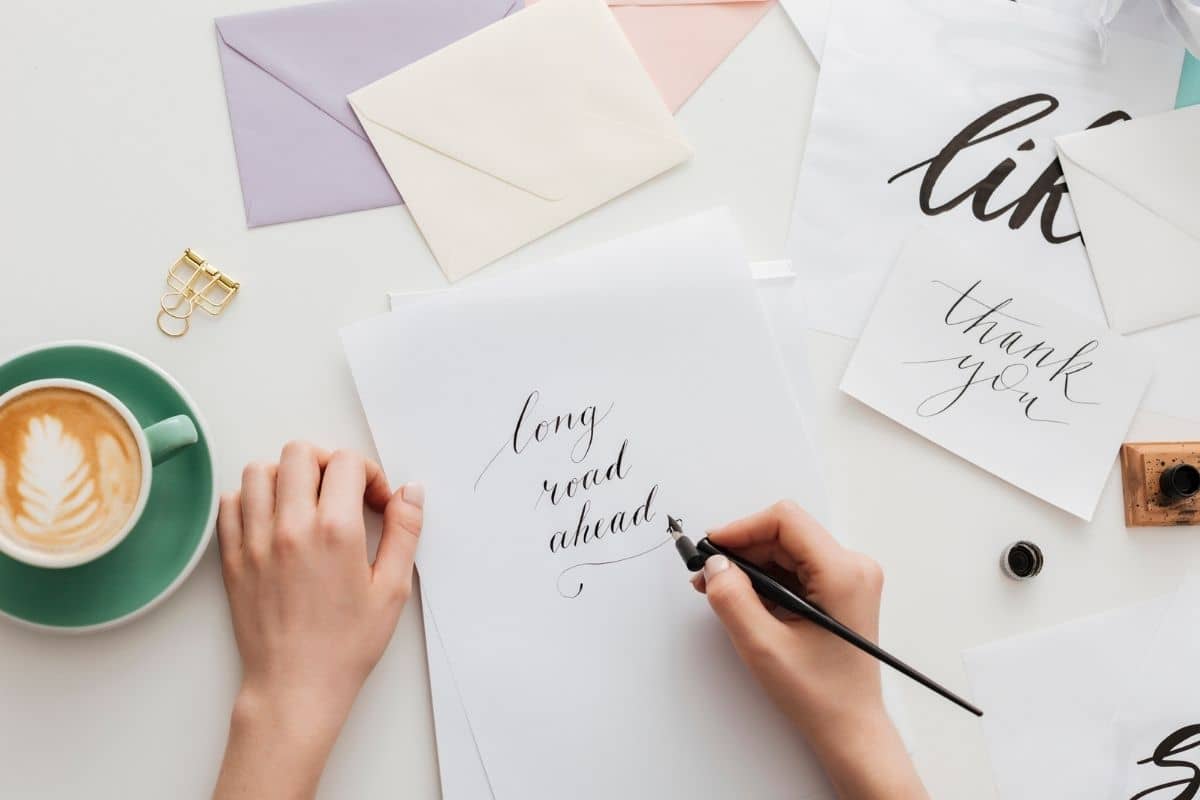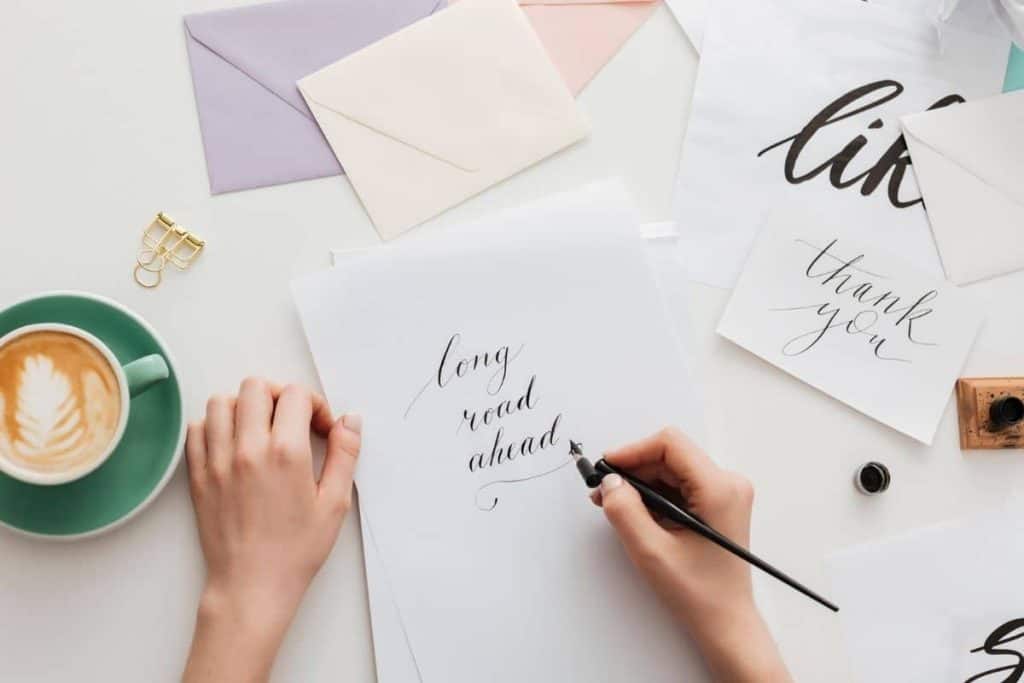 7. Become a Calligraphy Instructor
If you have a passion for teaching, you can make money by showing others how to write beautifully. You can offer one-on-one tutoring services or create and sell online handwriting courses.
Online courses are a great way to generate passive income with your calligraphy skills because you can pre-record the lessons and sell them on websites like Udemy, Skillshare, or Teachable. Launching a handwriting course also establishes you as a subject matter expert, opening doors for expert writing opportunities down the line.
If you're looking for steady, long-term work, you can also find full-time or part-time calligraphy jobs; just query "calligraphy tutor" or "calligraphy instructor" on Indeed or UpWork and look for job ads to apply to!
8. Become a Remote Handwriting Occupational Therapist
If you like the idea of working with children, you can get into handwriting and occupational therapy (OT). OT professionals work to improve the penmanship of children who struggle with writing by evaluating their technique and providing therapeutic exercises.
Many OT jobs require a university degree. However, you can also take an online course to learn how to assess and teach skills to improve functional handwriting. Then you can search for OT jobs on Indeed and apply for entry-level and beginner roles.
Conclusion
Handwriting may not be as common in today's internet communication and texting world, but there are still several niche markets where you can make money with this skill.
This list of jobs for beautiful handwriting is by no means exhaustive; if you have an idea for monetizing your calligraphy skills, go for it! You may end up with a fun side business that helps you earn money in your spare time or even a lucrative business that transforms your hobby into a full-time career.