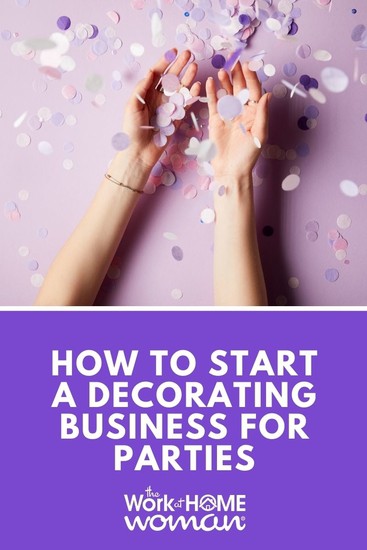 From picking the perfect name to how to find and keep clients, this is everything you need to know about how to start a decorating business for parties.
Do party themes come naturally to you? Does the idea of buying party decorations and decorating an event space fill your heart with joy? Then party decorating might be the job for you!
The best part is, you can start your own business and be in charge of your hours and rates.
Before you start printing the business cards, there are a few things you should know about being an entrepreneur or a small business owner.
How to Start a Decorating Business for Parties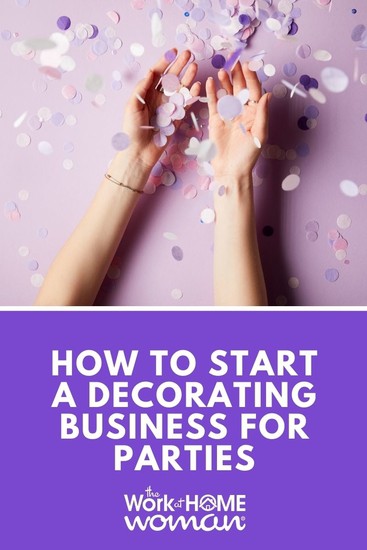 If party decorating is your thing, then starting a party decorating business might sound like a dream come true. You will have full creative control and be able to set your own prices.
Amazing, right? It really is! But how do you get started?
To start a decorating business for parties, you need to follow each of the steps outlined below. Each of them will help you establish and grow your new business.
You can also grab our free business plan template here which will help you. walk through the necessary steps.
1. Establish Your Niche
Before you do anything, you should pick a niche. People will be more likely to hire someone who is an expert in a specific area than someone that does an "OK" job at any type of party.
There are tons of different party niches out there. Which one do you like most? Pick one or two and become the best at them.
A few party niches include:
Children's parties
Graduation parties
Birthday parties
Wedding parties
Corporate events
Baby shower/gender reveals
Holiday parties
Some of them will overlap, and it's OK to pick a few of them that you can do. Just be careful not to stretch yourself too thin.
The better you are at a few types of parties, the more marketable you'll be!
2. Picking a Decorating Business Name
After you choose your niche, you'll need a creative business name that stands out and sums up what you do. If your niche is wedding parties, then you'll want something that says that in your name, like "Forever After Party Decorating."
Choose a list of about 5-10 names you like and then search to see if another business has that name already.
Each state's secretary of state has an online directory of current LLC's. You can search your state's listing and see if anyone has the name that you are interested in claiming.
You can also do a quick Google search to see if anyone has your name. Type in your favorite possible business name in quotes, like "Forever After Party Decorating."
If someone in your state has that name, I recommend picking another one to avoid any legal issues.
3. Set Up an LLC or a Business Checking Account
This next step is critical!
Before you start accepting payments, you need to have your accounting in order. Doing this will help tax time go much more smoothly and keep your books in order.
LLC stands for Limited Liability Corporation. It separates your personal assets from your business assets. That way, if anything happens to your business, creditors or court experiences can't go after assets like your house. They can only go after your business's assets.
LegalZoom is a helpful resource for small business owners who want to set up their own LLC. You can also set it up with a lawyer.
It's also important to set up a business checking account. All of the income and expenses should always go through your business account to keep things separated for tax time.
4. Publish Your Portfolio
Set up a way to publish your portfolio!
Every time you decorate a party, take lots of stunning pictures and upload them to your portfolio. When you let your work speak for itself, you will attract more customers. This will also give your past customers a way to show off your work to other people.
The best way to do this is with a website! If you can spare $2.95 a month, I highly recommend setting up a WordPress website. Not only is it affordable, but it's also extremely simple to set up and use, and it will give you a professional-looking website.
5. Social Media Marketing
After you set up your website, you should set up the relevant social media channels. Focus on the ones that your customers use the most. It's impossible to be actively engaged on every single channel.
For a party decorating business, you will probably want to focus on Pinterest, Facebook, and Instagram.
Since your business is location-based, every time you post, you should tag your location to reach locals. For example, on Instagram, use the popular hashtags for the area like #nova for north Virginia.
Also, don't forget to engage!
Try not to use social media as a billboard. It's been shown that the more you comment and engage with people who interact with your posts, the further they will reach.
I suggest reading this post about paid vs organic social media marketing options. It will answer all of your questions!
6. Use Free Resources
Every penny counts when you are starting a business, so take advantage of the wealth of free resources that are available online.
Read this huge list of free resources for home businesses!
There are ways to start websites for free, project management systems for free, and even free administrative tools. It's smart to use the free options first so you can save your money on decor-related expenses that arise.
Then, as your business needs grow, you can take your surplus and invest in more robust tools.
7. How to Attract New Customers
One of the biggest questions small business owners have is, "How do I attract customers?"
The best answer I could come up with is networking! This means you will need to make new connections. Start with other small business owners you know and ask to be introduced to anyone that is planning a party.
When you decorate your first parties, ask those people if they know of anyone who is planning a party next and to be introduced to them. Referrals are everything!
You can also join your local chamber of commerce to meet other local business owners and spread the word.
8. Encourage Word-Of-Mouth Marketing
Even with all of our technology, word of mouth is still the most effective method of gaining new customers. You can encourage current and past customers to spread the word by establishing incentives.
Reward referrals with a future discount code or a small payment.
ThriveHive has lots of ideas you can use. Ask past party clients to post their testimonials and reviews on Google and Facebook. These reviews will establish credibility when people search for party decorators!
9. Set Up a Meeting Place
You might be setting up your business from your home and doing most of your work in your home office, but you should schedule your meetings in a convenient meeting place for both parties.
When potential clients want to discuss party ideas, where are you going to meet?
Local coffee shops have meeting rooms you can reserve.
Another idea is to join a co-op workspace! Most cities will have office space you can rent by the hour.
As your business grows, consider establishing a more permanent office location.
10. Establish a Budget
A business is only profitable when you make more money than you spend. Setting up a budget will help you determine your rates.
After you set your prices and complete your first few parties, go back and see how much profit you made. Then, you can set your marketing budget.
Be very careful not to spend more than you are making! It's true that you have to spend money to make money, but a business that is upside down will drain you.
11. Look for Additional Income Opportunities for Your Event Decorating Business
Finally, always look for ways to make money with your party-decorating business that goes beyond just the decorating and planning.
For example, if you make your own decorations, consider making more and selling them on Etsy. Or, you can buy a helium tank and rent it out on the side!
There are lots of ways for your business to grow. Adding related income streams is one of the most popular ones. Every time you rent decor or work with a vendor, ask yourself how you can do that job yourself!

Is a Party Decorating Business the Same as a Party Planning Business?
A party decorating business is not the same as a party planning business. Party planners hire the party decorators! Party planners handle more than the theme and decor. They manage the guest list, renting the location, and cleaning up afterward.
In fact, it might be smart to find a local party planner and ask if you can partner with them as one of their go-to decorators.
If you discover that you enjoy more than just the decorating, it's simple to grow into a party planning business.
How to Start a Decorating Business for Parties: Final Thoughts
If you are a creative person, then starting a party decorating business will be perfect for you!
You'll be able to express yourself while also earning money. Plus, you can set your hours and prices – what could be better? Networking is one of the most important things you'll need to do as a small business owner. Use the free resources that are available to you and encourage word-of-mouth marketing.
This is going to be one of the most fun and challenging experiences, but it will be worth it!