If you're a Disney fanatic, you'll LOVE today's work-at-home jobs and at-home business opportunities!
I remember the first time my family went to Disneyland; it was a dream come true! We made the long trek from Minnesota to California in our travel trailer and stayed at a campground close to the park. Not only did we go to Disneyland and Universal Studios, but we got to see the fireworks displays each night and purchase a few coveted Disney products with the money we saved from our allowances.
Since visiting Disneyland in the early 80s, they have significantly grown the brand. Whether you want to experience magical moments in Europe, Hawaii, on a cruise ship, or beyond, Disney has something for everyone.
If you want a work-at-home job that revolves around the Walt Disney Company, keep reading, I have some fun ideas for you!
Work-at-Home Jobs for Disney Lovers
With theme parks, resorts, consumer products, studio entertainment, and more, Disney hires for a wide variety of remote occupations. Below, I talk about two of the most common roles, as well as some of the professional openings you'll find on their site.
Guest Support Representative
The Disney Store periodically hires remote guest support reps in Florida, South Carolina, Texas, Kentucky, Nevada, Illinois, Mississippi, and British Columbia. In this role, you'll provide customer service assistance to Disney Store guests. To search for this position, go to the Disney job board and search for this term: guest support representative (remote). These positions always fill quickly, so I recommend signing up on their website for job alerts based on your preferences.
Remote Communications and Social Media Rep
In this role, you'll collaborate with Disney's recruitment team to share what it's like to work at Disney by showcasing their culture, work environment, and career opportunities on their social media channels and blogs. You must have a bachelor's degree in communications, public relations, journalism, or English and at least three years of experience.
Other Remote Disney Jobs
To find the work-at-home jobs on Disney's job board, you'll need to select the filter at the bottom of the right-hand side that says remote, then click yes. This will pull up all of the openings that allow remote work arrangements. Disney hires in the categories of administration, banking, customer service, creative, finance, engineering, marketing, merchandising, operations, production, sales, and technology.
One thing to note is most of their work-from-home jobs are location-dependent, and many roles are hybrid work arrangements. Be sure to read all of the details before applying.
You should also know that getting a job with Disney is highly competitive, so you'll want to put your best foot forward and take the time to make your resume and cover letter shine. If you need help in this area, check out my Ultimate Resume Bundle.
Become a Disney Travel Consultant
There are many Authorized Disney Vacation Planners who offer work-at-home business opportunities selling Disney travel. These companies are registered Disney travel agents who screen individuals on their Disney experience and knowledge. According to this thread, if you're deemed a Disney expert and hired on, you will book Disney vacations under their International Air Transport Association (IATA) number and be paid a percentage of the sale.
Some of these companies require a small startup fee and ongoing membership fees; others do not. The best thing about these opportunities is you don't need to be an experienced travel agent to get started. The two things you'll need to have is a passion for all things Disney and an extensive Disney travel background; most of these agencies require at least eight visits to a Walt Disney World Resort.
Please note: I have NOT researched these agencies, so make sure to do your due diligence and research each company extensively before applying.
Write About Disney
Another work-from-home job that involves Disney is freelance writing. If you enjoy writing and documenting your Disney adventures, there are many sites that will pay you to write about your experiences. Most of these prefer writers who live close to one of the theme parks or resorts so they can visit new attractions, taste the food, and document their adventures.
Cambrick Yard, LLC
Cambrick Yard, LLC regularly hires freelance writers, editors, reporters, photographers, social media coordinators, and YouTube presenters to cover Disney-related topics. To apply for these positions, send a writing sample and payment requirements to the email address located on their opportunity page.
DIS
DIS is a Disney-related theme park website that will pay you $25 for articles and information on any of the Disney theme parks. You can write about any aspect of the park, from meals, top-five things to do, attractions, and lots more. Payments are made via PayPal once a month.
Mickey Visit
Mickey Visit is a Disney-themed blog that hires freelance correspondents and editors to write content on a wide array of Disney topics. For this work-from-home job, you'll need to be detail-oriented, have previous writing experience, and have a passion for everything Disney!
Princess and Pirates
Princess and Pirates is a Disney and Universal news and information blog and podcast. They hire freelance writers with a passion for Disney, knowledge of WordPress, and strong writing skills. Payment is per article and based on the length, and in some cases, there are bonuses for well-performing content.
Theme Park Tourist
Theme Park Tourist is an Orlando theme park blog that publishes information about Disney theme parks around the globe. They pay $50 for short-form articles (750-1,000 words) as well as offer bonuses between $10-$20 for articles that receive a lot of traffic. Writers must submit two articles per month.
WDWNT
Walt Disney World News Today (WDWNT) is a Disney-centric blog that hires writers, photographers, and other roles to keep its blog running. To find out more, contact them via email.
WDW Vacation Tips
WDW Vacation Tips is a Disney vacation planning blog that hires freelance writers to write articles that are 800-1,500 words in length. You must have excellent communication skills, be creative, and be willing to fact-check your information.
If writing about Disney sounds like your dream gig, check out Carlye Wisel's story. She decided to write about her bachelorette experience at Disney on her blog, which opened the door to other Disney writing opportunities for publications like Travel + Leisure, GQ, Popsugar, and others!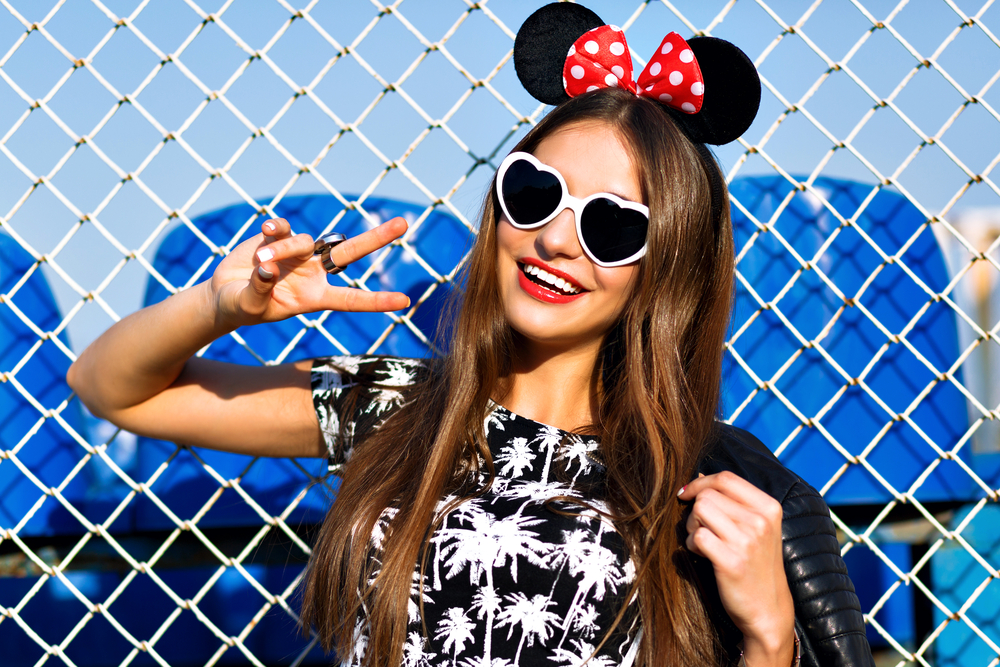 Start a Blog About Disney
The last way you can combine your love of Disney and your work is to start a Disney-related blog. The reason I say Disney-related is Disney is a registered trademark, so you'll want to be sure that you're not using the Disney name or intellectual properties in your blog title/business name or URL (If you noticed, none of the Authorized Disney Vacation Planners use the Disney name as their business or website name).
Carlye Wisel (mentioned above) is an excellent example of a Disney-related blog.
Choosing Your Blogging Niche
Before you set up your blog, you'll want to think about what topics and areas you're going to cover.
Will it cover Disney movies and characters?
Is it about traveling with small children at Disney parks?
How to do Disney on a budget?
What food to eat when you're visiting Disney?
Once you nail down your niche, you can choose a domain name and set up your blog.
Now, don't worry. Starting a blog is easy and affordable. In fact, I have a step-by-step tutorial on how to launch a blog in a few easy steps for just $2.95 a month using Bluehost — which is a special offer for readers of TWAHW!
Making Money With Your Blog
Once your blog is set up, you're ready to start writing your first blog post and monetizing. Bloggers make their money in a wide variety of ways, including direct ad sales, affiliate marketing, working with ad networks, brand sponsorships, selling courses, printables, merchandise, and more.
How much you earn as a blogger will depend greatly on your determination, mindset, and ability to hustle.
A simple way to start monetizing is through FlexOffers' affiliate program. They have relationships with the Disney Store, the Disney Movie Club, CR Exclusive-Disneyland and Disneyworld Tickets, and Disney Online – Club Penguin.
If you're interested in working with Disney through sponsored content and brand ambassadorships, I suggest connecting with them on Instagram.
Here's a list of Disney profiles to follow:
For more ways to make money with your blog, check out this post. It has tools, resources, and all sorts of ways you can monetize your blog.
Conclusion
As you can see, there are many ways to incorporate your love of Disney into a work-at-home career. Just be sure that whatever route you take that you're not infringing on their trademarks or copyrighted materials. If you have questions concerning these areas, definitely consult with an attorney.
I also highlight remote Disney jobs in my newsletter when they have openings. You can sign up here for your free subscription.
Do you know of another work-at-home job for Disney Lovers? Share it below; we'd love to hear from you! If you enjoyed this post — please share it on your favorite social media site.
Originally published July 25, 2016. Content updated January 2023.