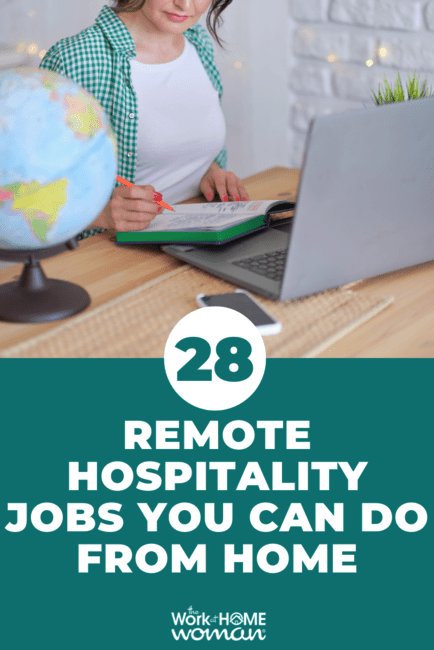 Would you like to work from home in the travel industry? Then keep reading! We're covering the best remote hotel jobs in the US! These jobs aren't limited to hotels but instead include a range of remote hospitality jobs to earn side income (or full-time income) at home.
After I graduated from college (I earned a bachelor's degree in anthropology), I took two months off to backpack around Europe and figure out what to do with my life. It was during this time that I decided to go back to school and become a nurse.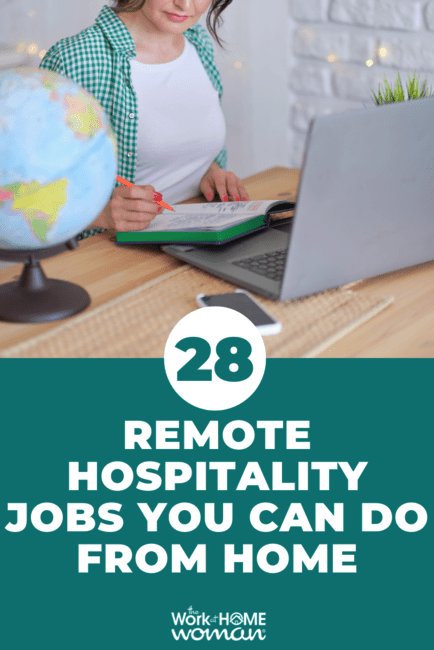 However, when I started doing my research, I had no idea that I'd have to wait a year or two before I could begin my studies because every school I applied to in Texas had a waitlist to get in. So, I decided to live out one of my dreams and become a ski bum for a season.
I applied for a Reservation Agent position at the Lodge at Vail, interviewed over the phone, and got the job. A few months later, I was off to Colorado. I had never worked in a hotel before, but I jumped at the opportunity because the job came with great perks — a complimentary ski pass for the season, free family and friend ski passes, discounted food, and employee housing (which you need in an expensive place like Vail).
Would you like to earn discounted and free travel perks while working from home?
If so, you're in luck!
There are lots of remote jobs in the hospitality, tourism, and travel industries. Whether you're looking to work for an airline, hotel, or cruise line, something on this list will fulfill your wanderlust.
How to Find New Remote Hospitality Jobs
Since being one of the first applicants to apply and put in a query puts you ahead of the game, I suggest signing up for job alerts. Places like Indeed will email you a job alert when vendors or employers publish job postings.
Many job seekers in the workforce apply online. When you want to be one of the top qualified applicants in the digital world, you should sign up for the alerts with the best search terms.
Types of Remote Hospitality Jobs
There are a few different types of jobs you can do from home when you work in the human hospitality industry.
Staff members who work from home will do things such as answer phone calls on a headset, work as team support, or create or implement online marketing campaigns.
Other examples of jobs include compiling and interpreting site reviews, interacting with customers via text messages to confirm bookings, or addressing guests' service needs.
Always make sure you apply to jobs from an equal-opportunity employer. That way, they cannot refuse to hire you based solely on your veteran status or sexual orientation.
Skills That Set You Apart
Even though it might help, you don't always need to have years of travel experience. If you are an experienced traveler, put this on your resume – it can definitely help!
When trying to stand out among other applicants, skills like these will help you be more likely to be hired.
Sabre Knowledge
Many different hotels and airlines use Sabre software. They use it to manage bookings and offer customers special rates. If you have ever used this program before (even if it's only limited experience), then definitely list it on your resume.
Basic MS Office
In conjunction with other applications from third parties, proficiency in computer applications like Microsoft Excel and PowerPoint are a must.
You shouldn't just know how to type in Word, but be able to prove that you won't have to be trained in these programs.
Knowledge of Current Marketing Programs
Since a lot of work from home jobs are tied to marketing, any marketing experience you bring with you will be a big bonus.
Look for job ads that specify advertising, social media, or marketing. Chances are that you will work with vertical marketing teams, so the relevance of previous marketing experience is very important.
High-Level Knowledge of Hospitality Customer Service
Many remote hospitality jobs are customer-facing, so you need to show that you have strong people skills, a positive attitude, and the ability to resolve stressful situations. Provide experiences where you were able to de-escalate tense situations successfully.
Knowledge of International Destinations
Finally, most remote hospitality jobs will also be sales-focused. If you have a strong knowledge of international travel, then you will stand out as an applicant.
Show them that you won't have to receive as much training and you are ready to jump in and provide excellent customer care right away.
Remote Cruise Line Jobs
Many well-known cruise lines offer sales and service agent positions from home. One of the best parts of these jobs is you gain access to discounted cruise opportunities.
Many of these roles are for work at home employees (as opposed to independent contractor positions), so you can also receive benefits and perks such as paid holidays, health insurance, and access to a 401(k) program.
1. Carnival Cruise Line – Virtual Vacation Planner
Virtual Vacation Planners assist customers with their vacation package design and plans. The famous cruise line Carnival operates 24 ships throughout the Caribbean, Bahamas, Mexico, Bermuda, and several other popular destinations. Virtual Vacation Planners work as at-home employees with access to a benefits package.
Travel Planners must have a high school diploma and are required to be available during their shift hours (typically Mon-Fri 10 am-8 pm or 9 am-6 pm). Employees need access to a quiet work environment, a PC or laptop, and a dedicated phone line.
Virtual Travel Planners earn an average of $14.15 per hour plus commission (hourly pay rate is adjusted as commission grows).
2. Holland America – Reservation Sales Agent
Holland America is one of the oldest cruise lines, with 14 ships offering 500 cruises to 98 countries and exciting destinations such as Alaska, New Zealand, Antarctica, and more. Hourly rates for Vacation Reservation Sales Agents and Cruise Consultants average $15.99 per hour (with additional commission).
As a Sales Agent, you're responding to inquiries regarding the cruise ship availability and travel packages. Holland America Reservation Sales Agents are employees and work from home during set business hours. Sales Agents must reside in Washington, Oregon, Colorado, or Nevada and have sales experience.
3. Norwegian Cruise Line – Passenger Reservation Agent
Norwegian Cruise Line (NCL) is an equal opportunity employer that offers great opportunities for Passenger Service Agents with a high school diploma or GED to work in home-based work location positions. These jobs are full-time, and Agents work with both guests and other travel agents ("travel partners").
Customer service know-how is a must, and employees with prior customer service or travel agency experience are preferred. Agents encourage and assist guests with upgrading, planning, and booking their trips. Work at home employees must live near an NCL office. The average hourly rate is $15.03.
4. Princess Cruises – Reservation Sales Agent
Princess Cruises offers Reservation Sales Agent positions for work at home employees in California. (You must report to the corporate office in Santa Clarita.) This job type offers commute-free remote work.
Employees earn $17-$25 per hour (including paid training) and assist travel consultants and guests in designing their dream cruise vacation itineraries with Princess Cruises. Potential employees must have experience in customer service and sales. Shifts are Monday-Friday 8:30 am-5:15 pm, with Saturday and Sunday work available as well.
Remote Hotel Jobs
Hotel hospitality involves much more than the housekeeper running their vacuums and delivering toiletries to the rooms.
Believe it or not, hotel hospitality and customer service jobs are wonderful ways to work from home. Help guests book their reservations, decide on rooms and upgrades, and plan their trips. These work at home opportunities offer flexibility, benefits, and more.
5. Hilton – Phone Reservationist + Customer Care
Hilton is a world-famous hotel brand that's known for its outstanding customer service and dedication to providing prospective guests with a great experience.
They offer stable and convenient work at home Customer Care and Reservation opportunities that come with benefits and an incentive program for employees with outstanding performance. Reservation Agents earn between $32,000-$42,000 annually and work different hours, depending on positions and responsibilities.
6. Hyatt – Guest Service Associate
Hyatt Hotels is one of the largest hotel and hospitality companies, with more than 690 properties worldwide. Headquartered in Chicago, IL, the company is known for flexibility, a high standard of service, and employment opportunities.
The Guest Service Associate position is open to employees throughout several states. Applicants should have customer service experience. Home agents work full-time with various hours during the week and on the weekends. They earn an average of $14.13 per hour (depending on position, location, and experience).
7. Marriott – Customer Engagement Associate
Marriott Customer Engagement Associates have the opportunity to work in one of the seven office locations in North America or work from home (many agents must live close enough to report to their local office).
Customer Engagement Associates assist with hotel accommodations, upgrades, and customer concerns. Agents work full-time and are offered benefits, including discounted hotel rates and travel. Marriot Customer Engagement Associates earn an average of $16.84 per hour based on experience, location, and performance.
8. Omni – Reservation Sales Associate
Texas-based Omni Hotels offer work at home Reservation Sales Associate positions. Associates must live near the corporate office but are offered telecommuting opportunities. Employees need excellent data entry skills, friendly communication skills, and terrific customer service skills.
Omni Hotels offers the associates flexible hours, including occasional part-time jobs, although some weekends may be required. Travel opportunities are also offered as well as medical and dental benefits and paid time off. Associates typically earn $20.60 per hour assisting customers with reservations, cancellations, and exchanges.
9. Vail Resorts – Vacation Planner
Vail Resorts Vacation Planner positions are available in several states, including Colorado, Utah, and Minnesota. Employees must live within two hours of a Vail Resorts corporate office and attend training and information sessions.
Employees should have customer service experience, wired internet, and a landline for reliable connectivity and service. Vail Resorts offers an average of $55,000 annually (depending on position), benefits, 10- or 12-month employment schedules, and a free season ski pass.
10. Wyndham – At-Home Customer Service
Wyndham Hotels operates thousands of properties across 95 countries (and 24 brands) and offers several Customer Assistance and Reservation opportunities, including at-home positions.
Customer service representatives assist 3.7 million timeshare owners, hotel guests, and resort guests with their vacation planning. Positions pay an average starting rate of $17.53 per hour, depending on experience (and monthly bonuses). Benefits, training, and travel discounts are available to employees.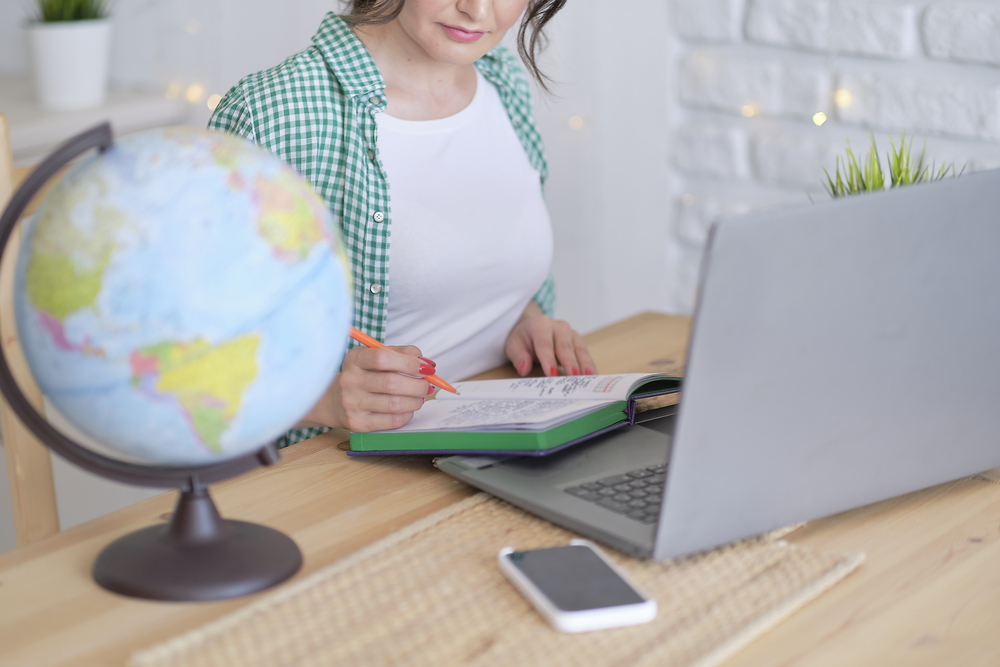 Remote Airline Jobs
Many people don't think of airline jobs as work from home opportunities, but many flexible options exist. Agents assist travelers with their tickets, vacation planning, logistics, and more.
11. Alaska Airlines – Reservation Agent
Seattle-based Alaska Airlines is an equal opportunity employer that's known for its customer service and offers several telecommute-friendly positions. Most of the roles require Agents to live within the state borders of the corporate office where they want to work, including Washington, Arizona, and Idaho.
Reservation Agents assist airline passengers with itineraries, ticket changes, and travel information. They work at least five eight-hour shifts weekly, including some weekends and holidays. Pay depends on position and responsibilities, but most start at $19.37 per hour.
12. American Airlines – Remote Customer Service Representative
As one of the largest airlines in the world, American Airlines offers several remote employment opportunities. American Airlines has the largest frequent flyer program, so Representatives most often assist passengers with reservations and manage frequent flyer customer needs.
Customer Service Representatives earn travel benefits as well as incentives and traditional benefits. Average pay is $17.06 per hour, depending on position and experience. Jobs are offered in several states throughout the US.
13. Delta – Reservation Representative
Delta Airlines offers positions throughout the US, near many of its corporate offices (the largest is in Atlanta, Georgia). They are the oldest airline in the United States (in operation since 1924). It's the world's largest airline, serving over 5,000 flights daily.
Reservation Representatives work with customers to address their concerns, schedule and adjust flight reservations, and plan travel. Delta Reservation Representatives receive benefits, travel for family and friends, and incentive opportunities. Representatives earn an average of around $23 per hour, depending on the job and location.
14. JetBlue – Reservation Agent
JetBlue is a newer airline that first took flight in 2000. They offer a fun, flexible, award-winning corporate culture and a number of benefits, including health, dental, vision, paid time off, and more. The most appealing benefit for most prospective employees is the free or reduced standby travel on many partner airlines.
JetBlue Reservation Agents help customers book travel, adjust travel plans, and address frequent flier concerns and needs. They earn an average of $23 per hour, depending on their role and hours worked.
15. Southwest Airlines – Reservation Agent
Texas-based Southwest Airlines is famous for discounted flights and budget travel. In addition to health insurance and paid time off, they offer a number of great telecommuting opportunities that provide benefits like free travel, profit-sharing, and additional performance perks.
Reservation Agents provide excellent customer service by helping travelers plan, adjust, or cancel their travel itineraries. The average pay is $13.56 per hour, depending on position, location, and experience.
16. Virgin Atlantic Airways – Customer Service Agent
Virgin employs over 71,000 people across its many corporate brands. Airlines are just one branch of their many offerings in the travel, entertainment, leisure, and music fields. Although they're based in England, the company offers job opportunities within the United States and Canada. Customer Service Agents may find opportunities to telecommute and work from home.
In addition to an average hourly pay of around $18.23 (depending on position and experience), Virgin offers benefits, competitive compensation, and employee incentives.
Remote Car Rental Jobs
Rental car companies offer several opportunities to telecommute and work from home in sales, customer service, and reservation specialist roles. Customer service agents often receive benefits as well as other incentives.
17. Hertz – Call Center Sales Specialist
Hertz rental car offers Call Center Specialists with telecommuting and remote work at home opportunities. Hertz call center employees assist with reservations, upgrades, and details for travelers.
Agents must have strong communication and multitasking skills to help address customers' issues and ensure a top-notch travel experience. They earn an average of $18 per hour with signing bonuses and incentives.
18. Enterprise Holdings – Customer Service Representative
Enterprise Holdings operates Alamo, Enterprise, and National Car Rental services. Customer Service Representatives earn an average of $37K per year (or $17.79 per hour), depending on position and location, with bonuses and performance incentives.
Employees field a variety of calls from Enterprise Holding's customers and must have two years of customer service experience. Positions are offered near corporate offices (due to training requirements).
Other Remote Hospitality and Travel Agent Jobs
If you love traveling, booking travel, or assisting people with their dream vacations, travel and hospitality jobs are great options. Many offer flexible remote hours and great discounts and perks for your own travel.
19. Adelman Travel – Corporate Travel Consultant
Travel Agents assist businesses, groups, and individuals with finding the best deals, configuring schedules, and ensuring a great travel experience. Agents may book tours, schedule meeting spaces, hotels, ground transportation, and airline tickets.
Adelman offers a variety of positions, and remote opportunities are considered in many cases, especially for the right candidate. Hours are flexible. Pay averages $57K per year (or $27 per hour), depending on the position, and many positions include benefits and bonus structures.
20. American Express – Travel Consultant
American Express was voted by FlexJobs as one of the top 100 companies with remote work. They offer health benefits, retirement, savings, and paid family leave. The company's offerings aren't limited to booking travel tickets. They also offer customers support regarding security, safety, and fraud prevention.
Travel Consultants assist customers in various ways, including planning their trips, booking tickets, and assisting with travel protection. According to Indeed, travel consultants earn an average of $44K annually (or roughly $21 per hour).
21. BCD Travel – Travel Consultant
BCD is known for excellence in business travel, communication, and logistics for corporations on the go. They frequently hire remote Travel Consultants to handle incoming travel requests, including ticketing, scheduling, booking, and planning, and assist with overseas travel, visas, and other logistics.
Candidates must have excellent research and troubleshooting skills with experience in customer service and travel. Annual salaries for BCD travel consultants average $27 per hour. Consultants must be willing to participate in training and may occasionally need to report to a local office.
22. CWT – Travel Counselor
CWT offers many opportunities for Business Travel Counselors who assist corporations with their travel planning needs. With offices around the globe, CWT has positions available in-office or occasionally telecommuting roles for those who prefer to work from home.
They offer benefits, flexible scheduling, and a variety of corporate locations. International travel experience is preferred. Salaries for Travel Counselors vary with area and role, but on average, it's $24 per hour.
23. Expedia – Travel Consultants
Expedia includes Orbitz, Hotwire, Hotels.com, and HomeAway. With so many different entities under their corporate umbrella, they offer many positions, including flexible and at-home opportunities.
Travel Consultants assist customers with their concerns regarding online travel booking and planning. Jobs are available around the globe, including in the United States. The compensation varies depending on the position and experience, but travel consultants can expect to make $19.83 per hour, on average.
24. FROSCH – Travel Consultant
FROSCH provides "high-touch" corporate travel and leisure management. Travel Consultants may work with high-profile clients, even after hours, to provide them with excellent travel experiences. FROSCH offers in-home positions. Pay varies depending on the experience and the nature of the role. (For example, "white glove" and "after hours" Travel Consultants provide more in-depth assistance and may earn more accordingly).
Consultants should have at least three years of travel agent experience, be well-versed in customer service, and be able to deliver that "WOW" factor to customers. Pay averages $55K annually (or about $26 per hour).
25. Working Solutions – Travel Customer Care + Customer Service Travel Agent
Working Solutions hires consultants in many different areas who wish to work from home. One area of focus is travel, offering Travel Customer Care and Customer Service Travel Agent positions.
After an initial review of your skills and background, Working Solutions will help pair you with job opportunities that fit your area of expertise. Pay varies by role and opportunity, but it averages $16 per hour. Offerings are flexible, work from home, independent contracting roles.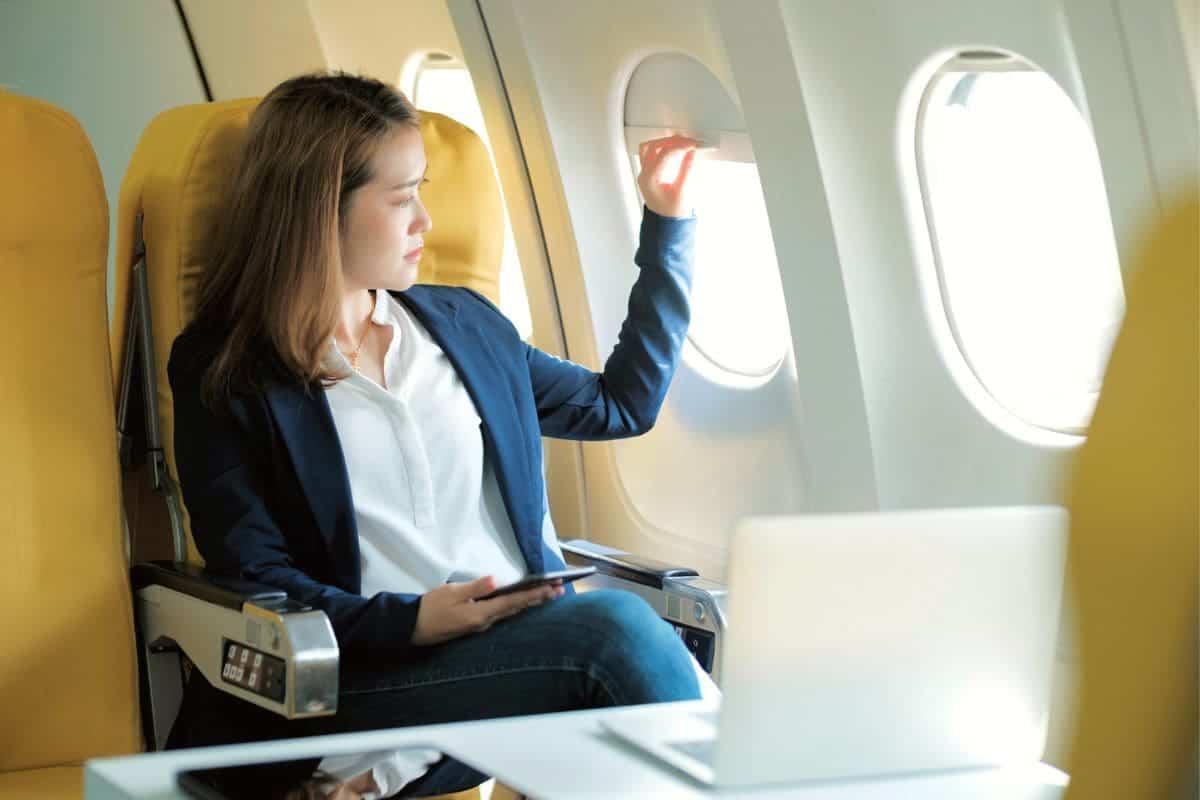 Work at Home Business Opportunities in the Travel Industry
Do you prefer to be your own boss? There are many home-based franchise and business-in-a-box opportunities that can get you started working within the travel and hospitality industries. Here are just a few companies to check out.
26. Dream Vacations – Vacation Specialist
As an Independent Vacation Specialist with Dream Vacations, you have the flexibility to work when you want, where you want, and how often you want. Earn commission selling cruises, tours, and resort vacations. According to Indeed, the pay averages out to about $26.51 per hour, but since that's commission-based, it's entirely dependent on how much you want to work and how much you sell.
Note: There are two levels to choose from. You can become a Franchise Owner, operate your own travel agency, and earn 100% commissions. Or you can become and independent contractor and earn 60% commissions.
No experience is required; they will provide you with training and support.
27. Cruise Planners
Cruise Planners is a low-cost franchise opportunity that requires no Travel Agent experience. Their home-based business model is a family of more than 1,400 franchise owners and is the largest, privately owned, nationally recognized, and continually awarded full-service travel franchise in the country.
Travel agents independently book cruises, tours, and land and resort vacations.
Travel perks include discounted Travel Agent rates, fam trips, discounted hotel rates, and more. How much money you make entirely depends on how much you work and sell. Cruise Planners has an A+ rating with the Better Business Bureau.
28. World Travel Holdings
World Travel Holdings (WTH) offers remote positions in the travel field. You can either start a franchise (hosted through Dream Vacations), or you can become a work at home Travel Agent through World Travel Holdings.
The company says that their travel agents work 35-40 hours a week (including weekends and holidays) and typically earn around $40K in their first year. Compensation increases as they gain experience. Agents also receive training, equipment, benefits, and travel perks.
If you're interested in working in the travel industry and earning discounted or free travel, then there are many areas open to you. With franchise opportunities, you aren't limited to becoming a Travel Agent.
Remote Hospitality Jobs FAQs
Below are some questions people often ask about remote hospitality jobs. If you don't see the answer to your question below, please leave it in the comments.
What Jobs Allow You to Travel and Work Remotely?
When you interview for a position, this is a question that you'll need to ask the hiring manager. Many companies have location-based training requirements and state employment and tax laws that they must follow. You can also explore company benefits pages and reviews on Glassdoor for additional details on traveling while working remotely.
What Jobs Are Remote and Pay Well?
Customer service jobs are remote and pay decent, with some paying $20 per hour or more. If you get a job as a travel agent or travel consultant, you could earn a salary of $76,826 a year or more.
Sales jobs could be lucrative if you have a talent for closing on high-dollar deals. These types of jobs usually pay on a commission, where team members earn a percentage of the sale. In that case, your earning potential is a lot more.
Can I Travel and Work Remotely From Another Country?
It depends on your employer; some will allow you to travel and work remotely from anywhere in the world. However, there are two main things you must consider before you decide to do this.
First, you need access to a high-speed internet connection. However, many employers require that your connection be hard-wired so that private information stays safe and secure. This means no public or Wi-Fi connections.
Second, you also need to be able to work during the set hours that you are hired for. These hours are usually according to a time zone in the USA. This might require you to work odd hours in the middle of the night, depending on where you are in the world.
If you can work around those two things, then remote work while traveling could be a good fit.
Remote Hospitality Jobs Wrap Up
As you can see, there are lots of remote hotel jobs in a variety of hospitality areas! However, if you want to be a digital nomad and make money while you travel, you'll likely need to start your own business. The good news is there are a lot of options for aspiring digital nomads, from being a content creator, blogger, or freelance travel writer.
Originally published October 17, 2017. The content was updated in September 2023.