In 2001, Lisa Druxman became a mom and an entrepreneur. She was looking for a way to blend her passion for fitness with motherhood. Through some brainstorming, Lisa came up with an exercise routine for new moms and realized that other moms could benefit from working together to restore their well-being.
Today, she leads a business that brings exercise, companionship, and support to tens of thousands of moms around the country.
Read on to see how she was able to make money with her stroller.
Tell us a little about your business and how you started it?
Fit 4 Mom (formerly, Stroller Strides) was one of those "ah-ha moments" in your life. I was a new mom on maternity leave and every moment was precious to me. I loved working in the fitness industry but did not want to go back to work full time in a traditional capacity. Unfortunately, I could not afford to be a stay-at-home mom. So while working out with my son, I realized that I could help other moms get back into shape if I put a class together. This would help me too because I did not know any new moms and was looking for a way to connect. I came up with the name on that very walk. I started with just a few moms in my local neighborhood and word soon spread, and we grew quickly from there.
Fit 4 Mom (Stroller Strides) has grown so quickly in just a few years. Tell us how you took it from a home business to a national franchise?
Just after starting that first class, we started getting requests for classes all over San Diego, so we kept adding more. By the end of the first year, we had over 12 classes and 1,000 moms participating in San Diego. During that first year, we got requests for classes all over the country. I had no idea at the time how I would accomplish that one. Then one of my instructors said that she was moving and wanted to start classes in her new town. I agreed and gave her all of the plans to run her own classes. She was a hit. We then decided to release 10 "beta" locations across the country to see how it would work in other cities. We learned a lot, tweaked a few things and then they were a hit. We hired attorneys, worked with consultants, and joined the International Franchise Association. We are now franchised across the country and have nearly 300 franchisees.
Now that you have moved well beyond home business, do you still work from home or do you have a corporate office? What about your employees, are they mostly moms?
Believe it or not, I still work from home. We bought the home that we have because we knew that the office would well fit all of our employees as they come and go. I have 12 employees who all have keys to my house and come in throughout the week. They too are home-based but come here for meetings or to get special work done. It's a little strange, but it works for all of us. All of my employees are moms! We had a couple who were not but have since become moms since starting with us. We are a very "fertile" company – no joke!
What is a typical "day in the life" of Lisa?
Wake up at 4:30 or 5:00 and grab a coffee that has been pre-set and ready. Get on my computer and work on emails from about 5:00 – 6:30 when my kids wake up. I will do the mom thing and get their breakfast, pack my son's lunch, get them dressed, etc. My son will go to school, and then I will take Rachel to Stroller Strides class 3 days per week. My nanny meets me after class, and I head right to the house to work. These traditional work hours are when I schedule my meetings, phone calls, etc. I work until about 4:00 when my son comes home from school. I then do the mommy thing again until they go to bed. Luckily, my kids go to bed early (about 7:00). I then work from 7:00 – 10ish and go to bed, and it starts all over again.
What advice do you have for others starting their own home business?
1) Think about WHY you want to do this.
It will help you stay on track. My purpose was so that I could have a career that was supportive of motherhood. This purpose has totally driven many decisions about how I've grown the business.
2) Be passionate about your idea.
3) Learn from others who have grown their own company.
ASK ask ask questions. There are so many answers out there. NO reason to reinvent the wheel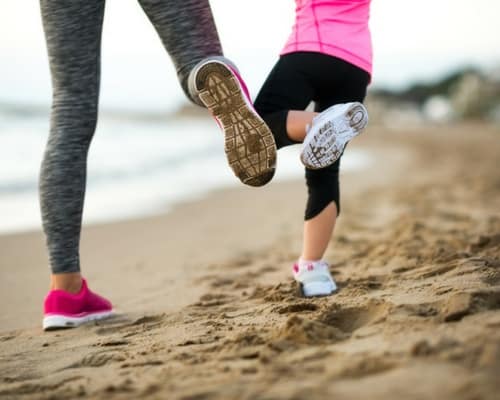 What are your absolute favorite products or resources that you can't live without in your business?
I love my Treo, so I can check emails without being in the office. Earnware.com is our web-based business center that I can't live without. I get my emails, phone, fax, and my entire office virtually anywhere I can get an internet connection. Every work at home mom needs fast internet, Google to learn from, and a smartphone!
How do you strive to achieve a work/life balance?
I schedule workout time for myself a few times/week just like I would any other appointment. I also have rules for myself that I am very good about keeping. For instance, I won't take night appointments even though they would be much appreciated by other moms. My day is long, and I need to draw the line somewhere. When I'm with my kids, I do my best to truly be with them, and when I'm working, I stay totally focused on work. You do NOT have to answer your home phone just because you are working at home. Save personal calls for when you are driving on errands.
Thanks, Lisa for sharing your story!