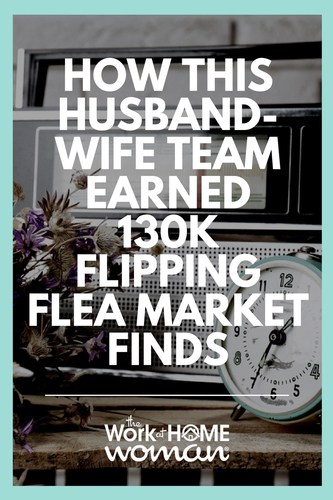 This past October I attended FinCon in Dallas, and I had the pleasure of meeting Melissa Stephenson, a full-time mom, and flea market flipper. I've always been fascinated with flipping items, in fact, it's something that I would like to do when my husband and I retire. So I asked Melissa if I could pick her brain and here's what she had to say about becoming a successful flea market flipper.
Tell us about how you got started with buying, selling, and flipping items.
I married into the flipping life. My husband, Rob, has been buying and reselling items since he was 16 years old. He started with buying Nordic Track ski exercise machines. People would move here to Florida from a northern state and donate them to a thrift store because they didn't use them anymore (since they could be outside more). Rob would buy them and then sell them on eBay to someone up north who needed one.
I honestly had no idea what Rob did when we started dating. I've learned a lot in the last 11 years.
What are some of your favorite places to buy items? Do you ever purchase on-sale items from big box stores?
Our favorite places to buy items are the flea market, OfferUp, auctions, and thrift stores. We can get the best deals at these sites, which gives us the highest profit.
We don't usually shop at big box stores for any resale items. We have bought some appliances for personal use in the scratch and dent section at Lowes, but we can make a higher ROI on items we buy from the flea market, OfferUp, auctions, and thrift stores, so we typically buy from there.
How did you educate yourself on which items are valuable and worth purchasing in the first place?
Google University.
Joking aside, Google is a HUGE asset to this business. If we think something looks expensive, we throw it into Google to see what it retails for so we can get an idea of its value.
We also have gotten an education from experience. We have learned a thing or two about what to look for from buying and reselling on a weekly and daily basis for the last 20 years.
Where do you sell your items? Do you have any tips for choosing a platform?
We cross-post our items on eBay, Facebook, and Craigslist, but about 80-90% of our inventory is sold on eBay.
We prefer eBay for selling because of the number of people who can see the listing. The ROI is much higher!
Are there any useful tools or apps for flea market flippers?
Our favorite app to find items on is OfferUp. Rob sits and scrolls through it almost every night to see what he can find.
Our favorite app to sell on is by far eBay. We use it often!
The other basic tools we use is our vehicle for transporting items, and our smartphone for finding and listing items. I wish I could say this was more complex, but it's really pretty simple.
What advice do you have for other women who want to start their own business flipping flea market finds?
My advice would be just to start. Getting into flipping as a business can cost you very little. You can even find free items to resell for profit without too much effort.
What's the most lucrative item you've flipped?
Last year we had our largest profit on a single item. We bought a security tower for $6,000 and sold it within two months for $25,000.
I honestly don't love the big investments, and we don't do them often, but I have to say they usually pay off!
Realistically, how much can somebody earn by flipping flea market items?
I think it is realistic for someone to make an extra $500 – $2,000/month. If they dig in and work it as a side hustle for a few months, and they'll see it grow from there.
Before it was our primary income, flipping was our side gig, and it was our 'extra money.' It was the money we used for vacations, extra savings, gifts, and anything else that fell into the 'extra' category.
Besides flipping items, you also have a blog and a course on the art of selling and buying. Tell us about these and how much additional income they bring in for your business.
We were inspired by some friends to start blogging about our flipping adventures and to help others start making more money flipping items like we were doing.
Two years ago we created a course called Flipper University, and it has been a ride for sure!
We thought blogging might be an easy additional income, but it was not quite the passive income we were expecting. At least not yet.
Even though the income from blogging might not be as high as we would have expected over two years, we still are working daily to provide quality content and are dedicated to helping as many people as possible.
Right now we make anywhere from $1,500-$3,500/month from blogging. That income comes from our course, our e-books, affiliate income, and ads.
As a full-time entrepreneur, mom of three, and wife, how do you and your husband handle all of your personal and professional tasks?
This is a great question for which I wish I had the answer.
I have always been a hard-worker, but when you throw kids into the mix and no boss to be accountable to, it's a whole new ball-game.
Rob and I have had to learn to work together. We spend a lot of time together (which we love!), but it's been interesting to find out our strengths and weaknesses as a couple as we grow our business.
We have a large whiteboard that we (theoretically) write on each weekend for the following week to help us stay organized. We are constantly working on our planning strategies as a couple.
The kids come with us to the flea market on the weekends, and they are always around, so they see what we do all the time. Probably their favorite thing to do is help create the videos for our Facebook Page, YouTube channel, and content for our course. The oldest especially loves to be in front of the camera.
I usually get up before the kids and write for the blog from 5:30-7:30 a.m. After that, it's a full day with a 5, 3, and 1-year old since none of them are in school yet.
Then it's back to working on something for the blog at night after they go to bed.
It's work to juggle everything, but I wouldn't trade the time I have with them for anything!
Thanks to Melissa Stephenson for sharing her story! If you'd like to try your hand at reselling products, check out their Flipper University Course here.
Do you make money flipping items? If so, drop us a note we'd love to hear from you!