Are you searching for flexible jobs to do during school hours? This list has 20 great options!
Working during school hours is the dream of many moms, but frustratingly there don't always seem to be many jobs that cater to the schedule and demands of families.
My eldest started school this year, so I know firsthand the challenges of bringing in an income during school hours. Not to mention that they're not at school every week, making work and family life even more of a juggle.
I understand that parents don't necessarily want to put their children into care before and after school. It can be costly, and while some kids enjoy the bonus social hours with their friends, it can be a long, exhausting day for many others.
I've got your back, mama, so I've done the work for you. I've searched for 20 of the best flexible jobs for moms to fit in around school. Many of them are even flexible enough that you can work around when your kids are homesick or on a break.
20 Jobs During School Hours That Are Perfect For Parents
Most jobs on this list can be done from home; however, if you enjoy getting out and about, we have some out-of-the-home options too!
1. Freelance Writing Jobs
From freelance content writers, ghostwriters, copywriters, and magazine writers to resume writers, grant writers, and technical writers…there is a writing specialty for everyone to earn money from home.
You don't need to have a degree; you just need to have a flair and passion for the written word and be able to turn your writing assignments in on time. The great thing about freelance writing is you can do this gig during school hours or when your kids are sleeping. Here is a list of paid freelance writing assignments.
2. Rideshare Driver or Delivery Driver
Once you drop the kids off at school, why not make a few extra bucks as a rideshare or delivery driver? With on-demand apps like DoorDash (deliver food), HopSkipDrive (kids), and Instacart (groceries), you can easily make money during school hours. You will need a valid driver's license, a reliable car, and the ability to pass a background check. Once approved, you can accept as many gigs that fit your schedule.
3. Virtual Assistant (VA)
If you've worked in an office setting, you likely have the skills and qualifications to work remotely as a virtual assistant. Most VAs must have prior experience, be tech-savvy, detail-oriented, and have familiarity with Microsoft Office. You'll likely need to be available during regular business hours, but many companies offer part-time work.
Here are some companies to explore:
4. Home Daycare Operator
Starting a home daycare is a wonderful option if you love kids or worked with kids prior to having your own. Your kids can be home with you at any time as well, so you'll have flexibility, and they'll always have other kids to socialize with.
5. Online Tutoring Jobs
If you're a stay-at-home mom who used to work as a teacher, or you have extensive knowledge of a certain subject like reading, math, business, marketing, or science, you can apply for online tutoring jobs.
With these online gigs, the hours of work are flexible. For younger kids, you'll generally work at night or on weekends, but if you're working with college students or adults, the hours will vary. With some companies, you're simply answering homework questions via text, so no need to be on the phone or webcam!
Here are some companies to explore:
6. Social Media Manager
If you already spend a lot of time on social media, social media management could be a good fit for you. Every business out there has (or probably should have!) at least one social media platform. Business owners don't always have the time or skills to manage their social media pages and accounts. If you have extensive knowledge of social media platforms like Facebook, Instagram, TikTok, and Pinterest, learn more here about starting a social media business.
Here is a list of companies that hire for flexible social media roles:
7. Online Store Owner
Being an online seller is an excellent way to make money during school hours. Sell your products on platforms such as eBay, Poshmark, or Etsy. All you have to do is create an account, set up your shop, take photos of your products, and post your listings online. Once an item sells, ship it out to the customer when your kids are at school, and watch the cash come in.
Not sure what to sell? Here are some ideas to get you started:
8. Pet Sitter or Dog Walker
If you love animals, use Rover, Wag, or Care.com to connect with pet owners and offer dog walking and petting sitting services during your spare time. With these apps, you choose what combination of services to offer (drop-in visits, dog walking, doggie daycare, boarding, or house sitting) and what types of animals you're willing to watch. This can be done after you drop the kids off at school, or you can watch animals at home.
9. Short Tasks
Short tasks, or micro-jobs as they're also known, are perfect because they can be completed in a short amount of time at any time that suits you. The tasks vary widely, so you can pick and choose your preferred specialty.
10. Bookkeeper
Working as a bookkeeper is an excellent way to make good money, and it's easy to get started if you love working with numbers and spreadsheets. Whether you want to start a virtual bookkeeping business from home or work for a company inputting income and expenses into online accounting software like Quickbooks, there are lots of opportunities to explore.
11. Fitness Instructor
If you have a fitness background or a passion for exercise, you might consider teaching classes. Instructing other stay-at-home or work-at-home mamas could be perfect if they also have the flexibility to attend classes during school hours. Plus, you'll be keeping fit!
12. Transcriptionist
If you're unsure what this job is, transcriptionists take audio files and video clips and transcribe them into written content. This could be the job for you if you can type well and efficiently. If you've never done it before, there are companies that hire beginners, such as Rev and TranscribeMe.
If you'd like to learn more about transcription and what it all entails, as well as hiring companies, explore this post.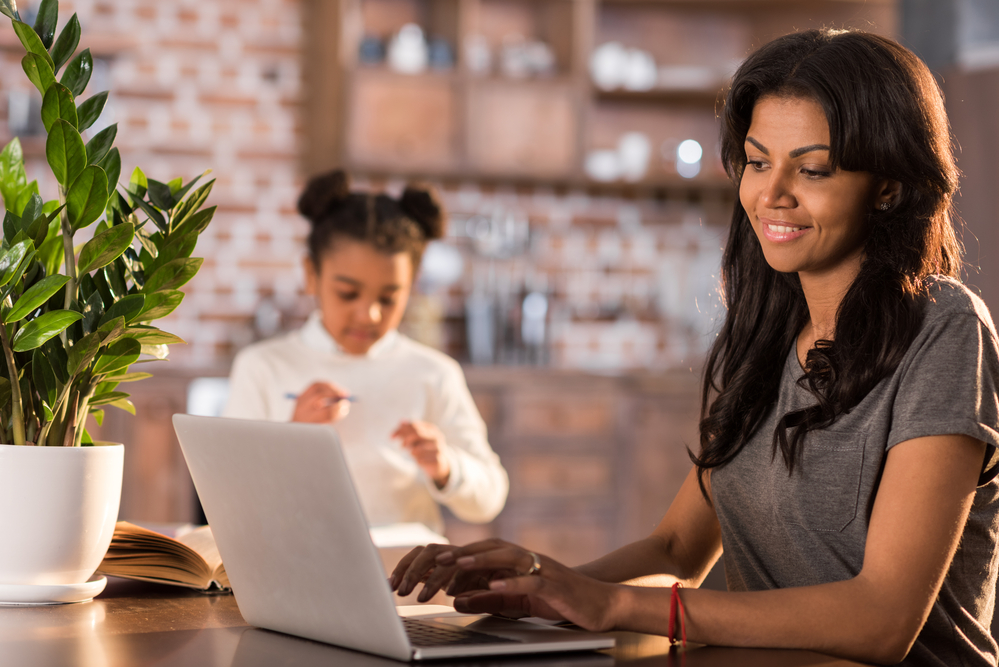 13. Beauty Business
If you're a beauty and makeup lover, and you're looking for a fun job that makes you feel good, then a business in the beauty industry could be for you. You might like to start your own home-based business or prefer working for an established company that offers flexible working hours.
14. Household Chores
Chores like cooking, cleaning, baking, and laundry can all be turned into lucrative home-based businesses. Starting your own service business is an excellent option if you want to be your own boss. Look at your skills and interests and go from there.
15. Customer Services Representative
Probably the most popular and plentiful work from home job that you can do is that of the customer service and tech support rep. Besides being plentiful, there are many legit companies that will let you choose your own schedule!
If you enjoy helping customers solve issues, here are some flexible gigs to explore:
16. Data Entry Clerk
If you enjoy typing, have proficient computer skills, and want to work from home, data entry may be the perfect position for you. These jobs require excellent communication skills and a working knowledge of Microsoft Office and G Suite.
For online data entry jobs, you can do during school hours, explore:
17. Online Researcher
Internet research is an excellent way to make money from home, and many companies hire freelancers to do their research. If you have background experience in a specific area, such as law, marketing, insurance, or real estate, you'll have a leg up on the competition.
You can join an agency like Wonder and, once approved, take on as many projects as you like. FYI – Wonder currently has a hiring freeze, but you can bookmark their page for future openings.
18. Mystery Shopper
How would you like to get paid to shop? It's even possible to be a mystery shopper from the comfort of your home with nothing more than your phone. For mystery shopping gigs, you'll need excellent attention to detail, good memory recall, and excellent communication skills.
Here is a list of companies to explore for flexible opportunities:
19. Proofreader
If you're a stickler for grammar and great at picking up typos, you're in luck—proofreaders are in high demand! You can proofread from anywhere and go at your own pace. For a change of scenery, you could work in a cafe or while you're waiting in the car at school pick-up. If you're uncertain if proofreading is the right career path for you, sign up for Caitlin Pyle's free proofreading workshop!
Here are some companies that hire freelance proofreaders and editors:
20. Start a Business
Many jobs on this list can be done through agencies or third-party businesses, which might be a good way to get your foot in the door, especially if you don't have experience in the role. However, you can quickly turn it into your own business to have even more flexibility, and you will probably find it more rewarding and enjoyable.
Starting your own business from home is exciting, so here is a non-exhaustive list of five other ways you can be your own boss doing something you love.
You might also like to read why back to school is the perfect time to launch a business.
My Plan for Working During School Hours
Phew, that's quite the list! Are you surprised (and perhaps overwhelmed) by the number of flexible job opportunities for stay-at-home parents?
I just wanted to share my personal experience. Here in Australia, the school year starts in February. My biggest kiddo will be at school, and my little one will be in a 3-year-old kinder, which is only six hours a week spread over two days. It doesn't leave me with a lot of kid-free time when you factor in drop-offs and pick-ups, but my plan will look like this:
Monday and Friday mornings will be kid-free, so that's when I'll write. I'm a freelance writer and editor, but I have consistent and reliable work doing that now. On the days that my youngest is home, I will write and do other jobs until the afternoon school pick-up. In the evenings and weekends, I'll work on my sleep coaching business.
Other jobs I'll be doing include social media management and micro jobs, such as proofreading, creating images with Canva, transcription, and perhaps online research—whatever I can fit in and whatever I feel like doing. That's the beauty of it!
I have worked from home since my big kid was born, so my children are well aware that the afternoon is a quiet time when I work. Sadly the nap days ended not that long ago, which was when I was the most productive (read my nap tips here)!
I hope my real-life example of working within school hours shows you how achievable and easy it is. I'd love to know what you're considering doing. To add some variety to your life, why not choose several different part-time jobs to keep it interesting and to ensure you've always got money coming in? That way, you can decide where your specialty lies as well, and who knows where it will lead. Good luck!
Originally published January 24, 2021. Content updated August 2023.