Do you like the idea of owning a franchise, but you don't have the cash that most require? No problem. We have some low-cost franchises that won't break the bank!
Starting a franchise is an exciting and rewarding way to create your own business. Some of the local businesses you interact with on a daily basis may be franchises. What you may not know is there are several low-cost franchises that you can run from home.
This means you don't have to worry about paying for physical space or hiring several employees. In this article, we'll explore 7 low-cost franchises that are work from home friendly and how to get started with each one.
How Franchises Work
Owning a franchise helps you utilize an established brand name and proven business model while still having the freedom to make decisions on how you run your individual business. There are several franchises in various industries, and some of the most common include companies like McDonald's, 7-Eleven, and The UPS Store.
With a franchise, you work under a specific well-known business, and you typically need to pay a fee to get started and meet other financial requirements.
Low-Cost Franchises
Starting a franchise can be costly, depending on the company, but smaller companies with fewer requirements tend to charge less. If you're looking for a franchise company with low start-up costs, here are 7 home-based options that are worth exploring.
1. Baby Body Guards
Baby Body Guards is a premier baby-proofing service headquartered in New York. The Baby Body Guards model was developed in conjunction with Pediatricians, Child Psychologists, First Responders, and other Child Safety Professionals.
There is an initial franchise fee of $15,000 to get started, and you'll receive training that will teach you how to install and operate every product and service that the company provides.
Each franchise owner will have their own territory to work in. You can work flexibly from home and enjoy part-time hours if you wish. With Baby Body Guards, your business can be ready to operate in under 3 months, and you'll receive the following:
Proprietary curriculum and method
Equipment specifications
New Owner's Training Program
Operations Manual providing instructions on procedures, marketing, customer service, and other aspects related to successfully operating a Baby Bodyguards franchise.
On-going content development
Comprehensive ongoing support
Website services
Use of Baby Bodyguards branding
2. Dream Vacations
Dream Vacations is a home-based travel agency and one of the most exciting low-cost franchises to consider. The initial franchise fee is $10,500, but you can get started with as little as $3,500 down. You'll also receive 100% of travel commissions for what you help book.
With this company, you can help clients find the best deals for travel, including cruise packages, resorts, hotel and car rentals, and more. Franchise owners can also get free and discounted rates for their own travel as an added perk.
With Dream Vacations, all of the technology is web-based, and you'll receive full training, including lead generation as well as 24/7 support. Dream Vacations also spends more than $4 million annually on marketing and promotions for franchise owners.
3. Cruise Planners
Cruise Planners is a home-based travel advisor business and one of the largest travel franchises in the U.S. No experience is required to start your own business, and you'll learn how to help clients plan trips such as cruises, land tours, and all-inclusive resort vacations.
This business is also flexible, allowing you to set your own hours, and Cruise Planners also provides all the technology, marketing, and support needed to run your business. This is another low-cost franchise with initial franchise fees starting at $8,999.
By taking on less debt, you can reinvest more money into growing your business over time.
4. Decorating Den
Do you love to decorate and have an eye for detail? Decorating Den is an interior design business with franchise owners located all across the company. You can leverage the business' name and reputation to secure local interior design clients in your area.
The company has been around since 1969 and provides you with a design concept, training, and several resources. The design process starts with a phone consult with the client. Then, you will set u a tour of the client's space to develop a plan and understand their budget.
Next, a design plan will be developed, and you can pick out colors, fabrics, furnishings, bedding, and more. Decorating Den has relationships established with more than 150 vendors and provides professional training, business management services, and turnkey marketing systems to all franchise owners. According to Franchise Direct, the initial investment is $39,900.
5. FIT4MOM
FIT4MOM is a leading company for pre and postnatal health, wellness, and fitness. The company provides moms with support, community, and fun fitness classes online and in their local area.
FIT4MOM currently has nearly 2,000 class locations, 1,850 instructors, and 250 franchise owners across the U.S. The company was also ranked by Entrepreneur Magazine's 500 as one of the fastest-growing low-cost franchises.
As a franchise owner, some of the programs and classes you'll learn to offer include:
FIT4BABY Stroller Strides
Stroller Barre
Body Well
Body Boost
RunClub+
Body Ignite
FIT4MOM
This business is also flexible, allowing you to set your own hours, and you'll also receive onboarding help, community, and a supportive home office team to help you get set up.
According to Franchise Direct, the initial franchise fee for FIT4MOM is around $7,495-$13,395.
A couple of other franchise opportunities that are similar in nature are Moms on the Run and Baby Boot Camp Franchise. There is not a lot of information on their websites, but you can request additional info if interested.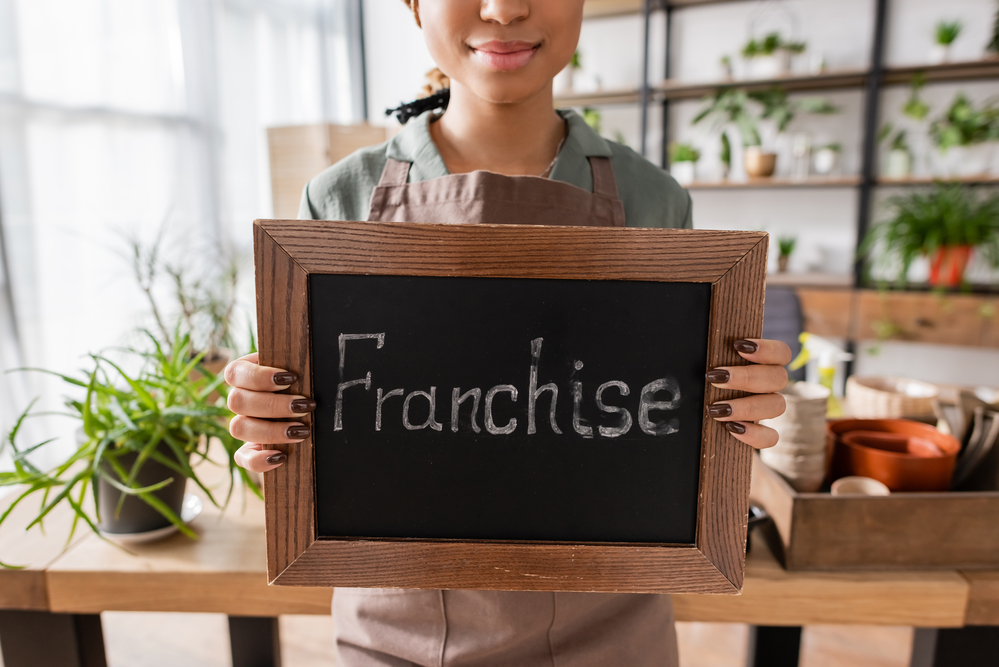 6. Just Between Friends
Just Between Friends is an award-winning children's pop-up resale franchise that helps families save hundreds of dollars on clothes, shoes, books, toys, baby gear, and more. Business owners buy gently-used kids' items from consigners to build inventory.
This is a seasonal business where franchise owners produce spring and fall events, so you'll enjoy working a flexible schedule vs. operating the business and tracking sales all year round. Just Between Friends has an initial franchise fee of $24,900, and the total investment to begin operating your business will range from $65,635-$94,775.
Other costs may include inventory, storage, marketing, and pre-opening labor costs. Just Between Friends provides several tools and resources to help you get started and provides support along the way. This includes 30 hours of online training and coaching as well as 56 hours of classroom training and onsite apprenticeship hours.
7. The Neat Method
The Neat Method is a home organization company that sells both products and provides on-site organizing services. The company has been around since 2010 and now offers franchise opportunities with an initial franchise fee of $30,000, where you can begin offering home organizing and virtual organizing services to clients in your area.
As a franchise business owner, you'll learn how to specialize in home organization, unpacking, and decluttering for a variety of spaces.
Like a few other businesses on this list, The Neat Method is not solely a work-from-home business since you may need to travel to clients' homes. However, you can do the bulk of your training and marketing work from home and consult with clients online or by phone.
What to Keep In Mind When Starting a Franchise
As a franchisee, it's important to look beyond the initial investment costs and also consider other setup and overhead costs. Make sure you understand the full upfront investment and will receive adequate training and resources to contribute to your success.
It's important to do your due diligence and ask details questions about the business before you make a final decision. All franchise companies must provide franchise disclosure documents (FDD) which is a legal disclosure required by the Federal Trade Commission (FTC).
The FDD provides extensive details on how the business relationship between the franchisee and franchisor will exist and the responsibilities of each party. This document should also display how royalties work, royalty fees, and other fees, including recent profit and performance.
If you agree to start a franchise and pay the upfront fees, you'll basically be agreeing to license that franchise company's knowledge, processes, and trademarks through your business. While there is a lot to consider, you should definitely take your time to think through starting a franchise and possibly discuss the FDD with a legal representative.
Is a Low-Cost Franchise Right For You?
Some of the most profitable franchises can also have low startup costs. If you're looking to start your own small business but still rely on a well-known name and proven system, these home-based could be ideal.
While some franchises require a six-figure investment or have minimum net worth requirements, you can consider setting up your own decorating, vacation-planning, or pop-up shop businesses as a franchisee in just a few months.
Starting a franchise requires hard work and dedication, but with the right preparation, you can have a rewarding experience owning and running your very own business.
Do you know of some other low-cost franchises? Drop us a note below; we'd love to hear from home!
If you'd like to start a business, but you're working with a small budget, here are some business ideas you can start for free!