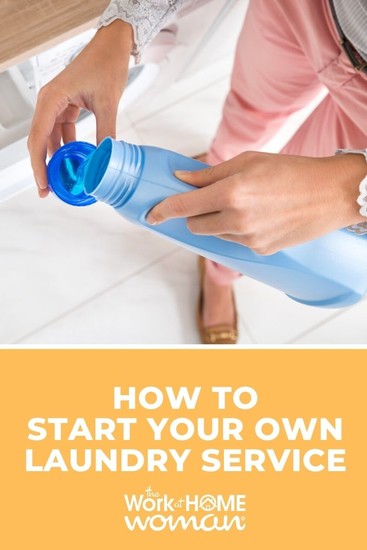 If there's one thing you can always count on each week, it's laundry: rain or shine. Whether or not you're busy, you and your family will have laundry to wash. Many people might tell you that they absolutely don't like doing laundry, and this could provide you with the perfect opportunity to make money by starting your own laundry service business from home.
The average American household does 8 to 10 loads of laundry per week, and the U.S. laundry facilities and dry-cleaning services industry is valued at over $10.2 billion, so there is lots of money to be made by simply washing and folding clothes other people's clothes.
Starting a laundry service business is an excellent way for moms to work from home and earn hundreds per week. After all, doing laundry isn't that bad. It's flexible and allows you to do other things around the house while a load of clothes is washing or drying. Here's what you need to know when it comes to starting your own laundry service business from home.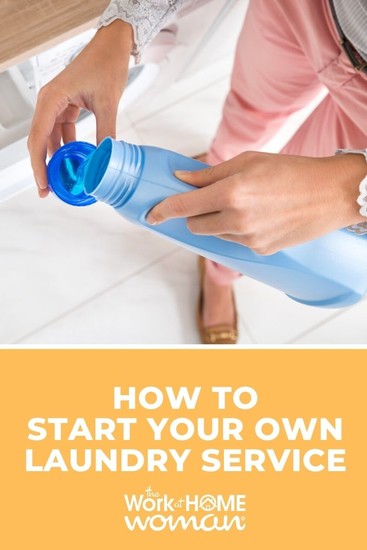 Getting Started Is Easy
When considering any new home-based business idea, it's essential to look at your existing skills and experience to see if you need extra training, licenses, or certifications. You likely already have a knack for doing laundry properly. So this is good news. If you need to learn more, you can easily find videos and articles online that teach you how to wash and care for different materials.
Plus, you can get extra practice by washing your family's clothes and perfect your skill set in sorting light and dark clothing, using the proper amount of bleach for white linens, and more. When it comes to folding, practice and find a technique that works for you and looks neat.
What You Need For Your Laundry Service Business
To start your own laundry service business, feel free to start with the basics and add more items and materials as you get more established. Here are just a few main things to check off your list.
Washers and Dryers
Of course, you will need a washer and dryer to perform your laundry services. You may already have one in your home that you can use. Keep in mind that the machines in your home will likely be residential-grade machines which are fine to start with. Residential washers and dryers are designed to help meet the demands of weekly family laundry, and you can expect these machines to last anywhere from 8 to 12 years with proper maintenance.
On the other hand, commercial washers and dryers are designed for cycling through laundry continuously (24/7 if needed), and these machines can last for 14 years on average, handling over 5,000 laundry cycles. Commercial washers and dryers may be a little more expensive than their residential counterparts, but it could be worth the extra cost if you have several clients and are doing multiple loads of laundry each day.
However, if you're just starting out, it's perfectly acceptable just to use what you have in your home.
Laundry Detergent
Consider offering a full-service laundry experience for your customers by providing laundry soap, fabric softeners, and dryer sheets, so the people who hire you don't have to provide it themselves. You can buy these items in bulk to stock up or make your own laundry detergent to save money.
I started making liquid laundry soap a few months ago, and it's been such a cost-saver in our household. Every few months, I fill up a 5-gallon bucket with my homemade soap. Once you purchase the initial ingredients and supplies, making your own laundry soap will cost you pennies.
Scale to Weigh Laundry
One of the most common ways to determine how much customers will pay is to charge a fixed rate per pound of laundry. To do this, you'll need to weigh each bag of laundry so you can provide an accurate quote.
A digital utility-scale, which can be perfect for weighing laundry, may run you around $150.
Licensing and Registration Documents
You may want to set up an LLC, S-Corp, for your business or work as a sole proprietor. Decide which business structure works best for you and research your state's licensing and registration fees and processes. You should also determine how you'll organize your finances and pay taxes on the income you make in your business. Talk to a tax professional or CPA about a plan and bring up any questions you may have so you can get started on the right foot.
Laundry Bags
This is not required to get started, but it may be a good idea to order some reusable laundry bags with your logo on them to give to customers for free when they hire you for laundry services.
Finding Customers
Everyone needs their clothes washed each week, but how do you actually find customers for your laundry service business and spread the word? Here are a few helpful ideas to get you started.
Post Ads for Free Online
There are tons of free sites and groups you can use to advertise your business online. Start with local groups on sites like Nextdoor, Craigslist, and even YellowPages.com. You can also post in local Facebook groups, and if you've registered your business, it may be a good idea to get involved with your local Chamber of Commerce.
Get a Website
Sooner or later, you may find it necessary to create a website so you can have a general place for potential customers to go to learn more about your business and services. You can share why you started your business, how you work, what materials you use, along with testimonials and reviews from other customers.
In addition to having a website, create social media pages so you can share discounts, offers, and images to promote your business.
Offline Local Promotion
Try doing some offline local promotion as well to get the word out. You can put flyers on cars or in local businesses with your phone number and website on them. Placing flyers and business cards in high-traffic areas for families like schools, daycare centers, and restaurants would be ideal. That way, you can get your business in front of busy parents who may be looking to outsource laundry. Busy professionals can be another ideal client for you too.
How Much Can You Make?
The best part about having your own laundry business is that you get to decide your rates. Most laundry service business owners charge anywhere from $0.75 to $3 per pound of laundry. If you want to offer to pick up and drop off laundry, you can also charge an extra delivery fee. For reference, the average small family will accumulate more than 10 pounds of laundry each week.
In general, you may receive anywhere from 20 to 30 pounds of laundry with each weekly customer. This means it's not uncommon to earn a few hundred dollars per week with your at-home laundry service once you gain a handful of weekly customers.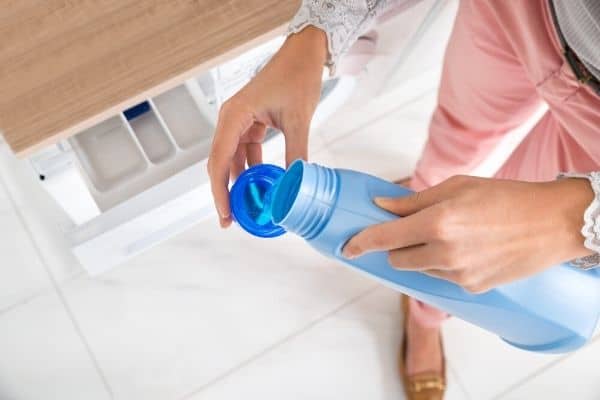 Don't Forget About Expenses!
As with any business, it's important to be mindful of expenses since they can reduce your profit. You will need to spend money maintaining your equipment and keeping other supplies stocked for use.
If you're offering a pick-up and delivery service, you'll want to account for fuel expenses as well. While you can deduct mileage from your business expenses, you should also set distance limitations and encourage customer drop-offs, so you don't waste too much time driving.
Laundry Care Can Help
If you need help starting your home-based laundry service business and would rather have someone else handle much of the marketing and financial planning, consider teaming up with a business called Laundry Care.
Laundry Care has been around for several years now and helps you operate your own laundry business with less hassle. How it works is that you can sign up to be a provider, and they will find customers for you in your area. You'll pick up laundry, bring it home to wash, dry, and fold, then return it to the customer when it's ready.
Laundry Care providers get paid around $20 per bag of processed laundry, and each bag holds 2 to 3 loads. You can control the frequency of when you get paid, and your earnings will be held securely in the 'My Wallet' section of the Laundry Care app.
To become a Laundry Care provider, you will need to pay a $100 fee. The fee covers initial supplies like 5 Laundry Care reusable bags, clear garment covers, a portable hanging scale, plastic bag tags, a laundry guide, a branded t-shirt, and promotional cards to obtain your first few orders.
Conclusion
Starting a laundry service business is an excellent way to make money from home and still spend quality time with your kids, take college classes, work another job, run errands, or do anything else you want to do. Learning how to offer a professional laundry service is easy, and while there may be some start-up costs involved, your potential customer base is huge. Everyone has laundry. You just need to narrow it down to the people who are willing to outsource the task and hire someone like you to help.