Are you a homeschooling parent looking for ways to make extra money? We have you covered with a list of work-at-home jobs for homeschooling moms, and tips for managing it all.
As a homeschooling mom, you're always on the move. From crafting lesson plans, teaching, monitoring, and managing a house full of responsibilities, you need to be on top of your game every single day!
With so much going on, you might wonder how moms who homeschool find the energy and the time to throw working and making money into the mix. Thankfully, earning money from home is becoming more accessible as more companies seek virtual workers.
If you're looking to earn some money while homeschooling, we're here to help.
Below we have nine of the best work-at-home jobs that you can begin all while homeschooling your little ones.
Best Tips for Balancing Homeschooling While Working
One of our biggest quandaries surrounding homeschooling was figuring out how to work and run our businesses with the kids at home.
We didn't have a plan when we decided to homeschool this year.
Instead, we slowly removed our kids from public school while introducing homeschooling into our lives. In doing this, we discovered some great ways to balance working from home and making money while the kids were fully immersed in learning.
Below are a few tips from our experiences so far:
Choose two days a week (at least) to wake up earlier than your kids.
These days can be dedicated to pitching new clients/jobs, checking emails, looking over finances, and doing other "maintenance" that you won't want to worry about while the kids are up.
Set up a flexible "schedule."
Our planned teaching and learning time occurs between 9:00 a.m and 12:00 p.m. with the understanding that there will be some days that this timeframe fluctuates. This time was necessary for our family as it gave us an idea of how to teach and complete work for our jobs during the day.
Establish a check-in, check-out system.
Because our kids are at different ages, we started a check-in system where we initiated the learning time with each of our kids, and when they were done with independent work, they would check out and always had something small to work on so that there wasn't any lag time. Eventually, they were both working at the same time, and we were carving out sections of our morning so we could all work together!
Carve out longer time slots for you to get work done.
Our kids have extracurricular activities built-in: painting classes, our co-op, ongoing projects, playdates, and more to change up each day for them while allowing us time to get our work done.
Have the kids help or earn money on their own.
Being around entrepreneurs is breeding more entrepreneurial spirit in our kids than I could have ever imagined. When they are done with academics, they will often work on their own business ideas or complete chores around the house. We have also taught our kids the difference between chores that earn money and helping out the family, which they do every day.
Change up the environment!
We started moving some of our reading time to the library or a local coffee shop for a change of scenery and found that we were often productive in doing that. With younger kids, the library is usually the best spot. They love meeting up with friends after school at these different spots as well.
Remember that learning for your kids occurs all the time.
You can immerse your kids in various "after-academic" activities to carve out space to work, which is one of the best benefits of homeschooling!
Below are some of the best work-from-home jobs that fit into the world of homeschooling quite naturally. These opportunities to make money from home generally offer flexible schedules and great pay rates!
1. Direct Sales
Do you have a flair for selling? From fashion and jewelry to handbags, cosmetics, and everything in between, there are a ton of direct sales opportunities that provide the type of flexibility needed while homeschooling. If you love fashion and jewelry, a company like cabi could be the perfect fit for you. Or why not sell Fair Trade products with Noonday?
If business-to-consumer selling doesn't interest you, check out the opportunity to sell promotional products as a Kaeser & Blair distributor. One of the things I love about direct sales is that it provides the opportunity to get out of the house now and then to meet up with people. If hosting parties doesn't quite fit your busy schedule, you can always host online parties.
Another great perk to direct sales is the ability to scale your business at your own pace. Start small and build gradually as your kids get older; it is up to you!
2. Start a Blog
If you love to write, starting a blog could be the perfect way to earn money from home while homeschooling. Whether your blog focuses on your homeschooling adventures, lesson planning, or something entirely different, there's a world of possibilities when it comes to blogging.
Like many of these work-at-home ideas, one significant benefit is that blogging is entirely on your schedule. You're the creator and writer for your blog, so you make the rules when it comes to how much time you spend on your blog.
Another awesome benefit to starting a blog now is that there's a wealth of resources out there. You can easily start your blog over the course of a weekend. Brainstorm blog posts while the kids are working on a project or read up on informative blogging articles while they're reading.
Here are a few other quick tips to help you on your blogging journey:
Start by writing down a list of ideas for your blog's overarching theme. On what will your blog focus? Homeschooling? Personal finance? Keep in mind that these ideas should be things you truly love and about which you would want to write.
Think about your audience. For whom are you writing? Why are you writing for them?
What type of problems are you helping your reader solve?
While these are just beginning tips, they'll help you focus on your blog's central theme so that you can get your blog up and running.
3. Freelance Writer
If you would prefer to get your "writing feet" wet before starting a blog, freelance writing is the perfect fit for you. With a vast number of companies seeking writers in just about every niche, freelance writing jobs have exploded. As a freelance writer, you'll have the flexibility you crave while being able to write on topics you love.
Most gigs will give you a set deadline, word count, and how much they will pay you per word or per 1,000 or 2,000-word article. Be sure you're comfortable with the pay rate and realistic about how long it will take you to write certain articles. This way, you end up enjoying the writing experience, and you ensure that you're getting paid what you're worth.
Making extra money as a freelance writer is a great way to make a consistent income while homeschooling your kids. There is such a strong need for freelance writers that many individuals turn their freelance writing into full-fledged businesses and expand into the world of entrepreneurs as well.
To make the search for potential clients even easier, you can begin with job boards such as FlexJobs, Freelancer, or even ProBlogger.
Another quick tip: If you're brand new to freelance writing, try to get an article or two written ahead of time and published to build up your resume. One way to get published online is through guest posting. Check out the blogs you currently read to see if they're looking for guest bloggers or contact them directly. If not, think about topics that you would like to write about and seek out blogs or websites within that niche. While guest posts usually don't pay much, they will give you the practice and exposure needed to land paying gigs.
4. Customer Service Jobs
Customer service positions are another good work-at-home opportunity for moms who homeschool. Many companies hire for early-morning and late-evening hours, making these positions ideal for homeschooling moms who need a work-at-home job that's a little more structured. Many industries require remote customer service representatives, from major retail companies to the medical, financial, educational fields, and more.
As a homeschooling mom, you probably already have office space and high-speed internet, but some companies also ask that you have a land a line.
Scroll through online job boards or our list of work-at-home jobs that are updated weekly for a customer service position that fits your homeschooling and family needs.
Here are a few good customer services jobs to check out:
5. Become a Virtual Assistant
There is a wide range of virtual assistant jobs that fit perfectly into a homeschooling day. Virtual assistant responsibilities often include tasks like sending emails and managing Pinterest, Instagram, and Facebook accounts.
What's cool about social media management is that virtual assistants can schedule posts a month or more in advance. So you could realistically spend only a few hours scheduling and complete an entire month's worth of work. All of this while homeschooling and keeping your kids organized in the mix! Of course, a virtual assistant's hours depend heavily on how many clients you decide to take on. Try not to take on too many clients at once, as you don't want to become overwhelmed. Start with one virtual assistant client, and if your homeschooling schedule allows it, build up more clients from there.
Related content: Working From Home with Toddlers, Tips, and Ideas For Stay-at-Home Moms
6. Become a Transcriber
If you love to type and can do so with speed and accuracy, transcription work might be the perfect work from home job for you.
As a transcriptionist, you'll listen to audio files and transcribe them into documents.
With the ability to make your own schedule, this flexible job has a decent hourly pay rate (average transcriptionists make about $16.61 per hour).
Most companies that hire transcriptionists will require you to take a test to determine your skills for accuracy and speed.
Aside from that, you'll need a high-speed internet connection, a computer, and a headset for this work-from-home job.
Many of the businesses that hire transcriptionists also hire captioners and subtitlers, so be sure to check out their complete list of open positions.
Some of the more popular sites that hire for transcription work are:
7. Start a Home Daycare
Do you love taking care of kids? Starting a home daycare is a great way to combine working from home and homeschooling.
If the kids in your home daycare happen to be similar in age to your kids, they can often complete some of the learning activities together, making it even easier to combine working from home and teaching your kids.
Establishing a learning schedule will be essential for successfully running an at-home daycare while homeschooling your kids.
You can start small with just one or two additional kids and then grow from there based on your comfort level. Often, moms who homeschool start daycares on a part-time basis and then find it relatively easy to establish a full-time business as there is always a need for childcare!
To fully establish an at-home daycare, you'll want to check with your state for the procedures in getting a daycare license and insurance. Here's a great step-by-step starter plan for getting started with this work-from-home opportunity.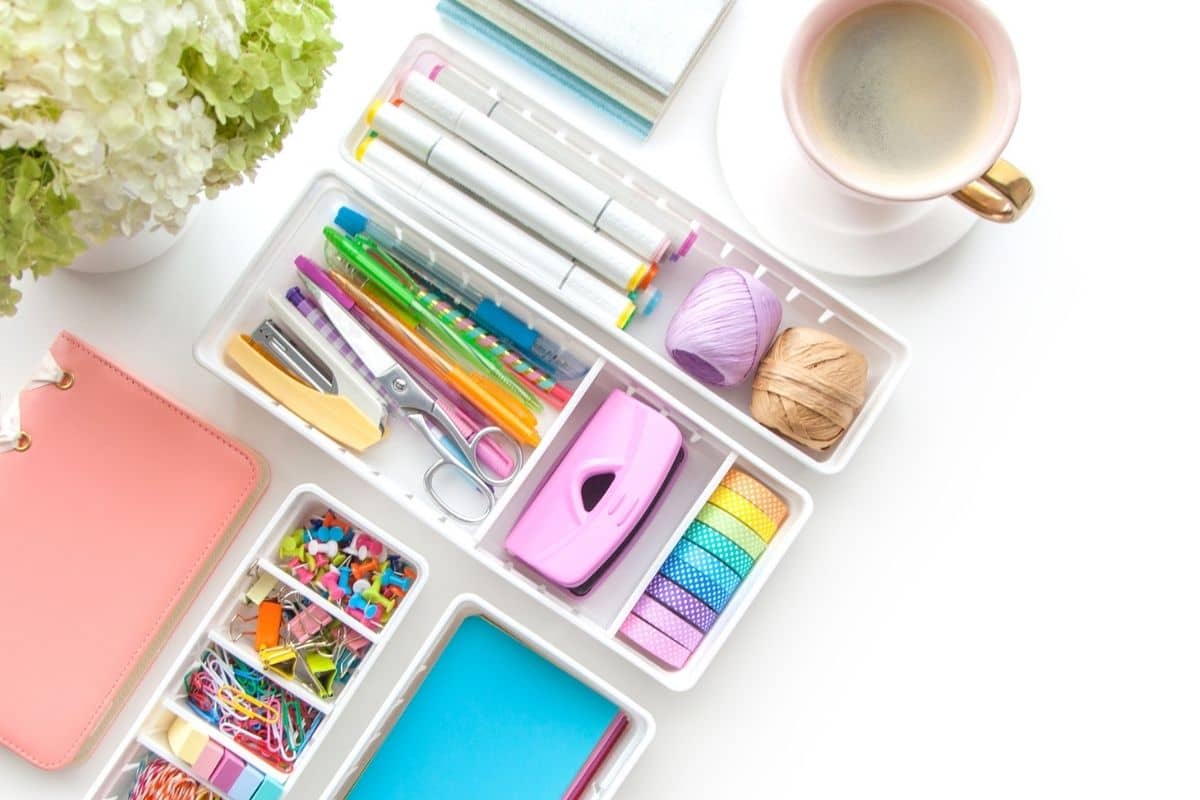 8. Sell Printables and Worksheets on Etsy
Do you have a passion for creating? How about graphic design? Starting a printables business is a great way to earn extra money while the kids are at home learning.
You can easily start using the printables and worksheets you might already create for your kids while homeschooling.
You can sell these printables on Teachers Pay Teachers or open an Etsy store.
The great thing about selling printables and worksheets is the ability to generate almost entirely passive income. Once the worksheets and printables are created and posted, you'll only need to check in on the customer service side of things to ensure your customers are happy with their purchases.
Then you can enjoy making money while teaching your kids, taking them on trips, or even while taking a nap!
While selling printables and worksheets won't make as much money as some of the other jobs listed initially, as you build your products, you'll be able to turn this part-time job into a full-time business quite easily!
There are several ways you can make money with your printables, so be sure to check out this post that covers exactly what you'll need to be successful with this work-from-home idea!
9. Sell Your Stuff!
As moms, we collect a ton of "stuff." As homeschooling moms…that "stuff" seems to double. If you've found yourself moving through various stages with your kids and have mounds of unused books, baby seats, clothing, toys, and the like, you'll want to read further.
Posting your unused kid items for sale is a great way to declutter your already busy environment and make money! To help move items faster, you'll want to consider those items that are more "evergreen" versus those that are definitively seasonal.
Often, homeschooling moms and teachers in school systems start their searches for classroom items between July and September. They might also begin to search for supplies around the start of the New Year.
So, posting those bulletin board letters you've been dying to get rid of in mid-November may not generate even one view; however, you're bound to get a sale if you post them in July or August.
So, to get ahead of things, think about posting gently used summer clothing and gear for babies around late February and March, when parents are most likely considering traveling to warmer destinations or are gearing up for the summer.
Not sure where to post all of your awesome (but not needed) items? Here are a few of our favorite spots to sell stuff online:
A quick tip: Post your items on as many platforms as you can to gain exposure but do your due diligence in checking these sites. You don't want to "double sell" an item and leave the customer with a bad experience.
Conclusion
With the surge of work-at-home jobs to fit the lifestyles of many individuals, opportunities to make money while homeschooling your kids are no longer just a dream. From working as a customer service representative or direct sales rep to starting a blog or an at-home daycare business and more, these are the best jobs for homeschooling moms!
Do you have experience homeschooling and working from home? Drop us a message below and tell our readers all about it!
Have a question or comment? Awesome! Drop us a line below!
Originally published August 20, 2019. Content updated March 2022.