Are you tech-savvy? Do you love the idea of helping others solve technical issues? Then keep reading to find out more about the best remote tech support jobs!
If you're one of those individuals who thrive on all things tech and you enjoy helping others, a virtual tech support job could be a perfect work-at-home career for you!
Here is a list of remote tech support jobs where you can get paid for helping others with their technical challenges.
Do you love Apple products? The same people who brought you the iPod, iPad, and iPhone are currently hiring tech support specialists, also known as "At-Home Advisors."
One of the biggest highlights of working for Apple? The emphasis they place on establishing relationships with people – both employees and customers.
As a remote tech support individual with Apple, you're told from the beginning that you're not in the business of fixing tech problems, but rather, you're there to help people.
Apple's focus is making a human connection with its customers, so they're looking to hire you not only for tech support but for you to be, well, you!
Apple has a few open tech support positions and more on their site, so check them out today!
A few key things to note about this position:
You'll need a quiet, distraction-free home office space

Must have a reliable hardwired high-speed Internet connection

Online

training is provided and typically lasts nine weeks
Apple offers fantastic benefits, such as:
You're provided with an iMac and headset exclusively for work

Reimbursement for internet service

Part-time and full-time employees receive a benefits package, including product discounts and paid time off
With this set-up and more, working for Apple as a remote tech support individual or home advisor is a sweet deal.
AdviseTech offers IT outsourcing and strategic consulting for its clients.
They are currently hiring qualified technicians who have server experience and a minimum of 10 years of field and help-desk exposure.
You'll need to send in your resume and salary requirements to be considered for employment.
Asurion's goal is to keep their customers' lives worry-free when it comes to all things tech. Asurion helps its clients with tech protection, connection, and repair.
You'll find a little bit of everything at Asurion. From work-at-home technical support and sales representatives to remote lead technicians helping consumers with various electronic repairs, Asurion boasts a huge listing of tech jobs with a range of opportunities.
Prides itself on being the "leading career destination for tech experts at every stage." This site is dedicated to both employers and tech career-seekers as it provides a ton of current remote tech positions as well as non-remote opportunities. Some features of Dice include:
Personalized job alerts

Full control over your profile visibility

Search for work-from-home tech jobs based on your skill level
One of my favorite places to search for work-from-home tech support jobs is through staffing agencies. Kelly Services also called KellyConnect and Kelly, is a staffing agency that contracts with companies to provide workers for their vacancies. Kelly specifically looks for individuals with expertise in IT, logistics, HR, workforce optimization, QA, analytics, training, and more. To find the remote roles on their website, type in your job title and select "yes" under work from home. On their website, you can find full-time, part-time, per diem, and temporary positions.
Whether you've been on FlexJobs in the past or not, you'll want to check out their page devoted to remote tech support positions.
FlexJobs is a comprehensive platform dedicated to delivering high-quality work-from-home positions, tailored to your passion and expertise.
Some benefits to using FlexJobs include:
Easy to navigat

e

Apply to as many job openings as you would like

The website is updated daily with new postings

All jobs are vetted for legitimacy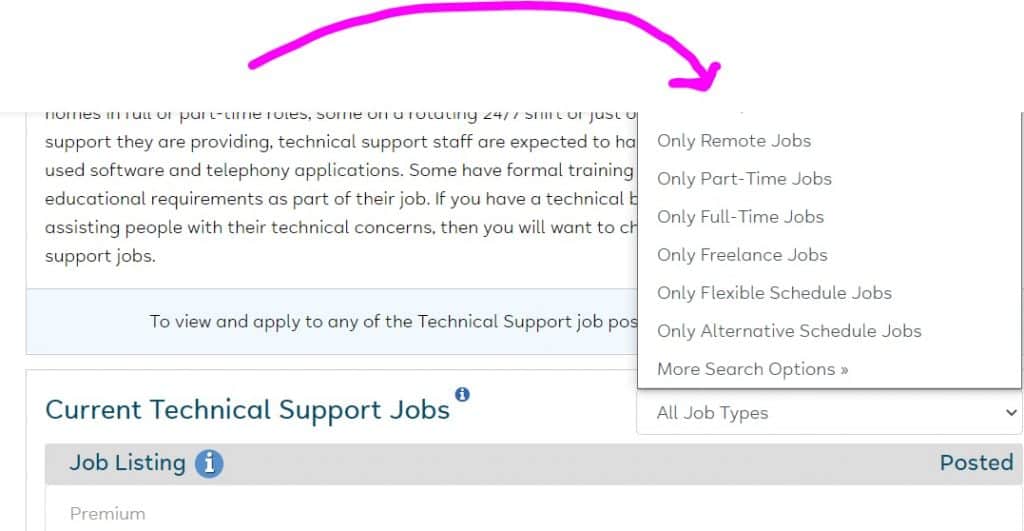 NoDesk is a remote workforce platform where you can easily search for remote tech positions from across the globe. Simply put in your search terms, and NoDesk takes care of the rest for you.
Tech support positions are consistently updated on this platform, so if you don't find one that's a great fit, keep checking back!
OneSupport offers personal and business tech support services as well as customer service for its clients.
They have both in-house and remote positions and the option to work either part-time or full-time.
There are multiple positions available at OneSupport, including Business Customer Care Representative, Customer Care Representative, Sales Representative, and Tech Support Representative.
For these positions, you will need to know about resolving hardware and software issues, configuring antivirus software, and solving internet connectivity issues.
Benefits include:
Paid time off

Competitive wages

Around-the-clock flexible scheduling
To work-at-home with OneSupport Tech, you must currently reside in one of the following states: Alabama, Arizona, Arkansas, Colorado, Florida, Hawaii, Illinois, Kansas, Mississippi, Missouri, Nevada, New Mexico, North Carolina, Ohio, South Carolina, Tennessee, Texas, Utah, Virginia, or Wisconsin.
SimplyHired offers another reliable platform for tech support job seekers. Their site makes searching for remote work simple, and they also provide a free resume builder tool, making it even easier for you to showcase your skills.
Globally recognized for providing a wide variety of work-from-home positions and excellent customer service to their clients, Sitel Group is a great place to start your search for a remote tech position. Their site is easy to navigate and boasts virtual roles for every type of tech-savvy person.
When you work for Sitel Group, you can enjoy:
Flexible scheduling

Paid training

Benefits like health, dental, and vision insurance,

401k retirement plan, and referral bonuses
Support.com is a tech support company that hires virtual tech support agents.
Job availability varies from remote managerial positions to support-based positions.
If you don't see the right tech support job, check back now and then for updates regarding their remote tech jobs.
Like many of the tech support jobs we've researched, Support.com has some pretty amazing benefits for joining its tech team.
Some benefits of working on the Support.com team include:
Paid training

Non-taxable work-from-home reimbursement for all hourly employees

A performance bonus program

Medical, dental, and vision insurance

Paid life insurance

Employee Assistance Program

PTO and floating holiday pay
As an employee with Teleperformance, you'll ensure that you provide exceptional customer interactions for each client you engage with.
Teleperformance offers numerous remote positions from customer service to tech support representatives and much more. This company provides several benefits to its employees, including:
Paid training

Competitive wages

Monthly bonuses

Full benefits (Medical, Dental, Vision, 401k, and more)

Employee wellness and engagement programs

A fun, casual work environment on-site or virtual
If you're seeking to become a vested employee rather than a freelancer, Teleperformance is for you!
This company sounds like a fun place to work! As a remote tech agent with Transcom, you'll be able to share your knowledge and grow your career, while improving your work-life balance with the flexibility of working from home!
With Transcom, you'll be the "voice" for Transcom clients who help support their customers. In these remote tech jobs, you'll:
Support customers with their smartphones, tablets, and computers

Answer questions about products and services

Solve tech issues
Other benefits of working for Transcom include:
Paid vacation

Health benefits

A computer provided by Transcom

100% work-from-home
TTEC provides customer service through technology to businesses. They are typically known for their customer service positions, but they also have several tech positions available.
You will need to search for remote positions among the other tech positions that they have posted.
Some of these positions will require you to have two years of college or one semester completed with two years of call center experience.
Some benefits of working for TTEC include medical and dental insurance and career advancement opportunities.
Xerox is quickly becoming a popular place for remote workers! They boast a "Virtual Office" program that hosts many available positions to make your job search even easier!
To find potential remote tech positions, you can simply scroll down to the "click here" section on this same page and fill in the search criteria for the job you're seeking.
For a tech position with Xerox, you'll need to understand how to repair hardware, software, and other networking products.
Besides tech experience, you'll need a high school diploma (a college degree is preferred) and some customer service experience.
You may need to travel to customers' offices for service occasionally, so you will need a driver's license and reliable transportation.
Conclusion
Many tech jobs now come with the added perk of working remotely! From guiding businesses with their website queries to problem shooting advanced tech questions for customers, if you love working with people and technology, one of these remote tech jobs might be the right choice for you!
Do you have a remote tech job, or are you currently looking for one? We would love to know your experiences, comments, and questions below. Drop us a line!
Originally published September 24, 2019. Content updated April 22, 2022.