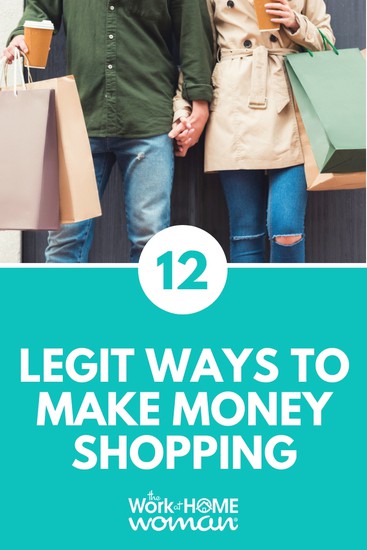 I get a kick out of saving money when I shop. I get an even bigger kick when I make money shopping.
Yes, you heard me correctly; you can earn money shopping!
With advances in technology — retail competition is fierce. So much so, companies and brands are getting creative with how they reach and acquire new customers. Instead of spending marketing dollars on traditional advertising methods, many brands are reaching out to consumers in unique ways. One of these ways is by enticing customers to shop with them through cash-back opportunities.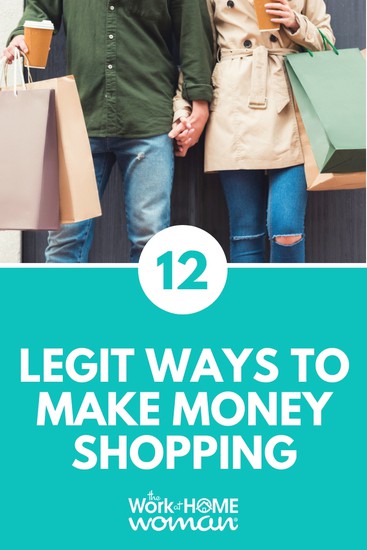 So today, I'm going to share with you how I make money when I go shopping.
Make Money Shopping Using Smartphone Apps
I'm slightly addicted to money-making smartphone apps. It's like a game for me to see how much I can earn. I've even got my husband using them. In fact, it's how I pay for my Starbucks habit.
Swagbucks is an online platform where you can earn points called SB. These SBs can be redeemed for gift cards, cash via PayPal, and sweepstake entries. Besides its desktop portal, Swagbucks also has a smartphone app for both iPhone and Android operating systems. You can quickly earn SBs by watching videos, answering surveys, completing offers, surfing the web, and of course, shopping using their online rewards store.
You can shop with brands like Amazon, Walmart, and Macy's. Just log in and click on the store you want to shop at, once you find the right retailer, click on the link, and you'll earn a certain number of SBs for each dollar you spend. You can even refer your friends to Swagbucks, and you'll earn more SBs. Oh, and did I mention, when new users sign-up with Swagbucks, you earn a $5.00 sign-up bonus when you register.
Related Content: Swagbucks Review: Can You Really Make Money With Swagbucks?
I love this app because it's totally passive! With the Dosh smartphone app, you securely connect your credit card to the application. Every time you're out shopping at a participating retailer or restaurant, you'll earn cashback! You can also earn $5 for each friend to downloads the app and connects their credit card. Once your account reaches the $25 threshold, you can transfer your out via PayPal, direct deposit, or you can donate to charity.
Much like the Dosh app, with Drop, you connect your credit card to their secure online platform, and you'll earn rewards when you shop, eat out, and book travel. You can also earn additional points for shopping directly through the Drop app. The points that you earn can be traded in for gift cards to places like iTunes, Best Buy, Amazon, Starbucks, and many more. You can also refer your friends for additional points.
Ibotta is a smartphone application you can use to earn money when you go shopping. Before you head out on a shopping trip, complete the tasks related to your favorite brands and companies. Next, go shopping, scan the barcodes of the items you purchased, and snap a photo of your receipt. Once your transaction has been verified, your account will be credited with the specified cashback amount.
Like the other apps mentioned, you can refer your friends and earn even more money. Once your account hits $10, you can request a payout via PayPal, Venmo, or you can purchase gift cards from Best Buy, Amazon, Starbucks, Sephora, Walmart, and others. I've been using Ibotta for years now, and during this time, I've earned over $1,700 cashback!
With Receipt Hog, you can earn virtual coins by snapping pictures of your receipts. The virtual coins you earn can be traded in for cash via PayPal, Visa prepaid card, or Amazon gift cards. The information that Receipt Hog collects is used for market research. You can submit up to 20 receipts per week, and it takes 1,000 virtual coins to earn $5. You can earn additional coins by taking surveys and connecting your email and Amazon accounts. Sign up using my referral code jen59328 to get an extra bonus here.
6. Receipt Pal
Much like Receipt Hog, with Receipt Pal, after you go shopping, you snap photos of your receipts. For every four receipts you upload to the app — you'll earn 100 points. These points can be traded in for sweepstake entries, Amazon gift cards, and other retail gift cards. You can also earn a 300-point bonus for connecting your email account — which will automatically scan your e-receipts for more points.
I love this app; it's just so darn fun! Download it to your Apple or Android smartphone and open it up when you walk into participating retailers, and you'll instantly earn kicks. Scan barcodes on products once you're in the store to earn even more kicks. Link up your credit card, browse through lookbooks, and refer your friends to earn even more kicks. Kicks can be traded in for gift cards from Target, Old Navy, Starbucks, Tiffany, and lots more.
FetchRewards is another smartphone app, where you can earn rewards for your grocery shopping activities. After you've gone shopping, scan your grocery and big box store receipts to the app. For each one you submit, you'll earn a varying number of points that can be redeemed for sweepstake entries, gift cards, or cash via MasterCard or Visa prepaid cards. You can earn additional points for connecting your email and Amazon accounts, and for referring friends to the app.
Make Money Shopping with Your Credit Card
9. Get Cashback from Your Credit Card
A word of caution here. You should ONLY use this method if you can pay off your credit card balance each month. If you can't do that — DO NOT use this method, as you'll accumulate costly debt with interest.
Every month, I use my credit card to purchase EVERYTHING — from groceries and gas to our cell phone bills, doctor bills, and everything else in between. For each dollar that is spent — I earn 1 point, and it takes 100 points to equal $1. While this doesn't seem like a lot of money, it can be quite the payday when you put everything on your credit card, and you only cash out a couple of times a year.
Depending on which credit card you have, they may have periods where you can earn double or triple points back on certain items, like gas, groceries, or travel — so they can add up quickly. Remember, at the end of each month, pay off your balance in full — this way, you never pay interest fees.
CashBack Shopping Sites
When I first heard of cashback websites, I thought they were a scam. But after trying Rakuten (formerly Ebates) firsthand, I can tell you that it is 100% legit. In fact, I use Ebates for all my online shopping. If you could earn 2% – 25% cashback on your purchases, why wouldn't you?
To use this method, sign-up for an account, and when you shop online, log in to their portal. Once you're logged in, find the store you want to shop at, click on the link, and then do your shopping. Rakuten will record your transaction and pay you cashback via PayPal or check quarterly.
Rakuten also offers cash referral bonuses for referring friends and family to the platform. While there are numerous cashback sites to choose from, my preference is Rakuten. I've been using it since 2013, and during that time, I've earned over $1,900 just shopping online!
Earn Referral Cash From These Online Shops
11. thredUP
Every season I go through our closets and purge items that no longer fit. In the past, I've gone around town and tried to sell these items to consignment shops. And while I've made some money doing this, there are two major problems. One is the time commitment it takes to drive, visit, and have them sort through my clothes. The second factor is they often don't accept my items, or the payout is pitiful.
This is why I use thredUP. They do most of the leg work for you, so it doesn't take up much of your time. You just send your items to them in one of their pre-addressed bags or in an old cardboard box, and they'll list your items on their website — some items they purchase outright, and others they list on consignment. While the process is slow, and the payouts aren't great, I like that I can earn a little bit of cash for minimum effort.
The money that I earn from thredUP, I turn around and use it to buy new-to-me items from thredUP for myself and my daughter. Every item I've ever purchased an item from them looks brand new! If you're interested in trying out thredUP, use this referral code, and you'll get $10 to spend on thredUP, and I'll earn a $10 credit too. Once you sign-up — you too can offer your friends the same deal.
Stitch Fix not only has a referral program, but it's a personalized shopping service that sends you five hand-picked clothing/fashion items, either monthly or whenever you request a fix. Using Stitch Fix is not only fun and exciting, but it saves me oodles of time! I tell the stylist what I'm looking for, and they send me five clothing items to try on in the comfort of my home.
If I don't like an item, I send it back to them in a pre-paid envelope that comes with the fix. What I do like, I keep, and then they charge me for it – easy peasy! Not only do I use Stitch Fix, but I've turned many of my friends on to them too! Now for the referral part. For each person, you refer to Stitch Fix, and that signs up for a fix — you'll earn a $25 Stitch Fix Credit that can be used on future fixes.
Conclusion
The last thing I do when I'm shopping is I look for additional discount codes and coupons on RetailMeNot. While this doesn't make me money – it saves me a TON of money. Just search for the store you're shopping at, and more often than not, there will be a discount code that you can use.
As you can see, there are lots of roundabout ways to earn rewards and cashback when you shop. I've personally tried and continue to use each of these methods each time I shop, so I'm 100% confident that they're legit, and that they really pay you for shopping.
Do you use any of these methods to make money shopping? Do you use a platform that I haven't listed? Feel free to leave your favorites below.
Originally published November 18, 2015. Content updated November 12, 2019.