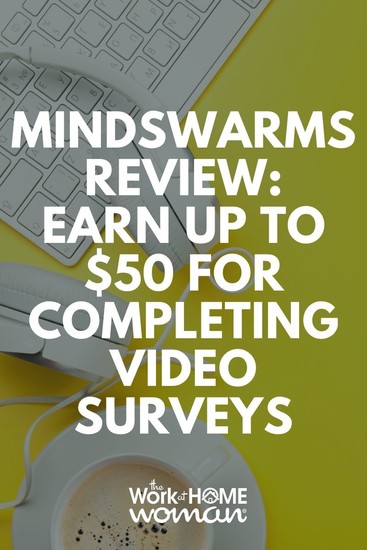 Want to get paid for your opinion? There are several different paid survey sites out there, but they are not all created equal.
The best survey sites pay you per survey and offer cash payouts, so it's easier to be compensated. If you don't mind sharing your opinion on camera, you could get paid as much as $50 per survey with Mindswarms.
What Is Mindswarms?
Mindswarms is a market research firm that works with top brands in tech, advertising, retail, healthcare, entertainment, and other industries.
They offer video survey opportunities to users who get matched with a company's survey based on their interests. Users can take surveys from their smartphone or any other device. Mindswarms gets paid by the brands they partner with, and that's how they pay you.
Getting started takes just a few minutes, and you could be well on your way to making money flexibly from the comfort of home.
How to Get Started with Mindswarms
Sign Up
You must be at least 18 years old and speak English fluently to sign up. Create your account by confirming your email, creating a username, and then setting your password.
You can also create an account via your phone or tablet by downloading the Mindswarms app either via Googe Play or the Apple app store.
Fill Out Your Profile
Next, you can fill out your profile by adding more details like your address, age, PayPal email address (so you can get paid), and how often you'd like to receive emails about new studies.
To maximize your opportunity of landing a study, be sure to select the 'immediately' option so you'll be emailed right away when you are matched with a study.
Most of us are on our email throughout the day. If you've used other survey sites, you know that it's best to respond promptly to survey requests before they are no longer available.
Record Your Profile Video
This step is essential. In fact, you can't move on in the signup process without completing it. Your profile video is used to help you share your interests and also to verify the quality of your audio and video.
Since you will have to submit a video response for each survey, Mindswarms needs to check to see that you can record a video clearly and meet their standards. Your video profile also helps match you with opportunities.
You only have 60 seconds, which is not a lot of time to share your interests and passions. I actually re-recorded my video after my first attempt, so I'm grateful that you can replace your video with a new one at any time. The second time around, I focused on sharing some interests I have that may help me qualify for survey opportunities.
I had used survey and focus group sites before, so I was sure to include details like being a mom, and loving travel, healthy eating, and testing out new businesses, products, and services. This lets screeners know that I have a range of experience and may be able to offer some valuable feedback on their brand.
Wait For Survey Opportunities
Once you submit your video, your profile set-up should be complete. Then it's time to wait for a survey opportunity to pop up.
To boost your chances of being selected for a survey, update your interests in the settings section of your profile.
You can add up to 10 interests at a time. As you can see by the example below, I tried to include a variety of interests that could be relevant to future surveys.
You can always tweak your strategy by replacing some of your existing interests with new ones to see if it could help you qualify for more survey screenings.
How Video Surveys Work
First, you will need to apply for a study by filling out a quick screener. This is done to see if you qualify for a survey, and you won't get paid for this process.
If you do qualify, you'll move forward and be asked to answer around 10 questions with video responses. Overall, a survey shouldn't take longer than 20 minutes to complete.
How Payment Works
Mindswarms will pay you $50 for each 10-question survey you complete. Payment will be sent to you via PayPal within 24 hours.
Pros and Cons of Mindswarms
Pros:
Get set up quickly in as little as a few minutes. (No hoops to jump through.)
Take surveys and get paid from the comfort of home.
Earn around $50 per survey. (Mindswarms pays more than the average survey site.)
Take surveys from your phone or tablet.
Get paid cash within 24 hours of completing a survey.
Cons:
Prequalification surveys are not paid.
There are not many surveys available. (Even though the pay is higher than other companies, you may find yourself qualifying for fewer opportunities.)
Mindswarms Review: Is It Worth It?
Mindswarms is a legit survey site that may be great to add to your list if you're already taking surveys online. They pay well, and if you don't mind being on camera, you could easily earn some extra money.
However, don't expect to earn a consistent income with Mindswarms. Personally, I saw better results using focus group sites like Respondent. After signing up for Respondent, I immediately saw opportunities I qualified for, and I landed my first high-paying focus group. While focus groups may require that you travel to a central location, Mindswarms offers more convenience by letting you record video responses at home.
Just realize that you will need to fill your profile out in full and that you will only be matched with survey opportunities if you match the demographic each company is looking for.