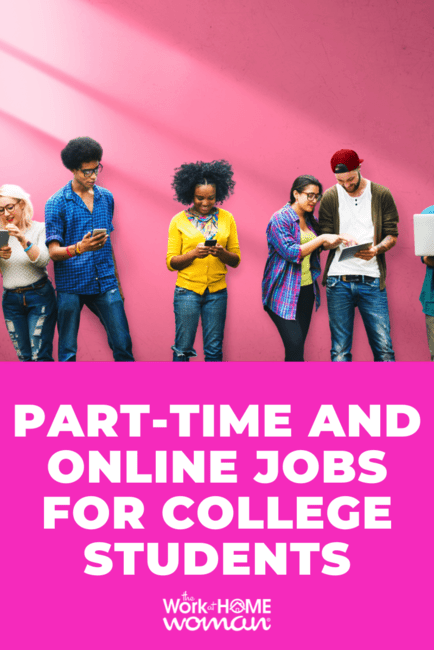 Are you looking for part-time online jobs for college students, this list of ideas has you covered!
When I went to college, my parents agreed to cover my tuition. But I had to cover my rent, food, books, and bills if I wanted to live out on my own. My parents, of course, gave me the option to live at home rent-free, but what college student wants to live at home when they can be out on their own?!
Needless to say, I had to work. Even if I had decided to live at home with my parents, I was still responsible for gas, car insurance, and college textbooks – which are expensive!
Luckily, I fell into waiting tables, which worked out great. I made good money, and there was lots of flexibility in scheduling. While I had my scheduled shifts, if I needed to make more money, I could pick up an extra shift, and if I needed more time to study, I could try and get my shift covered. I ended up waiting tables for nine years while I got my two degrees.
If you're a college student and you're looking for a flexible, part-time, or online gig, there are a lot of options available to you, and you don't have to wait tables, although it is a good option.
Here are 23 flexible and online jobs for college students that allow you to have time for your classes and studying.
1. Test Websites
If you're tech-savvy and have good communication skills, testing websites and apps for usability can be an easy and flexible way to earn extra cash. Most gigs take between 5-25 minutes and pay an average of $10 per test. Some companies will make you take a practice test to ensure you can give detailed and precise feedback on the website you're testing.
If this sounds interesting, give these companies a try: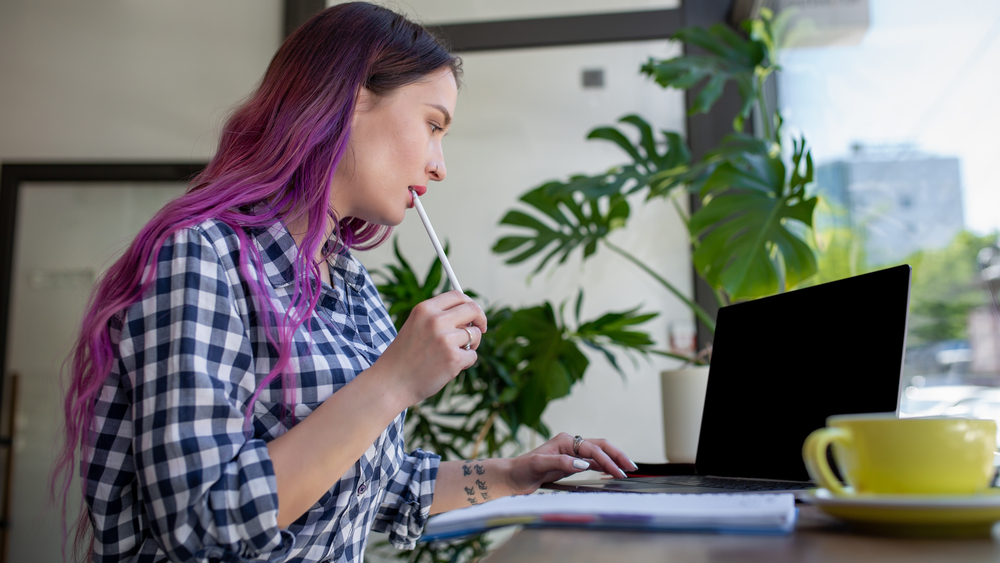 2. Online Surveys
Only have a few minutes? Online surveys are the perfect way to make a little extra pocket cash when you have a few minutes of downtime. While you're not going to get rich completing surveys — you can do them any time of the day or night. I often complete surveys while waiting for an appointment or have a few minutes to spare.
When choosing surveys to participate in, be sure to look at the time investment versus the payout; you don't want to spend 30 minutes on a survey that only pays $0.10! You should also set up a separate email account, as you'll receive a lot of emails.
Here are some of my favorite survey sites:
3. Blogging
Obviously, I'm a huge advocate for starting your own blog. But let me tell you why blogging is a great idea for college students.
In fact, Eva Baker started her blog, TeensGotCents, as a high school student, and she used her blog to make money while she attended college. If blogging sounds like the perfect gig, this post explains how you can get started with WordPress for $2.95 a month!
4. Short Tasks
Another online job for college students is short task jobs (also called microtasks). Short tasks are just what they sound like; little jobs that can usually be completed in 30 minutes or less. Tasks vary from site to site but often include transcription, data entry, internet research, answering questions, booking appointments, search engine evaluation, translation, and more. Short tasks sites like Course Hero pay an average of $1,500 per month. Other sites, like Fancy Hands, pay anywhere from $2.50-$7.00 per task.
Here are some other companies that offer short task assignments:
5. Virtual Assitant (VA)
If you're organized and have excellent admin and communication skills, working from your dorm as a virtual assistant may be a good way to earn the extra income that you need. I always find bloggers looking for virtual assistants, so joining some relevant Facebook groups can be helpful for finding those one-off job postings. The paid membership site FlexJobs also has a good list of virtual assistant jobs.
6. Freelance Writer
As a college student, you're always writing papers, which is good for a few reasons. When you write a lot, you become quicker and better versed as a writer overall. Two, freelance writing gigs are plentiful, easy to find, and usually pay well. Third, you may be able to repurpose your college content for paid writing gigs on the same topic. If you're interested in writing your way to some extra cash — here are 99+ paid writing gigs to check out.
7. On-Demand Gigs
The gig economy has made it easier than ever to connect with people who need help and are willing to pay individuals to do it. One such platform that's specifically geared toward college students is QuadJobs. With QuadJobs, college students can find on-demand gigs like babysitting, dog walking, tutoring, delivery, cleaning, social media, graphic design, and more. The platform is free for college students to use, and employers pay students directly based on a mutually agreed-upon rate.
Here are some more on-demand gigs that college students can work on a flexible schedule:
8. Sell Stuff Online
When you're in college, you quickly learn about selling your textbooks back for cash, but did you know you can sell almost anything online for a quick buck? Old clothes, shoes, art, handbags, books, DVDs, electronics, and more. If you want to expand this idea further, you can scope out garage sales, flea markets, and thrift stores for fabulous finds and flip them for a profit. There are many online platforms you can use to resell your items, like eBay, Facebook Marketplace, VarageSale, Mercari, and Poshmark.
9. Use Smartphone Apps
If you have a smartphone, there's no reason why you shouldn't download a few money-making apps. There are tons to choose from, and they're available for both iPhone and Android operating systems.
Some of my favorites include:
You won't be able to earn a full-time income with Smartphone apps. But it only takes a few minutes to use each one, and you can usually make enough to cover your Starbucks habit or buy some new books on Amazon. My philosophy is every little bit helps!
10. Direct Sales Consultant
If you're an extrovert with good persuasion skills, selling products for a profit may be an excellent way to earn extra money and learn new skills. While you'll need to invest a little money upfront for your starter kit, you'll get sample products that you can put to good use. For each product you sell, you'll earn a commission, and if you choose to build a team, you can earn even more.
Here are a few direct sales companies that offer inexpensive starter kits:
11. AppleCare College Program
If you're an Apple fanatic and you know about tech issues, you can work from home with the AppleCare College Program. Apple will train you to troubleshoot tech issues via phone, give you an iMac to use, accommodate your school schedule, and allow you to work from home. Even as a part-time worker, you'll receive benefits like product discounts, paid time off, and resources to promote your career development.
Students must be enrolled in college and pursuing a bachelor's degree or higher; preference is given to those majoring in computer science, business, engineering, and computer information systems. You must be able to work three four-hour shifts during the week and at least one eight-hour shift on the weekends. Compensation is based on many factors, but the minimum hourly wage starts at $20 per hour.
12. Teach ESL Classes Online
If you enjoy working with kids and adults, you can teach English as a second language (ESL) to non-native speakers online. Credentials for each program vary, but with a program like Cambly, you only need to be a native English speaker with a laptop or smartphone and a reliable internet connection. With Cambly, you can tutor others any time of the day, and you'll earn $10.20 per hour when you work with adults and $12.00 per hour when you work with kids. They also pay weekly on Mondays via PayPal.
13. Freelance Proofreading and Editing
If you have excellent grammar and spelling skills and a good grasp of English, you can earn good money working as a freelance proofreader. Most online proofreading companies will make you take a test to assess your skills, but once you pass that, you should be good to go. You may even be willing to sell your freelance services to classmates needing help proofreading and editing their college papers.
Here are some places to check for freelance gigs:
If you think proofreading may be the perfect flexible career for you, check out this free 76-minute workshop here. You'll discover the five signs proofreading is right for you and easy ways to attract clients.
14. Participate in Focus Groups
When I was in college, I did this a few times. Focus group studies are usually one-off opportunities where you get paid to provide your opinion on a particular product, topic, or service. Often these studies are done in person, but there are many research companies that have online and telephone studies. The great thing about focus groups is they pay well, and they are short sessions that you can fit into your school schedule.
Check out these companies to get started:
15. Online Tutoring
If you're a whiz at math, English, or science, you can earn good money by becoming an online tutor. Companies like Studypool hire individuals to teach a variety of subjects to middle school, high school, and college students, as well as professionals. According to their website, top tutors earn $7,500 per month, and you can also earn up to $5,000 a month selling study documents.
Here are some other tutoring companies to check out too:
16. Content Creator
If you enjoy creating content online, you can make a little or a lot of extra cash being a content creator. To get started, choose a few platforms that you'd like to create content for, Instagram, Facebook, TikTok, YouTube, and Pinterest are some of the most popular. Once you have your accounts set up, decide what type of content you will make and start creating. Once you build up a loyal following, you can make money by joining creator funds, advertising, affiliate marketing, selling products, and brand deals.
One college graduate that is making money from her YouTube channel is Lacy Young. On average, she earns $800 a month from advertising revenue which is helping to pay down her student loans. If you'd like to make money as a content creator, check out this post for more details.
17. Transcriptionist
If you have excellent listening skills and are a fast and accurate typist, you can make extra money transcribing audio files into text documents. While transcription work sounds easy, it's a skill that takes a lot of practice to become proficient. Most companies pay transcribers per audio minute or hour, which is not the same as per minute or hour worked. You'll also need to prove your proficiency by taking and passing a qualification exam. However, the great thing about transcription work is you can complete the work whenever your schedule permits, as long as you meet your deadlines.
If you're interested in transcribing audio files, check out these companies:
18. Customer Service Work
If you enjoy helping people solve issues via phone, chat, social media, and email, customer service work is plentiful. Companies like ACD Direct, NexRep, Omni Interactions, and U-Haul offer flexible hours, and they hire beginners. You'll need a quiet workspace for these positions, so if you have roommates or live in a dorm, this likely will be difficult to achieve. You also need a hard-wired high-speed internet connection, a computer, and a corded USB headset.
19. Social Media Manager
If you enjoy posting content and interacting on social media platforms like Twitter, Facebook, Instagram, TikTok, Pinterest, or LinkedIn, you can work from home as a social media manager. Depending on your knowledge and expertise, you can moderate, curate, post, provide customer services, or create online content for various platforms. Companies like ModSquad, $99 Social, and SocialBee hire freelancers for this sort of flexible online work. To be a social media manager, you'll need excellent written communication skills, a basic knowledge of how social media works, and good organizational skills.
20. Graphic Designer
If you know how to use software like Canva or Photoshop, graphic design is an excellent part-time job for college students. As a web designer, you can create logos, printables, social media graphics, presentations, labels, and more. Because project-based work allows a lot of flexibility, you can adjust how many clients you serve based on your class schedule. To find freelance graphic design job opportunities, check out Toptal, Dribbble, and Legiit.
21. Data Entry Clerk
If you're a fast and accurate typist with excellent spelling and grammar, data entry work might be your calling. As a data entry clerk, you'll enter data from various sources into a customer database or spreadsheet. While data entry is an excellent job for beginners, you must be detail-oriented because you'll need to ensure the information you're inputting is correct.
One legit company that hires data entry operators is Axion Data. In these independent contracting roles, you can work any time of the day or night as long as you can commit to 20 hours per week. According to reviews on Indeed, the pay averages $11 per hour. Check out this list of hiring companies to find more data entry gigs.
22. Search Engine Evaluator
Another good online job for college students is search engine evaluation. In these independent contracting roles, you can create your own schedule, and you'll generally get paid per task completed. In this position, you'll evaluate search engine results to ensure that they are relevant to the search query that was typed in. For these roles, you don't need any prior experience, but you'll need to pass a preliminary exam to prove that you understand the rating criteria. Both Google and Bing use third-party companies to perform these important tasks for their companies.
To apply for search engine evaluator jobs, check out:
23. Video Editor
One fun way to make money from your dorm room is with video editing. With TikTok and YouTube, there are a lot of opportunities for college students to cash in with this flexible freelance gig! You can browse video editing gigs on People Per Hour, Behance, and Production Hub. You could even pitch your favorite video creators and offer them your services. According to Zippia, freelance video editors earn an hourly rate of $26.34 per hour! Of course, once you have a portfolio of work and you're in demand, you can charge a higher price for expertise and knowledge.
Best Online Jobs For College Students
As you can see, there are many part-time online jobs for college students. Whether you're looking to work online or find something that allows you a flexible schedule, there are numerous ways for you to earn cash in today's tech-savvy environment.
I hope these online jobs for college students got your creative juices flowing. Are you a college student that makes money in a unique way? Drop us a note; we'd love to hear from you! If you enjoyed this post — please share it on your favorite social media site.
Originally published May 18, 2016. Content updated November 2022.