One of the challenging things about the online world is that everything is just out there.
You create something (whether it's a blog post, a web design, a photo, Pinterest image, or e-book) and you post it online, and anyone can try and steal it and claim it as their own—and unfortunately, there's not always a lot of recourse or a clear path of action to remedy the problem.
It's happened to me more times than I care to count on The Work at Home Woman. In fact, one time, I found out that someone had copied my entire website: logo, content, website design, and all. It was disheartening and infuriating.
I've read tales of other writers and bloggers who've had paragraphs or entire blog posts stolen. I've heard of designers who've seen their graphic art show up on t-shirts and mugs, resulting in someone else's profit. Many Etsy business owners and artists have witnessed their designs being stolen by big businesses, resulting in publicized litigation and settlements. It's not limited to just small-scale plagiarism or stealing here and there.
While there are laws in the U.S. that protect intellectual property, it's hard to constantly keep tabs on all of your intellectual works.
So what are online creatives and bloggers to do?
How can you protect your hard work and find out if someone is using it as their own?
How can you find out if your content has been stolen?
Over the years, I've learned a few tricks and tips that can help keep what's yours, truly yours.
Keep an Eye on Your Website Traffic
One of the ways I found out my site had been copied was by watching Google Analytics. I noticed that traffic had suddenly increased from a single odd source I didn't recognize. It wasn't typical, and I could tell something was amiss.
Keeping an eye on your site traffic through Google Analytics is just one way to notice quickly if something seems a little off. Irregular traffic from a weird or unusual source is one indicator of possibly stolen content, but, there are additional helpful tools you can use to track your website and content if you have suspicions.
Tools to Help You Detect Copycats
Copyscape allows you to enter an URL and scan the web for any duplicate content (for free). If you think a blog post (or worse, your whole website) has been copied, you can simply enter the URL to see if any duplicates of that page pop up anywhere on the Internet. They also offer a premium service for 5 cents per search that allows you access to additional functions like searching at higher volumes and working with plagiarism experts.
You may have already set Google Alerts for trends of interest to you, but have you ever thought of using it to alert you of stolen content? It's simple and free to set up and use. Just go to the Google Alerts page, set an alert for a portion of your content, brand or company name, or any other unique marker. You can set how many times you're alerted (per day, per week, or as it happens), and Google Alerts will send you an email with any notifications. This option is a good choice if you don't have a ton of content you want to track.
Trackback and pingback notifications are automatically generated on most major website and blogging platforms. When another website or blog links back to your content, a trackback or pingback is automatically created and usually appears in the comments section of the post in question. If you happen to notice a lot of pingbacks from the same site over and over, it may be an indication that they're stealing your content and worth investigating.
What to Do If You Find Stolen or Reposted Content
If you've found your content copied and reposted, there are a handful of steps you can take to have it removed.
First, determine how much content has been copied. Did the offender steal a few sentences, a paragraph, a whole blog post? You may decide not to pursue the incident. However, if you see full blog posts, photos, designs, website content, or your entire website copied and reposted, you're going to want to take action, especially if the offender is using your creations to turn a profit!
1. Contact the Offender
Most websites and blogs feature a Contact Us section on their site. Look for an email address or a contact form and send a notice. Inform the culprit that you are the original creator of the content and that you'd like the copyrighted material to be removed right away. Provide a link to the original content—and remember, politeness goes a long way! In fact, there have been a couple of times that an individual has used my logo, but seriously, had no clue that they were doing anything wrong and they apologized profusely.
Often, the copycat will oblige and remove the stolen content with no hassle. If not, don't be afraid to be forceful. Send a cease and desist letter and threaten to file a copyright complaint against them. It might motivate the offender to remove the stolen work more quickly. Can't find their Contact page? Try looking for their social media handles on Twitter and Facebook under the same site name.
2. Contact the Hosting Site
If your request falls on deaf ears, it's time to take further action. Depending on the amount of content that's stolen (again, a few sentences versus full posts or site content), decide whether or not it's worth it to contact the hosting provider.
If you don't know which host a site uses, look it up on WhoIsHostingThis to find out. Contact the hosting provider with the site information and links to the duplicate content. Offer proof that you're the original creator and explain the situation. Hosts are usually much more efficient than site owners when it comes to removing stolen content.
I've had to do this on a couple of occasions. Both times the hosting company has removed the culprit's website entirely. Now, there is one caveat to going through the hosting company — if the hosting company is located outside of the U.S., your request may be denied as there is no such thing as international copyright that will protect your work throughout the world.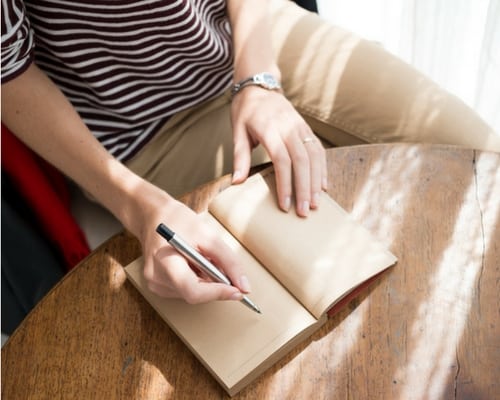 3. File a DCMA Complaint

A Digital Millennium Copyright Act (DMCA) complaint can be filed against an offending site if the stolen content issue is severe enough. This can be filed through Google's DCMA Dashboard. You can also go through a takedown service like DMCA.com for a fee. Filing a complaint is a somewhat extensive process and usually, results in an entire site being taken down and blocked from Google search rankings.
If your content is displayed on a social media site, you can also try contacting their legal departments to have the content removed. In fact, I did this just the other day. An individual on Pinterest stole five of my pins and redirected the content back to his own website. To contact Pinterest, all you have to do is click on the pin in question and click on the three little dots at the top of the pin — which will show the words, "report pin". After filling out some additional information, it took about four days for Pinterest to remove the pins in question.
4. Consult Legal Advice

If you've taken all of the above actions, you may want to consult with a lawyer, particularly if a company stole your property or if an entity is now earning a profit from your creation, words, or design. However, this can be pricey and many creatives don't have the financial resources available to pursue this option.
Unfortunately, theft of intellectual property happens on a regular basis. You may find it challenging to keep up with each and every instance, so pick your battles and consider how far you're willing to take it before you invest your time and money. If it's taking money or driving traffic away from your business, then it probably needs to be addressed.
Conclusion
If you find you seem to have a reoccurring issue with stolen content, create a Terms of Use page with a Copyright Notice on your website that explicitly states your policies. If your copyright notice is clear and concise, it may deter potential content thieves from skimming your work. You can also use a WordPress plugin to help prevent theft — WPKube shares five different plugins that can be helpful in protecting your work. If you want to learn more about copyrights, Plagiarism Today offers some excellent resources.
There's nothing more frustrating than finding out your hard work was stolen, but there's plenty you can do to resolve the issue!
Disclaimer: Unless otherwise specified, authors of The Work at Home Woman are not licensed legal, financial, or medical professionals. The information on this website is provided for informational purposes only, and should not be construed as legal advice on any subject matter. If you need specific legal advice, consult with an attorney who specializes in your subject matter and jurisdiction.
Originally published July 15, 2009. Content updated on May 4, 2017.