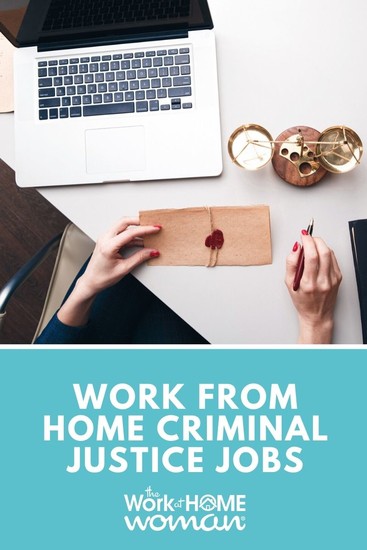 We recently received a question from one of our readers inquiring about remote criminal justice or law enforcement positions. Kate T. wrote to us and asked:
I was wondering, do you have any information for moms who are currently working in law enforcement but want to quit and be at home with their children? Basically, any law enforcement related work-at-home job?
We love serving our readers, and Kate, we've got you covered!
With work-from-home positions steadily on the rise across every field, the criminal justice niche has proven to be no different.
Below, we researched five criminal justice opportunities to help get you started.
1. Remote Criminal Justice Teaching Jobs
Do you love to teach? Why not combine your love of teaching with your criminal justice experience and get paid to work-from-home? With online learning becoming more popular, the need for experienced virtual teachers is on the rise.
Below are some of the tasks you may be responsible for as a remote criminal justice educator:
Carry out online instruction and communicate with students
Conduct student evaluations and track student progress
Maintain virtual office hours
Correspond with parents and students
Identify and support struggling students
While individual requirements vary, here are some of the more common ones:
Bachelor's Degree
State teaching certificate in Criminal Justice
Teaching experience (generally three years or more)
Strong verbal and communication skills
How to Find Remote Criminal Justice Teaching Positions
Remote criminal justice teaching positions can be found by searching job boards such as this one on Edmentum.
Here are a few other virtual teaching positions in the area of criminal justice you may want to check out:
Criminal Justice Adjunct Faculty
Master's Degree in criminal justice or closely related area
Preferred (but not required) previous teaching experience
Online Criminal Justice Faculty
Must have a Master's Degree
3-5 years of criminal justice experience required
Criminal Justice Faculty
Part-time position
Master's Degree required
Other terms you should use in your search include: "remote criminal justice teaching jobs," "virtual criminal justice teaching jobs," or "remote criminal justice educator". You can also check out local colleges and universities as many of them now offer remote teaching positions in most fields.
2. Remote Law Enforcement Transcription Jobs
Transcribing law enforcement documents and recordings is an excellent way to earn money and work from home. Net Transcripts is one company that specializes in law enforcement and criminal justice transcription.
Here's some additional information you'll want to know about law enforcement transcription with Net Transcripts:
Experience with transcription and court reporting preferred
Accurately type law enforcement and court recordings
Prior multi-speaker transcription experience
Type 80 WPM and be proficient with Microsoft Word
Excellent grammar and spelling
Computer with high-speed internet
Must be proficient with search engines
Rev is another company that features job postings for remote law enforcement and criminal justice transcription. Rev features transcription jobs across numerous industries, which includes legal. If you don't have prior transcription experience, you can start with their regular transcription jobs to gain experience and move over to their legal jobs when you're ready.
Related Content: Seven Companies That Hire Beginner Transcriptionists From Home
3. Remote Background Investigator Jobs
As a remote background investigator, your primary responsibilities include research, reporting, and tracking case files. From background checks with government agencies to money laundering investigative work, there are a variety of background investigator positions from which to choose.
For this work from home position, you'll need:
Two years of analytical experience
A background in investigative work
Available Remote Background Investigator Jobs
We found a variety of background investigator positions, but some are only partially remote, so make sure that you review the full description. Here are a few you might want to consider:
Anti-Money Laundering Investigator (AMI)
Fully remote
Investigate AML system alerts and complete file currency transaction reports with FinCEN
Must have 1-3 years of investigative experience
AML Investigator
Fully remote
Full-time position
Collaborate on a team to identify suspicious activity
1+ year of related work experience required
CACI International Background Investigator
Full- and partially-remote positions available
Run background checks for government agencies
Complete interviews
Check references, compile data, and complete reports
Bachelor's Degree required
4. Criminal Justice Course Writer
If you love writing and like to write course content, this remote criminal justice writing position is a perfect fit! Becoming a curriculum designer is just one of the many ways you can start or continue your career within the field of criminal justice.
Many educational positions fluctuate as needs change within the college community. Continually checking job boards or getting on an email list for upcoming openings will help you to stay on top of the game.
Here are some sites you can check out for positions specializing in criminal justice course writing:

5. Claims Investigator
There are a variety of criminal justice positions whose primary responsibility is to ensure the integrity and timeliness of claims being processed. While some of these positions are listed as "partially remote," we've found a couple of fully-remote options as well.
Claims Professional
Analyze coverage, investigate all claims, attend trials as necessary, and complete settlements
Claims Examiner
Full-time remote position
Analyze and manage claims
Assess liability
Negotiate settlements
Conclusion
From teaching criminal justice at a collegiate-level to becoming an independently contracted transcriptionist, and more, there are numerous possibilities for working from home in the criminal justice or law enforcement field.
You can begin with any of the jobs we've posted here, and don't forget to let us know all about your experience! Do you have questions or comments about work-from-home criminal justice or law enforcement positions? Drop us a line; we would love to hear from you.