So, you're thinking of working from home, but you don't want (or can't afford) to take a pay cut. You have bills to pay, and although you'd love more flexibility, you don't want to struggle financially. I get it; it's a big decision and a risky one at that – particularly if you have a family to provide for, a mortgage, or other debts.
Working from home and still earning a good salary is definitely achievable. You probably already possess some of the skills you need to start your own business, but the beauty of living in this information age is that you can learn just about anything (and often for free). You could even be expanding your skillset while you continue work at your 9-5 job, or perhaps you have personal experience that could be turned into a career. Don't wait another day putting this off! Start doing your research now, and there's no reason why you need to earn less than $45 an hour.
When you consider all of the amazing benefits of working from home, $45 per hour is a pretty impressive salary. Even more impressive when you compare it to the average American wage of $24.95 an hour. Does the idea of setting your own schedule and making a living doing what you love, appeal to you? How about no commute or the added expense of work clothes, lunches, and coffees?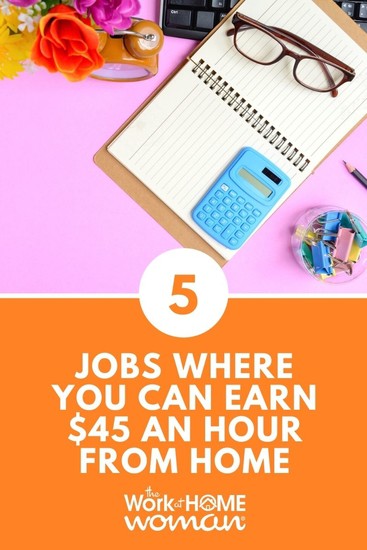 There are a ton of opportunities out there, but here are five work at home jobs where you can earn $45 per hour or more!
1. Freelancer
Starting a freelance business is easier than you think. Whether you're a budding photographer, writer, videographer, graphic designer, web developer, or social media marketer, you can get started in no time. The first thing is to get a portfolio together of your work and then get job hunting.
Freelance Writer:
If you're an educated writer in your niche, you can earn $30-$75 per hour, according to FreelanceWriting.com. Read our 4 Helpful Tips for Beginning Freelance Writers.
Freelance Photographer or Videographer:
If you're a beginner, you can typically charge $25-$100 per hour, depending on your experience and location. Read From Fired to In-Demand Photographer – One Mom's Story.
Freelance Graphic Designer:
Rates charged on Upwork vary from $20-$150 per hour, with an average rate of $45 per hour. Read How to Work From Home as a Graphic Designer.
Freelance Web Developer or Designer:
According to CareerKarma, the average freelance web developer earns $60 per hour. Check out our Tips for a Successful First Year as a Freelance Web Designer.
Freelance Social Media Manager:
Intermediate social media marketers can expect to charge $50-$100 an hour, according to Social Media Strategies Summit. Read our post on How to Turn Your Love of Social Media Into a Thriving Online Business.
2. Fitness Instructor
A home-based fitness business is a great way to keep healthy while helping others reach their fitness goals. Check out our article that explains how to get qualified and start a home fitness studio. Alternatively, head to FitnessJobs to search for jobs near you. Your focus could be personal training, pilates, yoga, or postnatal fitness, for example. On average, personal trainers charge $40-$70 per hour-long session.
3. Bookkeeper
If you're detail-oriented and love numbers and spreadsheets, bookkeeping is an excellent way to make a good living from home. Starting a business is easy! Head over to our quick guide on How to Work From Home as a Bookkeeper, which includes the training you need and tips for finding remote jobs. If you've worked in the profession before, you can make an average of $30-$40 an hour, but many make over $45 an hour. Search for jobs on Indeed, Upwork, or LinkedIn.

4. Consultant
Consultancy covers a broad range of careers, including strategy consulting, operations consulting, financial consulting, IT consulting, and HR consulting.
What are you skilled at and experienced in?
What do you love to do?
Is there any advice you could offer businesses or individuals?
Recommendations you could make or specialized services you could provide?
Entrepreneur coach, Andréa Coutu from Consultant Journal, offers a Become a Consultant series, which covers everything you need to know from the ground up if you're considering a career in consultancy. Depending on the type of consultancy you offer, the market rate is $50-$150 per hour, but it's up to you to set your rates based on your experience. Head to FlexJobs, LinkedIn, or Top-Consultant.com to search for jobs.
5. Coach
As you would imagine, coaching includes a vast array of career options. There's life coaching, business coaching, sleep coaching, health coaching, career coaching, and relationship coaching – to name a few! If you've been professionally trained or have first-hand experience in a particular subject matter, and your dream is to help others achieve their goals and solve their problems, you might consider learning How to Work From Home as a Coach.
As your consultancy business grows, you could be charging A LOT more than $45! Depending on the type of coach you are, a good place to start is LinkedIn. So set up your profile and start job hunting and networking there.
Conclusion
Working from home doesn't mean you have to accept less pay for your time and skills. Opportunities are endless if you're passionate, hard-working, and have something to offer other people. $45 an hour is not the ceiling by any means for any of the five jobs listed here. After all, it will be your business, your hours, and your rates.
Kara Wilson is a magazine editor, freelance writer, and a work-at-home Australian mama to two young children. You can find a variety of her articles in publications worldwide, but her favorite topic is parenting. She has almost 20 years of professional experience in early childhood, holds a degree in Psychology, is a trained sleep specialist, and has completed a plethora of courses and workshops surrounding early childhood development and health. Aside from her family and writing, her other biggest loves are cooking, nutrition, traveling, and of course, reading. You can check out her portfolio at Kara-Wilson.com, read her tips for raising adventurous eaters on Instagram at Little Foodie Guide or join her closed Facebook support group for mamas called Solids and Sleep.