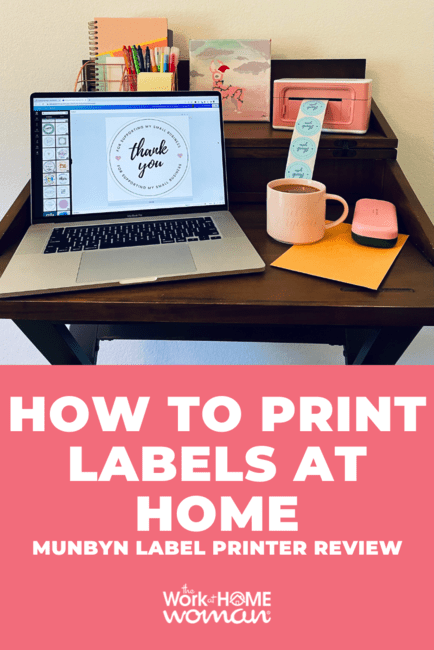 Sponsored by MUNBYN
Wondering how to print labels at home? We'll discuss everything you need to know about printing business labels from home and how the MUNBYN thermal label printer can make this task a snap!
Starting a new business from home is an exciting process. You get to decide which products to sell, how you want your website to look, and your business name. But one aspect you may have overlooked is packing and shipping logistics.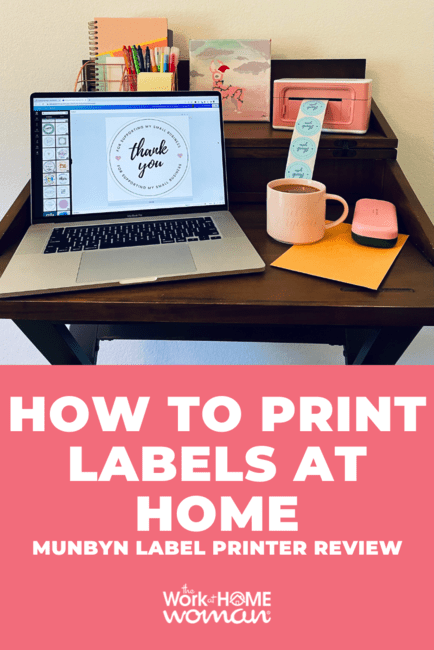 If you're trying to decide if you need to purchase a business label printer for your at-home business, keep reading, and we'll discuss all of your options.
What Types of Business Owners Need a Label Printer?
Whether you're starting a crafting shop on Etsy or Amazon Handmade, a reselling business on eBay or Poshmark, or an e-commerce business selling physical products online, one aspect you'll need to figure out before you launch is how you're going to handle the packing and shipping process. Besides choosing a major shipping partner, you'll also need supplies like boxes, packing tape, and cushioning material for fragile items. But most importantly, you'll need a shipping label so that your products can make it into the hands of your customer.
Can You Print Labels With a Regular Printer?
As a new business owner, you can use your home printer to print off shipping labels, but there are some downsides to using this method.
First, if you have a lot of labels to print, using your inkjet or laser printer can be more time-consuming, as you'll have to cut the label down to size and adhere it using packing tape. This can also make the package look a little sloppy. You could also hand-print your customer's shipping address, but again this is time-consuming, and it doesn't look as professional. You also need to consider the elements outdoors, like rain and snow. If your label gets wet, will the delivery person still be able to read the address?
Which Business Label Printer Should I Use?
There are a lot of different shipping label printers on the market, but one that I've found to be easy to use, affordable, and it creates high-quality shipping and product labels is the MUNBYN Bluetooth thermal printer.
This compact device comes in a variety of colors, and it can connect to a Mac or PC via a USB cable or via Bluetooth connection on iOS and Android devices. With the MUNBYN Bluetooth thermal label printer, you never have to worry about replacing ink cartridges or toner because this printer uses labels that are chemically treated and turn black when they are heated by the printer's printhead. With the MUNBYN thermal printer, you can print 72 high-quality shipping labels in one minute, all in-house, saving you precious time.
How to Print Labels at Home With the MUNBYN Bluetooth Thermal Printer
The Munbyn Bluetooth thermal printer comes with an easy setup guide, a USB cable, a power adapter and cord, the printer, and label paper. To start printing your shipping labels, connect the power adapter to the power cord, then plug one end into the printer and the other end into your power outlet. Next, turn on the printer and load at least 4 printer labels into the printer, and press the hold feeder button until you hear a beep.
Next, you'll need to download the MUNBYN software to your PC or Mac or to print on your smartphone or tablet via Bluetooth; download the MUNBYN Print app from the Apple or Google Play app store. After the software or app is downloaded, you can connect the printer to your computer or print using the Bluetooth connection.
Now all that is left is to pull up your PDF shipping label with the barcode, click print, and then select your MUNBYN printer. Under more settings, select 4×6 inch paper size, and then scale to fit, and then click print. To see how to print labels at home with the MUNBYN thermal printer, see this video below.
Can the MUNBYN Thermal Printer Be Used to Make Stickers?
Now that you know how to print labels at home, let's talk about what else you can do with the MUNBYN business printer. You can use the MUNBYN thermal printer to make product and sticker labels. They offer a wide variety of colors and shapes (squares, dots, rectangles, and scalloped stickers). For these stickers, you can print your own text, graphics, or QR code, using Microsoft Word, Canva, or the MUNBYN Print App. The MUNBYN Print App has a bunch of professional-looking and cute templates that you can use for your small business.
Check out this article for tips and tricks on how to print round labels in Word.
Why is the MUNBYN Thermal Label Printer Good Option for Small Business Owners?
The MUNBYN thermal label printer is perfect for busy entrepreneurs! It's affordable, portable, versatile, has an easy setup, and it gets excellent reviews. It's also compatible with most major shipping and e-commerce platforms, including DHL, UPS, USPS, FedEx, Etsy, eBay, Poshmark, Shopify, and more. The one thing I really like about thermal printing is you don't have to purchase ink or ribbon to print out your labels, which saves you money and time.
MUNBYN also has many informative tutorials and YouTube videos if you need additional help setting up your business printer. You can find step-by-step instructions in this article on how to print shipping labels on Etsy.
Conclusion: How to Print Labels at Home
If you're looking for a practical business label printer that is going to look aesthetically pleasing in your home office, the MUNBYN thermal label printer is a great option. It's compatible with most shipping platforms and online marketplaces, and it can print more than just shipping labels. With printers that have a 203 or 300 DPI resolution, you'll save oodles of time printing all your shipping labels from home.
To learn more about how to print labels at home, check out the MUNBYN Bluetooth thermal printer.
This post was sponsored by MUNBYN and written by Holly Reisem Hanna. Please be aware that we only promote advertising from companies we can legitimately recommend to our readers. See our disclosure policy for further information.