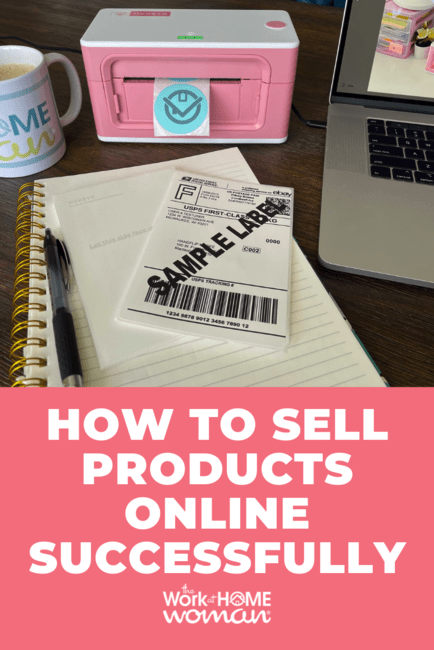 Sponsored by MUNBYN
If you've decided to start an eCommerce business but are unsure how or where to begin your journey, this post has you covered! We'll discuss everything you need to know to successfully sell products online.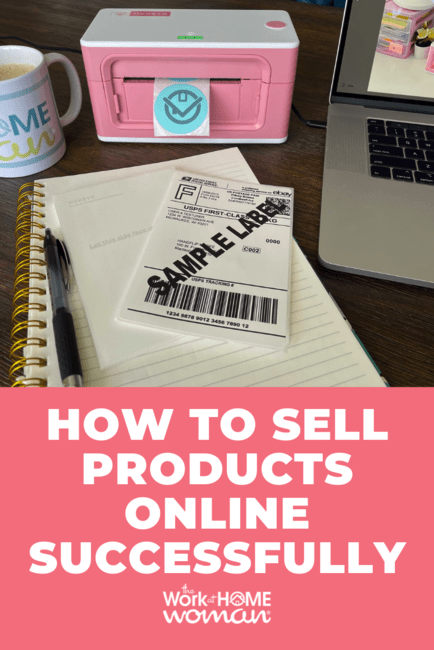 Every business, no matter its size, is selling something. Bloggers sell advertising space on their websites. Freelancers sell services for writing, graphic design, or editing, and pet sitters sell pet care services. However, there are different factors you need to take into consideration when you're selling physical products online, hence starting an eCommerce store.
Whether you're a crafter, lip gloss maker, t-shirt designer, or reseller, this guide will walk you through the steps you need to take to successfully sell products online and make a profit from home.
Write a Business Plan
Every small business owner should start their journey by writing a business plan. This doesn't have to be a formal document; think of it as a brain dump or outline of the steps you need to take to get your business up and running.
Here are some aspects to consider adding to your business plan:
What products are you going to sell
Who is your target market
How will you market your business
How are you going to accept online payments
Pricing and profit margins
How will you handle customer service and returns
What systems will you use for inventory and shipping
How will you handle bookkeeping and taxes
You can download a free business plan template online or create your own document that covers every aspect of your business. Once you get everything down on paper, you can start taking actionable steps to set up your business.
Legal and Financial Considerations
Many entrepreneurs start as sole proprietors, meaning they don't formally structure (set up an LLC, Partnership, Corporation, or S-Corp) their business with the government. Before you decide what structure you will use, you should understand the pros and cons of each arrangement.
For instance, you can quickly get up and running as a sole proprietor, but you don't have the legal protection a formal entity provides. With a formal entity, you have more protection, but you'll need to follow strict guidelines and procedures such as obtaining an EIN, setting up a business bank account, and keeping your business and personal accounts separate.
Talking to a legal or accounting professional is highly recommended to determine which structure is right for your situation.
This is the time to think about your company name as well, as you'll want to register the appropriate documentation, such as a DBA, trademark, business licenses, and permits needed in your state. Just be sure to research the name you want to use, as you don't want to infringe on someone else's trademark.
Choose Which Platform or Marketplace You'll Use to Sell Products
One of the most important decisions you'll make as an online seller is figuring out which online selling platform to use. There are many options, such as selling on an online marketplace like Etsy, setting up your own online store using Shopify, or reselling stuff on sites like Craigslist, Poshmark, or Facebook Marketplace. Or you can add an online store to your WordPress blog using a plugin like WooCommerce.
There are many factors to consider when choosing which platform to use, such as listing fees, transaction fees, ease of use, payment options (credit cards, PayPal, Apple Pay, etc.), and niche market. For instance, on Etsy, you can only sell handmade products, vintage items, and craft supplies.
You'll also want to explore if you can handle inventory management through the platform you're using. Many platforms like Shopify, eBay, and Etsy have built-in software to help you manage your inventory. If the platform you're using doesn't have this option, be sure to develop a system to keep track of inventory and supply costs. Most online bookkeeping software allows you to track and organize this information.
The last aspect you'll want to consider when choosing a platform is how you will get potential buyers back to your online shop. Platforms like eBay and Etsy are already established and have built-in customers that you can tap into. If you start an eCommerce website from scratch, you'll need to focus on search engine optimization (SEO) and other marketing methods to get online shoppers back to your website and products.
Pricing Your Products
Part of successfully selling products online is having the right pricing structure. As a small business owner, you'll be responsible for self-employment taxes, shipping, contractors and employees, materials, monthly fees for your eCommerce platform, credit card fees, insurance, and more.
All of these aspects need to be considered when pricing your products, as well as the time it takes you to make the product, competitor rates, and your target market (budget, luxury, organic, highest quality, etc.). You may find that certain things need to be simplified so they're easier to make, or you need to charge more so you can actually make a profit. Figure out your unique selling proposition and what makes your products stand out from the competition. You don't have to be the cheapest to get the sale.
Create Great Product Listings
Once you've chosen a platform, it's time to start adding your product listings. You'll want to start by taking some high-quality photos of your items. You'll want to ensure that you have good lighting and a clean and clear background. You should also take multiple images from different angles so that people can get a good idea of your product's details.
Next, you'll want to add a keyword-rich description to each product. When adding keywords, consider what words people would search for when purchasing this type of item. For instance, if you're selling a purse, you would want to add synonyms (handbag), descriptors like the color and type of material (black leather), the name brand, size, condition (like new), function (overnight bag), and price. The more descriptive you are, the better your chance of someone landing on your product listing via search.
Determine Your Marketing Strategy
In your business plan, you explored your target audience, but now is the time to write a buyer persona and get crystal clear on who you are marketing your products to. Your buyer persona should include gender, age, income, marital status, education level, location, and likes and dislikes. This picture of your ideal customer can help you identify where, how, and words you should use in your promotions.
There are many ways to promote your online business, but one of the easiest is by sharing your products on social media sites like Instagram, Pinterest, Twitter, YouTube, TikTok, and Facebook. Not only do these platforms have billions of users, but they are entirely free to use.
If you have an advertising budget, purchasing Facebook ads or Google ads can be an effective way to increase sales. Just be sure you fully understand how to set them up, good copywriting techniques, and measuring ROI (return on investment). Sites like Etsy and eBay also offer advertising options for merchants.
Once you have some sales under your belt, be sure that you're keeping in touch with customers through email marketing. With email marketing, you'll need to sign-up with a provider so that you can send out business emails. Many platforms have free trials for new business owners up to a certain number of subscribers. Once you've chosen a service, add a sign-up link or form to your site and start collecting customers' email addresses. You can use your email list to send out new product updates, coupon codes, and other pertinent information.
Shipping and Logistics
Once those sales start rolling in, you'll need the right supplies for packing and shipping your products to customers. Supplies you'll need include boxes, shipping labels, packing tape, packing paper for fragile items, and stickers. While you could run to the post office and wait in line to print off your shipping labels, I suggest getting a MUNBYN Bluetooth thermal printer.
With a MUNBYN thermal label printer, you can batch print your shipping labels which will save you a ton of time, as it can print off 72 labels in one minute! With the MUNBYN Label Converter, you can also convert 8 x 11 labels to 4 x 6 thermal labels for shipping.
Another great feature is you never have to worry about running out of ink with the MUNBYN thermal label printer, which saves you time and money and is sustainably friendly.
MUNBYN's shipping labels and stickers are easy to tear, waterproof, and contain strong adhesive, so you don't have to worry about your labels falling off during shipping. MUNBYN thermal labels come in a wide variety of colors so you can match them to your branding too.
Whether you need to create custom stickers for packaging or product and ingredient labels, you can do so with the MUNBYN thermal label printer. Just use their design app or an application like Canva to create what you need. There are so many options, from creating logos, thank you stickers, QR codes, and more!
If you'd like to learn more about MUNBYN products for small business owners, check out their website or Amazon shop.
Provide a Good Customer Experience
One of the easiest ways to sell products online successfully and get repeat customers is by giving a positive customer experience. There are many ways to do this, such as having an easy and quick checkout process and being friendly. But from my own experience of buying products online, the one thing I appreciate most in a company is responsiveness. When I have an issue, it reassures me when the company answers back promptly and has multiple ways for me to get in touch with them.
As a small eCommerce business owner, you likely won't have a big customer service team to start off with, but you can help ease customers' concerns with items like answers to FAQs, hours of operation, multiple contact methods, and automated responses to inquires so they know their question was received.
You should also have standard policies for refunds, exchanges, returns, damaged goods, and shipping information.
Conclusion: Selling Products Online Successfully
Selling products on the Internet has never been easier or more affordable! So if you've been dreaming of starting an eCommerce business from home, this is your sign to start taking steps toward your goal. Not everything has to be perfect; you can always change and switch things up as you build and grow your business.
To learn more about MUNBYN and its tools for small business owners, check out their website.
This post was sponsored by MUNBYN and written by Holly Reisem Hanna. Please be aware that we only promote advertising from companies we can legitimately recommend to our readers. See our disclosure policy for further information.