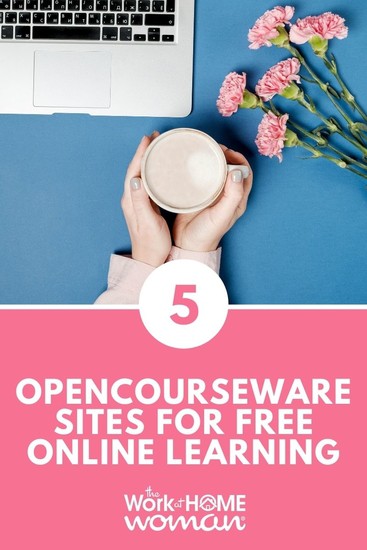 Do you want to expand your skills or knowledge base while at home but can't imagine spending more money on overly expensive online courses?
What if I told you that you could learn from Ivy League schools at home FOR FREE? Too good to be true? Keep reading!
Whether you're looking to build up your educational background for personal reasons or want to prepare yourself for a work-at-home career, OpenCourseWare (OCW), sometimes called Open Educational Resources (OER), gives you access to a ton of Ivy League GOLD.
Check out where and how you can learn from some of the nation's TOP schools for FREE at home!
What are OpenCourseWare Sites?
OpenCourseWare sites are free courses and materials that are accessible online for anyone to use. The term "open" refers to the accessibility of these courses.
Another unique aspect to open education is that you can also modify the courses so they can be personalized for diverse groups of people.
While OCW doesn't come with a degree or earned college credits for completion, it does offer anyone the opportunity to learn without the major price tag of traditional colleges and universities.
Purdue University is not only known for its highly regarded math, science, technology, and engineering programs, but it's also known for its OER resources with over 20 FREE online courses you can choose from in its OER library. Here are a few key reasons why you should check out Purdue's free online learning resources:
Simple site accessibility and it's extremely user-friendly
All courses are free of charge
You can choose to pay for a certificate with Purdue's emblem on it verifying that you've taken the course
Course Features:
Overview of course at the beginning
Video transcripts of courses
Get to know your instructor section
Types of Courses Offered:
Purdue offers everything from computer science and communications to personal finance and business accounting basics. Purdue's vast library of Open Educational Resources offers many options depending on what you would like to focus on!
Why MIT is a Perfect Learning Experience:
MIT's (Massachusetts Institute of Technology), OpenCourseWare experience, is an impressive Open Educational Resource.
Aside from its accessibility, MIT's OER library is uniquely expansive in its FREE online textbook resources, which include several courses not found in other OER spaces.
Here are some other features of MIT's impressive OpenCourseWare experience:
Holds ALL of MIT's course materials online for free
Features materials from over 2400 courses crafted by MIT professors and scholars
Open to anyone
Boasts 300 million visitors
Course Features:
Openly licensed materials and course by MIT teachers
Free online textbooks
Syllabus/Course Calendar
Lecture notes available for download
Types of Courses Offered:
With over 2,400 courses and materials offered, there's something for everyone. From woman and gender studies to a course on artificial intelligence, you'll be able to find the content you're looking for at MIT's OCW.
It might be hard to believe, but you can take FREE courses from YALE! Like many Ivy League schools discussed here, Yale's overall mission is to make learning accessible to all by expanding access to educational materials for all those who want to learn.
They provide open access to a selection of introductory courses that are taught by Yale teachers and scholars.
Additional Information on Yale's OER:
Courses were All lectures were created inside of Yale classrooms
Courses are available in written format, audio recordings, or video recordings
Registration is not required
College credits are not given for Yale's OER program, but you can take courses directly through the college in their other programs.
Course Features:
Class lectures in video
Lectures available as downloadable videos and audio-only versions are available
Searchable transcripts of each lecture are available
Course syllabus
Recommend reading, quizzes, and study problems
Types of Courses Offered:
From African American Studies to English, History, Religion, Political Science, and more, Yale has an impressive variety of introductory and mid-level courses to choose from. Currently, Yale features over 30 different courses in their Open Course Library. Check out one or more of these courses from Yale today!
Created with the idea that any motivated student should be able to take courses at Harvard, this OER program offers a combination of free online courses and 800 reduced tuition courses!
Types of Courses Offered:
With the ability to choose from 11 subject areas ranging from business, art, and design, to humanities and science, Harvard offers a wide range of possibilities to extend your learning from home!
Course Features:
Easy to navigate online course selection
Ability to filter courses by free or reduced tuition options
Filter for choosing course difficulty level (beginner, intermediate, or advanced)
This free online tool is a collaboration of Open Educational Resources that focuses on bringing high-quality education to individuals around the world. The OE consortium allows you to select courses on topics you want to learn about for free.
Types of Courses Offered:
The OE Consortium has thousands of courses that range from business to arts and the sciences. This tool is a great place to begin your search for free courses offered online!
Search Tool Features:
Filter by discipline and academic level
Provides an additional database for searching free courses online called "Merlot"
Other filters include user ratings on courses, peer reviews, and hybrid or blended courses, to name just a few!
Conclusion
Don't let the high cost of college stop you from continuing your learning and growing! OpenCourseWare offers some of the best courses out there. Highly distinguished teachers teach them, and, best of all, you can access them when you'd like for FREE!
Do you have questions, comments, or have you taken a free online course? Want to share your experience with us? Drop us a line below! We would love to hear from you!