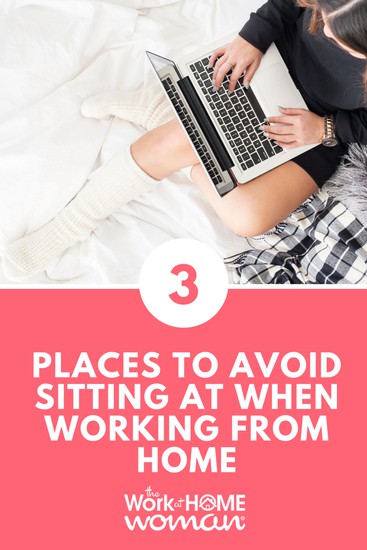 Mastering the art of working from home requires, among many things, the ability to be disciplined, self-motivated, and focused on the assignments at hand and reaching deadlines.
While you may not have the extra noise of people chattering in the background that comes with working from a desk job, distractions can just as easily be found in your home office.
There are a lot of productivity killers when you work from home. Here are some simple ground rules to creating a more productive work environment at home.
1) Working From Your Bed
It's so tempting (and easy) to pull the laptop into bed with you in the morning and start working while remaining cozy in your pajamas. While working in bed is comfy, there are pitfalls that come with bed work — namely that it's terrible for your productivity and health.
According to research, the act of working in your bed disrupts the sleep patterns you have when you're in bed and activates your energy levels. This prevents you from having restful sleep, which can make you even more tired the next day – even though you spent all day in your bed.
Related Content: No Pajamas! How To Be Professional When Working From Home
What To Try Instead:
Create a workspace with a desk and ergonomic chair; decorate with personal items, including a charging station for your phone and laptop (something your bed will not have handy!), and a calendar overhead for upcoming due dates.
Related Content: 10 Ways to Show Your Office Love While Working From Home
2) Working at Your Kitchen Table
It's a step up from the bed, usually featuring you sitting on a chair or stool, but still right next to the refrigerator, which will become your new water cooler – a place to get up, stretch, and munch on a snack or two (or five) throughout the day. This can lead to weight gain, whether you're aware of it or not.
What To Try Instead:
Try working in a coworking space or library. It's easy to assume that heading over to a Starbucks is the best alternative, and I wouldn't necessarily rule it out either on occasion. But working out of a coffee shop daily is not doing you (or your wallet) any better than working from the kitchen table – you'll obviously have to make a purchase each time you go in to justify why you're hogging that table for hours on end. Take a spot at a coworking space or library instead, both of which will be quiet and peaceful and provide minimal distractions by way of food.
Related Content: Tips for Working at a Coffee Shop
3) Working on the Sofa
What tends to sit in front of most couches? A TV. What happens when most people sit on the couch? They turn the TV on. And maybe you can watch TV and work simultaneously with it on as a white noise, but I doubt that will last for long if it's a new show on Netflix you want to start getting into. Focus on the new show ultimately means much less focus on your work.
What To Try Instead:
A nook by a big window. There's something inside of me that feels inclined to make a "nature's television" pun here, but sitting by a window is a great way to take a moment when you feel stressed, collect yourself, and breathe in and out the fresh air from the day. The nook, though defined differently by everyone who creates one, undoubtedly will be much more structured than a pillowy couch with cushions you can easily get lost in.
And while we're talking about productivity killers, here are three more things that significantly hamper your productivity.
4) Starting Your Day After 10:00 AM
Though it's easy to do, getting a handle on any work mid-morning instead of early morning can cut you out of some of the bigger opportunities. Especially if you're a west-coaster who works with a lot of east-coasters, you're constantly battling that time zone to finish assignments earlier and earlier. If you plan on releasing a press release, posting a company blog, or getting in touch with a client or partner you know you need to speak to earlier in the day, try and wake up a little earlier than the kids to get a jump start on your day. Even if you just get up an hour earlier to tackle some emails, you won't feel so behind once the rest of the morning's duties are taken care of.
5) Mixing Your Mom Job with Your Work Job
Though the beautiful part of working from home is that you get to be around your kids much of the day, it can be challenging to keep the two straight. Something I have found that helps me on the days that I work from home is to still dress as though I were going into an office. I naturally feel more scattered and like I have less of a handle on my day if I stay in my workout clothes until dinner time. It's the small things, like dressing up a bit more or working at a desk at home instead of from the couch, that makes me feel like I can be more productive.
Related Content: 5 Reasons to Hire a Nanny When You Work From Home
6) Staying Inside
One of the dangers of working from home is the possibility of becoming a bit of a recluse. Though you may feel like you're hardly home enough to work as it is with all the running around you have to do, it's important to get out and hit the pavement to take care of business as well. Attend networking events, meet up with your partners for lunch, and go to the businesses you have meetings with. Just getting out of the house, even for work, can be just the refresher every domicile worker needs now and then.
Conclusion
There are a lot of productivity killers when you work from home, but with some simple ground rules, you can create a productive work environment.
What are some of the biggest work-from-home productivity killers for you? Drop us a note; we'd love to hear from you!