Do you sip your coffee in the morning or gulp it down? Do you jump out of bed ready to take on the day, or are you a slow riser, needing an hour or so in your PJs before you get dressed? Do you drive like you're in a race or take your time, enjoying the journey? Your answers to these questions are a great indicator of the type of person you are, and they can have an impact on your success as a work-at-home entrepreneur.
When you work in an office, there is a culture that exists, and most of us intuitively adapt to fit in. Your day likely starts at 8, or 9 am and ends around 6 or 7 pm. Depending on your job description, you have clear work objectives and a rhythm to your day. Natural breaks occur when you head to the water fountain or get a cup of coffee. Then there is the lunch break whether in a break room or at your desk.
All of these day-in and day-out experiences create rhythm and routine that can contribute to your success depending on your personality. When you leave that environment to work from home, all the rules change. You get to be in charge of your time and destiny, and there are pros and cons based on your personality styles.
Something I have learned about myself over the years is that I am a risk taker and competitive. Both are great characteristics that have helped me start a business I love. Yet those same characteristics that keep me driven and focused can be detrimental in helping me maintain my business.
Why? Because I love the excitement of a challenge.
New projects and new ideas energize me. When I'm driving or relaxing, I am often thinking of ways to improve the Association of Personal Photo Organizers, the membership community I started seven years ago. I can be sidetracked by "shiny new" ideas and often call my operations manager, excited and ready to follow a new idea. Fortunately, her personality is different than mine; she takes the time to think through implications and can raise a red flag of caution. This helps me refocus because what is really needed for success is long-term consistent, day-in and day-out effort.
I have learned that applying myself to the mundane is what makes the difference. Answering emails promptly, sending thank you notes, attending the same networking meeting every month, having a booth every year at our local fall event, and tending to social media. I also write a blog regularly, invest in training like managing my books. ALL of these small, not very exciting, little details add up to consistency, which pays off by finding new clients and keeping the clients I already have happy.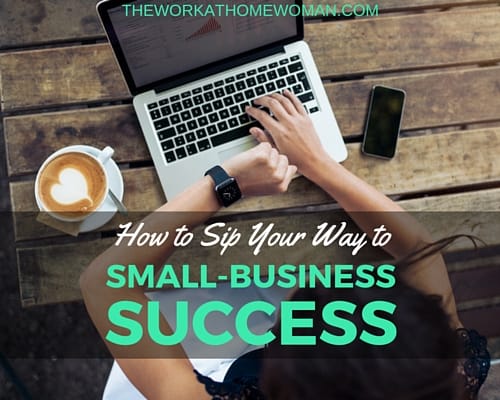 Here are five tips to help you sip rather than gulp your way to business success along with a short, two-minute video I recorded for those of you who are visual learners.
1. Start with a list.
Make a list of all the tasks necessary for you to succeed that you don't like to do. Post the list in a visible place or add it to the task list on your calendar.
2. What's most important?
Prioritize each task in order of importance. For example, reply to emails can be #1 or attend a networking meeting.
3. Get it over with.
Start each day by looking at the list and completing the tasks you like least first. Cross them off before you shift to the parts of your job you love. For example, if the networking meeting is on a Friday, make sure you have childcare lined up for your 30-second elevator speech ready, so you don't find an excuse not to go last minute.
4. Remain consistent.
Many times when people start marketing a new business, they tend to take on too much, too quickly, which often leads to burnout and exhaustion. Start slow, observe and learn the ropes. Once you have a better grasp of how one medium works and functions, you'll be better equipped to jump in and join the next method. Remember your marketing efforts are only as good as the time and effort you can put into them.
5. Choose quality.
Don't obsess about the numbers. I know how difficult this can be because when I first started out, I was always checking and monitoring my numbers; How many Twitter followers do I have? How many Facebook likes do I have? How many page views did I receive today? How many sales came in? It can drive you nuts. Let it go, and instead, focus on quality and cultivating relationships, and people will naturally gravitate towards you.
If you get in the habit of attending to the tasks that are necessary for success but don't give you a thrill every day, you will reap the benefits.