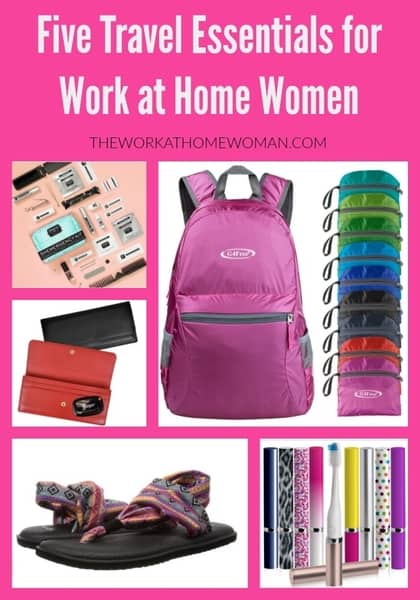 One of the benefits of being a work-at-home woman is that most anything I need is at my fingertips. I have my home office, which is adequately outfitted with the technology and tools I need. And, naturally, since I work-at-home, any personal item I might need is a short stroll away in another part of my house.
But what about when you're traveling? What items should be on your packing list the next time you leave home?
Here are five clever travel essentials you may want to consider adding to your suitcase the next time you travel for business.
No one is going to get very far without their wallet. Whether heading out on business or pleasure, you obviously need a safe place to carry your cash, credit cards, and ID. I really like the Royce Freedom Wallet. Not only does it come in black or red Saffiano leather, but it is also equipped with Bluetooth technology which enables you to track it should it be lost or stolen. But, wait, that's not all. It also includes the advanced RFID-blocking material that stops people from scanning your wallet and accessing your information. At around $100, it is a little more than I might typically spend, but with all the technology that is included, it might just pay for itself.
The Shemergency Kit by Pinch Provisions will equip you for most any emergency you can imagine. For around $35, life-saving items (like hairspray, bobby pins, earring backs, emery board, mending kit, stain removing towelettes, pain reliever, tampon, bandages and much more) are packed neatly in an adorable zipper bag that's super easy to toss in your suitcase. It is a no-brainer!
Even a traveler who packs light knows they need to come equipped with their toothbrush. Violife's Slim Sonic Toothbrush is funky, compact, and delivers some serious battery-powered sonic cleaning power. It includes a matching, vented cap and comes in a wide array of colors and patterns. And the price is right, too, at just around $16.
In the past I have made the tragic error of wearing a cute new pair of shoes while traipsing through the airport, only to pay the price with miserable feet for the duration of the trip. That's why I recommend that you pack some comfy shoes. For me, I pack a pair of comfy flip flops, like these awesome shoes by Sanuk called Yoga Slings. Priced at $38, the Yoga Slings are cute, made out of yoga mat, and I felt more relaxed and centered just writing about them. Namaste!
When shopping or just headed out for a day on the town, I often find myself wishing I had some way to easily store my stuff that is flexible, versatile, and not too heavy (like my purse or my carry-on tote bag). I have a lightweight bag that I always take along that, when folded up into its own zippered pouch, is a little smaller than a paperback book. An example is the G4 Free Ultra Lightweight Packable Daypack I located on Amazon. At just $14, it'll pay for itself, especially if you find your luggage is over the weight limit (you can just unzip and expand the bag, transfer some items out of your suitcase into it, and take it along as a carry-on).
All of these items can be easily tossed in your bag, and you can be off to your next adventure. (Pin them from my Pinterest board, here).
What items would you add to your packing list? What travel essentials have made your past business trips more enjoyable?