Are you looking for the best work from home gifts for women? Keep reading; we have 17 great gift ideas for the remote worker in your life.
I've been working from home since 2007. I initially started out freelancing and then launched my blog a year and a half later. Over this time, I've learned a lot about working from home, especially what products, tools, and services will make your workday smoother and more enjoyable.
If you're looking for meaningful and practical gift ideas for a work at home woman in your life, check out this list of tried and true products and services for home-based workers.
1. Lap Desk
One of the great things about working from home is that you don't have to spend all day working in a single spot. If the weather is nice, you can take your laptop outside and enjoy working in the sunshine. However, it becomes a bit tricky when you don't have a flat surface to work on; here is where a lap desk comes in handy.
Whether you're working outside, on the sofa, or even in your bed, a lap desk is perfect for getting work done while giving yourself a new work environment. This Portable Bamboo Lap Desk from wishacc Home Office comes with a media slot, adjustable bolster for comfort, and two different sizes, so no matter what size your laptop is, it will fit on it perfectly. It also keeps your computer well-ventilated so that it doesn't overheat. When you're done working, this can easily fit under the couch, bed, or in a closet – making it the perfect work-from-home gift for anyone, including digital nomads.
If you're looking for something a little more upscale, this 19-inch lap desk from Arlo Skye is beautiful! With a white oak veneer work surface, built-in storage, and a phone and tablet dock, it's perfect for working anywhere. If you'll be working outdoors, this laptop tent cover is genius for reducing glare and preventing your laptop from overheating!
2. Headphones
When you're working from home, there are times that you'll have to deal with uncommon noises like barking dogs, a crying baby, neighbors mowing their lawns, and other residential sounds. Having a nice pair of noise-canceling headphones can help keep these distractions to a minimum.
Over the years, I've tried a few different brands out, and the kind I keep coming back to is Apple. With the larger headphones, I found that when I wore them for extended periods, I'd end up with pressure points that pinched my head and gave me headaches.
If you're going to invest in a good pair of headphones, go with the Apple AirPods Pro. Not only do these have noise-cancellation properties, but they offer a longer battery life and three different sizes of soft silicone tips for maximum comfort. They also pair seamlessly with your other Apple products making it the perfect gift for any Apple lover!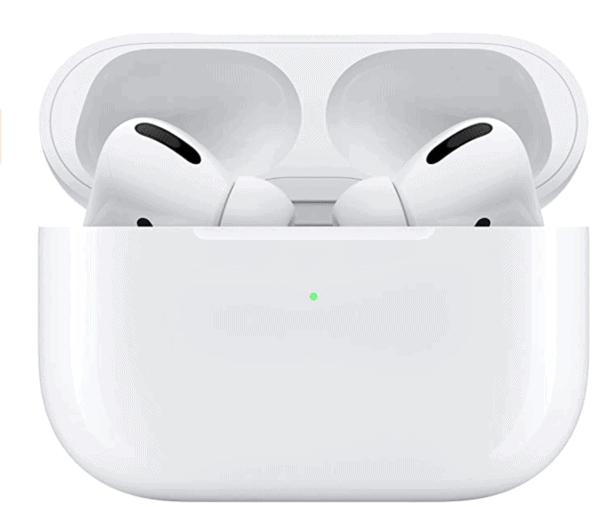 3. Laptop Backpack
When I was younger, I used to carry these gorgeous leather totes and laptop bags around. While they were stylish, my shoulders and back hated the unevenly distributed weight of these bags and all their goodies.
A few years ago, I decided to switch from my traditional laptop bag to a laptop backpack, and my body is so much happier. I decided to go with this Women's Luxe Jester Backpack from The North Face. It has a ton of room and a separate padded pocket for your laptop, and I love the cream color and rose gold zippers. This backpack also holds up great in the washing machine on the gentle cycle. I've washed mine a few times, and it looks brand new when it comes out.
My daughter has The North Face Recon Luxe Backpack in a berry color, which is a little larger but equally as beautiful. Just a quick note: the colors on these backpacks from The North Face change from season to season.
I have a slight bag addiction, so I'm always on the lookout for functional and fun bags! If you're looking for something more extravagant or larger that you can use for trips, definitely check out these other gorgeous bags!
4. Comfy Work Shoes
When I quit my desk job as a nurse, I had all these high heels just sitting in my closet, collecting dust. As a work at home woman, you don't need heels; you need shoes that are functional and comfortable.
Right now, I have three pairs that I wear ALL the time (depending on the season and activity)!
When I need a good pair of walking shoes, I wear these Tree Loungers from Allbirds. They are so comfy, they slip right on, and they're made from all renewable materials. I've heard that their wool runners are amazing, but I haven't tried them (yet).
Living in Texas, it's hot most of the year, which is why I live in my Sanuk Yoga Mat sandals. These are the most comfortable flip-flops I have ever worn! They are soft and squishy on your feet, and they never rub your feet raw or leave blisters in between your toes.
For the colder winter months, I love wearing these snuggly Scuffette II Slippers from UGG. Seriously, when UGG first came out, I didn't understand all the hype. Then I got a pair as a gift, and I was hooked! UGGs are so comfortable and cozy, and you wear them without socks. They are the perfect gift for work at home moms in the wintertime!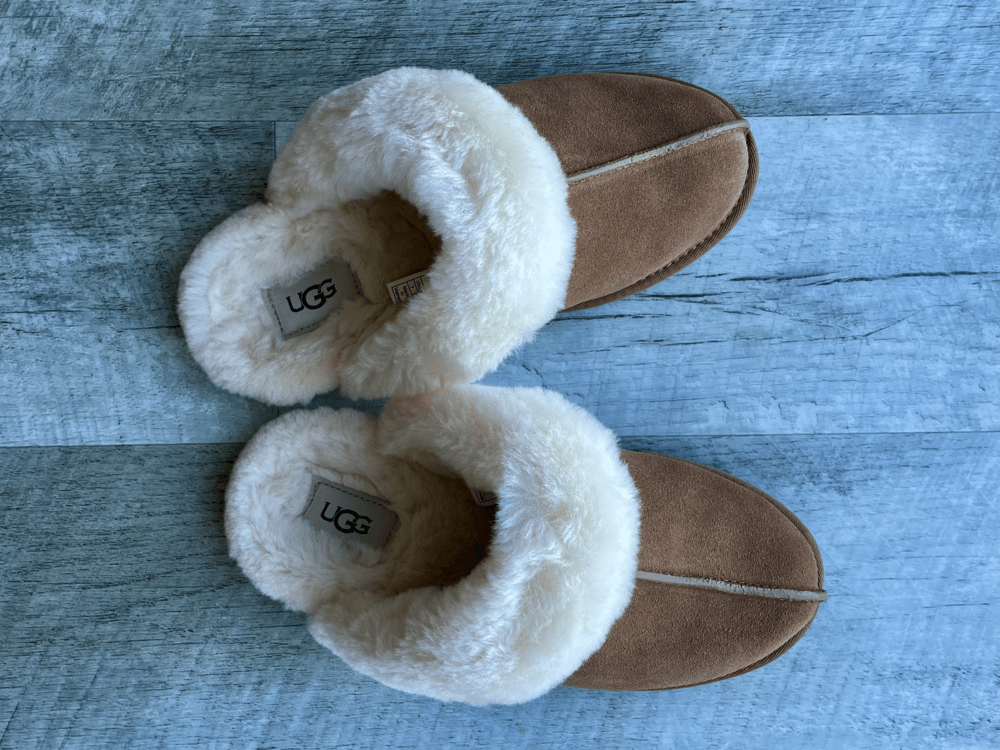 5. Day Planner
Working from home offers many perks, but it also comes with its fair share of challenges. That's why being organized is so crucial to your success as a work at home woman. Probably the easiest way to stay on top of all of your tasks is by using a planner.
Depending on your situation, I'm partial to my planners for your business, career, blog, and day-to-day life. They streamline so much more than just the normal day-to-day activities by helping you focus on specific parts of your job search, online business, or blog actually to make forward progress.
If you don't need a specialized planner, my Determination Bundle is perfect for day-to-day scheduling and planning. It can also help you set goals, organize your day, and plan your weekly grocery lists and menu planning. Add this adorable three-ring binder from Kinbashi, and it's like an adult Trapper Keeper!
6. The Ultimate Coffee Mug
Your fuel as a work at home mom is likely coffee, tea, or hot cocoa. Whatever your drink of choice, you need a coffee mug that is going to do triple duty. Besides just holding your favorite beverage, your cup should also protect you from spills and either keep your drink piping hot or icy cold.
That is precisely what this insulated, YETI, 14 oz Stainless Steel Mug accomplishes, making it the perfect work-from-home gift! It comes in a wide variety of colors, and they'll even personalize your mug with your name or business logo on the YETI website. I have a white one, but I feel like I really need this pink one!
Another great home gift idea to keep your coffee hot is Ember's temperature-control smart mug. With this mug and coaster set, your coffee will remain hot for 90 minutes when fully charged.
7. Home Office Accessories
When you work at home, you get to create a work environment that energizes you and puts you in a creative mood. No more fluorescent overhead lighting, boring gray desks, or dingy file cabinets!
One product that I love right now, is this aromatherapy candle set that Go Candles gifted me. Each candle is handcrafted with all-nature soy and coconut wax and blended with essential oils. Each blend is designed by aromatherapists to convey a different mood, such as flow, energy, and chill. The flow blend is my favorite scented candle with bergamot, geranium, bay laurel, and frankincense essential oils.
To find other unique, gorgeous, and inspiring home office essentials, check out sites like:
If you're not sure what to get, a gift certificate is always a welcomed and pleasant surprise!
8. Smart Watch
My whole life I've loved watches! As a teen and college student, I had my fair share of Swatch watches, and as I got older, I expanded into other brands. But with the invention of smartphones, I stopped wearing watches and instead used my phone to tell the time.
But as my friends and family members started using them, I was attracted to the fitness aspect of the watches. So, I decided to get an Apple Watch, and I'm so glad I did!
Yes, it's great for tracking your activity and telling the time, and of course, it pairs seamlessly with your other Apple products, but the thing I really love about it is it's cut down on how much time I spend on my phone! I can leave my phone in another room and still respond to phone calls and texts. It does everything a messaging device should do without me falling down the rabbit hole of aimlessly scrolling through social media or diving into my email.
9. Stitch Fix Gift Certificate
I love new clothes, but I hate shopping for them! I never know what to pair together or what new brands to try out. That's why when Stitch Fix came about, I knew I had to try it.
With Stitch Fix, a trained stylist hand-selects five clothing items for you based on your style preferences. The articles are delivered in the mail, and you get a few days to try them on and decide if you like them. Anything you don't wish to keep, you send back to them in a pre-paid pre-addressed envelope. The items you keep, you're charged for via credit card, and if you keep all five items, you get an extra discount.
The reason I love this service is it saves me time and the hassle of having to go to the mall. I also like that they pick items that I normally wouldn't choose for myself, and they give you styling ideas for each of the items they send you.
I've given Stitch Fix gift certificates to a couple of my friends for their birthdays, and they absolutely loved it — so much so that they've become regular subscribers of Stitch Fix!
10. Subscription Box
There's something special about getting a surprise gift in the mail, and what better than a monthly, quarterly, or one-time subscription box?! With the explosion of subscription box services, there is literally one for every taste, preference, or passion a person has!
Here are some fun gift ideas to choose from:
11. Home Office Furniture
Before the pandemic, I worked at our kitchen counter because I loved all the natural sunlight that filtered into the room. However, once my daughter and husband started working from home, too, working in my kitchen was no longer an option; I needed a quiet space all to myself. Needless to say, having the right office furniture is essential.
We now have a separate workspace set up for each person, giving us each a quiet place to work during the day. Luckily, I was gifted the FlexiSpot Premium Ergonomic Office Chair. It fits my body perfectly and cushions my lower back with gentle pressure. It seriously is the most comfortable office chair I have ever sat in.
If the mom in your life needs an office setup, check out these places for unique desks, chairs, cushions, and more!
12. Fitness Equipment
When you work at home, you're a lot more sedentary than if you were working in a traditional office setting. And with the fridge just a few steps away, it's so important to incorporate exercise into your daily routine.
Luckily, there are so many great options for busy moms! I enjoy doing yoga classes via Zoom, but if online or in-person classes aren't your thing, here are some other ways to sneak fitness into your day.
13. Look and Sound Your Best During Video Calls
Whether you're a mom boss who runs a podcast or popular YouTube channel, or you're a remote employee who needs to hop on a Zoom call with your colleagues, there will likely be times that you need to be on camera.
To look your best, you need to have the right tools, from lighting and sound to making sure your background is distraction and clutter-free.
Any of these gadgets would make a great gift for the work from home woman who has to be on camera or recording podcasts!
14. Work From Home Loungewear
When I stopped working as a nurse, I realized that most of my wardrobe was business casual clothing (from my office days) and nursing scrubs from working at the hospital and clinic. Needless to say, my closet needed a refresh!
One of the perks of working from home is getting to wear more comfortable and relaxed attire. While PJs are comfy, and on rare occasions, I work in them, for the most part, they aren't ideal. When you work from home, you need a way to transition from rest mode to work mode, and one way to accomplish that is by getting dressed.
This is where loungewear comes into play!
If you want to treat the work from home woman in your life to a special gift, buy her some loungewear (or a gift card) from one of these companies:
15. The Gift of Time
There is one thing in life that you can never buy more of, and that's time. Because time is such an important asset, why not help mom take some tasks off her to-do list.
These work from home gifts will help give mom some more free time in her day:
16. Stress Relief Gifts for the Overworked
One of the difficult things about working from home is work is always there, so it's easy to just check in and take a peek at things. Without clear boundaries, it can become very easy always to be on. That's why it's so important to create boundaries and schedule some self-care time. These gift ideas are the perfect way to make sure the special work-at-home woman in your life gets some much-needed relaxation.
17. Snack Box
One thing I miss about working in an office setting is the breakroom filled with complimentary coffee and the snacks that coworkers would bring in to share. Whether it was someone's birthday, or we were celebrating someone getting married or having a baby, there was no shortage of treats. Working from home, I don't usually splurge on chocolates, fancy cookies, or gourmet snacks, especially for myself. But in the past, when I've received gift baskets filled with gourmet treats and goodies, it felt so indulgent — definitely a fun present to receive!
If you're looking for a snack box or gourmet food gift, check out these companies:
What's the Best Work From Home Gift?
Being a work at home mom, I'd appreciate any of the gifts on this list. When it comes to the work from home woman in your life, think about what things would make her life easier and more enjoyable, and go from there! Also, browse the sites that I mentioned in this list; many of them have sections dedicated to work from home gifts for ladies.
Do you have a great gift idea for a work from home woman? Drop us a note below; we'd love to hear from you!
Originally published October 2020. Content updated October 2023.