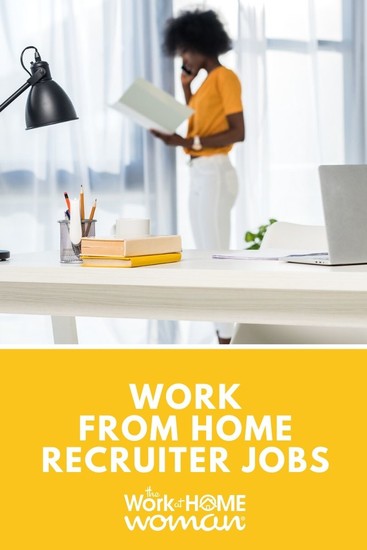 If you have a knack for helping people find the perfect jobs, then you should look for some work-from-home recruiter jobs like these!
Working from home has so many perks. You can often set your hours, and your income potential is only limited by your motivation and dive.
Very few work-from-home jobs are made for extroverts quite like recruiters or scouts, but they do exist! Read on to learn more about these jobs and why they might be perfect for you.
Work-From-Home Recruiter Jobs
Does working from home sound boring to you? Extroverts are often scared of remote jobs because of the types of jobs these usually are. So many work-from-home jobs are data entry jobs or virtual assistant jobs with online businesses. However, extroverts crave interaction with people. If that's you, then working from home as a recruiter might be perfect.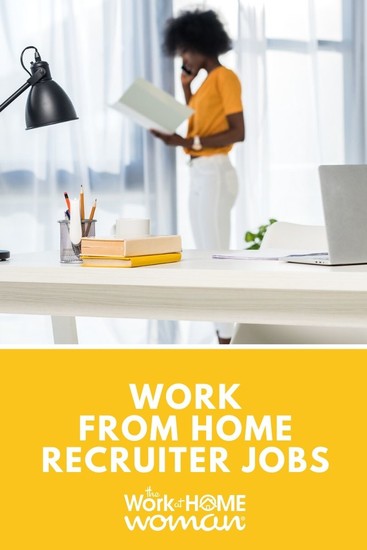 Work-from-home recruiter jobs are ideal for anyone who loves to talk to people and help them find their dream job. It's like a career matchmaker! They pair job searchers with companies that are currently hiring.
If this sounds like something you'd like to do, then keep reading. I'll explain what this job is, where to find these jobs, and how to land it. You could be on your way to a career that doesn't even feel like work!
Related content: 16 Places to Find Remote HR Jobs
What They Do
You might be wondering: What exactly does a recruiter do?
Just like the name implies, virtual recruiters work on behalf of businesses or organizations to screen and recruit talented candidates for open positions.
The exact jobs vary depending on the industry and where you work. However, there are some general responsibilities that are the same. Expect to do one or all of the following tasks as a recruiter:
Posting job ads on websites such as Indeed
Answering emails
Researching candidates through social networks and job boards
Reviewing resumes and applications
Wor-from-home recruiters mostly specialize in a particular field.
For example, someone might focus primarily on securing corporate management for fortune 500 companies. Other specialties recruiters might be involved in include:
Technology
Business management
Banking
Nursing
Education
Another task recruiters might be asked to do is screen potential candidates before they have their first interview. In this case, you'll be helping the human resources team only interview highly-qualified individuals who meet their criteria.
Typical candidate screening might include:
Phone screening
Social media research
LinkedIn/resume screening
How Much Do Recruiters Make?
The amount you can earn as a work-from-home recruiter will vary based on your experience, specialty, industry, and where you live.
According to Salary.com, the average salary of a virtual recruiter in the United States in 2020 is $48,127. The salary range falls anywhere from about $41,000-$54,000 per year.
Other factors that will help you earn more as a recruiter include any of the following:
Education
Certifications
Additional skills
Experience
Keep in mind that lots of companies will hire recruiters with a base salary plus commission. Often a recruiter will earn a commission once their candidate gets their first interview and another commission when their recruit is hired as part of the team!
Who They Work For
Virtual recruiters have two options.
They can either work by themselves as their own agency
Or be hired by a recruiting agency as an employee.
Either way, you will be working on behalf of a larger corporation or business with the goal of finding talented individuals to work in their company.
Which option is better for you? Is it better to work for an agency or own your own business?
That all depends on your skills and comfort level!
How do you feel about the bookkeeping and marketing associated with running your own business? If you prefer to fulfill assignments and allow someone else to worry about paying all the bills, then maybe you should work for an agency.
However, if you enjoy the rush of creating your own business and the possibility of earning more money as an entrepreneur, then working for yourself is probably the best solution for you.
Skills and Experience You Need
Virtual recruiters help employers fill vacancies. To do this, you'll need to have excellent communication skills and detailed perception. Recruiters must understand the type of person the employers are looking for and be able to give them qualified candidates who are the perfect fit.
Since you'll be working from home, you will need to be self-motivated and able to block out distractions and meet deadlines.
You also need to have excellent organization skills! You will be working with lots of different people at once, so you'll need to be able to keep them organized so you don't lose an important contact.
Some other skills that are going to pay off in this job include:
Confidence on the phone
Able to use job boards
Computer skills
Written communication
Sales
I added sales at the end because you'll be reaching out to potential candidates and encouraging them to apply to work for specific companies and roles. This requires the same skills as people in sales positions.
You'll have to be persistent, determined, and be able to articulate why it's the perfect job for them.
Is Job Recruitment For You?
After reading all of this, is a work-from-home recruiter job a good fit for you?
Do you enjoy talking to lots of different people? This is the perfect job for an extroverted people-person who feels energized when they speak with a variety of people every day.
Are you self-motivated? Since this is a remote position, you'll be in charge of your hours. If you can block out distractions and focus on the task at hand, then consider this job!
Is it important to you that your work has an internal reward? Recruiters get the personal benefit of knowing they paired a company with someone who is actively looking for a better job. There's nothing quite like the feeling of helping someone land a fantastic job!
If you can see yourself at home talking to lots of people, screening them on the phone, and helping companies to find talented individuals for their staff, then you should definitely consider becoming a virtual recruiter.
How to Find Remote Recruiter Jobs
If you've come to the decision that recruiting is for you, congrats!
Now that you're ready to find remote recruiter jobs, here's how to find legit work-at-home jobs that recruit talent for companies.

FlexJobs
Search FlexJobs for companies currently hiring recruiters. This is my favorite website for remote work!
These are real, vetted jobs that you can do from home. You'll find both part-time and full-time positions listed here. When you become a FlexJobs member, you can apply for jobs directly on their website. They make the entire process simple!
Plus, with FlexJobs, all the information about the job is outlined in an easy-to-read format. You'll know exactly what you are applying for and whether you are qualified.
They have pages and pages of remote human resources jobs. Many of them require experience in human resources, and some offer the chance to work full-time in the office later on.
LineHire
LineHire is an agency that works more like a talent scout. Businesses ask LineHire to find candidates for open positions at their company. Then, it is your job as the recruiter to reach out to people and encourage them to apply for the job.
LineHire says their talent scouts bring in candidates who are currently employed and only passively looking for a job.
This agency pays scouts a commission when the candidates they find land their first interview and another commission when they are hired.
Start Your Own Business
Finally, there is a third option. You can start your own recruiting agency!
The best way to do this is to work as a consultant for a business owner you know. Offer to help them screen and find talented people to fill their positions.
Then, network with other business owners and begin to market yourself as someone who can help fill their open positions with people who meet their company's needs.
You'll need to set up a website that lists your experience and the niche you focus on. Eventually, you'll be able to work directly with companies as a talent scout, setting your own rates and hours.
You could even build your business up enough to begin hiring more talent scouts of your own!
Work-From-Home Recruiter Jobs: Final Thoughts
Sometimes, remote work-from-home jobs sound tedious to extroverted people. Thankfully, there are jobs like a recruiter where you'll spend your days talking to people from all around the country.
Being a recruiter has emotional benefits too. There's nothing quite like the feeling of helping a company find someone who is a perfect fit.
Look around FlexJobs or sign up with LineHire and start your job as a recruiter. If you don't have HR experience, you might have to work your way up the pay scale.
Eventually, you can make a comfortable living doing something you love!