As a business owner, you're juggling many different roles that sometimes it can be difficult to know where to focus your time and energy for maximum results.
If you're struggling to make forward progress in your business, here are five areas where you should focus your attention.
1. Branding
Everywhere you turn the word branding is tossed around and held up as the business idea of the decade, but although we may get sick of hearing the constant harping on this subject, in reality, there is much truth to the validity of its importance.
But the real value of branding is when we dig deep and give it more than lip service. Branding is much more than a catchy tagline, a flashy logo, or a concise elevator pitch.
The core value in branding is in making certain that you and everyone around you (employees, clients, customers, etc.) are very clear on exactly what you have to offer; what service, product or value you provide, where your expertise lies and what differentiates you from the hundreds of competitors out there.
Focus on this first; then the rest will follow.
What do you do?
What don't you do?
What is special or memorable about you?
2. Relationships
Again, this seems to be all the rage right now, especially in social media and marketing circles, but it really is crucial to your business success.
And again the value in relationships is when you move deeper than the surface level. It's not about how many Twitter followers, Facebook fans, or website hits you have. If they're not buying, referring, or talking about you; they don't matter (well, they probably matter to somebody, just not you).
Get to know the people whose paths you cross both virtually and in person. This may be anyone from the bank teller to the delivery person, from the Twitter or Facebook friend to the blog post reader, from the customer or client to the complainer. They all have information to offer and insights to explore.
What do they care about?
What interests them?
What do they need?
What annoys them?
Related Content: Relationship Marketing Examples: Ways to Market and Build Relationships
3. Leveraging
Especially when you have the limited resources (read people) available as an entrepreneur or small business owner you have to run a tight ship. Our mantra is – Do more with less. Figure out how to get the most value out of your time and resources.
Do what you do best. Spend your time on high-value activities, those that generate revenue or value for your company. Stop wasting your time on low-value activities and time wasters. It may seem counterintuitive to pay someone else to do things you know you could do yourself, but if they can do it cheaper or faster, it will save you money and free your time to spend on more productive activities. Or consider bartering services or products instead of contracting activities out.
What are you most efficient at?
Where are you wasting time and money?
What could you delegate or outsource?
Related Content: Work Smart, Not Harder: Double Dip on Ideas and Resources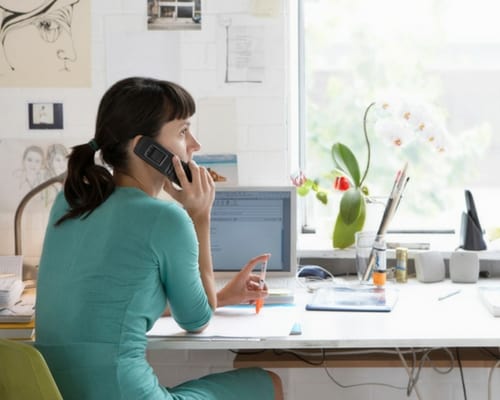 4. Growth
Stagnation and complacency are serious challenges for busy, time-crunched professionals. The danger is when we get so involved in trying to meet deadlines, juggling projects, and putting out fires that we leave no room for innovation and change. The potential result is that we will lose our ability to compete in the marketplace.
If you are not growing, evolving, or moving forward, you will be left in the dust like yesterday's news. While this sounds daunting, it doesn't need to be. Just keep your eyes open and take small steps toward personal and professional growth on a regular basis.
Growth can occur in many ways. It may mean refreshing and updating education or skills, learning a new process, updating equipment or using a new technology. Or it might take the form of radical changes; career shifts, new products or services or even an alternative business model.
How can you grow personally?
How can you grow professionally?
Related Content: How to Benefit from a Work-at-Home Moms Mastermind Group
5. Balance
This is the cornerstone of any sustainable, successful and enjoyable business or career. The concept of work-life balance while talked about constantly is very often misunderstood. Balance is not about keeping everything in your life on equal footing or in a perfect sense of alignment. It's about finding the point where all the different pieces of your life and work fit together in a way that nurtures you instead of drains you.
We all understand that there are times when our business needs some extra time and focus, and there are times when our family or health demand more attention. This is not about a daily or weekly snapshot out of your life. This is about long-term sustainability and enjoyment.
If you put into place boundaries and practices that will allow you to care for yourself, your family and your business, you will find that everything flourishes. Make time for your health and rejuvenation. Take time to interact and connect with people who matter to you. And finally set aside time that is dedicated to growing and serving your business.
What do I need?
Which areas have I been neglecting?
What would make my work and life more enjoyable?
Royale Scuderi is a life and business coach. She empowers individuals and businesses to achieve higher productivity, growth, business success and work-life balance. She writes about these topics and more at ProductiveLifeConcepts.com offering wisdom, insight, and ideas for personal and professional growth to help you get the most out of your life. It's about combining simple solutions with creative insights to open up a world of endless possibilities.