I'll admit it, I was raised to be competitive; beginning at a young age in school and sports, right on through owning my own business and competing with thousands of competitors in my industry. And any small business owner knows that a competitive streak is a KEY to entrepreneurial success.
However, sometimes it's collaboration, not competition, that can take your business to the next level. This isn't just some 'touchy-feely' trend. There are practical, bottom-line benefits for those companies who think outside the box and play well with others. Small business owners can join up with fellow small business owners to co-promote, cross-network, support, and inspire.
Here are some examples of how small businesses can embrace the collaborative spirit to succeed:
1. Co-promote your small business with others
Join up with complementary businesses for joint marketing and selling opportunities. Get creative and look for opportunities anywhere and everywhere.
Here are some examples:
A local CPA can collaborate with other service providers to put on a 'Small Biz Bootcamp', where they offer a helpful mix of expertise on financial planning, tax advising, advertising, web strategy, insurance, and public speaking to their combined pool of customers.
A jewelry designer can team up with fashion and accessory designers to put together a summer trunk show.
A local boutique shop can give discounts for yoga clothing to anyone who made a purchase at a nearby health food store (and that health food store can offer a free smoothie with any purchase next door).
2. Create a network circle
No matter your industry or occupation, business is driven by referrals and connections. A web designer recommends a copywriter or SEO expert. The collaborative small business is always on the lookout for opportunities to help fellow small businesses out. Check Meetup.com or your local Chamber of Commerce for a relevant group in your area. You can either join a formal referral group or forge informal alliances with complementary entrepreneurs. Whatever method you choose, just remember that whatever you give out, you'll get back in return.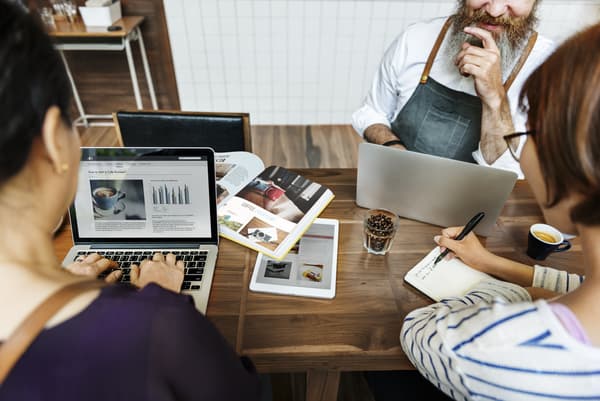 3. Get inspired
By seeking out a group of like-minded small businesses, you can gain a much-needed source of motivation, inspiration, and support. Because let's face it, working from home can make you feel isolated every now and then. Consider joining an online group, actively participating in online forums, finding a weekly or monthly local meetup group, or spending some time in collocated office space. You'll be amazed at just how inspired you can become from the energy of others.
Conclusion.
By seeing fellow small businesses as partners and not competitors, small business owners can harness the power of collaboration to attract more customers, get inspired, and help their overall bottom line. Collaboration is becoming the new competition, at least when it comes to building your small business.