As a corporate gal, my posts are focused on maximizing the opportunities presented to us as remote employees. As I've said before, there are a lot of obvious things to be grateful for (e.g., being home when my kids get back from school, having more flexibility, no commute, and working in casual attire. But there are some challenges that come with being a home-based worker, too.
We have to work harder to promote our accomplishments to our bosses, and we often miss out on the synergies that we'd experience by being face-to-face in a traditional office setting.
Keeping remote employees engaged can be tricky, too. After all, that motivational speech or team challenge really seems to lose its luster via email or conference call. How do we keep everyone motivated and connected to the team when we are physically isolated from one another?
Check out the following tips for some possible answers!
1. Adopt An Instant Messaging Tool
One of the things that helped us stay connected in a traditional office setting was the way we had instant access to one another. We'd get up from our desks and walk over to our colleague's office and, voila, we talked about the problem we were facing, asked a quick question, or showed interest in a home renovation project that they took on over the weekend.
As a work-at-home employee, this process doesn't happen naturally. We have to call one another, or, draft an email and a lot of times, people would rather skip the interaction altogether. That is why I am a big believer in instant messaging.
My colleagues and I are currently piloting the Slack platform, which allows the user to collaborate, communicate via phone, video, and chat, share files and even integrate other applications like Google Drive, SalesForce, Dropbox, and many more.
2. A Company that Plays Together Stays Together
The camaraderie and bonds that are forged through workplace celebrations are critical to an organization's work culture. If you don't ever have the chance to celebrate your successes together, it will be challenging to craft a cohesive team. That's why virtual colleagues need to go the extra mile to have some shared company fun. If headquarters is enjoying some downtime in celebration of a holiday or some company success, then, remote workers should have the same privilege too.
I knew one virtual supervisor who used to take the time to ship cupcakes or a little container of cookies to all his remote employees so that they could celebrate a team member's birthday or company anniversary together. They'd be instructed to call into a team conference call, wait to open their packages until everyone was on the call, and then partake of the goodies together. It took a little bit of orchestration, but his team eventually really relished the celebrations and would look forward with Christmas morning type anticipation to unwrap their goodies.
Related Content: Five Tips for Hosting a Virtual Holiday Party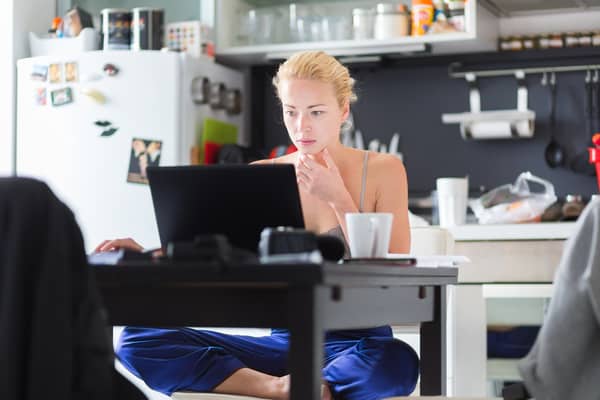 3. Assign Virtual Teams
One way to eliminate silos and get remote employees working together is to assign them to virtual teams. Remote workers who wouldn't typically communicate not only build new relationships but they also can learn from and motivate one another. And your clients win, too, by having different team members with a fresh perspective working to identify new and innovative solutions to their problems.
4. Equal Access, Expectations, Accountability for All
Managers of a virtual workforce have to go above and beyond to make sure that access to them, information exchange, project involvement, performance expectations, and accountability are equal for all employees. They cannot pick favorites. No one group or employee should get assigned to the best projects, receive all the recognition for their work, or be held to a different standard than the rest. Sometimes this happens as a function of geography.
For example, perhaps there is a remote employee who happens to live in the same city as the manager, so they tend to meet in person more often. If the other virtual employees learn that their colleague is receiving information before they do, or being presented with opportunities that they don't get to take advantage of, or seems to receive more of the accolades and recognition than the others, then it can be very de-motivating to the rest of the team.
Conclusion. 
When you have a team that works remotely, there are certain considerations that you'll need to take into account. Being aware of these aspects will help you to nurture the team as a whole instead of two separate entities. Which in the end makes for a more productive and conducive work environment.
If you are managing (or happen to be a part of) a virtual team, what other suggestions can you share that help your team to stay engaged and connected?
You'll Also Love These Posts:
Studies have shown if you like this blog post — you will also love the following articles. I handpicked them just for you!
Christy Schutz is the author & creator of Higher Calling Communications, which is committed to helping you make the most of your calling! She's putting 16+ years of experience in the advertising, recruitment, employee communications, marketing & special events industries to good use by helping individuals, businesses & faith-based ministries discover, develop & market their own distinct calling or mission. She also helps people leverage communications strategies that will enable them to build deeper, more effective relationships with those they hope to serve. This Tampa Bay, FL-based Mom also keeps herself busy by raising four kids, caring for her husband & doting on her cute Jack Russell Terrier, Petey!