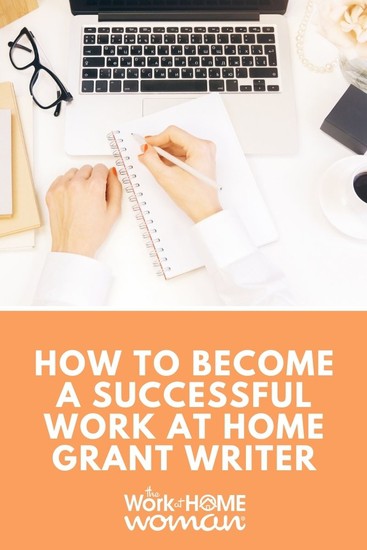 If you like to write or have any journalism or digital content experience, there are plenty of different freelance writing opportunities you can take advantage of. For someone who's good at doing research and is looking to help companies grow and make a difference, I'd highly recommend getting into grant writing.
Grant writing is quite different from writing articles and blog posts. Still, it's a unique niche to explore that will often allow you to work flexibly and set your schedule.
In this post, we'll go over how to become a successful work at home grant writer even if you are brand new with no experience. Let's start with the basics and then dive right in.
What is a Grant Writer?
A grant writer's primary role is to craft proposals that will help secure funding for non-profit organizations. This involves writing to government agencies, along with private corporations or businesses that offer grants.
Grants are essentially funds that are gifted to companies and organizations to help them reach a specific objective. I first heard of grants when I was attending college and applying for financial aid. It was a relief to know that I qualified for a state grant that could go toward my tuition. Grant money is not a loan, so you don't need to pay it back.
For up-and-coming nonprofits, receiving grant funding is not as simple as filling out a form each year. They must make sure their organization and objectives meet the requirements of the grant program and seek help from grant writers to submit proposals. This is where your writing talents can come in handy. Grant writers may be hired to work exclusively with one organization, or you could work as a freelancer and help several other businesses as well.
What Types of Tasks Can You Do?
In addition to writing grant proposals, a grant writer must do quite a bit of research. This involves learning more about sponsors that would match the goals of the nonprofit for whom you're writing. It's a good sign if the sponsors/grant suppliers have funded other similar projects in the past.
You want to carefully read through the requirements of a grant and gather specific details from your client to pitch their need for funding and explain how the money would be used.
Skills and Experience You Might Need
You don't need to get a particular degree to become a grant writer. However, you do need a few essential skills.
I've already gone over being a good researcher, and this is key. During the research stage, you may also need to speak with prospective donors, so having good communication skills is also important. Another asset is to be very good at persuasive writing or willing to learn. Since a grant writer's primary goal involves asking for money, you need to thoroughly explain why the organization needs the funds, their mission, what the funds will go toward, and so on.
Basic professional writing skills, along with organizational skills, will help you really impress your clients.
How to Get Started
Professional grant writers make anywhere from $25-$100 per hour and earn an average salary of $51,000 with beginner or intermediate experience, according to Glassdoor.
If you think becoming a work-from-home grant writer would be right up your alley, here are some important steps to help you get started.
Learn How to Write a Grant Proposal
You don't have to be an excellent writer to be successful with grant writing. However, you do need to have basic writing skills and understand how to prepare a grant proposal.
Consider taking online courses in English, creative writing, and persuasive writing to start. Udemy has some great course options.
Then, niche down and focus on writing grant proposals. Nonprofitready.org offers free grant writing courses that will also prepare you with the other skills you'll need to perform this job well.
Grantspace.org offers live and remote grant proposal training as well.
If you're looking to get certified, the Grant Professionals Certification Institute is a great option to consider. Remember, certification or degree often isn't required, but the goal is to gain relevant experience and become an expert that clients can trust so they will feel confident in hiring you. If you don't have a lot of experience or work samples, getting certified can often provide you with the credibility and background that you need.
Familiarize Yourself With Grant Programs and Their Requirements
It wouldn't hurt to do some research on different grant programs and what they require before you start working with actual clients.
This will give you a chance to learn the industry better and possibly connect with some donors or professional fundraising groups.
You can also take this time to narrow down who your ideal client might be. Maybe you want to help organizations that provide services to children. Or, your interests and expertise could lie in supporting local communities or the environment.
Get Professional – Make Business Cards and a Website
You can certainly do this before you look for jobs, but it's not always a prerequisite. Having a portfolio site and some business cards can only help you market your services to more organizations that rely on grants.
Look For Jobs and Build Connections
Connecting with organizations that rely on grants may sound challenging as a beginner. Before I share some strategies to help, remember that there are often tons of cold leads for work from home grant writers online.
Check out sites like:
One of the best ways to become a successful grant writer is to start locally. Gather a list of organizations in your area that may need grant money.
Send a pitch to see if they'd be interested in working with you remotely. You can also attend local networking events or fundraisers to build your network. Doing something as simple as dropping by a business to leave your card can be impactful in helping you get more paying work.
As a grant writer, your skills are specialized and extremely valuable. Organizations may have tried applying for grants on their own to no avail and realize that they need to hire out this job.
Improve Your Skills and Get Results
The most successful grant writers get funding for their clients. Realize that with each grant you help clients acquire, you can add this to your portfolio and experience to attract more clients and raise your rates.
Continue working on improving your skillset and applying feedback that you get from clients and courses.
Conclusion
Becoming a grant writer is a great way to help organizations further their mission while earning a part or full-time income from the comfort of your own home. Grant writers are highly sought after in the nonprofit world, so there are plenty of client leads available if you're willing to do the research and follow up.
If you're looking for a new freelance writing niche to explore or want to break into a whole new career field, you can become a successful work at home grant writer in just a few weeks.