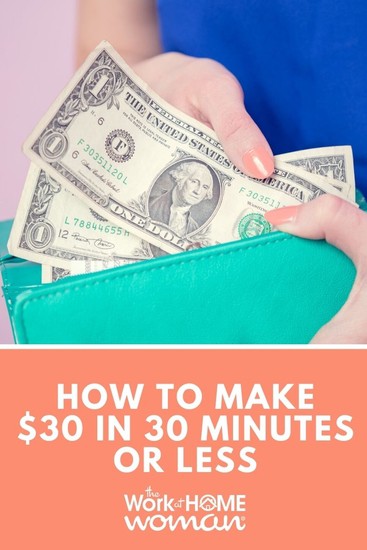 Pretty much everyone could use some extra cash in their pocket, especially during these times of economic uncertainty.
But the idea of making $30 in 30 minutes sounds like a gimmick, doesn't it?
It's true that – despite what many shady websites and companies would like you to believe – there are no authentic "get rich quick" schemes.
However, scoring some extra pocket change quickly is a different story. You might be surprised to learn that there are quite a few legitimate options out there!
So if you need some extra cash on the double, follow these tips to put some moolah in your pocket with minimal time and effort on your part!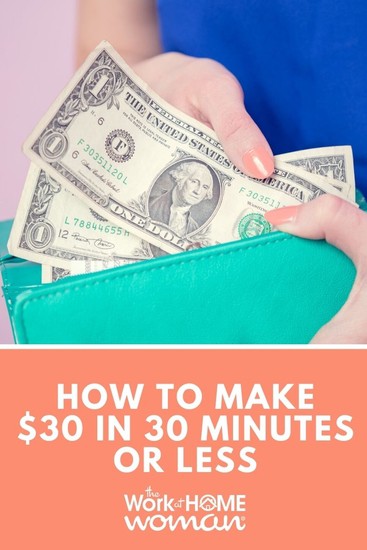 1. Sell Your Unused Gift Cards
Do you still have gift cards kicking around since Christmas that you know you'll never use?
You can sell them for cash relatively easily. Services like CardSell will buy your unwanted gift cards for resale to another buyer.
If you need cash fast, you can hunt down a local shop like GiftCardBin and get paid instantly.
All you need to do is enter the gift card info into their system to see what kind of cashback offer you can get for it. If you decide to accept, the kiosk will print a voucher that you can take to the cashier for payment.
Keep in mind that you won't make the full value of the gift card. In the best-case scenario, you might get around 80% of the card's value back in cash. But if there isn't much demand for the card in question, you could be looking at as little as half the card's dollar amount.
Still, it's one of the fastest and easiest ways to make $30 in 30 minutes – depending on how many gift cards you have stashed away and how long it takes you to drive to the kiosk!
2. Sell Your Stuff on VarageSale
Selling old items on VarageSale is one of the easiest ways to make cash quickly. (Perfect if you needed some incentive to spring clean your garage or basement!)
VarageSale works by advertising your items within your community. Think of it as a lawn sale, except you don't have to haul everything out to your front yard and stand in the sun all day.
You get to advertise your items online, set your prices, and make bargains with other interested parties.
I love VarageSale because they take steps to ensure that deals made on their platform are done safely. For example, all users are verified by connecting their Facebook profile and being approved by a VarageSale admin.
Chances are, you've got some old items that are worth at least $30. Maybe you have an old Apple product you don't use anymore, some old clothes your kids have grown out of, or some older furniture you don't have space for anymore.
Even old textbooks, DVDs, video games, and other things you wouldn't think to sell can find new homes through VarageSale.
All you need to do is snap a picture of it with your phone, sign up for an account, and list your items. Ten minutes of work, tops!
3. Sign up for Ibotta; Then Spread the Word!
Ibotta is a money-saving app that gives you cashback on certain purchases you make at stores like Walmart, Target, or Best Buy.
It takes less than five minutes to set up an account. Once you tell it your store preferences, you can browse coupons to add to your Ibotta wallet. Some offers require you to watch a video or answer a survey question or two.
It's handy for groceries since they are items you are buying anyway. Many users report saving more than $100 on groceries every year just from using the app's coupons.
Before you argue that this is more of a way to save money rather than make money, Ibotta offers a $20 Welcome Bonus for using the app!
And there's yet another way to earn cash quickly with this app; by referring others. You'll make $5 for each friend who signs up and redeems an offer.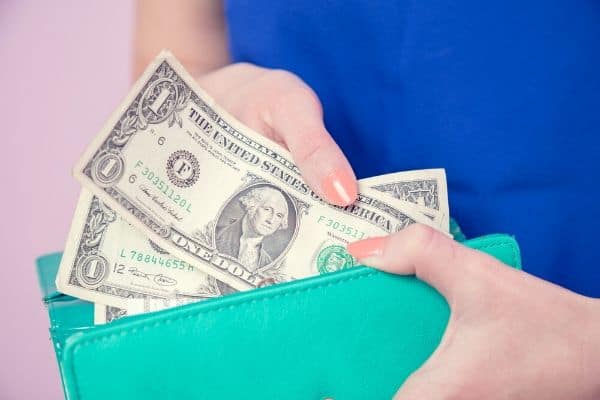 4. Do a One-Off Job on Gigwalk
You don't need to have an established side business to benefit from the gig economy. There are many gig service sites you can check out to find easy, quick jobs to do.
One such site is Gigwalk. This app for your phone helps you find local jobs in your area. The available jobs are displayed by pins on a map.
Most of these jobs come from retailers that are attempting to verify that their products are available, on display, and being marketed correctly. This means "Gigwalking" often entails entering a store and taking pictures of displays.
When you find a job you'd like to do, you can click the "apply to gig" button. Once you've been selected for the gig, you'll receive more details on how to get the job done.
After you finish your assigned task, you get paid via PayPal.
The jobs themselves can take anywhere from a few minutes to a few hours, with the pay per job ranging from $3-$100.
This app is ideal for those who live in cities where gigs are close together; you could potentially do two or three gigwalks at a time.
5. Sign up for Swagbucks
Swagbucks is a free rewards program that offers several easy ways to make money. You earn points when you watch videos, surf the web, play games, or take surveys.
Every hundred points you earn equals $1. You can redeem your points for cash via PayPal or gift cards for places like Amazon, Target, Mastercard, or Walmart.
Although you likely can't make $30 in 30 minutes this way, you do get a $5 bonus for signing up and 10% of whatever earnings your referrals make. So if you refer to enough of your friends, you can make $30 quickly and passively!
6. Join Vindale Research
Vindale Research is a survey site that has some of the highest paying surveys on the internet. It's free to sign up, and you can do surveys on your computer or phone.
You can earn up to $50 per survey, but most are typically between $1-$20. However, there are many surveys to choose from each day. The questions cover many topics, including cosmetics, food, fashion, pets, and video games.
Taking surveys isn't the only way you can earn with Vindale. You also get paid $5 for every friend you refer, and you can make more by opting into their Reward Mail program and opening their emails.
Lastly, you can earn money with video surveys if you are eligible.
You can quickly redeem your earnings via PayPal. So if you can sign up, take a survey, and refer a few friends, you can easily make $30 in 30 minutes!
7. Sign up for Free Stock with Robinhood
Robinhood is a financial app you can download to your phone that allows you to invest and trade stocks commission-free.
They also offer lots of helpful tips on how to invest.
When you open an account with Robinhood, link your account, and fulfill the conditions, you'll be awarded one share of free stock.
The stock you get is chosen randomly and can be worth anywhere between $3 and $225. Chances are the stock you'll get will be under $10, but considering it only takes you a few minutes to sign up, it's worth a shot!
8. Try Shopkick
Shopkick lets you earn "kicks" for shopping online and in-store. You can redeem the kicks you make for e-gift cards for places like Amazon, Target, or Starbucks.
All you need to do to get started is download the free app. Then the next time you shop at a partner store, scan the barcodes of select products, and purchase them to earn kicks. You also earn kicks for every dollar spent online at partner companies.
Even when you're not shopping, you can earn kicks by watching videos within the app.
If you do a lot of shopping anyway, it won't take long for you to rack up $30 this way!
9. Sell Your Old Phones and Tablets on Gazelle
Provided you live in the US, this is an excellent option if you have old devices lying around that you don't know what to do with! Gazelle is a site that specializes in helping you sell your old iPhones, Samsung phones, Google phones, and iPads.
You can get an offer in seconds. All you need to do is select the model details and then answer a few quick questions about the device's functionality, and it will quote you then and there.
If your phone is only a few years old and in good condition, you can easily get $30+ for it. They even set you up with free shipping using either USPS or FedEx.
Once they receive the package, you can take payment by either check, PayPal, or Amazon gift card.
Conclusion
You're not likely to earn a full-time income with these methods, but they can help you net some extra cash quickly. They can also help you make more money gradually over the course of the year.
Every dollar saved or earned can make a big difference in the long run!
So take advantage of the low-hanging fruit, and you'll be pocketing that extra cash in no time.
Originally published June 29, 2020. Content updated March 7, 2021.