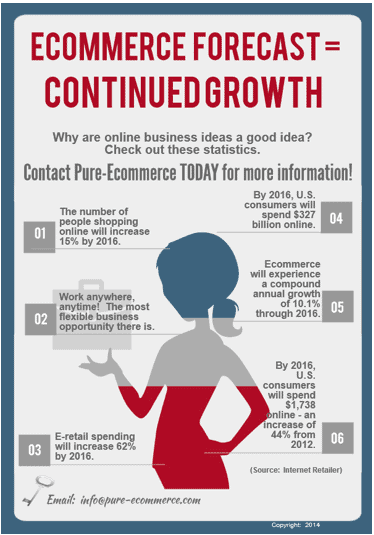 Sponsored by Pure-Ecommerce
Buyer Beware: Pure-Ecommerce no longer maintains positive reviews. They have a 2-star rating on Sitejabber and many unanswered complaints with the Better Business Bureau. For these reasons, I no longer recommend them as a reputable company to work with.
Are you a "Stay-at-Home" (SAH) Mom, and have you been searching for a business opportunity that gives you the freedom and flexibility you need for yourself and your family? Then creating your own online business could be the best opportunity for you to meet your goal!
At Pure-Ecommerce, we understand you are very busy keeping everything–and everyone–together! Taking the children here and there, keeping them on schedule, making sure that your home has the supplies everyone needs to be healthy and happy, and lots more. You spend your time doing for your family, but you find that YOU need MORE. You have the desire and drive to start your own business. Owning an online business gives you the ability to bring in extra money for your family while still having the flexibility you need in your life to continue to manage your family life. An online business can be the MORE that you are looking for!
Pure-Ecommerce understands all of the concerns of a SAH mom because our owner and CEO is one! You can read our Founder and CEO, Jennifer Varner's story about starting her first online business from her kitchen table at http://pure-ecommerce.com/meet-the-ceo-jen-varner.html. We are also proud to say the majority of the team at Pure-Ecommerce are SAH moms as well.
One of the foundations of Pure-E-commerce is to provide interesting opportunities for people like SAH moms who need a flexible schedule, the ability to work from any location, and something that really interests and excites them! Two aspects of owning your very own online business that fit perfectly for a SAH are:
Flexibility in your schedule
Working in a market, you LOVE
If you could have these two things, would you change your life from being a stay-at-home mom to being a Work-at-Home mom? Well, you can have both!
Flexibility
The main aspect of owning an online business that fits for a stay-at-home mom is the flexibility it provides. For you, an 8-to-5 job just doesn't work. Yet, you find there are times in the day when you could be involved in a business. Owning an online e-commerce business is a perfect fit for a stay-at-home mom who wants to work at home because it allows the flexibility required for you. Most of the work tasks can be done anytime. Therefore you work around a schedule that fits your needs.
You can process orders in the morning while the children are taking naps, in preschool, or at school. You can do search engine optimization any time during the day when you aren't busy with the kids and other family matters. You can update inventory any time–day or night. You can post on social media anytime. There are very few tasks that need to be done at a particular time. You work your own schedule! How great is that? There aren't many jobs that give you that amount of flexibility.
As a SAH mom, you not only need and want time with your kids, but you also want "me" time too! Grabbing coffee with a friend or going to a yoga class during the middle of the day are things you can't do when you're in an 8-to-5 office work environment, right? Well, you can if you have the flexibility of working at home running an e-commerce business!
Guess what? Working an online business can be done from anywhere! All you need is a computer and a Wi-Fi connection. How perfect is that?! This means that you can take trips and still be able to budget time for work when the kids are taking naps, or when they are down for the evening. You're in control of your schedule.
Creating Your Own Online Business in a Market You Love
Another great aspect of having your own internet business is the ability to work in a market that you have a special interest in and passion about. Pure-Ecommerce offers the "businesses in a box" concept which is an already created website business in many of the niche markets from which you might choose. A "business-in-a-box" is a website that is ready to go; the design has been done, the website has been created, and products already have been loaded for you. We use vendors that drop ship, so you don't even have to keep inventory. It's such an easy way to get started!
Are you expecting a baby or have a new bundle of joy at home? Then owning a maternity or baby online boutique could be the right fit for you! Would you be excited to work with children's toys? You can own an internet business selling toys! Do you love decorating children's rooms? You can own an internet business selling furniture and home décor for children's bedrooms and playrooms. Do you love to cook, or maybe just like all the products that a well-equipped kitchen contains? You can own an internet business that sells all things kitchen-related! Are you especially interested in a healthy lifestyle? What about owning an internet business that has at-home exercise products, or a site that has clean living food products?
Maybe you have some ideas for a custom site in a niche market of interest. If so, you may decide to work with the creative design team at Pure-Ecommerce to create your very own custom website! The experts at Pure-Ecommerce collaborate with your ideas and make them a reality.
Why E-commerce?
E-commerce is seeing tremendous growth as consumers are turning the ease and convenience of shopping online. This is evident as eMarketer reports e-commerce sales worldwide will reach approximately $1.5 trillion this year. This is an increase of nearly 20% over last year. E-commerce sales are predicted to reach $2.356 trillion by 2018. There has never been a better time for anyone who wants to work from home to invest in an online business. Here's more information on the growth of the e-commerce industry:
Why Pure-Ecommerce?
Pure-E-commerce has been building e-commerce businesses since 2007 for people with little to no experience in e-commerce. Our mission is to help any budding entrepreneur who has the desire to rule their life and own their own business. We believe in e-commerce entrepreneurship, and we would like to work with you to educate you on the world of e-commerce. We know the drive and determination moms possess and our team is here support them through our process. At Pure-Ecommerce we offer you the training and mentoring you need to get started.
Pure-Ecommerce gives you lots of options when it comes to owning an online business in the market that interests you. So, flexibility in creating your own schedule and loving what you do…do these sound like a great opportunity for you? If so, contact us today! Start your new venture right now. What are you waiting for?
For online business ideas for work-at-home moms, visit our website at www.Pure-Ecommerce.com, call us at 866-511-6257, email us at [email protected] or message us on Facebook for more information! We can't wait to have you as part of our team, so be inspired to inquire about how you can create your own online business through Pure-Ecommerce today!
This post was sponsored and written by Pure-Ecommerce. Please be aware that we can only promote advertising from companies that we feel we can legitimately recommend to our readers.