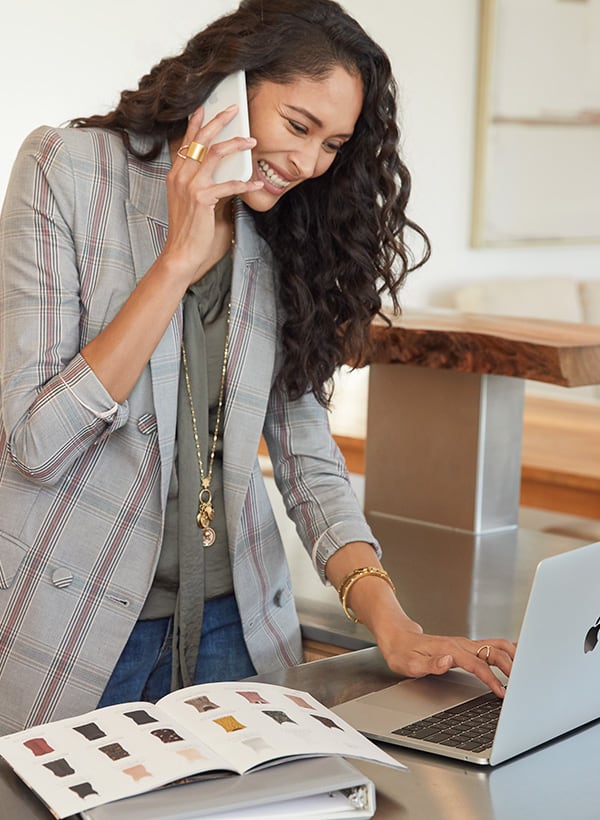 Sponsored by cabi
Are you familiar with the direct sales brand cabi? I wasn't either until they emailed me back in 2010 and invited me to come and learn more about them and the cabi Stylist opportunity.
And let me tell you, I was blown away — from the clothing to the cabi Stylist opportunity to the all-female executive and design team, to their generous charitable foundation, they are one of a kind!
Since my first encounter with cabi, I've hosted numerous in-home fashion experiences, as have my friends and family. I'm a huge fan and repeat buyer of their clothing, and I've even become good friends with my cabi Stylist here in Austin!
If you LOVE fashion and are looking for a fun and lucrative home business opportunity, I invite you to explore the cabi Stylist opportunity.
What is a cabi Stylist?
Cabi is a direct sales brand with an A rating from the Better Business Bureau that was launched by 12 women back in 2001. They sell high-end clothing and accessories for women in the US, Canada, and the UK, and they currently have just under 3,000 Stylists in total.
When you sign up as a Stylist, you're joining a business opportunity where your earnings are based on how much you sell, and if you choose to lead a team (it's not mandatory), you'll earn additional income on their income. Your job as a Stylist is to showcase the current fall or spring collection and fulfill your client's wardrobe needs by offering them personalized styling services and consults.
How Do You Become a cabi Stylist?
To become a cabi Stylist, you'll need to apply on their website.
If you'd like to find out more about the company before applying, they have weekly Leading Fashion Forward Events where you can learn more and have your questions answered live. Once your application is approved, you'll complete an online training session and then choose your inventory option. While cabi accepts new Stylists all year round, depending on what time of the year you join, will determine what inventory options are available.
Another way you get involved is directly through a cabi Stylist.
Just head to the cabi website, scroll to the bottom of this page, and fill in your contact info, and they'll put you in touch with a cabi Stylist in your area. From that introduction, you can host a cabi Fashion Experience or attend one of the Stylist's events so you can get a better feel for how it all works.
How Much Does it Cost to Be a cabi Stylist?
Cabi has three inventory options for new Stylists. All three options come with your training, website, and a welcome gift which contains a Stylist Planner, a Fit Guide, Show Script Cards, Look Books, and Notion Magazines.
The first option is the Introductory Collection which costs $1,250. It is a smaller curated collection of the fall or spring line. The total value of this collection is $5,000 retail, and it's estimated that when you sell it at the end of the season, you'll recoup $1,750. This collection is only available during your launch and freshman seasons.
The second option is the Full Collection which costs $2,500. The Full Collection contains items from all seven groupings of clothing, plus accessories. The value of this collection is $10,000 retail, and when you sell your end-of-the-season inventory, you'll earn approximately $3,500, which is more than enough to purchase your next season's samples.
The third option is only available during your launch season, and it's joining as a Digital Stylist. This option costs $250, and it's mainly used when a Stylist joins mid-season and the regular inventory order period has closed. When an individual joins as a Digital Stylist, they can sell on their website and using Front Row, but they also have the option to borrow their Team Leader's inventory. The $250 that they invested can be used as a down payment for the next season's inventory.
With all three options, Stylists receive three items of clothing at 50% off, so you'll have a cabi outfit to wear when you're out selling. Stylists have the option of paying in full or spreading payments out over a payment plan.
No Need to Stock Inventory
When you join as a cabi as a Stylist, you do not have to stock inventory.
The cost that you pay when you join is for your seasonal samples. These samples allow your customers to touch, feel, and try on the clothing first hand. When a customer decides to purchase clothing, the clothing comes directly from cabi's warehouse, so you do not have to store inventory at your home.
At the end of the season, you'll sell your samples for 50% off retail, which should be enough to cover the next season's samples.
What Kind of Training Does cabi Offer?
Once you apply and have purchased your inventory, you'll have access to cabi's suite of business and marketing tools and online training. Besides the virtual training and support you'll receive from your Team Leader and Home Office; you'll also be able to attend the Scoop. Cabi's Scoop is a multi-day, bi-annual live event where they unveil the new spring or fall line and have extensive training for their Stylists.
But let me back up.
You don't need a background in fashion to be a cabi Stylist. Cabi's design team does extensive product and trend training on every garment, so you'll know exactly how to style your clients from head to toe.
Having attended the Scoop myself, I can tell you it's an amazing event!
Cabi knows how to put on a high-energy fashion show that will blow you away! But not only that, you can feel the energy and excitement of the Stylists and the cabi Leadership Team.
You can get a better feel for the type of company that cabi is by attending one of their live webinars. I just participated in one with Katie Malone (President & Chief Marketing Officer) and Kat Woodside (Chief Design Officer).
How Much Can You Really Earn Selling cabi Clothing?
When you become a cabi Stylist, you'll earn 25%-35% commission on the clothing that you sell. If you decide to build a team, you can make an additional 2%-8% commission on what your team sells.
Cabi has multiple ways for Stylists to sell clothing, which I'll discuss below. But besides the fall and spring lines that come out twice a year, they also have two new arrival collections each season. These new introductions give cabi Stylists the chance to connect with their customers multiple times throughout the season.
Another thing to take into consideration is the cost of the clothing. Cabi's clothes range from $37 for a simple cami up to $250 for a coat. Because the items you're selling tend to have a higher price point, cabi has industry-high commissions. Cabi also has extended sizes from 00 to size 20, appealing to a wide range of clients.
Cabi offers new Stylists a bonus of $500 cash when a new Stylist closes four shows or sells $4,000 PQV during their launch season.
I know you're wondering what do these numbers equate to in terms of actual income? According to cabi's income disclosure, the top 50% of Stylists earned $42,864 on average in 2019.
It's also worth noting that 56% of cabi Stylists choose not to lead a team. The average income for these Stylists was over $11,000 in 2019 and up to $54,000 on the high end; making this a profitable side hustle or full-time business for women who are not interested in leading a team.
To learn more about how much you can make selling cabi, test out their cabi income calculator here.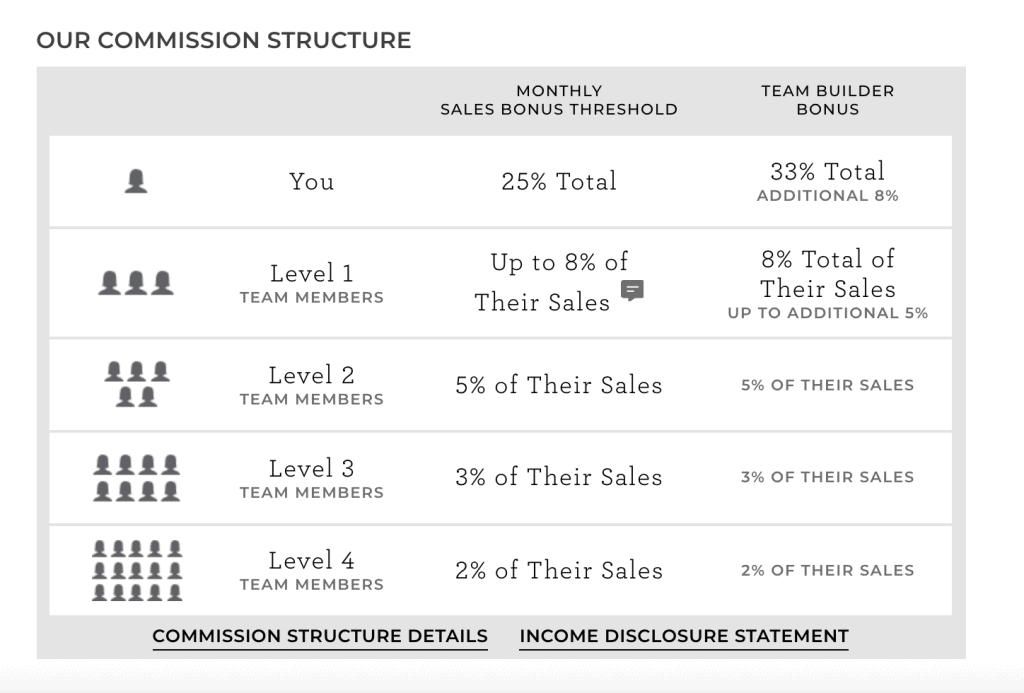 What Are the Methods for Selling cabi Clothing?
Cabi has multiple ways for Stylists to sell the clothing so that you can build the business around your life and financial goals.
1. Cabi Fashion Experience
You're likely familiar with pop-up parties, but cabi takes it to the next level with their cabi Fashion Experiences. With a cabi Fashion Experience, a Stylist goes into the host's home and presents the fall or spring collection. They show each of the seven groupings and how items can be paired and worn for different looks. After the presentation, the group can try on the clothing — pair this with snacks and wine; it's a fun time!
2. Front Row Virtual Shows
When COVID hit, cabi Stylists were still able to hold virtual parties with cabi's Front Row. This unique software allows cabi Stylists to show each grouping of clothing in short snippets worn by models. Customers can even like the clothing items as they watch the mini fashion shows. In between, the Stylist may have giveaways, chat with customers, or answer questions about the line. At the end of the show, customers can purchase items they like.
3. Online Sales
When you join as a cabi Stylist, you'll get your very own e-commerce website where you can sell cabi clothing 24 hours a day, seven days a week! You can even include your website link on things like business cards, catalogs, social media profiles, and emails.
4. The cabi Tap App
I have to tell you; I love this app! As a cabi Stylist, you can encourage your customers to download the app. When they do, they can view the line, track their favorites, match items from their past cabi purchases to items in the new line, and even make purchases on the go! I'm terrible at thinking outside the box when it comes to styling clothing, so I love how it pairs old items with new items from the line!
5. Private Shopping Consults and Sessions
For people who prefer a private shopping experience, you can have them come to your home (or you can bring the line to them) for one-on-one attention. Cabi Stylists can also offer virtual private shopping sessions if the individual prefers that option.
6. Curated by cabi
Curated by cabi is their take on a monthly subscription service. Cabi Stylists choose items for their clients based on each one's style and budget and send them monthly shipments, which means you'll earn recurring commission all season long!
Cabi Review Wrapup
Now that you know what is a cabi Stylist is and what they do, it's time for you to really experience the brand.
To get a better feel for the clothing and what a cabi Stylist does, you can sign up on their website for one of their upcoming webinars here; they have dates scheduled throughout October and November.
You can also read real-life cabi Stylist stories here.
If you'd like to experience the brand up close, you can connect with a local Stylist to host a cabi Fashion Experience or purchase some of their gorgeous clothing.
Or, if you know you're ready to join, you can fill in your information at the end of this page here.
Have questions about becoming a cabi Stylist? Please drop me a note below!
This post is sponsored by cabi; all opinions are my own. Please be aware we only promote companies that we feel we can legitimately recommend to our readers. Please see our disclosure policy for further information.