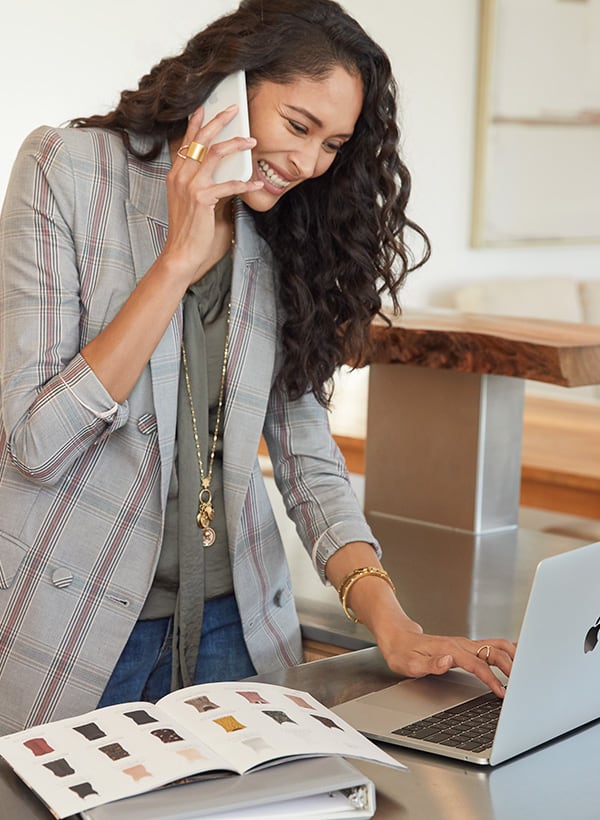 Sponsored by cabi
If you're here — it's because you want to work from home. But my guess is you're also looking for a career that is creative, fun, inspiring, and lucrative. Believe it or not – you can have it all.
Let me introduce you to the cabi business opportunity and ten reasons why you should consider becoming a cabi Stylist.
1. You'll Always Look Great
When you look good, you feel good; it's that simple. When you're a cabi Stylist, not only do you get discounts on their fabulous clothing, but you'll also have the knowledge and training on how to combine the pieces, so you and your customers always look like a million bucks.
One aspect that I really like about their clothing is their core colors always remain the same. So if you purchase a navy blue item one season, it will match with the navy blue from the new season. They also incorporate this mixing and matching feature into their cabi Tap App. When you download the app, it tracks past items you purchased and matches them to pieces in the new collection. I always struggle with putting outfits together; this app helps me create new looks with the cabi clothing I already own.
2. It's Lucrative
With many direct sales companies, you're selling items that have a low price point, so it can be challenging to earn a substantial income. But with cabi's clothing, you have a much higher price point ($37-$250 per item), so your sales will be higher, which means your overall earnings will be higher.
When you become a cabi Stylist, you'll earn 25%-33% commission on personal sales. If you decide to lead a team, you'll earn an additional 2%-8% on your team's sales.
In 2019, the top 50% of cabi Stylists earned an average of $42,864, while the top 10% of cabi Stylists made an average of $101,003.
You can learn how much you can make with the cabi calculator — go here to input hours, sales, and team members to get a realistic idea of how much you can earn with cabi.
3. Flexible Schedule
With the cabi business model, you decide when, how much you're going to work, and if you'll lead a team (it's not required). Because they give Stylists multiple ways to sell, you can choose to work solely online, in-person, or a combination of the two.
4. Female Owned and Led Company
Cabi was started back in 2001 by Carol Anderson and Kimberly Inskeep, along with 10 of their close female friends. What began as a vision for a better way to shop and a more flexible way to work has grown into 3,000 Stylists across the US, Canada, and the UK.
Cabi remains a female-led company with Kimberly Inskeep as CEO and Co-Founder, Syd Ryan, the Chief Culture Officer, and Co-Founder. Katie Malone as President and Chief Marketing Officer, and Cheryl Higgins as the Senior Vice President of Field Strategy. They also have an all-female design team consisting of Kat Woodside and Becky Jansen.
5. A Company with a Huge Heart
In 2005 cabi launched the Heart of cabi Foundation in response to Hurricane Katrina to empower disadvantaged women at home and abroad. Since then, cabi has donated more than $61 million in clothing and financial support to women in need.
In 2015 cabi started the W.E. are cabi Program. When a new Stylist signs on with cabi, they provide a small business loan for a female entrepreneur in a developing country. Since its inception, 18,000 small business loans have been funded.
But the giving doesn't stop there. Cabi has another charitable program called Make a Change. With the Make a Change Program, when a customer rounds their purchase up to the nearest dollar, that money is used to provide children in Rwanda with hope and educational opportunities. Over 11,700 kids in Rwanda have benefitted from this program.
6. Multiple Ways to Earn Money
With the cabi business model, you can earn money in a wide variety of ways, making this truly a flexible work-from-home opportunity. Here are the six different ways you can sell cabi clothing.
Cabi Fashion Experience
A cabi Fashion Experience is where the Stylist brings the spring or fall collection to a hostess' home and presents the different groupings of clothing. After the presentation, individuals can try on clothing and place an order directly with the Stylist. Throw in some yummy snacks and wine, and it's a fun night out.
Front Row Virtual Show
If you prefer only to do virtual shows, cabi has their Front Row Virtual Show software which allows virtual fashion experiences. With this option, the Stylist welcomes her guests and then shows mini fashion shows from each grouping. Participants can "heart" items they like during the show, and in the end, they can purchase any items they want. This option is not only great for social distancing, but it allows you to share the line with friends and family who may live in a different city or state.
Website Sales
When you become a cabi Stylist, you'll get your very own personalized website where individuals can place orders 24 hours a day, seven days a week. You can also include a link to your website on business cards, catalogs, email correspondence, and your social media profiles.
Cabi Tap App
I talked a little bit about this app already, but this app gives your tech-savvy customers another way to shop, view the line, and pair items from past collections to the current collection. All they have to do is download the app to their smartphone or tablet and create an account.
Private Shopping Experiences
If you have a customer who prefers a more private shopping experience, or you have someone with a special occasion coming up, you can offer them one-on-one in-person or virtual consults. This will allow them more privacy and the one-on-one attention they may need.
Curated by cabi
Maybe you have a customer that wants numerous items but can't afford to purchase them all at once; offer them Curated by cabi! With this option, you'll hand-select items based on the customer's wants and needs and ship them a monthly subscription box based on their budget. This option allows you to make sales all season long!
7. Fun Events
I've had the pleasure of attending cabi's Scoop, and it's a blast! The Scoop is a bi-annual live event where they unveil the new spring and fall collections. Along with the high-energy fashion show, they have intensive training sessions, the shopping event (where you can purchase past season's clothing at a discount), cocktail parties, and much more!
And did I mention the energy?!
These women are passionate, and when they get together, it's something else – the enthusiasm and excitement these women exude is infectious and will leave you feeling energized and inspired! Watch the video below to get a small taste of what it's like.
8. Positive Financial Future
While a lot of direct sales companies are closing their doors, cabi continues to thrive. In fact, they've become the largest direct seller of clothing in the US, and they've already expanded into Canada and the UK.
Fortune Magazine did a feature on cabi saying the key to their success is the attention and detail that the Stylists give to their customers. "Cabi Stylists are given training to show customers how to dress better, fit their clothes, and assemble looks — a level of attention the Los Angeles-based company says is the key to making its approach work."
9. Lots of Support
When you join cabi as a Stylist, you work for yourself, but not by yourself. Cabi offers their Stylist free online and in-person training, as well as marketing tools, support staff, leadership development, growth opportunities, and perks. In fact, you don't even need any experience in the fashion industry to become a Stylist. Cabi's design team does intensive training on every piece of clothing and current trends to ensure Stylists know how to outfit their customers from head to toe.
10. New Arrivals
Besides the spring and the fall collections, cabi also releases two limited edition new arrival collections mid-season. These additional mini-collections of clothing give cabi Stylists multiple opportunities to reconnect with the customers and assist them with their wardrobe needs throughout the season.
Conclusion
If becoming a cabi Stylist sounds like a fun business opportunity, you can sign up for one of their live online career events happening throughout October, November, and December. I attended two this past month, and I learned so much more about the company, clothing, and the opportunity. You can sign up here if you're interested.
Are you interested in hosting a cabi Fashion Experience, connecting with a local cabi Stylist, or joining as a Stylist? You can scroll to the bottom of this page and request information.
You can also connect with cabi on Facebook and Instagram. Also, it's worth noting that cabi has an A rating with the Better Business Bureau.
Have questions about cabi? Drop me a note below, and I'll answer you personally.
Originally published November 20, 2015. Content updated October 15, 2021.
This post was sponsored by cabi. All opinions expressed are my own. Please be aware that we can only promote advertising from companies we feel we can legitimately recommend to our readers. For more information, please see our disclosure policy.