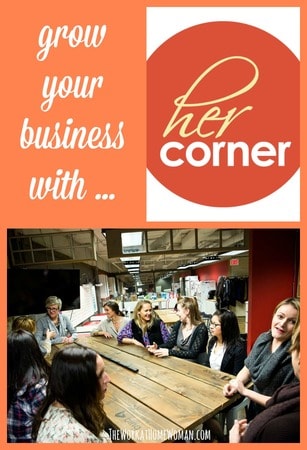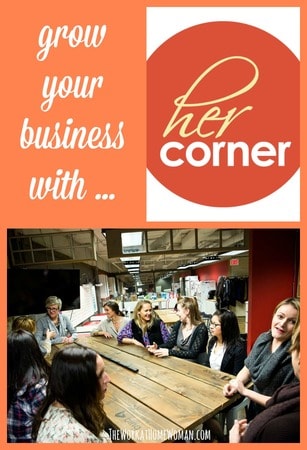 Sponsored by Her Corner
If you're a woman entrepreneur and small business owner, you don't have to go it alone – let Her Corner help you grow your woman-owned business.
Owning and operating a business is hard work and can be filled with uncertainty, unanswered questions, and lack of support
(especially if you're a one-woman show). Wouldn't it be nice if there were a place to go and meet likeminded women who are going through (or have been through) many of the same experiences that you are?
That's where Her Corner comes in!
What is Her Corner?
Her Corner is a community of women entrepreneurs who collaborate, network, and leverage one another's expertise via a peer group model to grow their businesses. It was founded in 2011 in Washington, D.C., which is one of the fastest-growing markets for women-owned business owners in the U.S., and currently, has members across 34 states.
They offer in-person meetings where members can network with each other and offer support, advice, experience, and camaraderie. Her Corner has been featured on The Washington Post, FoxNews.com, and SmallBizDaily.
Did You Know?
The growth of women-owned businesses is good for the economy.
As of 2015 more than 9.4 million women-owned businesses operate in the United States. They generate more than $1.4 trillion in annual revenue and employ nearly 7.9 million workers.
The majority of women-owned businesses stagnate below $100k (80% generate less than $100k per year).
What Keeps Women-Owned Businesses from Growing?
Lack of natural networking and collaborative opportunities.
Lack of role models.
Inability to access to financing (whether through lines of credits from banks, angel investors, private equity, or venture capital firms).
How Can Her Corner Help?
Her Corner provides a path for women-owned businesses to grow by addressing the obstacles they face.
They provide opportunities for networking and collaboration through in-person, local peer groups run by facilitators, organization-wide events, and online communities.
They offer an intensive, hands-on peer group program to target the operational, marketing, and financial issues of getting a business to the next stage.
Get the Facts!
Her Corner is fueled by the power of collective intelligence. Women come together to collaborate and share experiences and advice in order to grow their businesses.
In 2014 — 73% of Her Corner members who participated in an annual survey said they saw a growth in their business.
Her Corner doesn't tell you how to grow your business but rather connects you with fellow women business owners who can tell you how they have grown their businesses.
What's in it for You?
1. Collaboration
Crowdsource ideas and get help when you need it! Business owners who know where you're at and what you're dealing with give insightful answers and lend a hand when you need it the most.
2. Resources
Meetings both in person and online will allow you to connect with business development opportunities.
3. Community
Make connections and establish friendships with like-minded women who are on your side and will cheer you on to keep going.
4. Opportunity
Business is about connection, and with Her Corner, you just never know who you're going to meet next! Whether it's role models or possible new clients, the sky's the limit in this group!
How to Join and Levels of Membership
There are four levels of membership with Her Corner, so there is something for every woman business owner whether you're just starting out or have been at this for awhile. I absolutely love it when companies offer free memberships for those who are just beginning their business-owning journey, and then they can upgrade as their business grows. So hats off to Her Corner for that!
Community
This is the free option. You can be part of a community of dynamic women across hundreds of industries. Get the Her Corner newsletter with invitations to both in-person and online events to help you grow your business.
Community Plus
As a Community Plus member, you'll get access to FlashGroups, which are intimate virtual strategy sessions led by a member who's either a specialist in a select industry or who is known for a proven talent in their field. You'll have the option to take part in a two-hour virtual pow-wow designed to help you navigate key decision-making with the help and experience of an expert. The sessions allow you individualized time to discuss your business questions with an expert on a particular topic and helps you focus on the bigger picture of your business through helpful and informative discussion.
Community Plus Events
This level of membership allows you all the same great benefits as Community Plus but with additional benefits. Enjoy Private Networking Meetings at any of the Her Corner Group meetings and hear stories from successful entrepreneurs during their Speaker Series.
Groups
Created exclusively for small business owners and geared toward both strategies for long-term growth and short-term strategy management, these groups are facilitated by a small business expert with a proven Her Corner curriculum and are designed with the unique needs of a small business ownership in mind.
Visit their membership levels page to learn more.
You can also find advice on the Her Corner Blog, a really great resource for women-business owners. There's nothing better than learning from and being surrounded by your fellow peers – women who, like you, are on a unique journey. Being an entrepreneur and small business owner is a challenging yet super rewarding experience, it's so nice to know that you don't have to go through it alone.
Be sure to let Her Corner help you grow your woman-owned business, and connect with them here: Twitter | Facebook | Pinterest | LinkedIn
Which area do you need the most help within your business? Let us know in the comments!
This post is sponsored by Her Corner. Please be aware we only promote advertising from companies that we feel we can legitimately recommend to our readers. Please see our disclosure policy for further information.