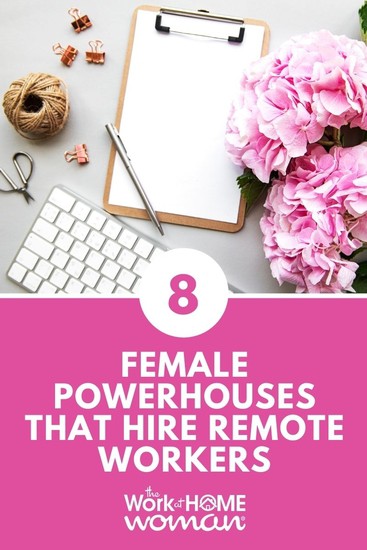 Even though I LOVE what I do, and I enjoy the solitude of working from home, there are times when I miss being part of a team. And sometimes, when I see that some of my favorite female business owners are hiring, I imagine what it would be like to work with these female powerhouses that inspire me so.
If you want a remote job that not only fills your wallet but also feeds your soul, then check out these eight female entrepreneurs that hire remote workers.
8 Female-Led Companies That Hire Remote Workers
1. Marie Forleo
If you're not familiar with Marie Forleo, she's fun, energetic, incredibly inspiring, and business-savvy. She's the creator of B-School (an 8-week online business course), the best-selling author of Everything is Figureoutable, and the host of Marie TV (which I LOVE to watch)!
I follow Marie on Facebook and Instagram, and that's how I learned that she hires remote workers! From looking on LinkedIn, it appears she has approximately 26 employees working for her in the areas of marketing, copywriting, customer service, project management, design, development, video editing, and business operations.
If you're interested in working for Marie, check out her company culture statement here. If it sounds like this is something you'd like to be part of, I suggest following her social media channels and keeping tabs on her now hiring page. With these jobs, you can choose to work as a full-time employee with benefits or as a freelancer.
2. Amy Portfield
Another female powerhouse that I've been following for years is Amy Portfield. She's the author of Facebook Marketing For Dummies, creator of numerous online business and marketing courses, and host of the top-rated podcast, Online Marketing Made Easy.
I follow Amy on Instagram, and I think that's where I first learned that she hires remote workers. She has a dedicated career tab on her website and hires for the following positions: social media, partnership management, graphic design, customer support, project management, finance, operations, and more.
Amy has an extensive application process in place that consists of submitting a resume, cover letter, Myers-Briggs Personality Type, a 3-minute intro video, optional strength finding tests, and answers to some questions. Besides getting to work alongside Amy, you'll also receive competitive pay, PTO, medical insurance, retirement benefits, and many other perks.
3. Ruth Soukup
Ruth Soukup is the founder and CEO of Living Well Spending Less, Elite Blog Academy (EBA), and the author of six books, including, How To Blog For Profit Without Selling Your Soul. I started following Ruth a long time ago, and because I had read her book, I decided to purchase her blogging course, EBA. Because EBA was so influential on my blogging journey, I decided to join her VIP mastermind group. Having worked with Ruth personally I can tell you she is incredibly inspiring and totally unstoppable! She has grit and determination like no one else I've ever seen.
Ruth is based in Florida, but she has a team of approximately 15 employees who work remotely. The types of positions that she hires for include: design, social media, copywriting, customer service, project management, finance, operations, and more. I've seen Ruth post her job openings on Facebook and also on this career portal. She has numerous Facebook pages and groups, so if you're interested in working for her, join them all and make sure to keep tabs on her now hiring page.
4. Jennifer Maker
I've been following Jennifer Maker online for quite some time. Like myself, Jennifer is an Elite Blog Academy Alumni, so I feel a particular connection to her (even though we've never met). If you're not familiar with Jennifer, she runs the self-titled craft blog, Jennifer Maker — where she creates all sort of Cricut crafts, courses, e-books, and workshops.
I'm not exactly sure how many remote workers Jennifer employs, but I do know that she generates 7 figures a year from her blogging empire. Because of the nature of her business, she hires writers, marketers, graphic designers, social media marketers, customer service reps, and more. Positions are full- and part-time and full-time workers receive benefits like PTO, 401K, health insurance, and more. The only place that I've seen her jobs posted, is on FlexJobs. However, she may send out job openings via her newsletter, which you can sign up for on her website.
5. Danielle LaPorte
Danielle LaPorte is a blogger, inspirational speaker, podcaster, and author of numerous books including, The Desire Map: A Guide to Creating Goals with Soul. Oh, and did I mention she's part of Oprah's Super Soul 100?! I love following Danielle on Instagram because she shares such powerful messages.
Besides being a soulful powerhouse, Danielle has a remote team of workers. I've seen her promote these positions on her Instagram feed and via her website. Roles include graphic design and marketing and are open to both US and Canadian residents. If you want to work for Danielle, bookmark her job page here and follow her on Instagram @daniellelaporte.
6. Kris Carr
Kris Carr is a wellness advocate, cancer survivor, and author of numerous books including, Crazy Sexy Diet: Eat Your Veggies, Ignite Your Spark, And Live Like You Mean It! Like Danielle, she is also part of Oprah's Super Soul 100!
I first learned of Kris when I saw her on Marie TV and then later I learned she hires remote workers! I've seen her job postings both on FlexJobs and via her Instagram feed. Past openings include social media, customer support, project management, dietitian, and community management. To learn when Kris is hiring, either create an alert on FlexJobs or follow her on Instagram @crazysexykris.
7. Jenna Kutcher
I started following Jenna on Instagram because she lives in Duluth, Minnesota, a small town where many of my relatives live. Since then, Jenna has become one of my favorites to follow on the platform. If you're not familiar with her, she's a photographer, blogger, podcaster, and course creator.
I've never seen one of Jenna's job postings, but in this blog post, she describes her hiring process. To sum it up, she posts and hires directly from LinkedIn. After looking at potential candidates' connections and qualifications, she picks her top 5-10 and messages them via LinkedIn requesting answers to some questions. From there, she hops on a phone call and makes her decision quickly.
The last three positions she hired for were podcast producer, project manager, and copywriter. If you want to work remotely for Jenna, follow her on LinkedIn here, and create a job alert so you'll know when she's hiring. Next, start optimizing your LinkedIn profile so that it's ready to go — there are some excellent tips in this post.
8. Nathalie Lussier
Nathalie Lussier is a blogger, author of List Building: The Ultimate 30 Day Formula To Double Your Email List, and founder of AcessAlley, a WordPress course, and membership site solution. And yup, you guessed it; she hires remote workers too!
If you go to the AcessAlley website, there is a designed career page. At the time of writing this post, there weren't any openings. AcessAlley is a team of developers, marketers, and business builders, so if that sounds appealing, bookmark the career page and check back. AcessAlley hires remote workers from the US and Canada.

Conclusion
If there's a female powerhouse that you'd like to work for, start by following their social media profiles, sign-up for their newsletter, and scour their website for a career page. If they have a Facebook group, consider joining that as well. By keeping regular tabs on these channels, you'll be more likely to be in the know when they do hire.
Ever wanted to work for The Work at Home Woman? When I hire remote workers, I post my job openings on this page, on Facebook, and in my newsletter. In the past, I've hired freelance writers, web programmers, graphic designers, virtual assistants, social media marketers, editors, and PR professionals.
Do you know of any other female powerhouses that hire virtual workers? If so, drop me a note; I'd love to hear from you!
Originally published January 20, 2020. Content updated May 2022.