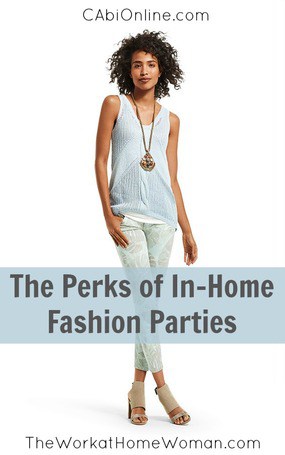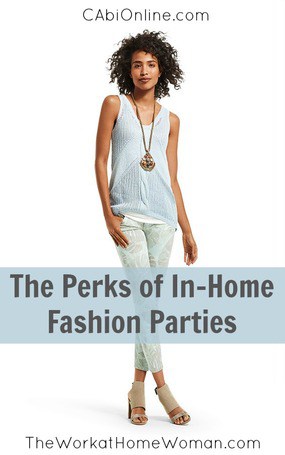 Sponsored by CAbi
It seems the older you get, the faster time flies by. Things I once enjoyed doing, like shopping, have become an added task to my never-ending to-do list. And while shopping online is convenient, it's not ideal because you don't get to try items on or check out the quality firsthand.
And did I mention … I'm not all that great at putting outfits together. Don't get me wrong, I LOVE fashion, but I can't tell you how many times I've bought an item and then can't figure out what to pair with it. Which means I either have to return it or find something new to match it – which takes up more time. Time that I prefer to spend with my family and friends.
My relationship with CAbi started back in 2010 when they invited me to attend the Fall Scoop, so that I could learn more about CAbi's home business opportunity. At the time I wasn't familiar with CAbi, but I quickly fell in love with the clothing and the brand. So much so, that I sought out my own CAbi Consultant here in Austin. Since that time I've hosted 6 or 7 in-home shopping parties.
Not only are the parties a great way to freshen up my wardrobe, but it gives me an excuse to get my girlfriends together. I love the professional fashion tips and advice that I get from my Consultant, but also the feedback I get from my friends.
For instance, on this year's spring line there was a jumper that my Consultant urged me to try on. I really liked how it looked, but was feeling a little unsure if I could pull it off. This is where my friends jumped in and reassured me that it looked great!
Besides professional fashion advice, getting together with friends, and having fun – hosting a CAbi in-home fashion experience is a huge time saver for me. I ended up purchasing 3 complete outfits that would have taken me multiple shopping trips to find. And because I hosted a party, I received 7 half price items, which also saved me money.
So you're probably wondering … "Do your friends enjoy these parties? Or do they feel pressured into coming?" And I can honestly say, once you experience the brand, you're hooked.
Here's what my friends and family had to say about CAbi's fashion experience:
"It is so much fun to shop at CAbi fashion show because you are in a relaxed, comfortable environment with friends. And you have the chance to try on clothes that you have just seen modeled or demonstrated by the host or CAbi representative!" – Lynda A.
"I'm a woman who really doesn't enjoy shopping. I love that the CAbi in-home fashion experience has outfits put together and ready to try on in a comfortable setting. The clothes are high quality and very stylish. It's the best way to shop, for me!" – Tricia G.
"Wow! I don't even know where to start. I love the convenience and for sure the quality and styles of CAbi! It's also fun to get together with friends and have a party once in a while." – LeAnn C.
"It is such a pleasure to be able to shop from the comfort of your living room. The styles and sizes are wonderful and fit the season." – Danielle R.
"I tried CAbi for the first time this spring and was surprised at how flattering the clothes looked on ALL of us. We were all shapes and sizes with a range of shopping needs, and there was something for everyone in the collection. If you need to freshen up your wardrobe, a few pieces from CAbi will help. They are great quality fabrics, that just wear well." – Elisa L.
"I love the quality and fit of CAbi clothes. They are on trend without being too trendy, as I have been able to mix and match pieces from other years and collections. Also, I am not a shopper. I love that my CAbi rep puts outfits together and shows me the different possibilities. It is nice having the clothes in your own home to look at and try on without any sales pressure. I love opening my home to my friends and sharing the latest collections with them. I have been a CAbi shopper for the past five years and really all my clothes, with very few exceptions, (white tees for the summer) are CAbi." – Debi O.
Would you like to host a CAbi in-home fashion experience?
ou can find out all of the details here.
They also have their home-business opportunity, where CAbi Reps can earn 20% – 33% commission on personal sales and team building bonuses. CAbi also offers incentives, rewards, and discounts on clothing. Learn more about this work at home opportunity here.
Here is what my CAbi Consultant had to say about the business side of things:
"I love being a CAbi Consultant. I get to hang out with women, drink wine, and help them pick out beautiful clothes. I love giving the presentation, especially when the guests are enthusiastic about the clothes, laughing and joking. It's great to have the girl time and help women find that outfit that makes them feel good. And making money is an added perk!" – Karen H.
Want more information? Check out the CAbi website or join them on Facebook.
This post is sponsored by CAbi. All opinions are my own. I did purchase the items from the CAbi party I hosted. Please be aware that we only promote advertising from companies that we can legitimately recommend to our readers.