Buyer Beware – 03-26-2015
Over the past couple of months, I've received numerous complaints about Elizabeth's business practices. I reached out to her via email, but she has not responded. It seems like she started out strong, but something along the way has changed and boots are no longer being shipped even though payment has been received. I have removed all links to Elizabeth's store and social media accounts, as I do not want anyone to be ripped off by this company.
There is also a Facebook Page dedicated to a lawsuit against Elizabeth Anne LeGear and her company.
Tell us a little bit about yourself and your entrepreneurial journey.
Thanks for having me on The Work At Home Woman! Myself, I've always been inspired by strong, independent women like Ellen DeGeneres and Portia De Rossi. I've learned so much from other women in business and I admire and respect anyone who does things on their own terms. When it comes to beliefs, I really value freedom and choice more than anything in the world. My goal is to continue to expand my businesses and teach others to do the same.
I was inspired to start Purse n' Boots about 4 years ago after reading the 4-Hour Work Week by Tim Ferriss. It was one of the most influential books I've ever read. It was the spark I needed to start looking for ways to start working for myself; I knew that I wanted more freedom than the 9-5 could offer me. I started putting my accounting background to good use by starting my own bookkeeping business. That gave me the freedom to set my own hours and start my passion project, Elizabeth Anne Shoes.
The "purse for your feet" concept was born out of my consistent ability to lose things after a few cocktails. "Where are my keys? I lost my phone" from Lady Gaga's 'Just Dance' summed me up perfectly. Knee-high boots have always been a wardrobe staple of mine so I started keeping things in my boots. It worked okay until the bartender would give me $8 in change and I would dance so hard the phone would jump out. It was during this time that Purse n' Boots was born.
What did you do before launching your own business?
Before Purse n' Boots I used to be an accountant. I worked in the Financial Services sector for many years full-time with a full-time course load in the evenings. When I finished school I thought I would be in full celebration mode, only I just kept thinking, "Did I want to THIS for the rest of life"? It's an unnerving choice to leave behind a perfectly good career but it was a choice that was very worth it.
How did you fund your business?
Most of the funding for Elizabeth Anne Shoes came from my savings; however, I was also lucky enough to partner with some really wonderful friends & family. I would not have been able to go ahead with the project without them.
How many hours do you work a week and how much is spent in your home office?
I work about 20 hours a week with Elizabeth Anne Shoes and about 15 hours a week with my bookkeeping business. I like to move around the house a lot. I'll maybe work the morning in my office and the afternoon on the couch with my afternoon latte. The laptop usually follows me to bed also.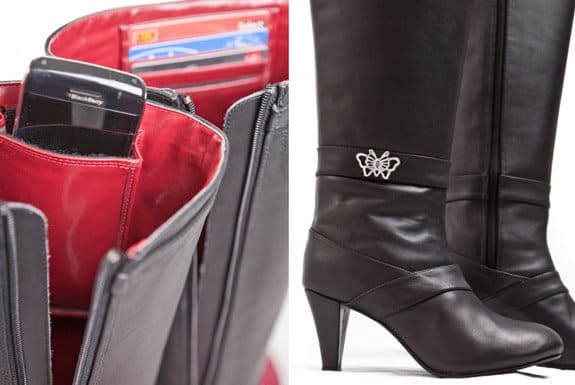 How would you rate your success?
I rate my success by the number of energetic, enthusiastic responses I receive to the Purse n' Boots concept; I am humbled watching how quickly the word keeps spreading and thrilled to know there are so many great women out there wearing these boots.
I also celebrate every victory, no matter how small. It reminds me to benchmark my progress on where I used to be and not where I'd ideally like to be. I feel it's one aspect of success that is critical for anyone running their own business.
What has been your biggest business struggle as an entrepreneur?
My biggest struggle was learning to take a break from looking at the big picture. It's easy to become overwhelmed when you're sitting at the start line looking up at this huge mountain that is your new business. I found uncertainty, an endless list of tasks, what-ifs, and some self-doubt. However, I find when I take a break from the totality of the project and just focus on each task without any attachment to the outcome, the challenge seems so much more achievable.
What advice would you give to a new entrepreneur?
My advice would be to just get started and learn along the way. It's easy to get caught up in making everything perfect for launch day but I've found things accelerate much quicker without any hesitation. The truth is we're going to make mistakes either way, so it's better to get a head start and just get started.
How do you manage all of your personal and business activities?
I only think of one thing at a time. If I've decided to go to yoga in the afternoon, I don't bring any work-related thoughts with me. If I decide Sunday is my day off then I am 100% not allowed to touch the computer or the Blackberry. It helps me stay committed and productive in the hours that I need to work and helps me to truly enjoy my relax time without feeling guilty over any extra work that I think I could get done. I work to live and not the other way around.
Connect with Elizabeth Anne LeGear…
Website: Elizabeth Anne Shoes
Blog: Elizabeth Anne Shoes Blog
Twitter: @Purse_n_Boots
Facebook Fan Page: Elizabeth Anne Shoe