Erica Diamond is a women's expert in lifestyle, entrepreneurship, and balance. She is a certified life coach, founder of the award-winning blog, Women On The Fence, TV personality, and influencer. Besides mentoring, speaking, coaching, and blogging, she also teaches yoga classes.
Read on to see how she got started.
Tell us a little bit about yourself and your entrepreneurial journey.
In 1999, at the age of 24 and still living at home, I started my successful business out of my parent's basement. In fact, after bombing the GMAT's and not getting into MBA School, I took the rejection from MBA School as a sign to push me into the path of entrepreneurship earlier than I had expected!
Fast forward to a few years ago.
I was running my company from bed (on bed rest during my pregnancy) and burning out when I got, as they say, "an offer I couldn't refuse" from Canada's largest retail chain of bags. They were courting me to buy my business. And not another business award (ex, A Profit Hot 50 Company – I was the ONLY female CEO on the list Canada's 50 Emerging Growth Companies) nor honor could keep me. It was time to be a mom. With one son and another son on the way, it was the right time to sell and get out.
So I stayed home for a few years, had my babies, wrote three children's books, and nurtured my children, giving them the foundation they needed. I knew my entrepreneurial spirit was so palpable that it would return to me when I was good and ready.
That "ready" time was Sept. 11th, 2009. Sitting on the fence in my life with what direction I wanted to take, I had the strong urge to connect with other women around the world who were sitting on the fence much like myself, connect with them, and unite us as a group to get inspired to jump off the fence and live our best lives. Hence the birth of my successful Blog, Women on the Fence. Thousands of women from around the world come for a daily dose of hope, inspiration, and laughter about all the issues we women sit on the fence about.
My Twitter followers include Ellen DeGeneres, The Oprah Show, Oprah Magazine, Mariel Hemingway, Maria Shriver, Marlee Matlin, Suzy Welch, Shannon Tweed, Denise Richards, Cory Booker, and many others who have been spreading my message.
I am a Brand Ambassador for ABC's The View to represent the Mom community, and I was also recently named on the list of The Top 25 Best Twitter Feeds for Women 2010 and 50 Best Blogs by Women 2010. The success has been beyond my wildest expectations.
In April 2013, I founded the Global Get Off The Fence Movement inspiring people worldwide to get off the fence, get unstuck, and thrive.
What did you do before launching your own business?
I first made sure that I was entirely passionate about it and could see myself doing it in 5 or 10 years. Next, I walked into the bank and told them about my dream. I guess I did a good job of convincing them to buy into the idea because, at 24, they gave me a line of credit of almost $100,000 to start operating. Of course, I did industry research and checked out some of the companies already doing what I was about to do.
But other than that, impulsive me, thought up the idea, the name, registered the company name and URL, and started to pound the pavement and knock on doors! However, you should make sure your product or service is priced accurately; your budget is comprehensive and realistic. In my book, I talk about all these things, 99 Things Women Wish They Knew Before … Starting Their Own Business.
What inspired you to start blogging?
I think my story depicts how I got to blogging. It fulfills me beyond comprehension. It has become my safe place I go when I'm feeling confused, happy, upset, frustrated, and more. The support from the readers is what keeps me going and writing.
What are your three favorite blogs?
I love TheDailyBeast.com
HuffingtonPost.com
And I confess, I still enjoy Dooce.com now and then.
How many hours do you work a week, and how much is spent in your home office?
My work is divided between writing for my blog, promoting my book, speaking engagements, mentoring, and consulting other female entrepreneurs. If I'm not working with other women, I'm at one of my two offices: My home office or Starbucks. I can't even count the hours because I'm a Twitterholic, so I tweet right up till bedtime. Shame on me!
How would you rate your success from 0 – 10?
8 – I still have ways to go, though.
How do you manage all of your personal and business activities?
I do yoga to center and calm myself. I'm also a big believer in "me-time," or self-care … whatever self-care means to you: a walk in the park, a coffee in the bookstore, a manicure, whatever … If I do things that nurture myself, I'm better able to manage work and home without flying off the handle!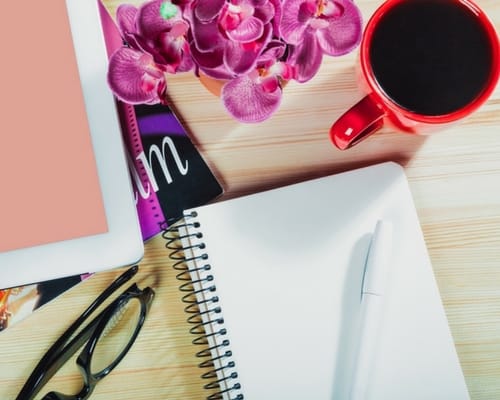 What were your top 3 challenges as an entrepreneur?
1) Finding good people.
In the beginning, you don't always have an abundance of financing to afford and attract the best team. Your people are everything, so that is a challenge when you don't have the money to attract the best.
2) Wearing all the hats.
While I talk in my book about this being crucial to understanding all facets of your business, wearing all the hats doesn't serve your business well going forward. The need for delegation to grow is pertinent.
3) Penetrating a saturated and competitive marketplace.
Even though we were different and prided ourselves on being unique, there were always the mom and pop shops operating out of their basements working on little to no margin, with little overhead, and beating us all out on price.
What advice would you give to a new entrepreneur?
To dive in head first! Entrepreneurship is exciting, challenging, and rewarding if you work hard and work smart. You'll surely make mistakes along the way, but it's all part of the learning process. Also, to HOP ON THE SOCIAL MEDIA BUS FROM DAY ONE! And make sure you LOVE what you're about to do … if not, you won't be successful.
Thanks, Erica, for sharing your story!