Disillusioned by the corporate world and inspired by a good friend who was a huge animal lover like herself, Patti Moran started her own pet-sitting business in North Carolina in 1983. Read on to see how Patti became a professional pet sitter.
Tell us about how you became a professional pet sitter.
First, I want to thank Holly for creating this great platform that helps women who want to work from home to find the right careers—and to be successful in them!
What a valuable resource this website is! I'm honored to be able to talk about professional pet sitting on it because pet sitting is an ideal home-based business.
Since the pet-owning client provides the food and supplies necessary to care properly for their pet, there's not a lot of inventory required of a pet sitter. A designated office area with a computer and locking file cabinet to store client house keys and information are the basics needed along with a cell phone.
But first, my entrepreneurial journey. I once worked for a manufacturer of airline seating in their HR department. They hired me one week out of college, and I spent seven years with them—and absolutely loved it. (I'd probably still be there if life hadn't happened.) An economic recession occurred during 1982-83. (Anyone remembers waiting in lines to buy gas?) It resulted in many of our company's contracts being canceled. This led to widespread layoffs which meant long hours for those of us in HR and some incredibly depressing days letting go of long-time employees. With our workforce reduced by half, the next step was reducing our HR department personnel. Finding myself at a burned-out point and extremely disillusioned with the "corporate world," I was only too happy to volunteer for employment termination.
The company was generous with a severance package which gave me a few months to contemplate my future. It was during these months that I found the luxury of buying groceries on a Tuesday morning or mowing the yard on a Thursday afternoon (versus doing everything on the weekend!) very appealing. Being somewhat "distrustful" of the corporate environment and liking the ability to "set my hours" convinced me that starting my own business was the way to ensuring my financial future and having control in my life.
But WHAT kind of business was the question. I spent a lot of time researching ideas and around this time, a good friend returned to our hometown to attend a mutual friend's wedding. Since she had moved away from our hometown only a few weeks before (not enough time to meet a lot of people) and was a dog lover, like me, I asked what arrangements she'd made for the care of her dog over the wedding weekend. When she told me "it was the neatest thing" that a lady in her neighborhood was a "pet sitter." We both looked at each other knowing what type of business I should start!
Now, this was in 1983, and it was almost unheard of to think of calling someone to come to your home to care for your pets. Although I'd spent a lot of time researching small business ideas, nowhere was there a "how to" guide for "wannabe pet sitters." So, believing that this was a concept that had a lot of merit, I decided to jump in feet first and open a pet-sitting service. Surely there were other pet owners out there who viewed their pets as surrogate children and who would be delighted to learn that a new option for their pet's care was now available!
Well, some pet owners welcomed my business with open arms, but there were just as many who were skeptical that this kind of business could succeed. "Are people really going to pay you to scoop poop?" and "Why would someone give a stranger the key to their home and all their worldly possessions—including their pet(s)?" were some of the comments I heard from naysayers. As the saying goes, though, "Where there's a will, there's a way."
A learning curve has been involved, but as pet owners learned about the professionalism of my services (She uses a service contract! She left my pet a report card! Of course she's insured and bonded!) my business grew and grew.
What also happened during these first couple of years is that as my customers traveled (leaving their pet(s) in my care) they would tell others about the unique care they'd arranged for their pet—in their pet's home. Since pet sitting was very new at the time, others were intrigued about it as a business and began calling me for information on how I got started. Could I help them to do what I was doing?
Initially, I tried to help others through phone calls and consultations, but soon it was taking time away from the business I was trying to build. Being sympathetic to the need for information about this needed—and fun—career, I sat down and wrote out everything I'd learned (much of it the hard way). Now when someone called for how-to information, I sold them the small manual I'd created, Pet Sitting for Profit.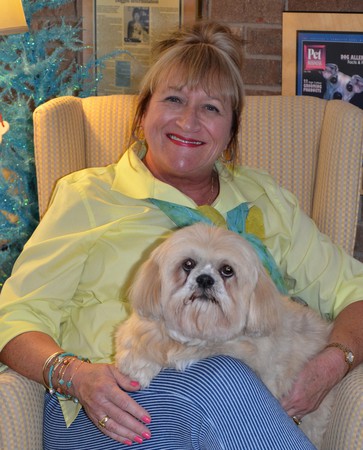 Before I knew it, readers were calling me and asking if they could buy templates of the pet-sitting business forms I'd created; so soon my husband and I were shipping pet-sitting supplies from our basement in the evenings. Then readers were calling and telling me they couldn't find good business liability insurance for their services and asking if I could help.
The quest for business insurance helped lead to the formation of a national association for professional pet sitters in 1989, which I helped to grow until 1993. I left it in 1993 and also sold my local pet-sitting business (which had grown to a staff of 41 pet sitters). My goal was to concentrate on the pet-sitting products company (no longer in my basement). However, with a lot of urging, I founded Pet Sitters International, the world's leading educational organization for professional pet sitters, in 1994. PSI celebrated its 22nd anniversary in March of this year, almost 7,000 member businesses strong.
PSI's mission is to educate professional pet sitters and to promote, support, and recognize excellence in pet sitting. Our members have access to superior business insurance, bonding, background checking, a certificate program, and annual conference. In addition, members receive our bi-monthly magazine, Pet Sitters World, monthly e-news, free educational webinars, and discounts on products from The Pet Sitter Shop. A valuable learning source is the private Facebook group where members network and share experiences and questions. We also award the industry's highest honor, Pet Sitter of the Year.
Professional pet sitting has now become a recognized, credible, and profitable career. There are so many resources available to today's pet sitter that I often say "there's no excuse for failure" anymore! If you're thinking about pet sitting in a small—or large—way, I hope you'll turn to PSI to help you make it the rewarding career it can be!
Do you have any special training?
In the 10 years that I operated my pet-sitting service, I did not have any "special" training for it. I do have a B.A. and was a psychology major which I think has helped in the "people" side of running a business. Working in Human Resources during my corporate career provided the benefit of experience in recruitment and training of personnel. Something I did do, primarily because I am afraid of snakes and was afraid I'd get a call to care for one, was go to my local Nature Science Center for some education—and reassurance! Mostly I depended upon my love of animals and good common sense. A pet's owner shows you how they want their pet cared for, so following through on those instructions is crucial!
The lack of training that was available when I started my business is one of the reasons we created PSI's Certificate in Professional Pet Sitting. Pet sitters now have access to a thorough curriculum to help them build and grow their pet-sitting businesses.
What sort of individual makes a good pet sitter?
Responsible, honest, trustworthy, dependable people who enjoy animals and have good common sense. For many people, pet sitting is a second career where they have decided to "follow their heart" and do something they love. I've found that it's a career that appeals more to females (90% of our membership are female-owned businesses!) than males. Although we are seeing more and more men get into it.
Since pet sitting can be done on a small scale (e.g. within a neighborhood subdivision or apartment complex) or a large scale (e.g. covering large urban areas with staff sitters), confined to one species (e.g. only cat or horse sitting), or as a mid-day dog walking service (e.g. while the kids are in school), the career appeals to many. It's a great way for retirees to get exercise, have social interaction, and supplement their income.
P.S. — A sense of humor also comes in handy for a pet sitter as no two pets, people, or homes are ever the same!
How did you land your first client?
Wow – I should remember that, but it was 30 some years ago. I think it was from a "new business opens" article that appeared in the local newspaper. But getting the call is only the first part for a pet sitter. If the initial phone conversation goes well, then what we call a "meet and greet" takes place with the pet sitter visiting the client's home and meeting the pet. So, a good pet sitter has to sell their services and instill in the client that they can leave home with peace of mind that their pet will be in good hands. (The other side of that is the pet and pet owner have to provide a comfort level to the pet sitter that this is an assignment they want to undertake; it works both ways!)
What types of marketing techniques have worked best for your pet sitting business?
My business was started on a shoestring budget, so I was always looking for inexpensive opportunities to "get the word out". I was always putting business cards at my hairdressers or the gym. Sometimes I'd even stop people who were out walking their dogs to introduce myself, and I'd always wear a plastic lapel badge that had my name and my company's name on it. (Check out people at stores who always read them and commented on my business!) I was always looking for the person who had a pet and may be in need of my services. (And if they didn't have a pet, I asked them to tell their friend or family member who did!) Presently, 65% of U.S. households own a pet, so the odds are good that a person you introduce yourself to may indeed have a pet at home!
Having magnetic car signs on my vehicle was also another somewhat inexpensive advertising method. Someone would always flag me down as I parked at a shopping center or mall and ask for my business card or brochure. (Be sure to take them off of your car though when making your actual pet-sitting visits.)
Word-of-mouth has been the best way to grow a pet sitting service because, as you might expect, people have a lot at stake in turning over their homes (and pets) to someone they don't know. Unfortunately, it can also be the slowest way for a service business to grow, so you always want to be getting your name out there!
You wrote a book, Pet Sitting for Profit – tell us about this and who would benefit from this guide.
Yes, as I mentioned earlier I wrote the book as a how-to manual that I self-published in 1987. The book was bought by Howell Book House in 1991 and published in a second edition and then a third. It's now sold close to 100,000 copies and is referred to as "the bible of pet sitting." It covers all the fundamentals of starting and operating a pet-sitting business, from office procedures to personnel to advertising—and more. Anyone simply thinking about becoming a pet sitter would get a well-rounded introduction to the career (the positives as well as the negatives), which would help in deciding if this is a business for you.
Another excellent resource is PSI's The Professional Pet Sitter Start-Up Guide, which was just released in June 2016 and walks one through the steps of starting a pet-sitting business. It is formatted more like a workbook and contains stories and lessons from PSI members, as well as basic operating principles.
You can also grab the e-book, Getting Started as a Professional Pet Sitter, for FREE — sign up here.
What advice do you have for a new or aspiring home-based pet sitter?
Read both of the books described above.
Join Pet Sitters International.
Set parameters from the start for your home-based pet-sitting business. By this, I mean treat it as a business, and set policies, procedures, and office hours. Due to the familiarity and often friendships you establish with clients (you both love their pet(s)!), clients may try to reach you 24/7. You have to be able to turn it on and off, especially when you're home-based. Just because you're home-based doesn't mean you're any less professional!
Go into it, realizing that "no" is a word you can use, and it's OK to use it. You don't have to accept every pet-sitting assignment that comes your way! You make the rules. It's your business!
If it doesn't "feel right," it's probably not right. Intuition and instinct exist for a reason; pay attention to them!
What are some of the challenges you've faced as a pet sitter?
Learning it's OK to say no, as mentioned above. Finding my customer's much-loved kitty deceased on the couch upon arriving at the home and realizing I was in a profession that can tug at your heartstrings and that I had no idea how I should handle this situation. Trying to clean up poop that was freezing in the sleet and snow. Having to walk a dog in the pouring rain and get up from a warm bed in which to do it!
What are some of your favorite time management tips and tools for being a professional pet sitter?
Use a checklist to make sure you've completed all tasks at a home.
Keep house keys ON your body while making your pet-sitting visits.
Code keys anonymously but in a way that you can quickly and easily identify which one goes to which house.
It's also important to think smart when scheduling pet-sitting assignments. Schedule visits in the same neighborhood and map your route so you aren't backtracking. This saves time and money!
Set specific office hours for answering e-mails and returning calls. Otherwise, you'll find yourself trying to make time in between pet-sitting visits, and it's easy to make mistakes when you are trying to handle client communications "on the go."
There are several software programs available now for pet sitters that do everything from scheduling assignments to invoicing to ensuring a client has returned home, which involves lots of time-saving functionalities. Explore which software best meets the needs of your business.