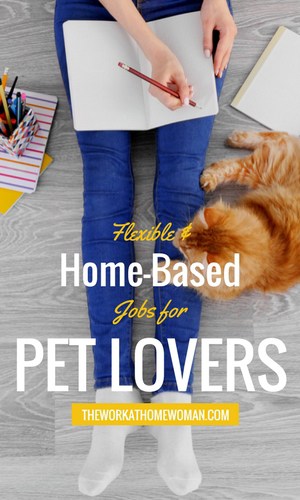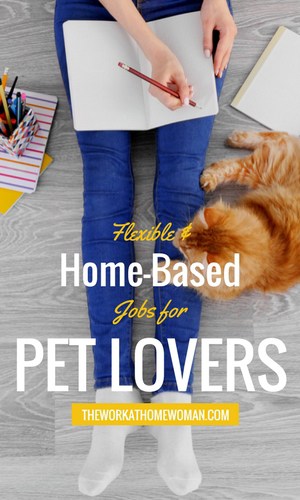 Do you love animals? Would you like to run a pet business from home? Then keep reading for some fun business opportunities and jobs for pet lovers!
Flexible and home-based opportunities for animal lovers are in demand now more than ever!
If you're a pet lover looking to work-from-home, here are some options for you to consider.
1. Direct Sales
You've heard of direct sales companies like Avon and Tupperware, but did you know that there are network marketing opportunities for pet lovers? With direct sales, you pay a small startup fee, and they give you samples, training, marketing assets, and tools to help you run your own pet business from home. For each product you sell, you earn a commission, and you can even make more if you decide to build a team.
Here are a couple of options to consider:
pawTree is a direct sales company that sells products for dogs and cats. As a Pet Pro, you'll earn 10-20% on everything you sell, plus ongoing bonuses for gathering loyal customers. Build a team of other Pet Pros and make 1-7% on their sales as well as other rewards. Starter kits range in price from $29.99-$299.99.
Life's Abundance sells supplements, treats, food, pet care products, and gifts for dogs, cats, and people! You can get started for as little as $40 and start learning commission on products you sell from home.
2. Pet Sitter
Pet Sitting is probably the most familiar way to work-at-home if you're a pet lover. Only it's usually not at your home; it's at the pet owners! Still, feeding, walking, and playing with a cute dog or cat all day is my idea of a good day at the office! Plus, many times, owners want you to check-in, feed, give medication, or clean up after their pets. This means you could have multiple clients you work with every day, which is an excellent way to increase your income.
3. Mobile Pet Groomer
Many people don't like taking their pets to the groomers. It can be inconvenient, especially if you work during the day, to have to leave, and take in your pet during business hours. A mobile pet groomer solves this problem completely! You travel to the owner's home whether it be in the daytime while they're at work, in the evening, or on weekends. If this sounds like it's up your alley, check out this article for more details on getting started.
4. Dog Walker
Becoming a dog walker is the perfect part-time job for dog lovers, although it is possible to work full-time. According to this article, dog walkers can earn between $9.78-$27.28 per hour.
If you don't want to pitch your dog walking services to friends and family, you can use an on-demand app to connect with interested parties. Platforms like Wag, Rover, and Care.com connect dog walkers with dog owners in their community seven days a week. These on-demand sites also let you provide dog sitting and dog boarding services. Visit each of their respective websites to see if they're accepting dog walkers in your neck of the woods.
5. Doggy Day Care
Unlike being a dog walker, owning and operating a doggy daycare is a bit more than just walking a dog. Owners who are either busy for a day and don't want to leave their pet home alone or who are from out of town often need a place for their pet to stay for a day or two. Opening up your home to be a doggy daycare could be a stellar work-at-home job opportunity! You control how many clients you accept and on what days. This is one work-at-home job that could have the potential to eventually move out into a brick and mortar business if you get enough clients. For more info on this pet lover's business idea, check out this article from Merry For Money.
6. Start a Pet Blog
If you have vast knowledge about pets and animals in general, why not share that knowledge with the world? By starting a blog about your favorite animal, you can provide useful information to other pet owners who might be looking for help. You can make money blogging about pets from a variety of sources that could include affiliate marketing, advertising, and selling printables or e-books.
Interested in starting your very own pet blog? Let us walk you through it step by step here.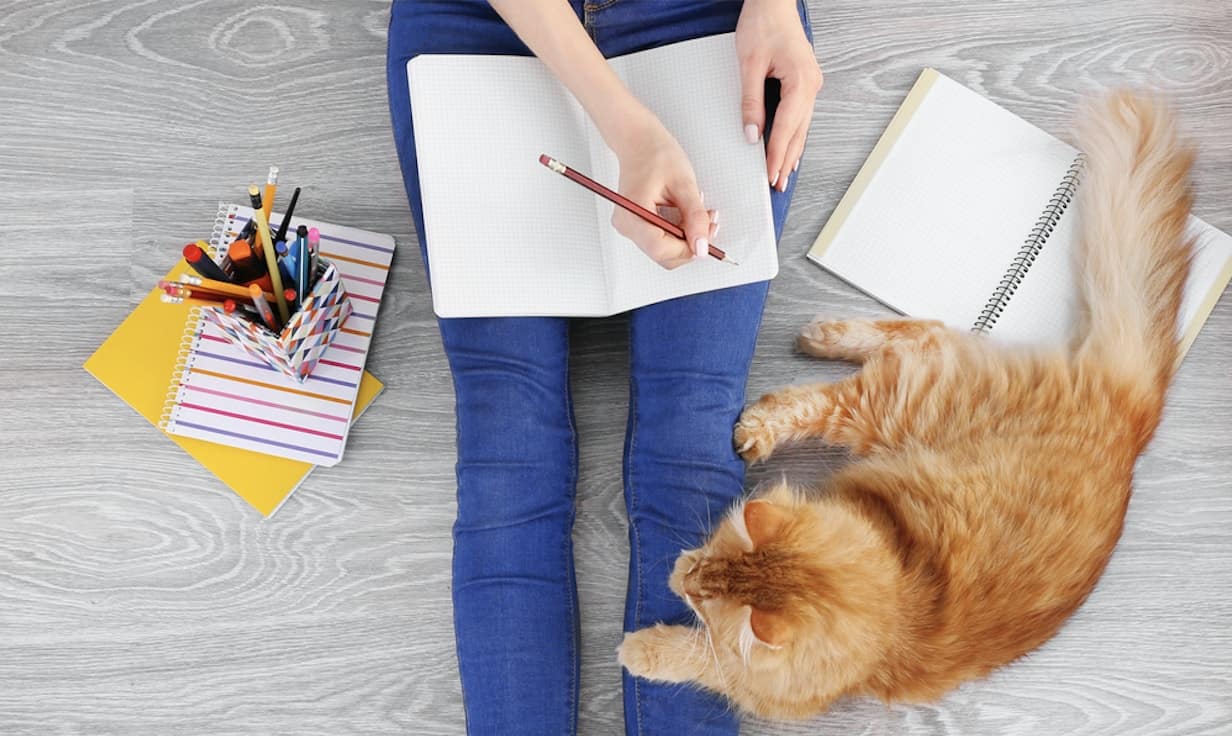 7. Create Pet Products
The market for pet products is huge! This is one pie you might want to get a piece of if animals are your passion. You can create everything from toys and clothes to leashes and collars. Creating pet products is great because you get the creative freedom to do what you want. Your products can be sold at craft fairs, in small boutique retail stores, or online at Etsy and Amazon sites.
You can also have an online store that sells other people's pet products. You can sell products handmade by others or drop-shipped (sent directly to your customers) from a major company.
8. Bake and Sell Gourmet Dog Treats
Pet owners love to spoil their fur babies, so why not create a business baking and selling gourmet dog treats?! One gal that found success doing this is Kristin Larsen. In fact, she's even created an online course that teaches pet lovers how to start their own dog treat business! With this business, you can sell your dog treats on sites like Etsy, Facebook Marketplace, and farmer's markets. Part-time side hustlers can easily earn $500-$1,000 per month, and full-time business owners much more! If you're interested in learning more about this pet-friendly business, sign up for Kristin's free training workshop here (click on the pink button).
9. Pooper Scooper
Life is busy, and when you have a dog or multiple pets, keeping up with the poo can be a never-ending task. If you don't mind going out to clients' homes and cleaning up after their pets, this could be a lucrative side hustle or full-time home-based business opportunity. If you're not interested in starting a business from scratch, you can look into a home-based franchise opportunity with DoodyCalls or Poop 911. However, franchise opportunities usually require significant startup investment.
10. Dog Trainer
If you have a knack for getting dogs to do tricks or behave properly, consider starting your own dog training business from home! While you may have a natural talent for dog training, taking a workshop, reading up on the topic, or getting some hands-on experience will strengthen your expertise in this area. According to Vocational Training HQ, dog trainers can earn up to $150 per hour! Want to explore this option more? Check out these books by Ted Efthymiadis:
11. Pet Writer
If you enjoy writing and have expertise around pets or animals, working as a freelance pet writer may be the perfect work-at-home job for you! From blog articles and pet magazines to copywriting for pet-centric brands, there are many opportunities you can explore within this niche.
One woman that's found success in freelance writing for the pet industry is Dr. Tammy Powell. She took her vet degree and has turned her pet passion into a copywriting business specifically for pets. She helps midsized pet companies craft their marketing messages writing web content, emails, landing pages, case studies, video scripts, and more! If writing for the pet industry sounds appealing, check out sites like Problogger, FlexJobs, or Freelance Writing Jobs for available gigs.
12. Share Your Animal Expertise
Are you a veterinarian? Maybe you have a bachelor's degree in science? Then take your expertise and make money online by answering questions for JustAnswer! With this platform, experts, such as doctors, lawyers, and vets, can make an average of $2,000-$7,000 per month answering questions online. This freelance opportunity is available to US and Canadian residents, and you must be able to show proof of your professional accolades. Payments are distributed monthly via PayPal.
13. Start a Subscription Box Business for Pets
Have you heard of subscription box companies like BarkBox or The Dapper Dog Box? If you're great at finding unique and useful pet products, you can start your own pet-based subscription box service with the help of a company like Cratejoy. At Cratejoy, they offer three different service levels to help you boost and get your subscription box business off the ground. If you'd like to start a subscription box business from home, this post has some useful details on getting started.
14. Pet Photographer
Love animals, and you're great with a camera? Then consider starting your own home-based pet photography business! According to ZipRecruiter, pet photographers earn an average of $36,685 annually. Or maybe you'd like to take wildlife photos and sell them on one of the many stock photo sites? Or perhaps you'd like to sell pet portraits on Instagram or Etsy? There are many different ways to cash in as a pet photographer!
15. Remote Jobs For Pet Lovers
Technology has made it possible for more professionals (administrative, customer service, marketing, finance, sales, IT, legal, R&D, vets, and engineers) to work from home, and this includes pet brands and companies!
If you have experience or a degree in a particular field but would like to focus your career in the pet industry, check out these pet companies that occasionally hire remote workers:
When searching these sites, use the keyword "remote" to pull up the work-from-home positions.
Conclusion
As you can see, there are many home-based business opportunities and jobs for pet lovers! Which option is right for you? It all depends on your personality, experience, education, and familial obligations.
If you're a mom with littles at home, leaving the house to walk dogs is probably not going to work. However, if your kids are older, they may enjoy walking and caring for animals with you.
Maybe you've thought about starting a business, and one of these options seems like the perfect fit. If so, be sure to grab our free business template to help you get started on your entrepreneurial journey.
If you want to secure a work-at-home job in the pet industry, check out some of your favorite pet brands and search their job openings. Many companies now have partially remote workforces, so there is a good chance they may be hiring telecommuters.
FlexJobs is another great place to search for remote jobs for pet lovers! They even have a whole category dedicated to animals and wildlife jobs!
Do you know of any other work-at-home jobs for pet lovers? Share them with us in the comments; we'd love to hear about them!
Originally published February 8, 2017. Content updated February 17, 2021.