Is the photo album destined to become another relic from the past? The answer is no.
But just like many things, it is evolving, and that means there is an opportunity to create a business to meet the needs of families who cherish their photos but don't have the time or skill to create photo books for their families.
Ever since people started printing photographs, they found ways to display them. Most families have some album collection whether a scrapbook, pocket page albums, or the plastic sleeves with glue that allowed you to stick the photos on the page. Before digital photography, it was much simpler to create an album. You dropped the roll of film off, waited an hour, picked up your prints, and added the best ones to an album while the rest ended up in a shoebox under the bed.
Today the process has become more complicated.
We have more ways than ever to save photos. Whether it's in the cloud, on a hard drive, in a camera, or on a smartphone; this has only created a photo overload problem.
People have so many photos they don't have the time to organize or do anything meaningful with them. If they do attempt to choose a method to create a digital photo book they are often thwarted by the myriad of choices and anxiety of choosing the right page background, color, and layout. In fact, 80% of all digital photo book projects are never completed.
Understanding the Need for Photo Designers
Printed photos, if stored in an album can last over 100 years and will be much easier to find than photos on a website, hard drive, or outdated media formats such as CD or DVD.
Recently the "father of the internet" Vint Cerf warned of the dangers of relying on digital storage for family photos, "If there are pictures that you care about then creating a physical instance is probably a good idea. Print them out". The concern is that the most photographed generation in history may have no photos of themselves within ten years.
Three Successful Photo Book Designers Share Their Secrets
There is a thriving niche within the photo organizing profession, photo book design, and album creation.
To help you get started, I interviewed three members from The Photo Managers who have successful businesses. They come from across the country (California, Texas, and Maryland) and each has their unique brand and business model.
Kathleen Murchison
Nikki Mckenna
How Did You Get Started?
Kathleen: I started creating digital photo albums for clients in 2009. My first real client asked me to scan all her printed photos and then compile all those photos into books – that was about eight books!
Rachel: I've been designing photo albums as a business since 2010. My very first album was a scrapbook that I made for our wedding pictures. After my son was born my love of photography was rekindled. I wanted to do something special with the pictures so that he would have a visual history of our lives together. It was a perfect creative outlet for me. As I was putting those pictures to pages, I thought, "I wish people would pay me to do this." That is when the real work began because we all know that hope is not a plan.
Nikki: I started my business Storytag in October of 2012. This wasn't something that I did for family and friends. I just saw a huge market need when I saw how frustrated my mom was when she lost all of her work while making a book on Shutterfly. In this market, technical solutions are popping up left and right that still don't meet the needs of busy parents to have their images actually in their lives again. I see an enormous market that I believe genuinely needs a level of service not available. As a working mom myself, I felt the need, and I saw it over and over again in my friends.
What Are the Startup Costs?
Rachel: The scope of supplies and equipment that you need varies on your business model. If you're looking to start small and build, it can be as simple as the computer you use and design software.
You'll also need to identify who's going to print your books. There are many options, do your research, print out some samples, and pick your partners. Having samples is an important part of your portfolio, so don't skimp. I've turned a few do-it-yourself clients into design clients because I put a high-end, well-designed book in their hands to touch and feel.
There are many design software options out there, and you just need to try a couple out on a free trial and see what works for you. Purchase prices for many of the digital scrapbooking software are around $40.
Learning how to create a beautiful book comes with practice, training, and trial and error. Pinterest is a great place to start looking and finding those page designs that are cohesive and beautiful. My favorite online learning site is Lynda.com. There are many online classes with professional instructors teaching content like photography, design basics, and even creating your website.
Becoming a member of a relevant association such as APPO is also beneficial. It brings credibility and in some cases certification to your craft. It is also an excellent source of industry-specific education, conferences, and fellowship amongst your peers. Annual membership in APPO is $295 annually.
Kathleen: The beauty of digital scrapbooking/design is that you do not need any supplies. Everything you need is right at your fingertips, and the options are endless.
Nikki: When I started up, I spent a lot of time in front of my computer researching the range of options available to customers as well as the tools available to me as a professional. I didn't take any formal training other than the APPO certification program. I decided on Dropbox for my primary mode of file transfer and the Adobe Creative Cloud subscription to ensure that my product was infinitely customizable and modern. I use Lightroom for Organizing, InDesign for album layout, Illustrator for some additional flourishes, and the Bridge to facilitate going back and forth seamlessly. I've tried every option out there, and after I got over the learning curve, nothing can match the workflow and creative flexibility.
How Do You Find Clients?
Nikki: At this point, most of my clients have seen my company on the web, either through forums that I have commented on, guest blog articles or through the APPO. I spent a lot of time writing content that got the Storytag name out there. I have gotten dozens of clients from a comment I made on a Shutterfly forum, and it took me 5 minutes!
Rachel: Building your business is not an overnight process. Referrals are the key to a steady flow of business, and you get those by earning trust with a couple of people at a time. I started by finding local networking groups that I thought mirrored the type of clients I wanted to work with. I joined associations, attended meetings, and made sure that I was finding ways to talk about what I did genuinely. In return, I made some wonderful connections with like-minded and genuine people. I'll repeat, trust is super important.
Having a website or other landing spot like the APPO member web page is also an important part of networking. A place for people to check you out and know that you're committed to your business and not just a "here today and gone business tomorrow" goes a long way. Chances are people will be inviting you to their home to help organize their pictures before they hand them over for you to create an album. Your potential client is reviewing your website and engaging in a phone conversation to determine if they want to let you into their world. They get a sense of who you are and what your story is by looking at your website and hearing your voice.
I also drive around with my lovely magnetic signs on my car. They don't necessarily get me a ton of business, but I've paid for those signs several times over because of them. Goes back to telling everyone what you do.
Do You Specialize in a Niche?
Kathleen: I don't have a "specialty" per se. However, I LOVE exotic travel books! I have been fortunate to find a niche in that area and have made many beautiful books of fabulous trips.
Funny story – I did not think I would want to make baby books, I was pretty adamant about that, recently I got a massive job of doing three baby books – digital design and to top it off make traditional book copies of the digital books. Amazing opportunity and I felt so blessed. However, it was, after all, baby books. I have to be honest and tell you that this has been so much fun to work on, the kiddos are precious, and the client and I have collaborated beautifully! This project will take me probably 4-6 months to complete, but it is such a joy! Oh yeah – And she lives in another state – she was referred from one of my local clients – You just never know!
Rachel: My clients all come to me with different needs. So it's important to understand and begin with the end in mind. I've designed vacation albums, annual albums, senior portrait albums, guest books, and family history books. The possibilities are too many to mention.
Nikki: My real differentiator is that I interview each client and write their story on the album. I find it tremendously rewarding! I've had to find a process for editing before sending a draft to the client and then incorporating edits. But, at this point, it works well. And, I honestly have yet to have a client that hasn't told me that they teared up when reading their story. I think we imagine that our images will tell us our story, but this couldn't be further from the truth. Not only do we forget our story as the years pass, we often can't capture every feeling and emotion with a camera.
How Much Do You Charge?
Rachel: I use a formula to estimate the final price. I know how many pictures per page I typically use which allows me to estimate the number of pages. I also know how long a page takes me to create depending on the type of album. I factor in my hourly rate, the cost of the book, and any other special requirements. Scanning and organizing are typically billed separately. If a client is asking me to choose all the pictures versus them giving me exactly what they want to use, I consider that in my pricing as well. As you can see, there are many variables, but if you identify your baseline, it becomes a little less daunting. Because of the many variables that go into the creation of a custom book, the prices can vary anywhere from $400 to $1,400. Know that you'll make mistakes in your pricing, I do. As long as you learn and move forward, you'll get better every time.
Kathleen: I use the My Workflow Studio's Studio Album Pricing forms – they are the BEST and are a necessary tool when trying to figure out pricing. Ultimately, for my album design business – I charge by the project.
Nikki: I have two types of customers: the consumer and the professional photographer and I bill both clients by the project. For the consumer, my algorithm for determining price is based on …
The number of images they have.
A ballpark on what percentage of them will end up in the album.
The degree to which they want they want control over the design.
That last point has to do with how much design work I'm going to have to invest and then how much back and forth I expect there to be. These projects vary pretty substantially running anywhere between $300 and $1,000, including materials and shipping. For professional photographers, however, I charge a single flat fee of $650 regardless of the number of images or design expectations, and that fee does not include materials. It works well because in general, I have a much more predictable process with them and higher long-term customer value.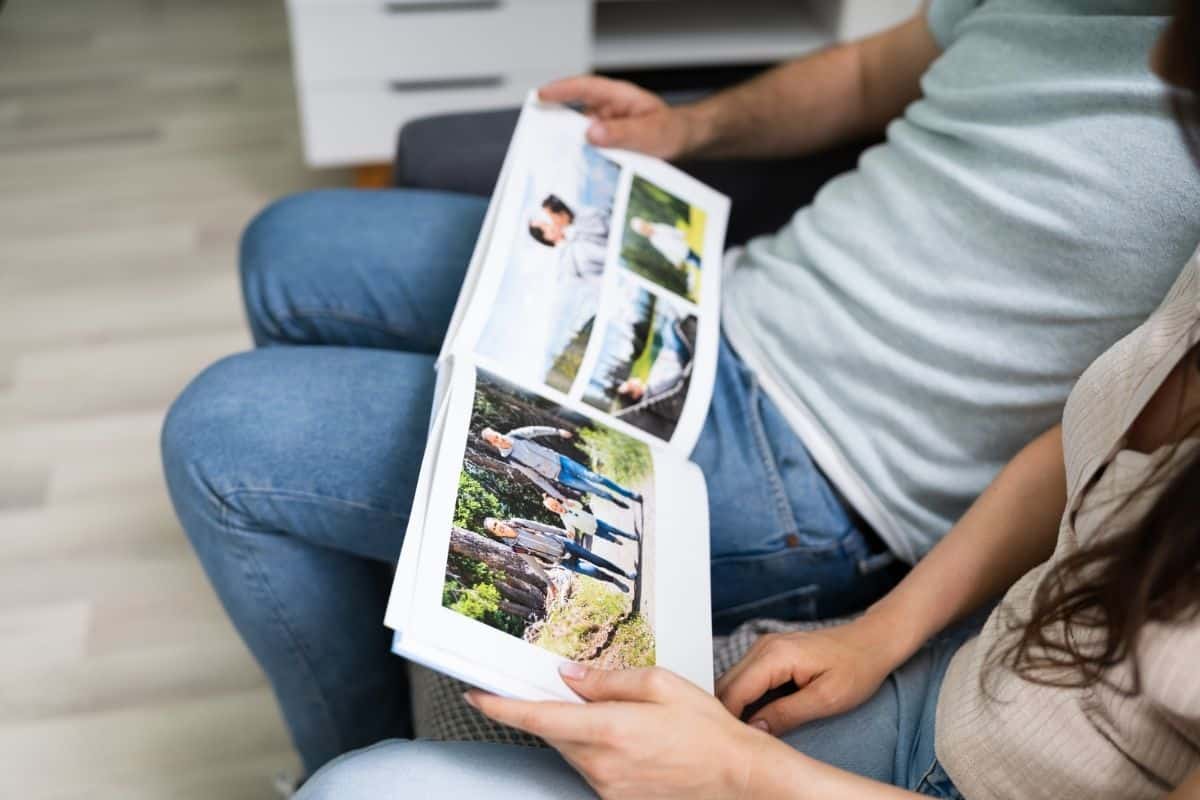 What Do You Like Best About Making Photo Albums for Clients?
Nikki: Hands down, it is hearing the responses of people who never imagined that their stories were so beautiful. For so many people, they see their own stories as "typical" and dull. However, storytelling is very similar to photography in that regard.
Rachel: The anxiety for me still hasn't gone away when I hand over a completed book. I question whether they'll like it and whether I met their vision. Secretly, I love it when they tell me they or someone they shared it with cried. When their friends call you and ask for the same help, you know you did okay. Seeing families reconnect to their stories through their pictures is very satisfying for all involved.
Kathleen: My most significant reward in this career is the people that I get to know through the process. You're getting to know them and their families through their stories and their pictures. I haven't had a client yet that I didn't like and they are more like friends than family at times. With that in mind, you still need to keep your boundaries in check and remain professional
Any Advice to Someone Who is Getting Started?
Nikki: I received advice to be specific in my marketing, which is good. Tell the world you do a particular thing so that people that have that need can find you. People just jump to action more if you have clearly described their own specific needs. And, this doesn't mean you won't also get people asking for anything related! And, it doesn't mean that you can't take on anything that comes your way. I would suggest taking on as much as possible when you start and then honing in on your specialty when you've learned a bit about what you are good at, what you like doing, and what customers are willing to pay for.
Kathleen: I would say – try to learn a program – does not matter which one, just get familiar with it. I use Professional Photo Albums (PPA), a partner with APPO, for all of my books. I love their features and for me the ease of use in the program (I worked hard learning the program). I would also say to make something beautiful for yourself – that way you will have something to show off.
Last but not least – talk about it to all your friends and family – ask them to spread the word and show them your work. When you meet people tell them this is what you do and show them how passionate you are. Help them to visualize the finished product – then you got them!
Rachel: Make sure that you are listening to your client for clues about their style. It's important to understand their tastes when you're designing a book for someone. A doodad-filled book with cutesy embellishments for a client that has modern white furniture in their house is probably not going to fly. You not only listen to what they say but take note of their personal style and how their home is styled. It's all very telling. Let that be your guide. Classic and timeless is always an excellent place to start, but sometimes a few embellishments can make a theme park vacation book fun.
Don't let perfectionism stand in your way of getting started. Having a good-enough website is perfectly fine. You don't have to have a logo and stationery made to get started designing books for others. Create some business cards with a beautiful photo and your contact information. Just get started. These marketing things will continue to evolve as your business evolves. Once you start making money, update your website and get a logo.
The growing profession of photo organizing has grown to encompass many opportunities depending on your area of interest. These past months we have looked at photo scanning, creating video slideshows for a profit, and photo book design.